On The Road with Thorsten Overgaard · March 2016

<

By: Thorsten Overgaard

This is the ongoing journal of my travels, photography, experience with people, places and equipment.
"Hi Thorsten,

Just wanted to let you know, I found your website two nights ago, and because of your review, I went out and bought the Leica Q yesterday! I'm a basic beginner, point-and-shoot guy, and your review made everything really easy to understand!"



- M. L. (USA)
Florida shoot
Florida, March 1-3, 2016
I flew to Florida for a couple of days. I also got o meet up with my daughter and son and a few other friends.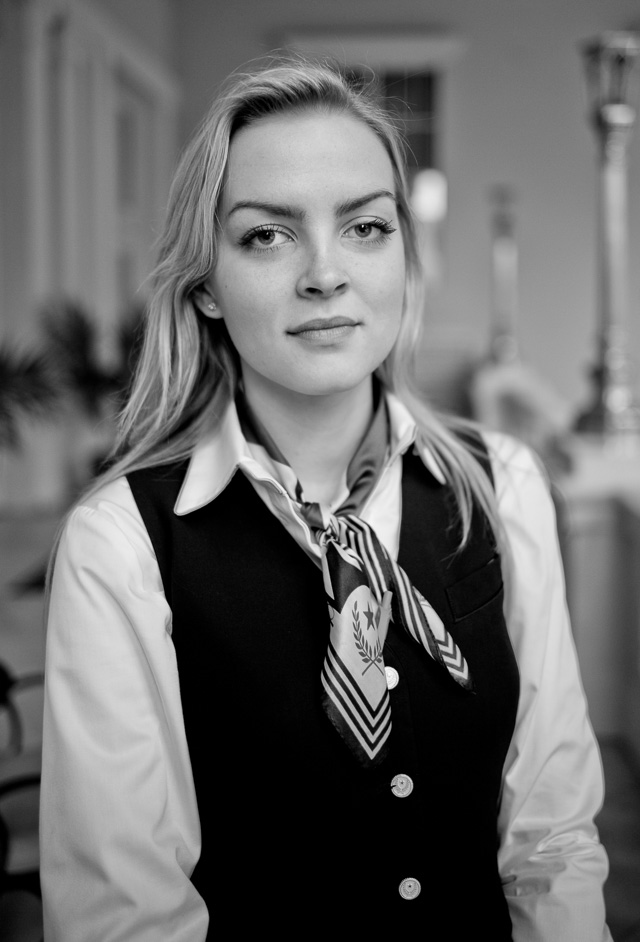 My beautiful daughter Caroline. Leica M 240 with Leica 28mm Summilux-M ASPH f/1.4.
"Hello Thorsten,

I came across your terrific website recently and I just wanted to contact you to let you know that I am enjoying it very much. The information you share is just so accessible and helpful. You have helped inspired me to take the leap and I have just ordered a 9-P and 35mm Summicron".



- P. S. (Melbourne)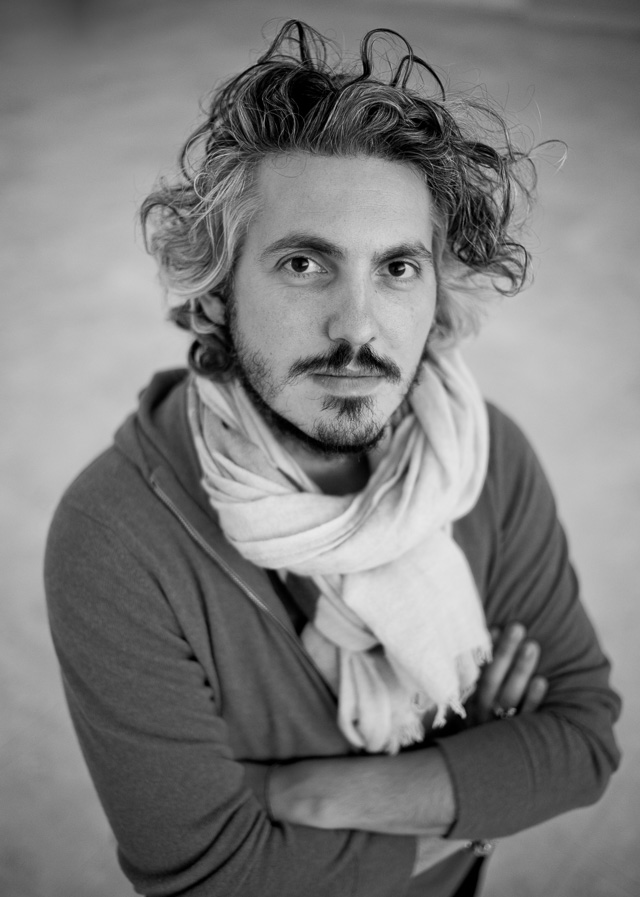 Matteo Perin. Here's a test photo on a rooftop in twilight light the day before the shoot that turned out well. Leica M 240 with Leica 50mm Nocilux-M ASPH f/0.95.
NEW VERSION 11.3

Buy Now. Instant delivery.

New Version 11.3

ONLY $698.00


Now includes
4+ hours of
video tutorials.

100% satisfaction
or 100% refund.
More info.



#2130-1121-3


Update to Version 11.3

Apply code "UPDATE113" on checkout to get this complete version 11.3 update.

$298.00

Updates all previous Surival Kit versions since 2009.

Buy the complete new
Lightroom Survival Kit 11.3
The Legendary Tutorial for Photographers

Brand-new JUNE 2022-version.
Now with brand-new 4+ hours of video tutorials.
New sections on compostition and storytelling.
How to edit color photos.
How to edit black & white photos.
How to do keywords logical and easy.

The most successful photo editing kit ever

Photographer Thorsten Overgaard first released the Lightroom Survival Kit in 2009 and have honed it with new and fresh updates. This Version 11 is the most radical updated and renewed version ever, four years in the making.


Professional workflow experience made simple, logical and easy to use.

Master editor makes it simple to understand

The Survival Kit is unique and one-of-a-kind being made for photographers for photographers. When someone understands their subject, they can explain it so it is easy to understand. The hallmark of Thorsten Overgaard is to make expert knowledge shown and told in a way so anyone can apply it.

Hands-on advice that works

With a 450 pages workbook and 4+ hours of video, every element of digital photography is touched on, in handy chapters and pre-flight checklists. Editing of color vs black and white photos, keywording, cropping of images, fine-tuning of tones, color balance and color control, export of originals, printing, archiving and backup, and much more.

Comes with the Overgaard Leica Presets (Value $48)

The Lightroom Survival Kit comes with Thorsten Overgaard's special-made Lightroom Presets for all digital cameras and for Leica digital cameras.

Understand all from camera to the final print

Chapters in this version goes over the background for High Dynamic Range (HDR), digital raw files and how to set up a professional photography workflow, from calibrating the screen to editing in Lightroom, and to making a final print. And more ...

10+ years experience in one package

No need to spend years figuring out the smartest way to do things when you can tap into the best way of doing things right here. The workflow of Thorsten Overgaard as been refined through years of field work with more than a thousand workshop attendees.

This method of workflow now used by thousands

The Survival Kit has been taught to thousands in workshops and in this Survival Kit. What does it do? It make you enjoy taking and making photos, and it increases your production considerabely. Most important of all, it'll give you back ownership of your files (which you will understand why is so important, once you have bought the Survival Kit and started applying its methods).

"Thorsten's methodology is perhaps not what hardware-, software- and cloud-companies want us to do, but as a former IT engineer I can only acknowledge his views about preserving our digital heritage. This workflow explained is for me the best I have ever seen".

★★★★★

Video tutorials, image files, presets, checklists, definitions, tutorials of Lightroom, that boils down years of experience to a workflow you can implement in less than one day.
Hollywood
Los Angeles, March 4, 2016
I went back to LA where my daughter was impatiently waiting. She had been up most days early and even managed to have the receptionist in the hotel hunt me down so she could talk to me while I was in Florida.
I also had recieved a few more lenses and stuff to play with.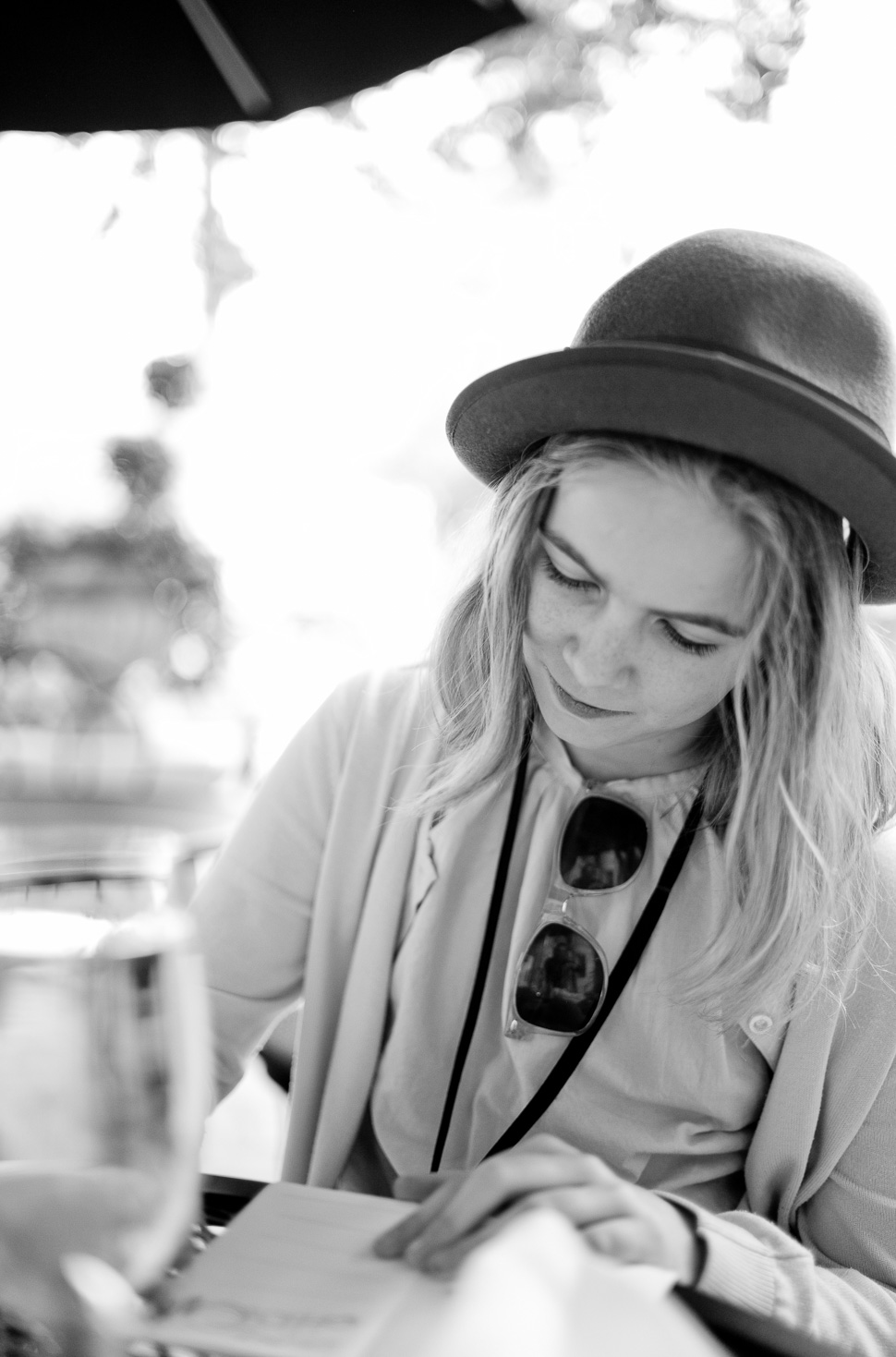 Robin Isabella training her writing skills in Hollywood. Leica M 240 with Leica 35mm Summilux-M ASPH f/1.4 FLE.
"Thorsten,

I love your photography and style. I admire the tenacity that you engage your subjects and subject matter. More than that I love the Leica. As someone that has travelled to Paris, Rome, Utrecht, Munich and New York etc.. I have noticed the energy you seem to seek for your subject matter and learning experiences".



- C. E. (Tornonto)
Buy the new eBook
"A Little Book on Photography"
by Thorsten von Overgaard

Order now - Instant delivery.

★ ★ ★ ★ ★ ★

It's a humorous understatement to call this
new eBook by Thorsten Overgaard for
"A Little Book on Photography".
It's a grand book, a history lesson, life experience, a biography and poetry book and brilliant photo book!
All in one beautiful package of 180 pages
to fire you up and get you to love
photography ... unconditionally!

"A Little Book on Photography"
eBook for computer, Kindle and iPad.
New release March 2017.
Intro price only $47 - 180 pages.

Buy Now

Instant Delivery
"After a long time spent in commercial photography I decided I'd like a change from carrying lots of heavy Hasselblad & Nikon equipment so I took a look at Leica for personal work.

I appreciate all the time and trouble you take writing your very detailed and extensive articles; maybe one day I'll be able to meet you on one of the courses you run in London or elsewhere in Europe".



- G. M (London)
New page in the Leica M article series
Los Angeles, March 15, 2016
I released the 1st of five new pages mainly dealing with thefocusing of a Leica M. It's actually an article series I've ben working on since April 2014 so it felt good to get it rolling out.
Enjoy!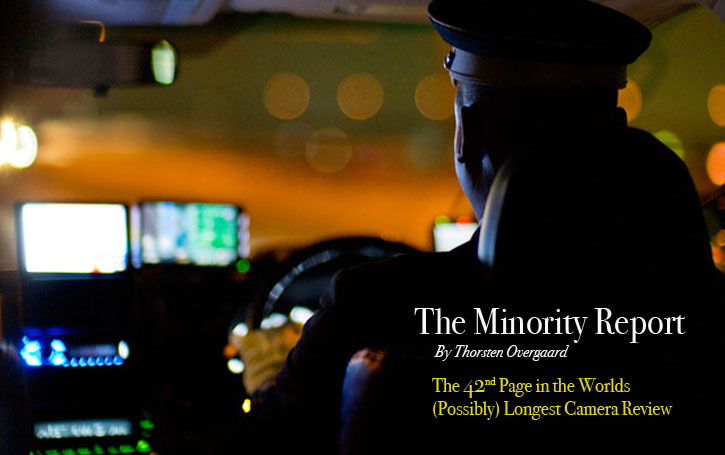 The Page 42 in the article series on the Leica M ... Click to read now!
| | | |
| --- | --- | --- |
| | | |
| | "Another splendid article Thorsten! Keep up the good work I always enjoy your articles". | |
| | - P. P. (UK) | |
"Dear Thorsten,

It's great to read more about your history with various cameras, and your thoughts about cameras - and photography - in general.

Thanks for all the article ... very interesting reading".



- D. B. (UK)
"Hi Thorsten,

I think I enjoyed that article more than any other of yours, tremendous.

My view on the M series cameras is quite simple, "its simplicity spawns creativity", and that's why it is so appreciated. Your might have the fastest everything on a camera but by the time you've adjusted all the dials and made the right settings the opportunity has actually gone, while the "slow" manual Leica M has caught the shot!"



- R. C. (Singapore)
The next Paris Workshop: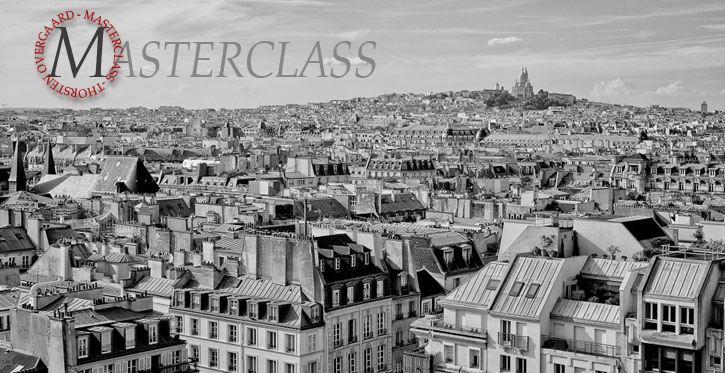 | | | |
| --- | --- | --- |
| | | |
| | "Great read. Thanks for sharing your insights. Thanks, eternally, for introducing me to it all". | |
| | - J. R. (San Francisco) | |
Buy my "New Inspiration Extension Course"





Need more info?
Read this article.


Get inspired and rebooted!

This extension course if made for you! It can be done at home and travel at your own pace. I have taught workshops for years and the Overgaard New Inspiration Extension Course is my experience compressed to a package of training, articles, drills, assignments and video tutorials that will inspire you and take your photography to the next level! For a limited time my course includes something you cannot get anywhere or anytime else:
A portfolio-review by Thorsten Overgaard.

"The Overgaard
New Inspiration
Extension Course"
For computer and iPad. 181 p eBook.
Only $798

Order now - Instant delivery.
"I have your New Inspiration Extension Course and have viewed all videos and started a Blipfoto account .

I recently submitted a few images to a gallery. I will continue to refine and work on the things you have talked about. I diligently edit and process my images after every shoot as taught in your workshop and am always up to date with my images".



- J. L (USA)
Visiting Disneyland
California, March 21, 2016
Family day to the original Disneyland in California that has it's 60th anniversary this year.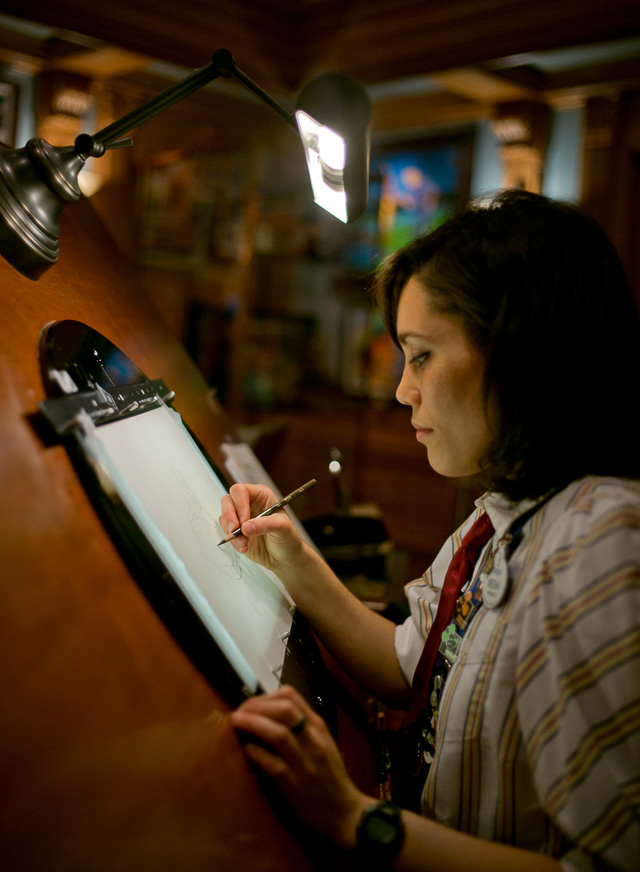 Ms. Megan Matsumoto working by the drawing tabe in Walt Disney's original office in Disneyworld, California.
Leica M 240 with Leica 35mm Summilux-M ASPHERICAL f/1.4 AA. © 2016 Thorsten Overgaard
| | | |
| --- | --- | --- |
| | | |
| | "Just the other day I held at Leica in my hand for the very first time and it was a very odd experience. I felt as if I was back in 1960 and really felt amazing while holding the camera". | |
| | - S. B. (USA)) | |


| | | |
| --- | --- | --- |
| | | |
| | "As with all of your books the text is simple and very good, and enhanced with nice images. I enjoyed reading it. Thank you". | |
| | - R. L. (UK) | |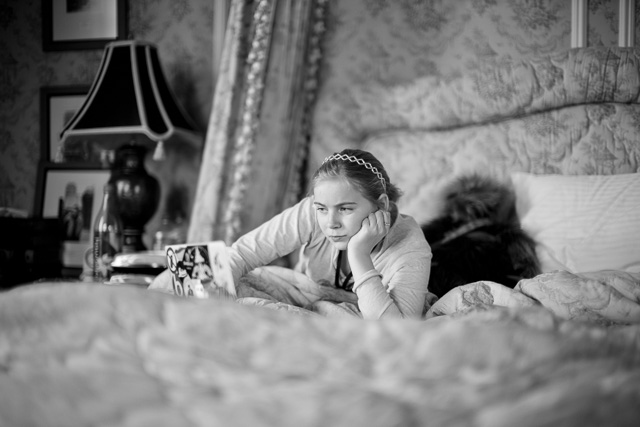 Robin Isabella hanging out. Leica M 240 with Leica 50mm Noctilux-M ASPH f/0.95.
Visiting Dreamworks Animation Studios
Burbank, March 31, 2016
We got a chance to visit animator Mike Amos at Dreamworks Animations in Burbank. Had a blast and saw some very intersting things.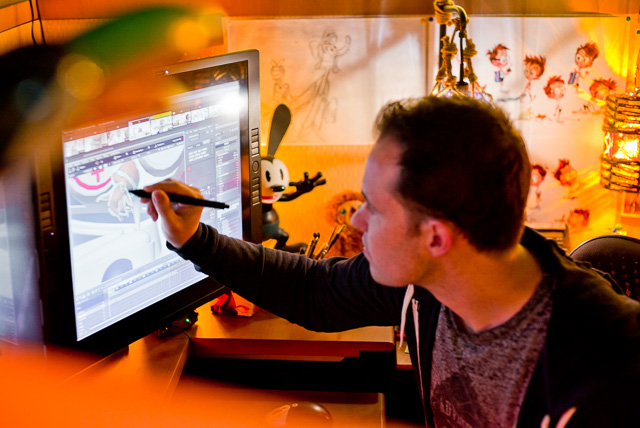 Mike Amos working on one of the screens where he animate at Dreamworks. Leica M 240 with Leica 50mm Noctilux-M ASPH f/0.95