On The Road with Thorsten Overgaard · July 2015

<

By: Thorsten Overgaard

This is the ongoing journal of my travels, photography, experience with people, places and equipment.
| | | |
| --- | --- | --- |
| | | |
| | "Kudos on this Leica Q review, it's EPIC. Great work :) (And now you have me wondering how I can justify a $4k camera …)" | |
| | - C.M. (USA) | |
The 28mm Summilux-M ASPH f/1.4 lens
Denmark, July 1, 2015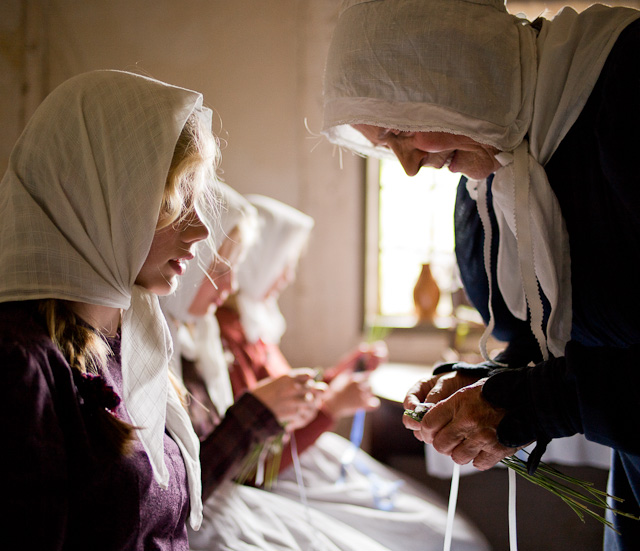 Leica M 240 with Leica 28mm Summilux-M ASPH f/1.4. © 2015 Thorsten Overgaard. Lightroom 3 with 2010 Process, colors with Sekonic C-700 Color Meter.
I added a few things to my 28mm page and will be adding more when I have worked with the new 28mm Summilux-M ASPH f/1.4 some more.
Leica 28mm lens comparison
Leica 28mm
Summilux-M
ASPH f/1.4
Leica 28mm
Summicron-M
ASPH f/2.0
Leica 28mm
Elmarit-M
ASPH f/2.8
Leica Q 28mm
Summilux-Q
ASPH f /1.7
Focus
Manuel
Manuel
Manuel
AF and Manuel
Mount
M Bayonet
M Bayonet
M Bayonet
Fixed on Leica Q
Closest distance
70 cm
70 cm
70 cm
30 cm
Macro mode
No
No
No
17 - 30 cm
Weight
440g
270g
180g
670g
including camera
Lens shade
Included
(Metal screw)
Included
(Snap-on)


Included
(Snap-on)
Included
(Metal screw)
Filter size
49mm
46mm
39mm
49mm
Lens cap
Plastic
Plastic
Plastic
Metal
Price
$5,959


$3,780



$1,980

$4,250
including camera

| | | |
| --- | --- | --- |
| | | |
| | "The Berlin Workshop is still resonating with me. It was truly a great experience, and was really nice to meet you and your family!" | |
| | - T. S. (Canada) | |
Happy Birthday, my Leica!
Denmark, July 2, 2015
Today I brought out my Leica DMR again from the Pelican Flightcase it had been stowed away in while I have been using other cameras. Today is its 10th year birthday!
See the updated article here: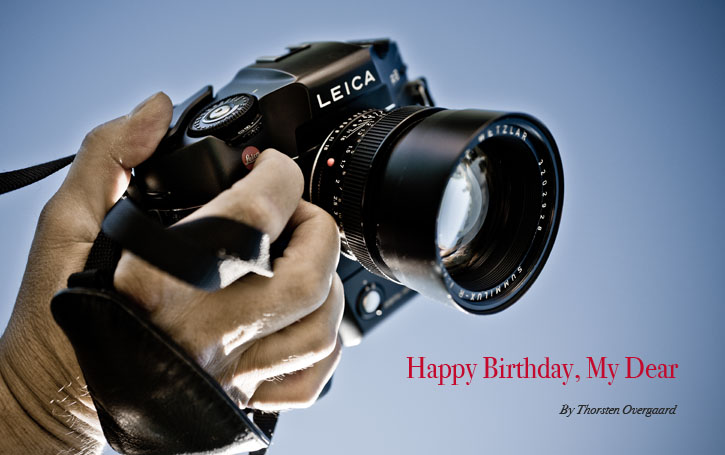 It's been 10 years since the 10MP digital back came out.
| | | |
| --- | --- | --- |
| | | |
| | "As someone who always reads a lot of reviews prior to purchasing a new camera, I must say that your review of the Leica Q is by far the most complete, well written and satisfying review I have ever come across. This is all I wished to say. Just a few words of gratitude and admiration." | |
| | - M. K. (Seoul) | |
Winner of I-SHOT-IT.COM Black & White Competition
San Francisco, USA, July 6, 2015
The winner of the I-SHOT-IT Black & White Photo Competition has been announced. See at I-SHOT-IT.COM.
Sponsored by Leica Camera AG. Judged by Birgit Krippner and Thorsten Overgaard.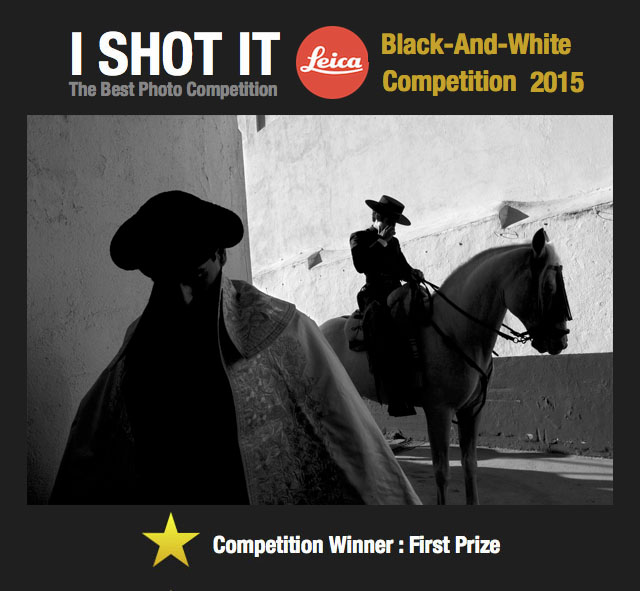 The winner of the 2/2015 I-SHOT-IT.COM Black & White Photo Competition.
"My overall goal taking part in the Rome Workshop, was to focus much at the light, which I can transfer to future photo and television news stories that I produce. And I got it.

The hands on practice and advice from Thorsten benefits both experienced pro´s like my self, and amateurs who wants to step up a level. So with my tired feets walking around hot Rome, I now will go back and let the experiences and inspiration go into my photography works. You are newer to old, too experienced or (especially) too good to learn."



- M. A. (Denmark)
NEW VERSION 11.3

Buy Now. Instant delivery.

New Version 11.3

ONLY $698.00


Now includes
4+ hours of
video tutorials.

100% satisfaction
or 100% refund.
More info.



#2130-1121-3


Update to Version 11.3

Apply code "UPDATE113" on checkout to get this complete version 11.3 update.

$298.00

Updates all previous Surival Kit versions since 2009.

Buy the complete new
Lightroom Survival Kit 11.3
The Legendary Tutorial for Photographers

Brand-new JUNE 2022-version.
Now with brand-new 4+ hours of video tutorials.
New sections on compostition and storytelling.
How to edit color photos.
How to edit black & white photos.
How to do keywords logical and easy.

The most successful photo editing kit ever

Photographer Thorsten Overgaard first released the Lightroom Survival Kit in 2009 and have honed it with new and fresh updates. This Version 11 is the most radical updated and renewed version ever, four years in the making.


Professional workflow experience made simple, logical and easy to use.

Master editor makes it simple to understand

The Survival Kit is unique and one-of-a-kind being made for photographers for photographers. When someone understands their subject, they can explain it so it is easy to understand. The hallmark of Thorsten Overgaard is to make expert knowledge shown and told in a way so anyone can apply it.

Hands-on advice that works

With a 450 pages workbook and 4+ hours of video, every element of digital photography is touched on, in handy chapters and pre-flight checklists. Editing of color vs black and white photos, keywording, cropping of images, fine-tuning of tones, color balance and color control, export of originals, printing, archiving and backup, and much more.

Comes with the Overgaard Leica Presets (Value $48)

The Lightroom Survival Kit comes with Thorsten Overgaard's special-made Lightroom Presets for all digital cameras and for Leica digital cameras.

Understand all from camera to the final print

Chapters in this version goes over the background for High Dynamic Range (HDR), digital raw files and how to set up a professional photography workflow, from calibrating the screen to editing in Lightroom, and to making a final print. And more ...

10+ years experience in one package

No need to spend years figuring out the smartest way to do things when you can tap into the best way of doing things right here. The workflow of Thorsten Overgaard as been refined through years of field work with more than a thousand workshop attendees.

This method of workflow now used by thousands

The Survival Kit has been taught to thousands in workshops and in this Survival Kit. What does it do? It make you enjoy taking and making photos, and it increases your production considerabely. Most important of all, it'll give you back ownership of your files (which you will understand why is so important, once you have bought the Survival Kit and started applying its methods).

"Thorsten's methodology is perhaps not what hardware-, software- and cloud-companies want us to do, but as a former IT engineer I can only acknowledge his views about preserving our digital heritage. This workflow explained is for me the best I have ever seen".

★★★★★

Video tutorials, image files, presets, checklists, definitions, tutorials of Lightroom, that boils down years of experience to a workflow you can implement in less than one day.
| | | |
| --- | --- | --- |
| | | |
| | "Your website is a gift to a new Leica M 240 owner!" | |
| | - M. T. (USA) | |
Famous in Aarhus
Aarhus, Denmark, 2015
I stumbled over this story on the Aarhus City library stite today. It's a little feature about Terry and Robin visiting the local library in Aabyhøj, Denmark evert day reading and doing school work (when we are in Denmark). When we travel, they usually visit local libraries in Hong Kong, Jakarta, Munich, etc.
| | | |
| --- | --- | --- |
| | | |
| | "Amazingly detailed review of the Leica Q which is getting rave reviews by even the most jaded photo writers. This review is in fact almost a user manual by Thorsten von Overgaard. If it ain't mentioned here , you don't need to know about it!" | |
| | - N. R. (Australial) | |
To be, or not to be, that is the Q
Aarhus, Denmark, July 12, 2015
My first user report on the Leica Q is online and well visited. Today I did an update again, comparing the Leica Q 28mm Summilux and the Leica M 28mm Summilux.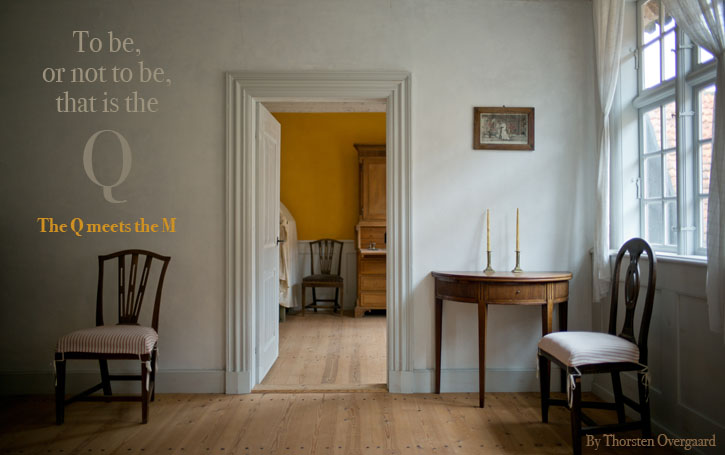 Thorsten Overgaard compares the Leica Q and the new Leica M 28mm Summilux-M ... and more. Click to read.
| | | |
| --- | --- | --- |
| | | |
| | "I've read your fantastic article about the Leica Q tonight. Well done! The most important part for me was the beginning, the discussion about what is photography and what to be delivered by a camera. And you're right about the Digilux 2, it was the first time bringing analog logic to digital world" | |
| | - P. P. (Germany) | |
Leica M 246 goes to Paris
Aarhus, Denmark, July 17, 2015
My third article on the Leica M 246 is online, "Leica M 246 goes to Paris"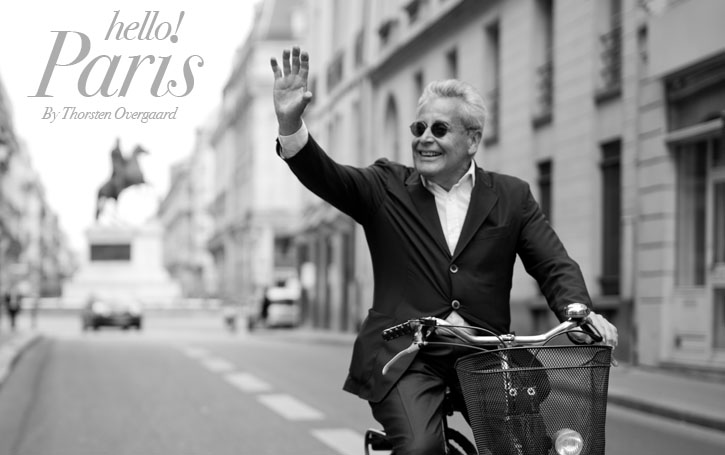 The Leica M 246 Monochrom goes to Paris ... click to read


| | | |
| --- | --- | --- |
| | | |
| | "I have your New Inspiration Extension Course and have viewed all videos and started a Blipfoto account. I recently submitted a few images to a gallery. I will continue to refine and work on the things you have talked about. I diligently edit and process my images after every shoot as taught in your workshop and am always up to date with my images". | |
| | - J. L (USA) | |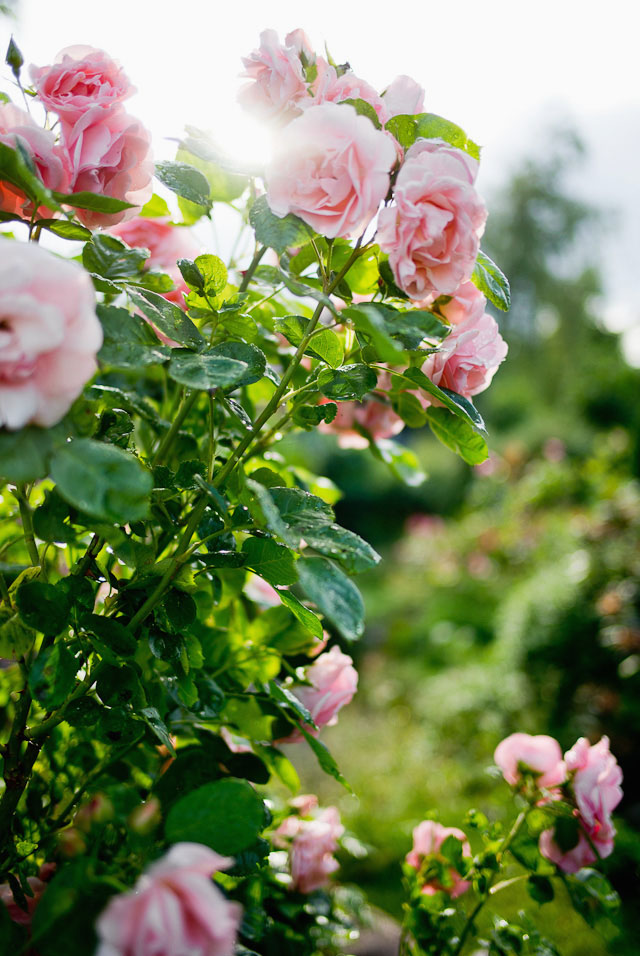 My mothers Rose Garden in Denmark. Leica M 240 with Leica 28mm Summilux-M ASPH f/1.4
Buy my "New Inspiration Extension Course"





Need more info?
Read this article.


Get inspired and rebooted!

This extension course if made for you! It can be done at home and travel at your own pace. I have taught workshops for years and the Overgaard New Inspiration Extension Course is my experience compressed to a package of training, articles, drills, assignments and video tutorials that will inspire you and take your photography to the next level! For a limited time my course includes something you cannot get anywhere or anytime else:
A portfolio-review by Thorsten Overgaard.

"The Overgaard
New Inspiration
Extension Course"
For computer and iPad. 181 p eBook.
Only $798

Order now - Instant delivery.
| | | |
| --- | --- | --- |
| | | |
| | "Just want to thank you for your tremendous web-pages about the Leica M 240! Excellent and far better than any book or even the manual! Fantastic photographs too!!!" | |
| | - T. M. (Belgium) | |
Making book projects
Aarhus, Denmark, end of July 2015
All my books in the last three years has been eBooks for iPad and Kindle. Now I am preparing a few books that will be available as printed books.
Graphic designer Frederik Øst and I spent a couple of days planning the layouts and set the rules and styles for them.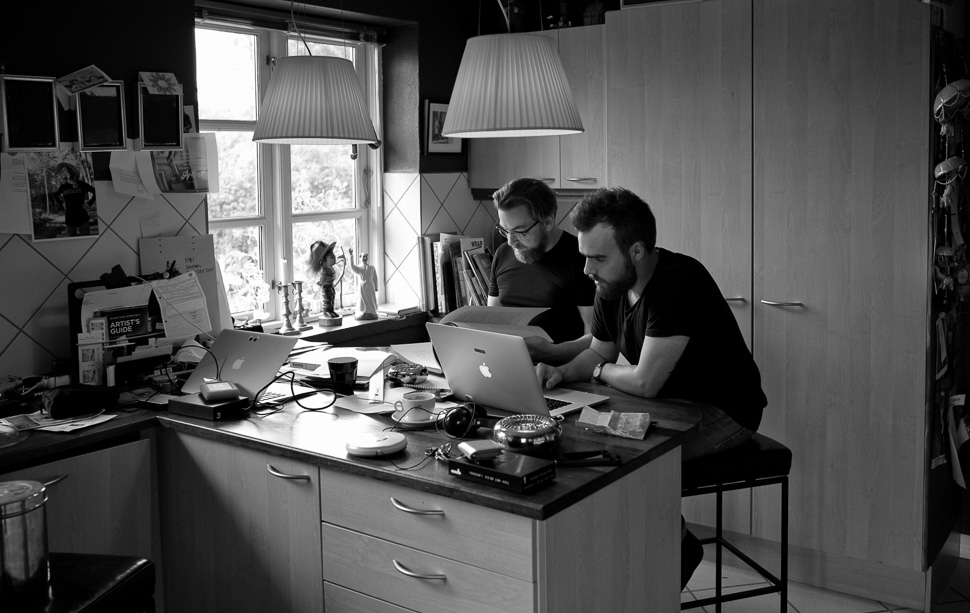 Leica M 240 with Leica 28mm Summilux-M ASPH f/1.4.
Buy the new eBook
"A Little Book on Photography"
by Thorsten von Overgaard

Order now - Instant delivery.

★ ★ ★ ★ ★ ★

It's a humorous understatement to call this
new eBook by Thorsten Overgaard for
"A Little Book on Photography".
It's a grand book, a history lesson, life experience, a biography and poetry book and brilliant photo book!
All in one beautiful package of 180 pages
to fire you up and get you to love
photography ... unconditionally!

"A Little Book on Photography"
eBook for computer, Kindle and iPad.
New release March 2017.
Intro price only $47 - 180 pages.

Buy Now

Instant Delivery
| | | |
| --- | --- | --- |
| | | |
| | "Thank you for all the effort you put in your great website and keep up your amazing work." | |
| | - M. V. (Germany) | |
Duck family visit
Aarhus, Denmark, end of July 2015
We had unexpected visit of a mother and her 8 newborns today. They walked in the courtyard and must have walked a few blocks to get here. For a moment they considered moving into the house.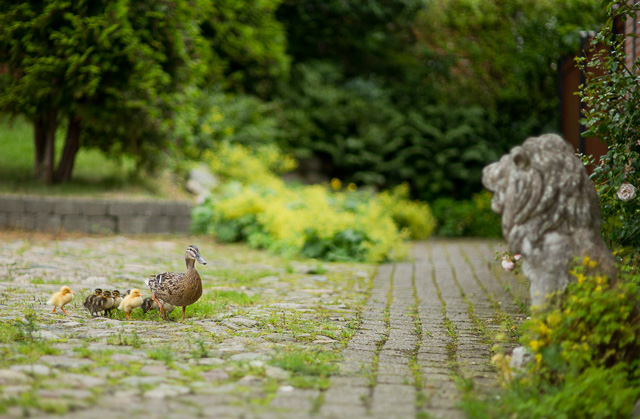 Leica M 240 with Leica 75mm. Summilux-M f/1.4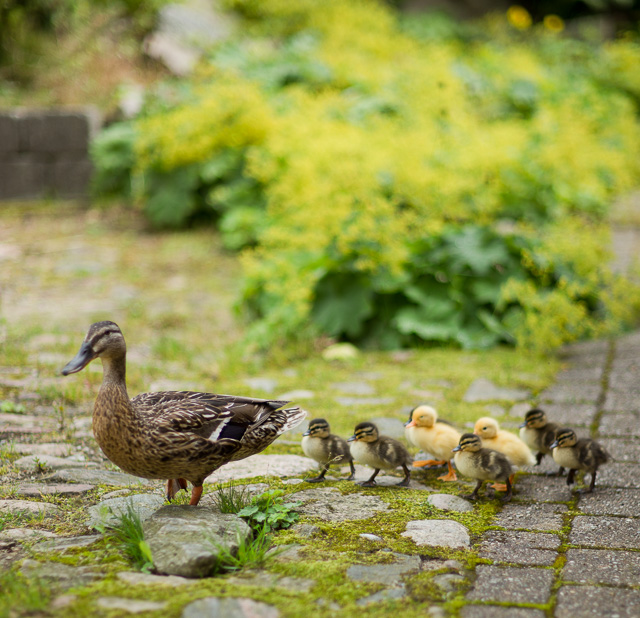 Leica M 240 with Leica 75mm. Summilux-M f/1.4
| | | |
| --- | --- | --- |
| | | |
| | "Your reviews are far superior to many others out there!!" | |
| | - J. W. (USA) | |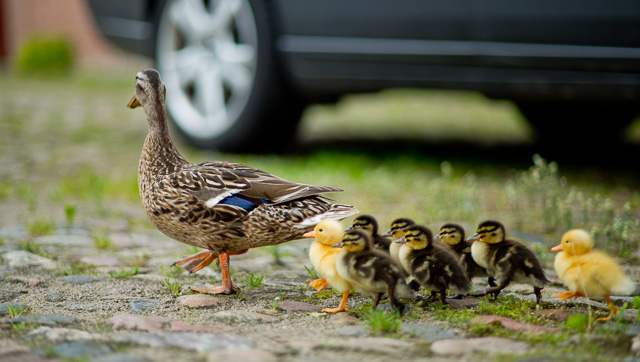 Leica M 240 with Leica 75mm. Summilux-M f/1.4