On The Road with Thorsten Overgaard · February 2014

<

By: Thorsten Overgaard

This is the ongoing journal of my travels, photography, experience with people, places and equipment.
| | | |
| --- | --- | --- |
| | | |
| | "When I want to know something about Leica, I look at your website" | |
| | - Andreas Kaufmann (Owner of Leica Camera AG) | |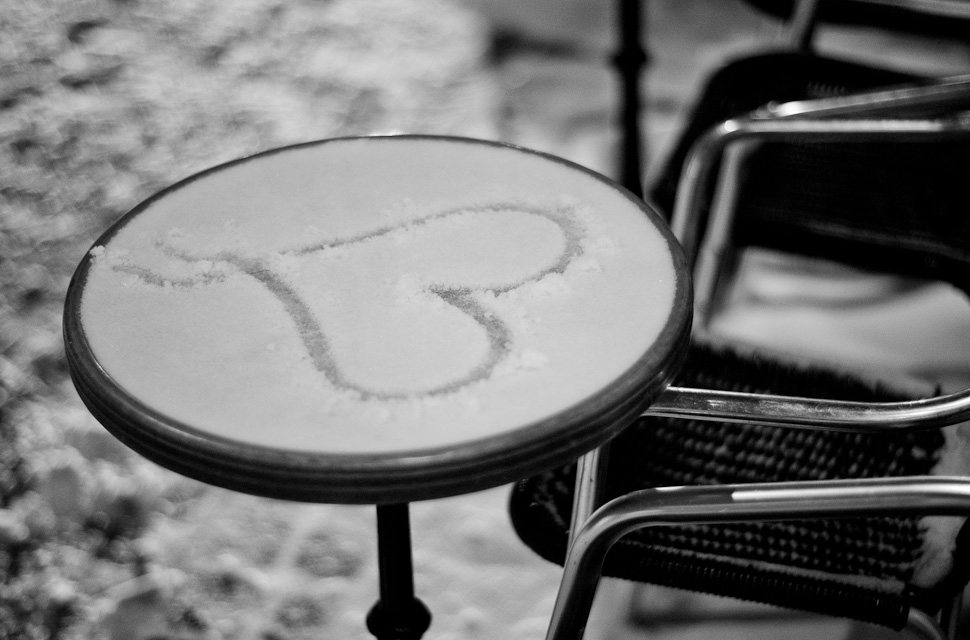 It was snowing in Denmark in the beginning of February. Here somebody made a hearth in the snow on the table outside my favorite Cafe Englen in Aarhus.
| | | |
| --- | --- | --- |
| | | |
| | "I want to tell you that I love your work. I stumbled acrossed your website and although your pictures are moving, you seem to be very approachable." | |
| | - A. W. (Wisconsin, USA) | |
"The Overgaard Photography Workshop is an investment that pays immediate dividends.

In four short days there was a marked swagger in my step. This may sound irrelevant to photography, but in my opinion it's one of the unspoken tangibles that make professional photographers like Thorsten so damn good – their confidence is able to make them disappear in a sense, and put their subjects at ease.

The funny thing about this is that it wasn't something discussed during the workshop, it was something that I learned from observing Thorsten work. The way he moved without hesitation, the manner in which he sized up his subject, and got the shot and moved on. Quick, clean, and confident! For me, that was the most valuable part of the workshop – spending four days at the elbow of a professional photographer!

What an experience!

I came away excited, eager, and confident that I could produce the kind of photographs I've always envied!

Thank you to my friend Thorsten! Some time in the future, somewhere in the world, our paths will cross again!"



- J. J.
Back in LA
Los Angeles, United States, February 2-4
We had two short stays in Los Angeles during this trip to the US, and we will be doing one more short visit at the end of April where Joy's birthday and the ASCAP "I Create Music" Conference is happening.
But we basically just wanted to touch base with LA, so we decided to go there for a few days and then drive to SF.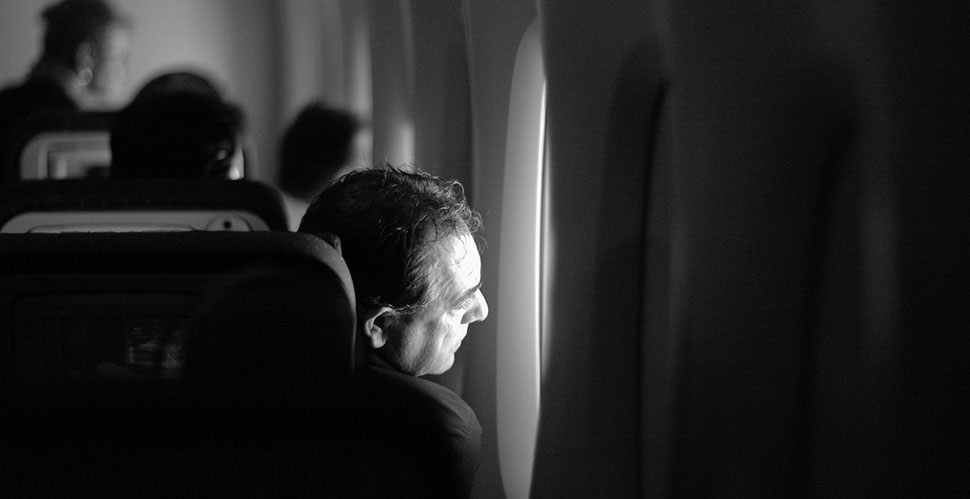 On the Air France Airbus A380 double-decker Jumbo Jet from Paris to LA. See The Story Behind That Picture for more on this.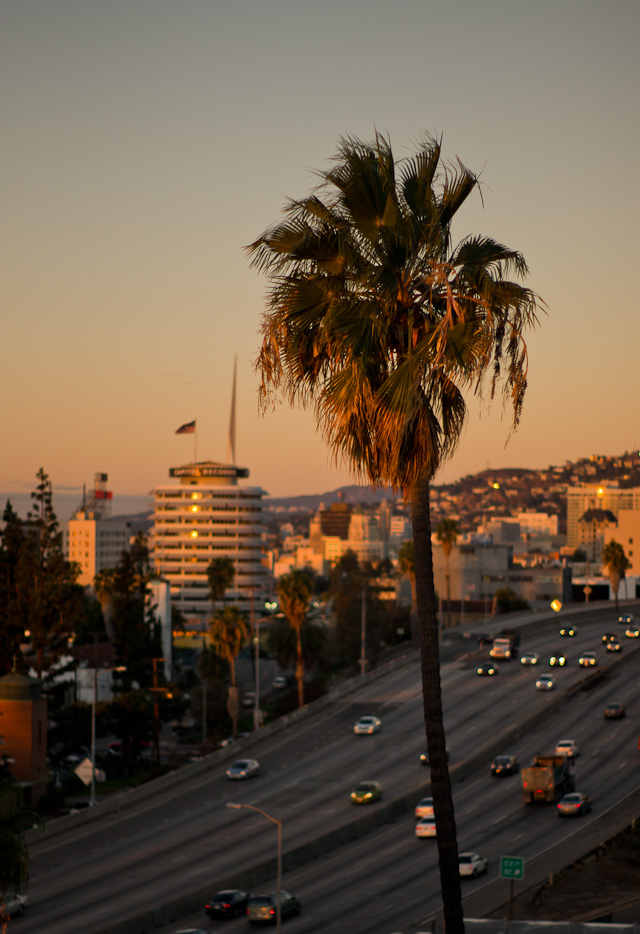 The view from the bedroom window 7 AM to the Capitol Records building. I just can't sleep when I see that light. Leica M 240 with Leica 50mm Noctilux-M ASPH f/0.95
"Dear Thorsten and Joy,

I wish to thank you and Joy for a wonderful four days of photography. From the first day of theory to the last day of choosing our best, it was a wonderful experience that inspired me to take more pictures and share them with others.

I learned a great deal from your critical comments and also your showing how to improve the final picture through minor adjustments in Lightroom. Many of my friends have a heavy hand with Lightroom but you showed us how to adjust the camera so that minimal post processing was necessary to have a good final product.

Joy was also such a pleasure to be with. She is such a professional in her chosen field of modeling, entertainment and production. Her sharing of this knowledge with us was a compliment to Thorsten's photographic knowledge. She was also very flexible and willing to share her poetry with us after coming out of the cold of Seoul's winter too.

I will always remember those four days as being very special because of both of you. When you come to Seoul again, I plan to be there!

Again thank you for a wonderful photo experience."

- G. F. (Korea)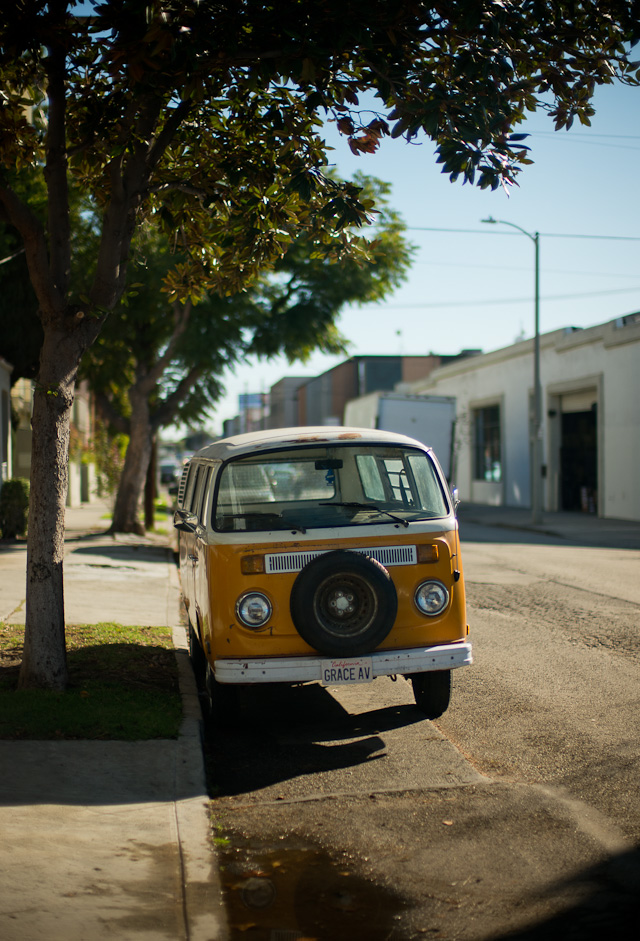 Only in LA: You see a garage door open and an old Korean woman in a dress that looks like she just got it from a flea market, getting her almost never used shiny Volvo ready. You see old trailers from the 50s and 60s parked by the studios. An old VW like this. And in my hotel room, the design is as if the clock stopped when Hollywood was Hollywood and the US was reaching for the moon.
It's like walking around in an amusement park from one's last lifetime. I never see that elsewhere in the world (except UK where they stopped the clock before WWII). Leica M 240 with Leica 50mm Noctilux-M ASPH f/0.95, Thorsten Overgaard © 2014
| | | |
| --- | --- | --- |
| | | |
| | "Well, just wanted to let you know that your website was the last drop in my patience and I finally got the new Leica M240. Thank you for your inspiring articles!" | |
| | - B. B (Bulgaria) | |
"Your website is FANTASTIC! The best on the internet. I have a long history in photography, but just took it up again after a 30 year hiatus. Bought a D3 and an M9. Tried both for a few months and ditched the Nikon. Now back to one photo at a time....

My comments come after 100 hours or so on the internet, reading various blogs, including every article on your website. Nicely done. Would love to take one of your courses. Hopefully our paths will cross soon."



- D. M. (USA)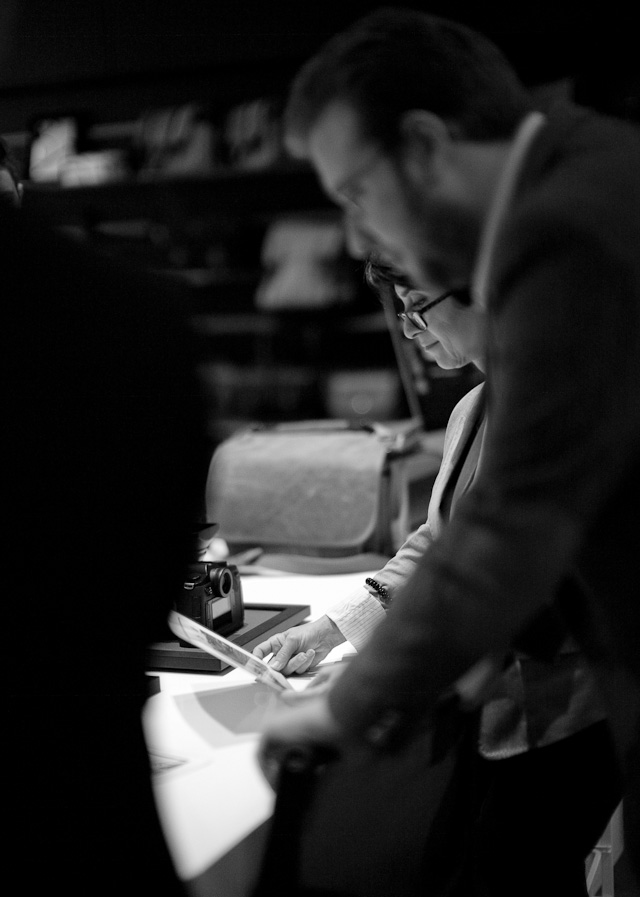 Visiting the Leica Store Los Angeles where we had a tour and looked at prints with Sussan Farahani. Leica m 240 with Leica 50mm Noctilux-M APSH f/0.95. I updated my Leica History page with some more photos from the Leica Store Los Angeles. Have a look.

I also met american photographer Al Satterwhite in the Leica Store Los Angeles, who had a Nikkor 7mm fisheye attached to his Leica M4 for some projects he is doing now.
| | | |
| --- | --- | --- |
| | | |
| | "Thorsten, this is my first Leica in my life and I am 53 years old and I know this is a very special camera and I am extremely thankful for your generosity in helping me and others like me. I know you must put a lot of time and effort into your newsletters so I am extremely grateful for your help." | |
| | - E. G. (San Diego) | |
Overgaard Workshop Review in Luxoria Magazine
February 2014
My workshop has been reviewed in Luxoria Magazine by Rafael Zurita, and the photo by Mark Strachan of me with the rare original LEICA M3 DS that used to belong to Arnold Newman made it as the frontpage of Luxoria. Have a look at the article "Overgaard's Shadow…What is it in the mind of a Photographer?"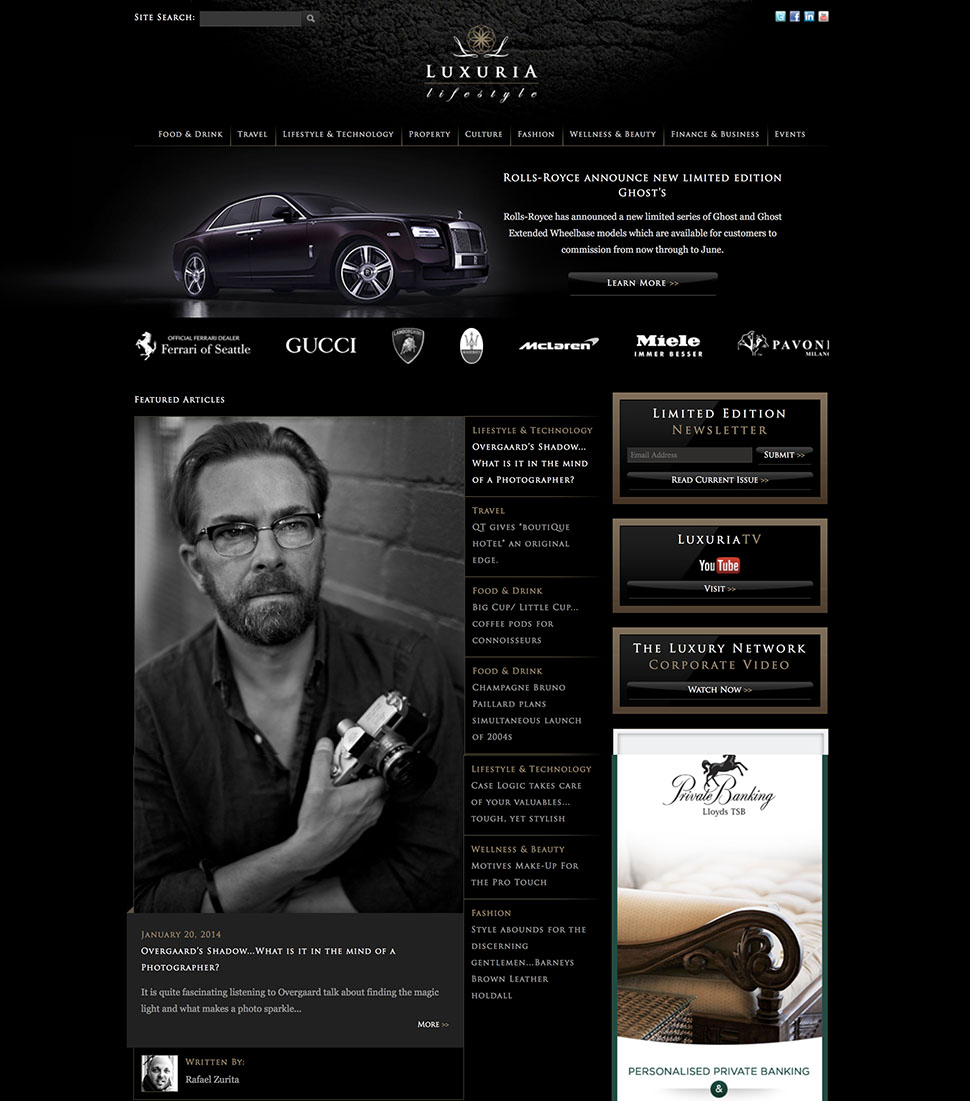 Thorsten Overgaard by Mark Strachan, holding the rare original LEICA M3 DS thar used to belong to Arnold Newman.
| | | |
| --- | --- | --- |
| | | |
| | "Your website and the information it contains is just fantastic. Leica should sponsor all your material!! (perhaps they do?)" | |
| | - B. D. (Belgium) | |
"Your blog is amazing. I'm so grateful for the time you've taken to explain your shots and how to use the Leica equipment. I'm just starting out in the photography world. More for personal reasons and to capture our family memories and travels.

Thanks again for your site and your photos are wonderful! Just beautiful. I will be spending plenty more time at your site!"



- R. R. (USA)
"I just wanted to say THANK YOU for the tremendous work on these Leica M9-P pages. I have a Leica M9-P since last Friday and your webpages are far more interesting reading than the user manual !

I think you have saved me from going totally desperate with my new Leica... (I have 'upgraded' from my Canon 5DMKII to a Leica and the change is huge!)"



- E. R. (Brussels)
Highway 101
Along the Pacific coast, United States, February 5-6, 2014
We drove from Los Angeles to Lompoc and then stayed the night in the small Lucia Lodge that is on a hillside without telephone signal (!) and has only 10 cottages. When we arrived at 7pm it was pitch black except two small lamps over the door to the reception and our room. Down below we could hear the ocean roar.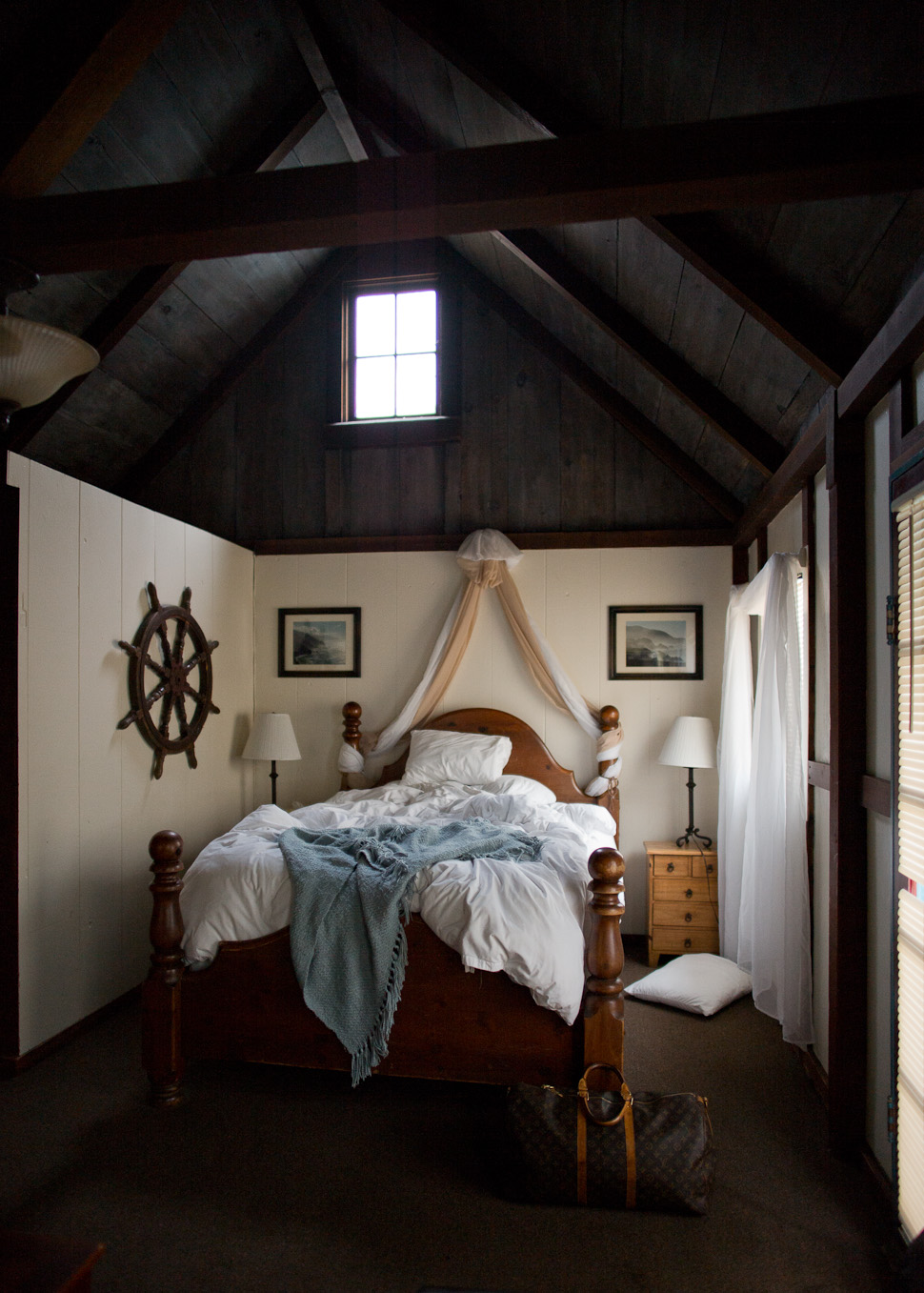 Staying the night in one of the ten cottages in Lucia Lodge on the hillside of Highway 1. So far from everything they close the restaurant at 6pm and there is no cell signal. So we slept 11 hours straight ... I guess we needed it. Leica M 240 with Leica 21mm Summilux-M ASPH f/1.4
| | | |
| --- | --- | --- |
| | | |
| | "Your Newsletter email is a real joy and inspiration. Thank you for providing it." | |
| | - C. B (USA) | |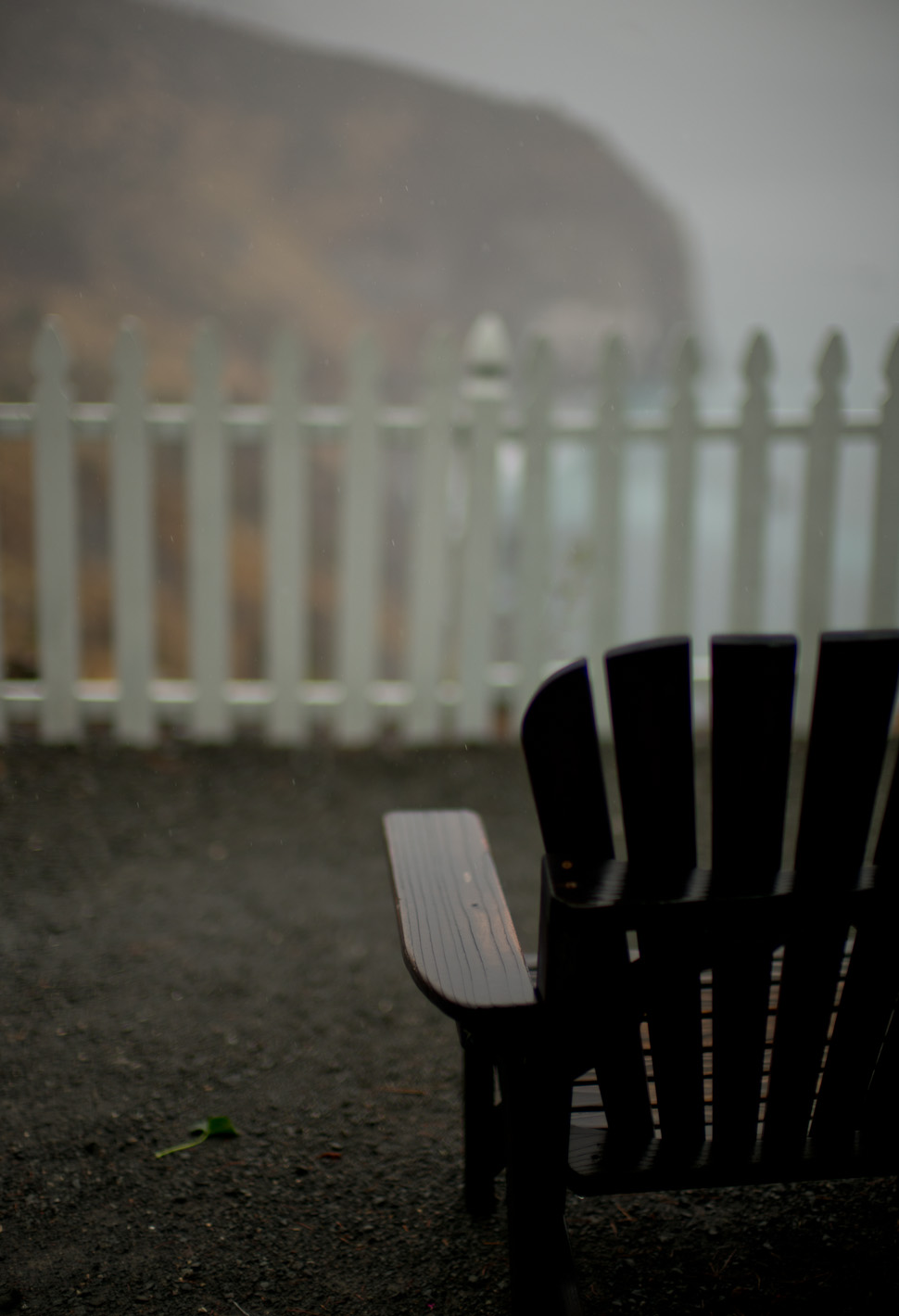 7am outside the lodge on Highway 1. First rain this winter in the mountains around Big Sur. It should keep raining for three days as it turned out, so we were warned that rocks will slide down on the road when it rains (and they did). We drove carefully to San Francisco in the morning. Leica M 240 with Leica 50mm Summilux-M ASPH f/0.95
| | | |
| --- | --- | --- |
| | | |
| | "Thank You, a very informative and very educational website. Made me rethink my photography, and use my current dSLR gear more. I'm not a pro, but just an eager enthusiast. I'm contemplating on upgrading from my student year M4-P to the M 240. Now I got my original Summicron 35mm, an 1983 model year made in Canada." | |
| | - A. I. (Tanzania) | |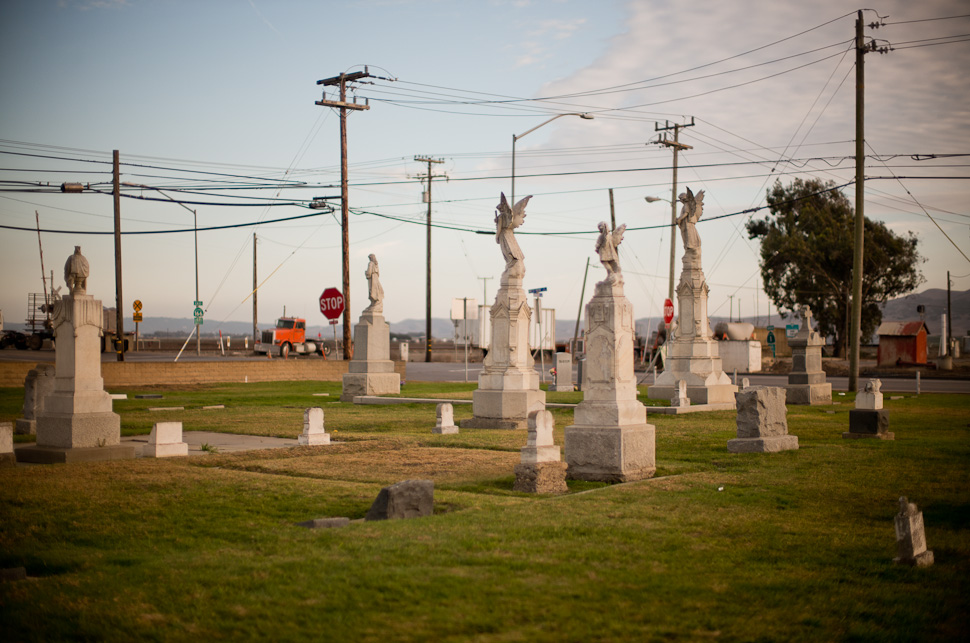 Crossroads: In a traffic crossing in City of Guadalupe in California, angels watching over the dead, electricity lines, telephone lines and trucks meet in a surreal symphony. Leica M 240 with Leica 50mm Noctilux-M ASPH f/0.95. Thorsten Overgaard © 2014.
San Francisco
San Francisco, United States, February 6-10, 2014
| | | |
| --- | --- | --- |
| | | |
| | "I love your website and the detail you go into. At the same time I've fell in love with your style of photography. Hopefully I can take the time to attend one of your workshops." | |
| | - X. L. (Texas) | |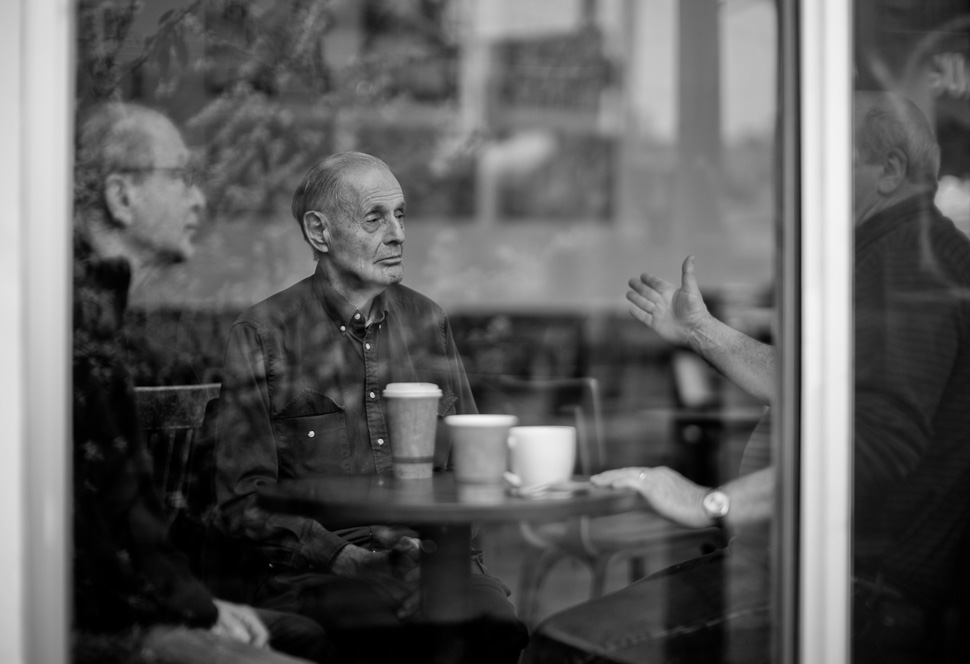 Cafe talk in San Francisco. Leica M 240 with Leica 50mm Noctilux-M ASPH f/0.95
| | | |
| --- | --- | --- |
| | | |
| | "The workshop with you really pushed an evolution in my photography… particularly the notion of sharpness, and how the photographer controls the illusion of sharpness with the light instead of using just the rendering capabilities of the lens." | |
| | - P. W. | |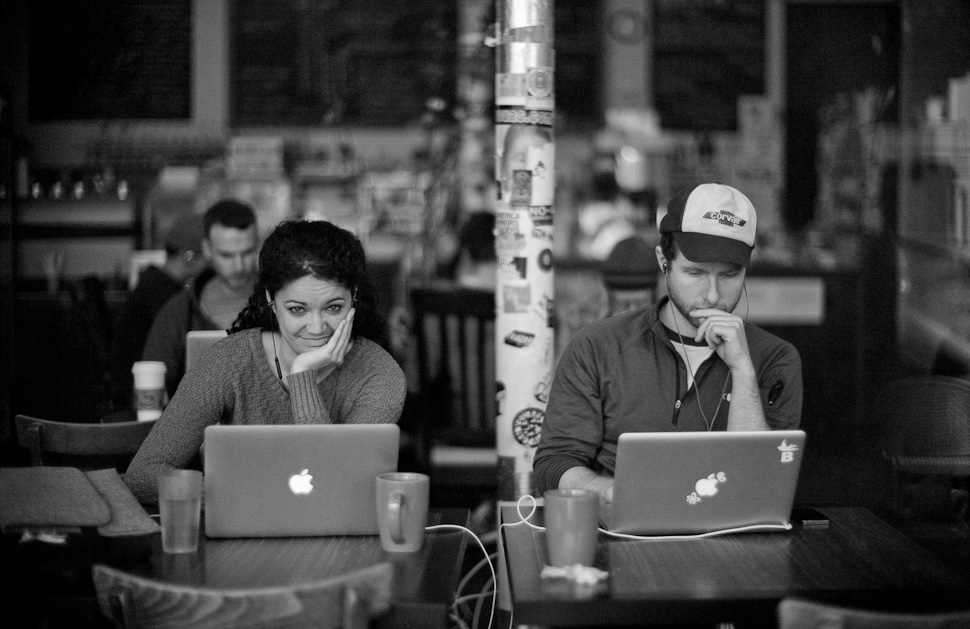 Liking the feeds. Leica M 240 with Leica 50mm Noctilux-M ASPH f/0.95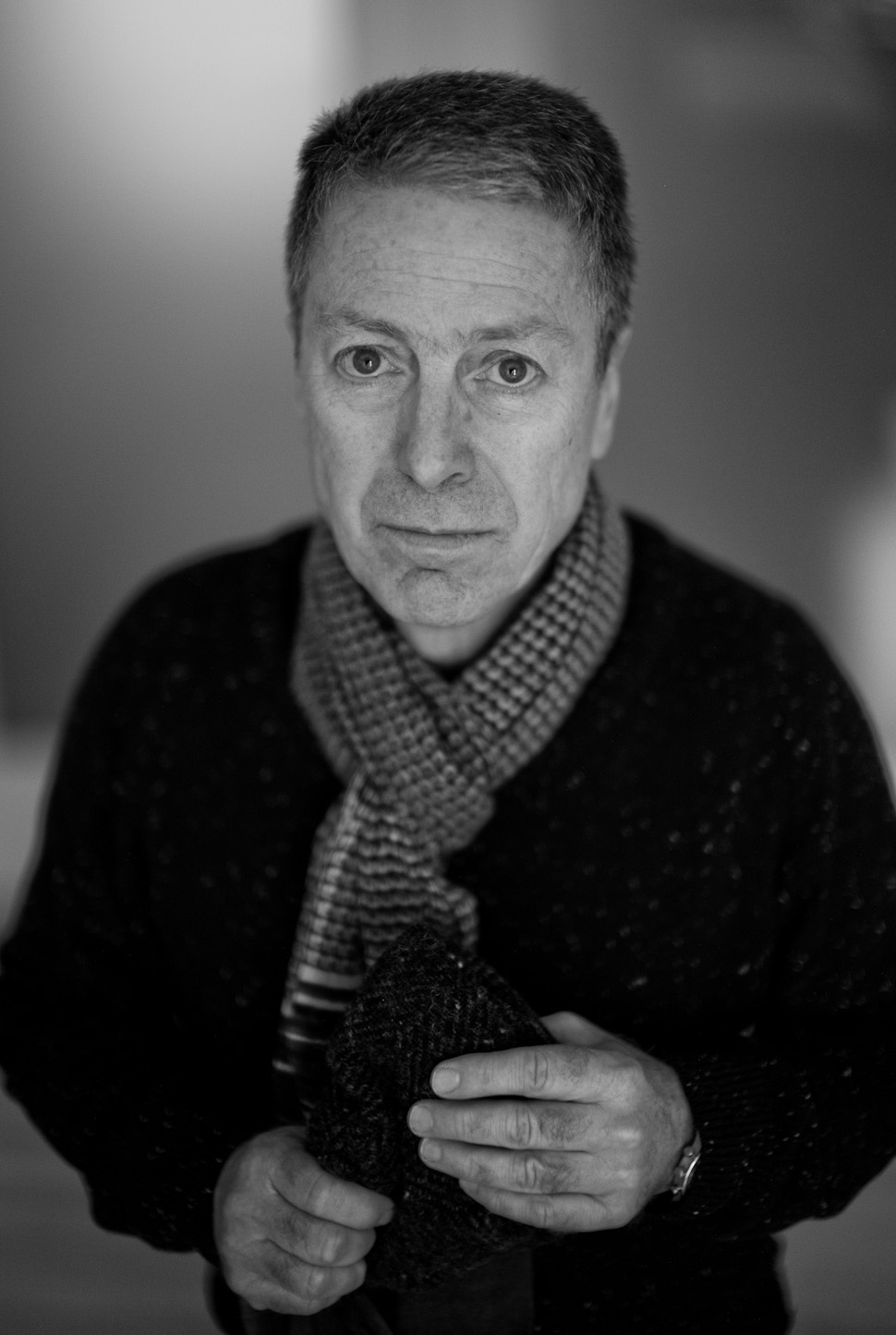 Steve Child. Leica M 240 with Leica 50mm Noctilux-M ASPH f/0.95. Thorsten von Overgaard © 2014.
"Thank you Thorsten for your inspiring newsmail. I recently bought a Leica M 240 with a Summicron F2 35mm. It was the best I could afford at this time and I have been following your newsmail ever since.

You have been like a mentor to me and I have been taking your professional advice ever since I got my camera. You have helped me tremendously, please keep up the good work and know that there are people out there like me that need your professional guidance and are very thankful for what you do for us."



- E. G. (USA)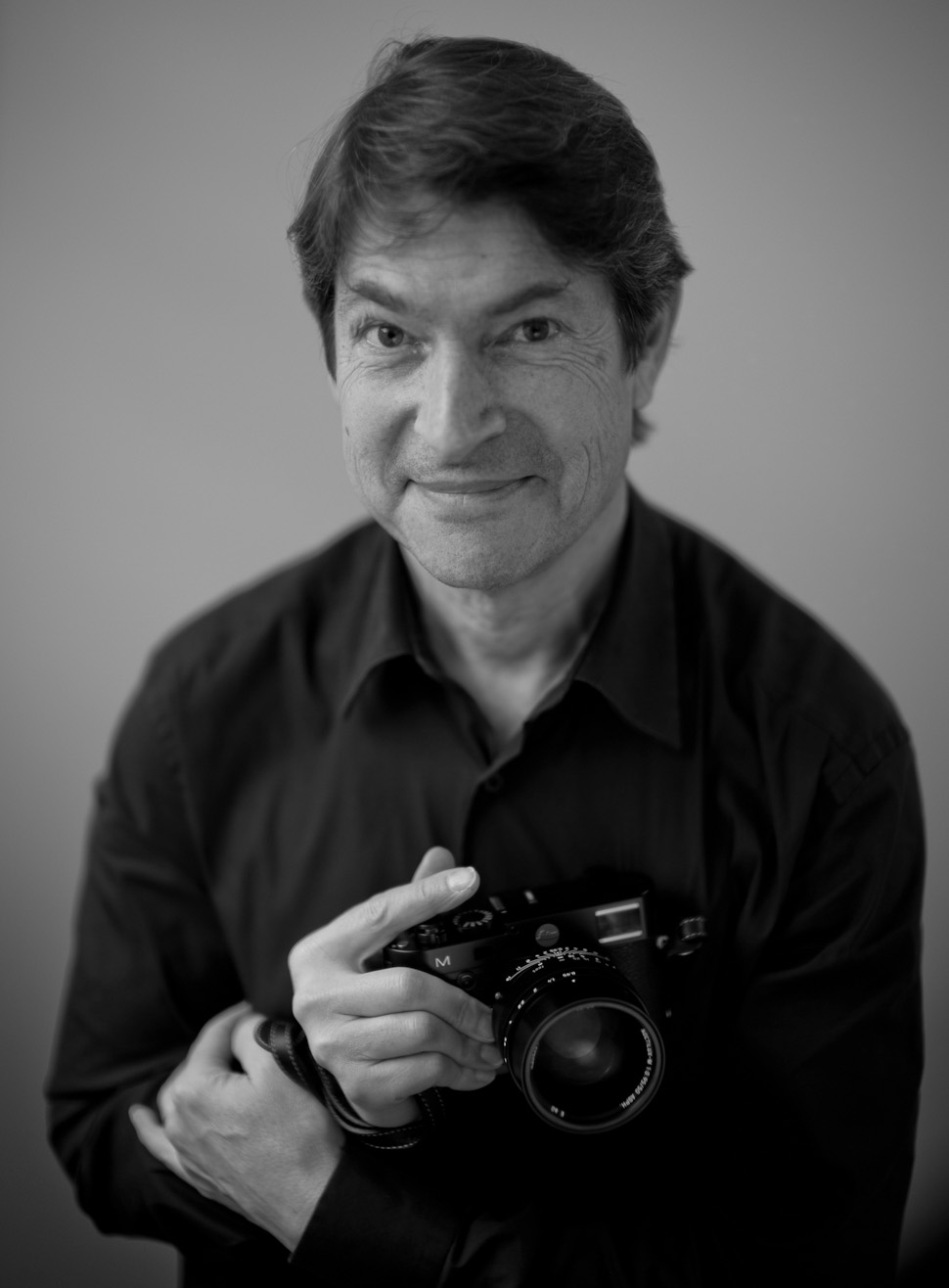 Peter Wais in San Francisco. Leica M 240 with Leica 50mm Noctilux-M ASPH f/0.95
| | | |
| --- | --- | --- |
| | | |
| | "The article on the Leica M is amazing. It's informative, interesting and pleasure to read." | |
| | - K. M. (USA) | |
| | | |
| --- | --- | --- |
| | | |
| | "I appreciate a lot what you do... I learn lots from you. Carry on Thorsten, you work is appreciated." | |
| | - D. B (Moscow) | |
"I am brand new to Leica and in fact have only owned my M 240 for around two weeks now. I originally shot Nikon, then went to Fuji, so the switch to Leica has been quite a change for me.

The reason I am writing is to tell you thank you for all of the wonderful information on your website. I am constantly searching the internet for information with my Leica obsession and I am always led back to your site. Your site has helped me so much and has definitely shortened my learning curve."



- J. R. (Colorado)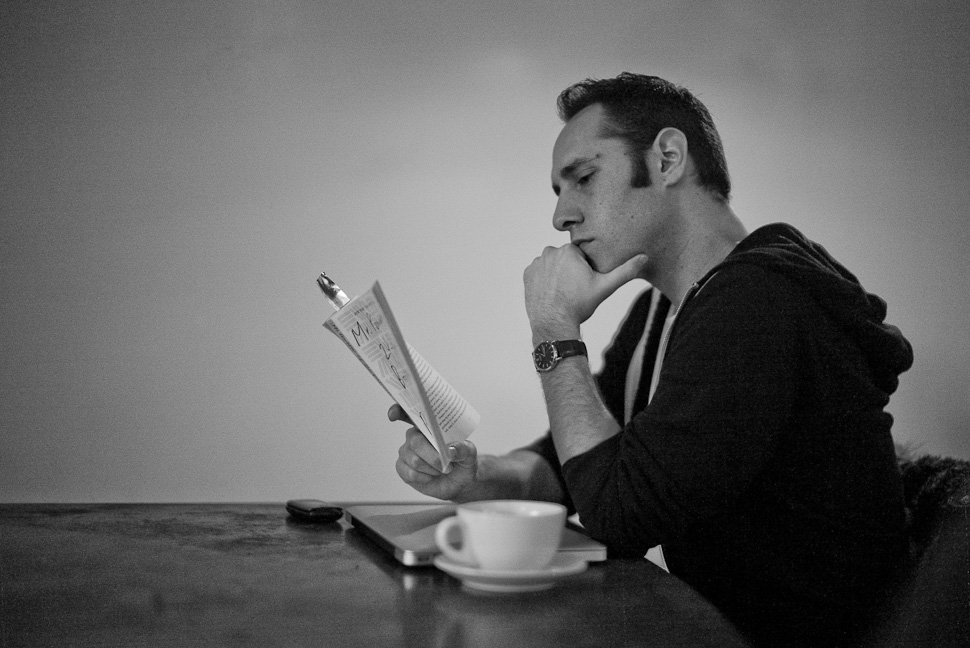 Deep concentration at Ritual Coffee Roasters, San Francisco. A moment on enlightenment. Leica M 240 with Leica 50mm Noctilux-M ASPH f/0.95. Thorten Overgaard © 2014.
| | | |
| --- | --- | --- |
| | | |
| | "Thank you for the wonderful workshop in Vienna. I have already implemented the things i learned concerning adequate light and will go on with it." | |
| | - M. K. (Germany) | |
San Fransisco
San Francisco, United States, February 7, 2014
When in San Francisco we arranged a "Coffee & Leica Freaks Meetup" with everyone who could come 8:00 to 10:00 AM in the morning! Fifteen-to-twenty people with their Leicas came, including this young lady with her dads Leica M9.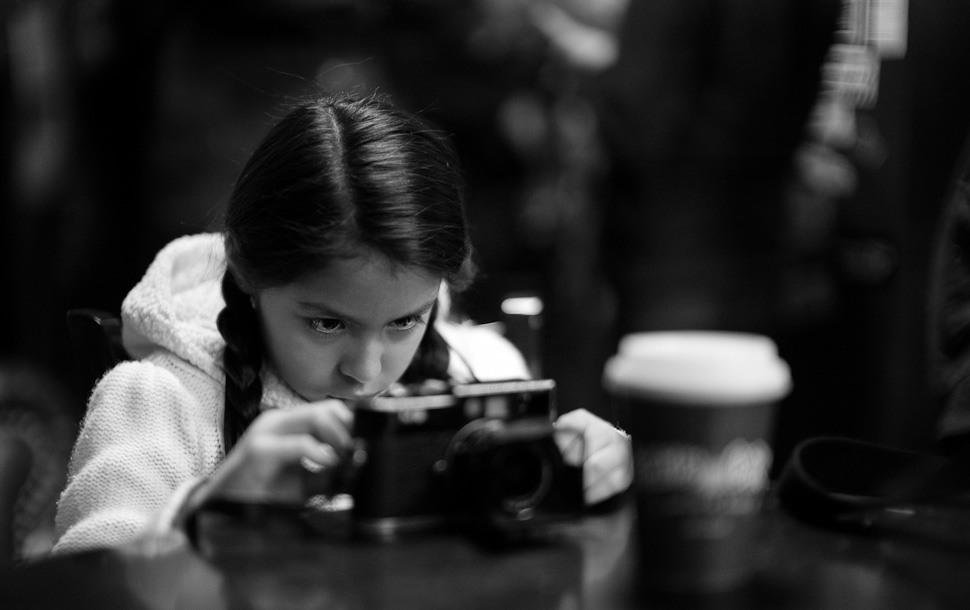 Taking over her dads Leica M9, as every young girl and boy should do! Leica M 240 with Leica 50mm Noctilux-M ASPH f/0.95
| | | |
| --- | --- | --- |
| | | |
| | "Thank you again for the great time in Sydney. It was (and I say this quite seriously) a life changing experience. I'm a lot more confident to take and show my photos now. You should be proud that you have obviously brought knowledge and confidence to so many people. I will see you again some time in the future for a refresh" | |
| | - J. G. (Australia) | |
Los Angeles
Los Angeles, United States, February 11-12, 2014
Back in LA again after San Francisco. I only stayed a couple of days, then left Joy there to do her big Valentines Day concert event, and meet on various music meetings. But after rain every day in San Francisco, the "winter time" of LA was bliss.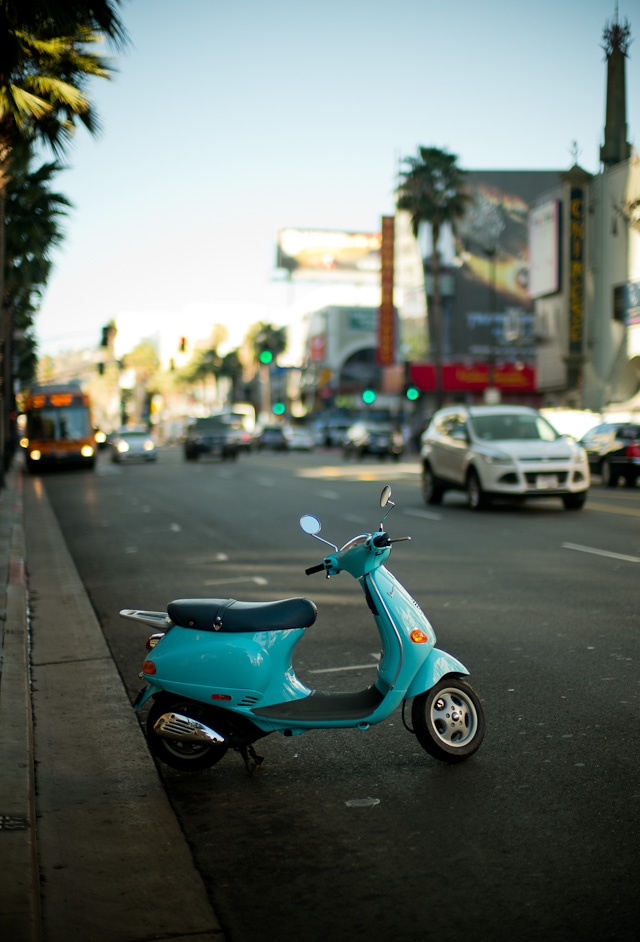 "A Hipster in Los Angeles". © Thorsten Overgaard, February 2014. Leica m 240 with Leica 50mm Noctilux-M ASPH f/0.95.
| | | |
| --- | --- | --- |
| | | |
| | "Your website has always been first port of call when checking out information on new or old Leica lenses and gear that I'm interested in, or when I'm simply looking for inspiration" | |
| | - B. C. (Hong Kong) | |
| | | |
| --- | --- | --- |
| | | |
| | "I thoroughly enjoyed reading your piece on the M9. I recently purchased the Leica ME and a few Leica lenses. I sold all my Nikon gear and am addicted. Thank you!" | |
| | - S. S. | |
| | | |
| --- | --- | --- |
| | | |
| | "I'm in love with your work. Thank you !!" | |
| | - T. K. (London) | |
"The Boston Dazzle"
Boston, United States, February 13-16, 2014
This was my first visit to Boston after having heard for many years that Boston was the most European city in the US and worth a visit.
The weather was quite an experience, and I made this Story Behind the Picture about the experience. Enjoy!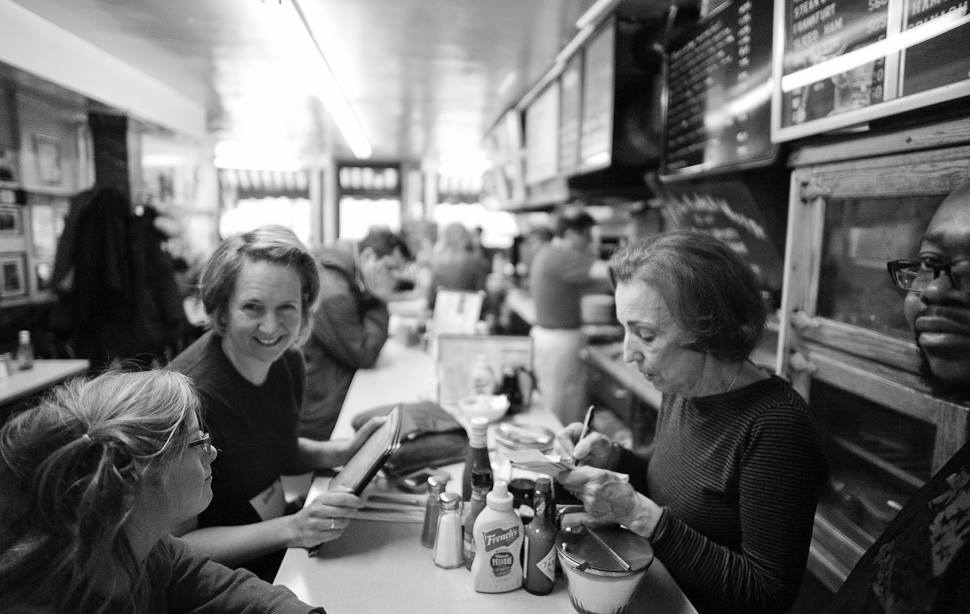 Saturday morning inside Charlie's Sandwich Shoppe. This place is just around the corner of where I stay in Boston and has become part of my morning ritual. The chef there has three old Leica M3, M2, IIIf cameras and 15 lenses from back when that he will send me more on so we can get him upgraded to Leica M9 or something
The place features great food, resulting in a waiting line outside on Saturdays. Obama was here, and so was Al Gore and Sammy Davis Jr.. Charlie's is also known for serving Afro-American musicians when nobody else would, back when. Leica M 240 with Leica 21mm Summilux-M ASPH f/1.4. Thorsten Overgaard © 2014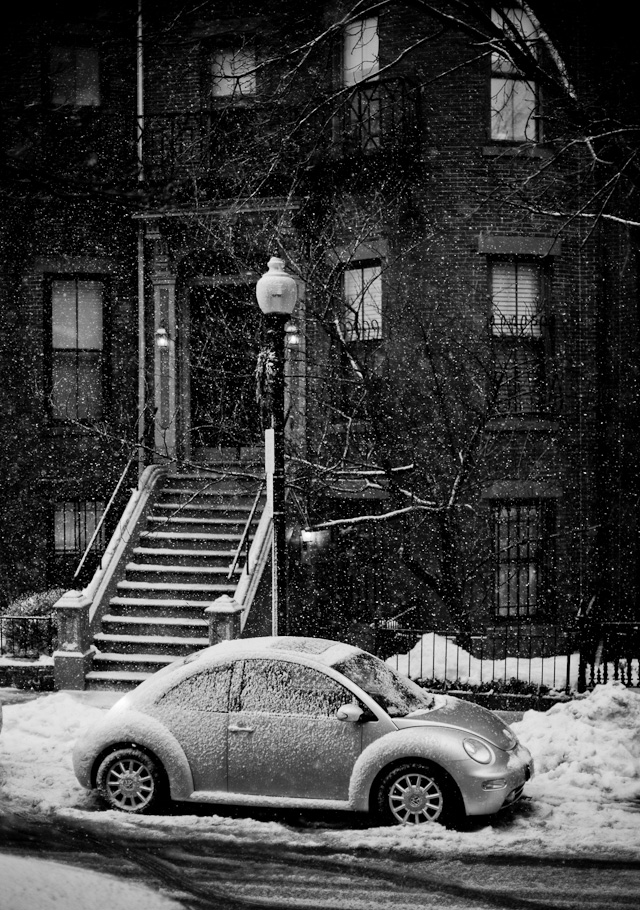 Boston: "Home, Sweet Home" - I was waiting 10 minutes in wet snow for someone to walk into my composition to the right of this picture when I turned left and saw this house with the VW in front. I had been walking for two hours in wet snow and my face, hair, glasses, camera and viewfinder were so wet I could hardly focus. I shot two frames of this and then turned back to wait for someone walking in to my composition.
| | | |
| --- | --- | --- |
| | | |
| | "Thank you for your help. With admiration for your work." | |
| | - S. D. (Portland, USA) | |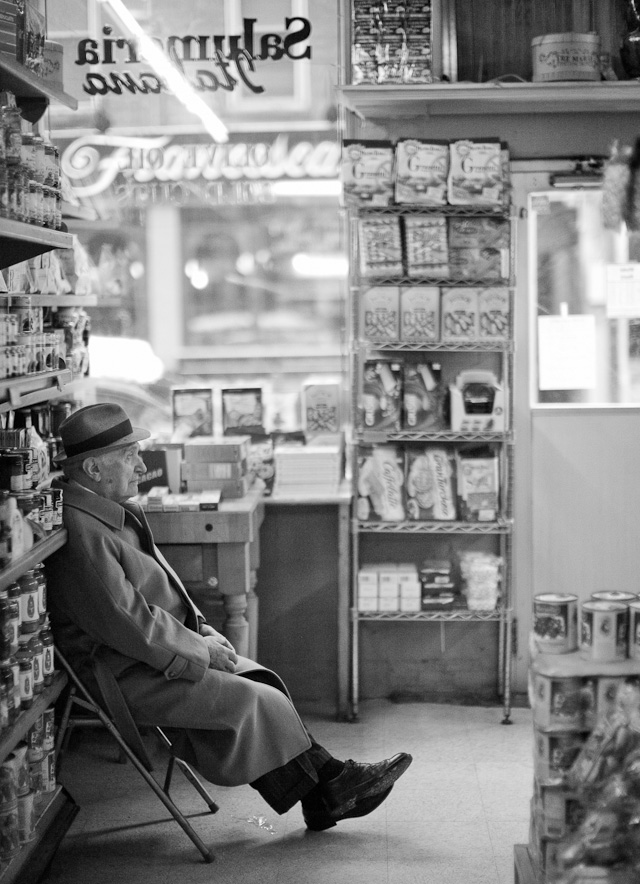 Boston: The former owner of the Italian delicatessen store Salumeria Italiano in Boston, Mr. Erminio Martignetti sits most days in the store and greets cutomers, wearing stylish hat and all. His son and a team of very Italian staff run the business these days.
| | | |
| --- | --- | --- |
| | | |
| | "I like your blog and absolute love your photos (the portraits are from another planet, uau!)." | |
| | - M. V. (Portugal) | |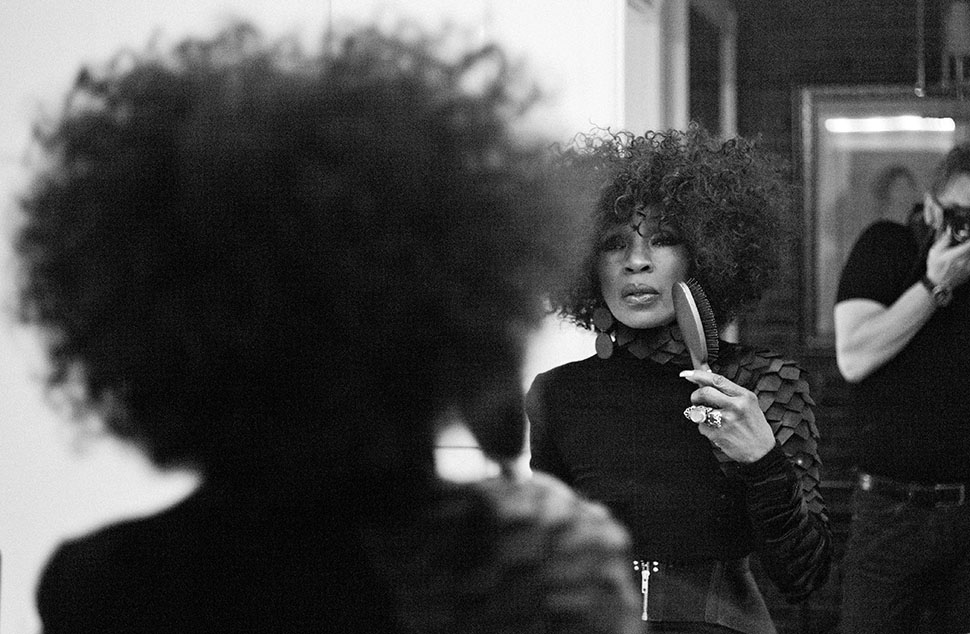 Doing a photo shoot with Ophelia Bakon, in Boston. Leica M Monochrom with Leica 50mm Summicron f/2.0 (II)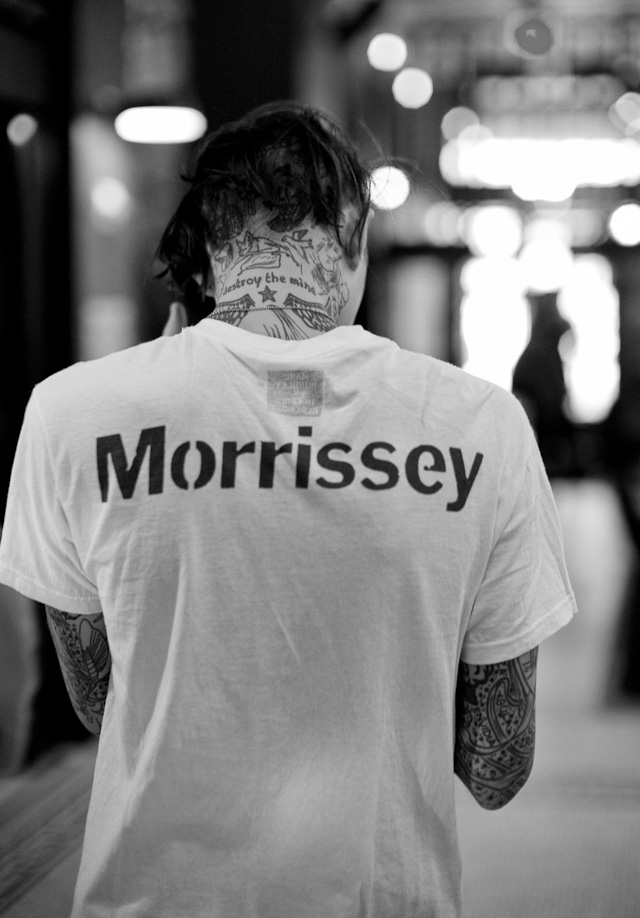 A Morrisey fan, at the ACE Hotel, 29th and Broadway, New York City. Leica M 240 with Leica 50mm Noctilux-M ASPH f/0.95
New York City
New York, New York, United States, February 17-24, 2014
With the ACE Hotel on 29th Street as our base, we walked the city and captured some great photos. New York is one of the cities I like to photograph in because you can walk all day and never need a train and never have a dull moment.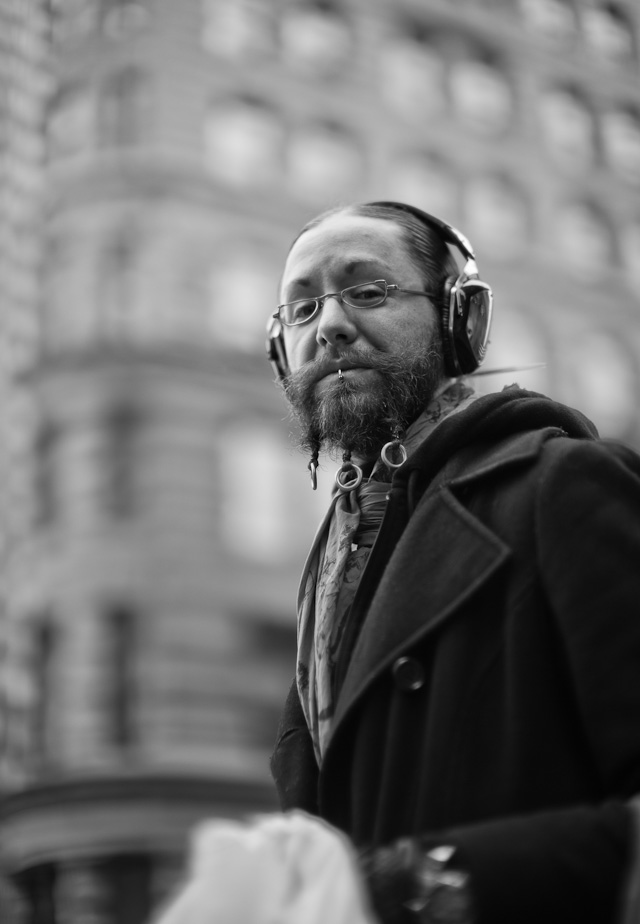 "The unconforming gentleman", Madison Square Guarden, New York. © 2014 Thorsten von Overgaard. Leica M 240 with Leica 50mm Noctilux-M ASPH f/0.95
| | | |
| --- | --- | --- |
| | | |
| | "Enjoyed your newsletter. Makes so much sense to this old guy who started to use Leicas in the early 40s." | |
| | - G. S. (USA) | |
| | | |
| --- | --- | --- |
| | | |
| | "This is just to let you know how much I admire your work and thank you for being such an inspiration. You have been one of the reasons I opted for the M240 and the Noctilux 50 mm ... Thank you!" | |
| | - S. C. (Singapore) | |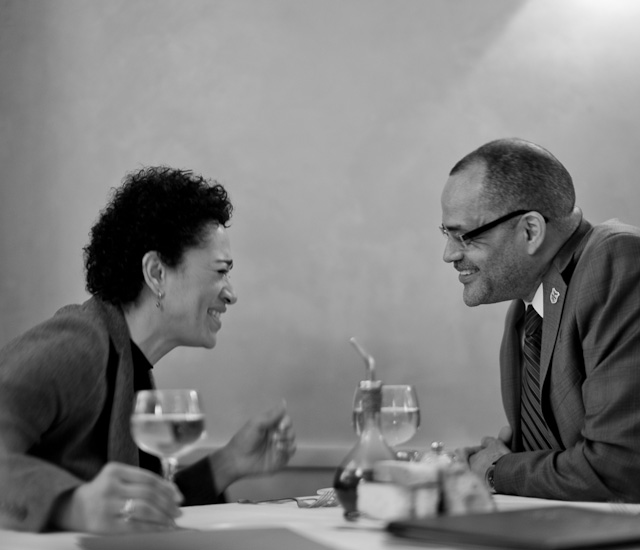 Lunch date, by Thorsten Overgard, Leica M 240 with Leica 50mm Noctilux-M ASPH f/0.95.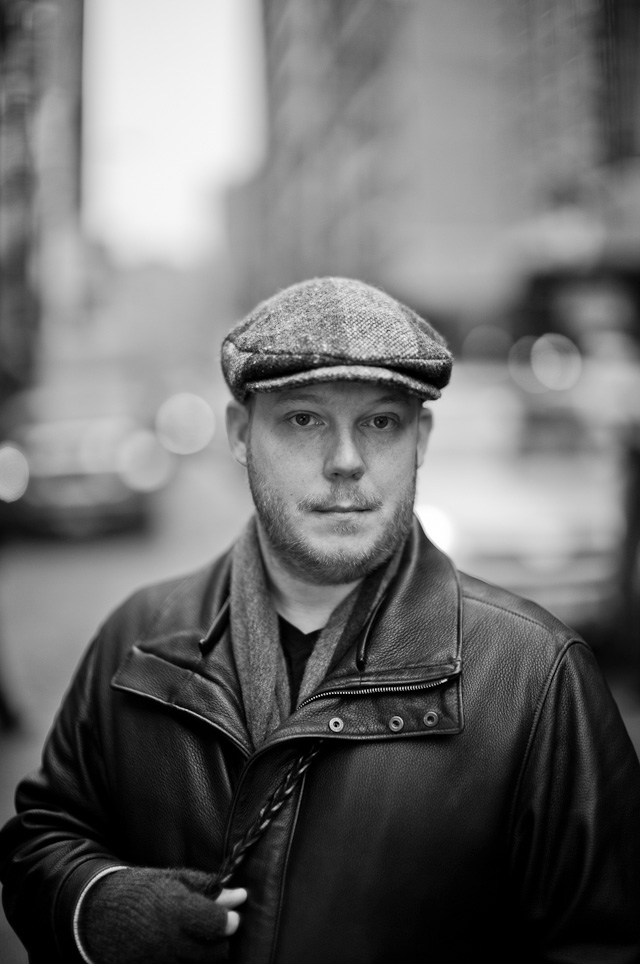 JB Rasor by Thorsten Overgard, Leica M 240 with Leica 50mm Noctilux-M ASPH f/0.95.
"First of all I would like to thank you for some very educational and inspirational days in Sydney. I feel that I've grown a lot as a photographer, not only through what you taught us, but also by just observing how you move and interact with subjects on the street. And your "All you need is love" approach to photography is the best advise I've ever received as a photographer.

I'm still aiming for my "less is more" approach to photography. If something doesn't add to the story you're trying to tell then try to crop it out (preferably in camera) or wait for the right moment when there are no distractions. I just had another look at your website and one of my favorite photos is of the Sikh reading a book shot with the 80mm Summilux-R. There must be hundreds of people in that photo but they all add to the story and therefore not a single one should be cropped. Very inspiring indeed!

Hope to see you again in the future, in Australia or somewhere else around the world. All the best."



- H. H. (Sydney)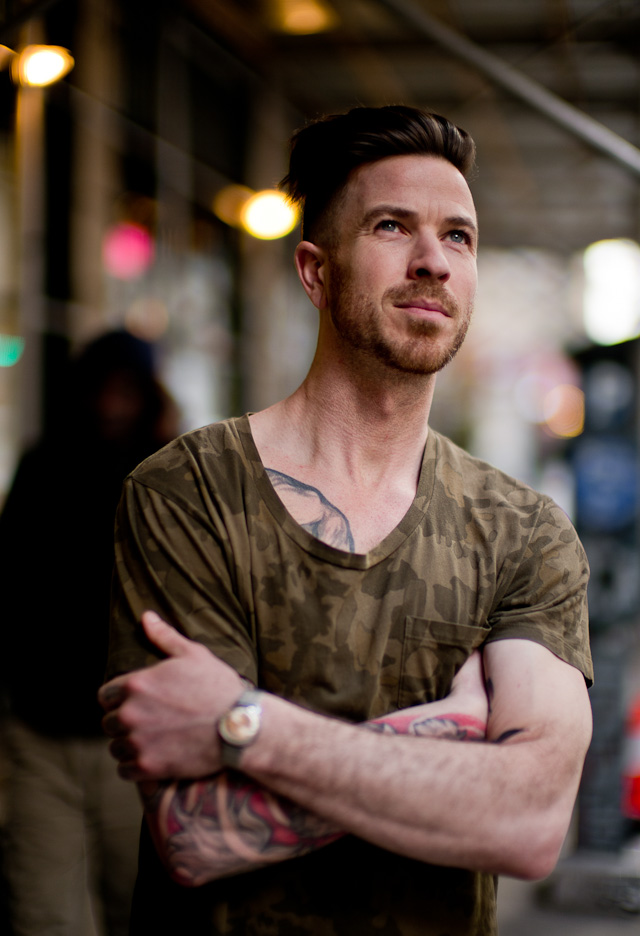 Francis, lobby manager ACE Hotel and the one personally responsible for Thorsten's oatmeal every morning. Photo: Thorsten Overgaard © 2014. Leica M 240 with Leica 50mm Noctilux-M ASPH f/0.95.
| | | |
| --- | --- | --- |
| | | |
| | "Thanks again for an amazing experience. Definitely keen to do another workshop with you both in the near future to hone my skillz. Thanks again for everything." | |
| | - G. C. (Hong Kong) | |
Fashion Show in New York
Club 39, New York, February 19, 2014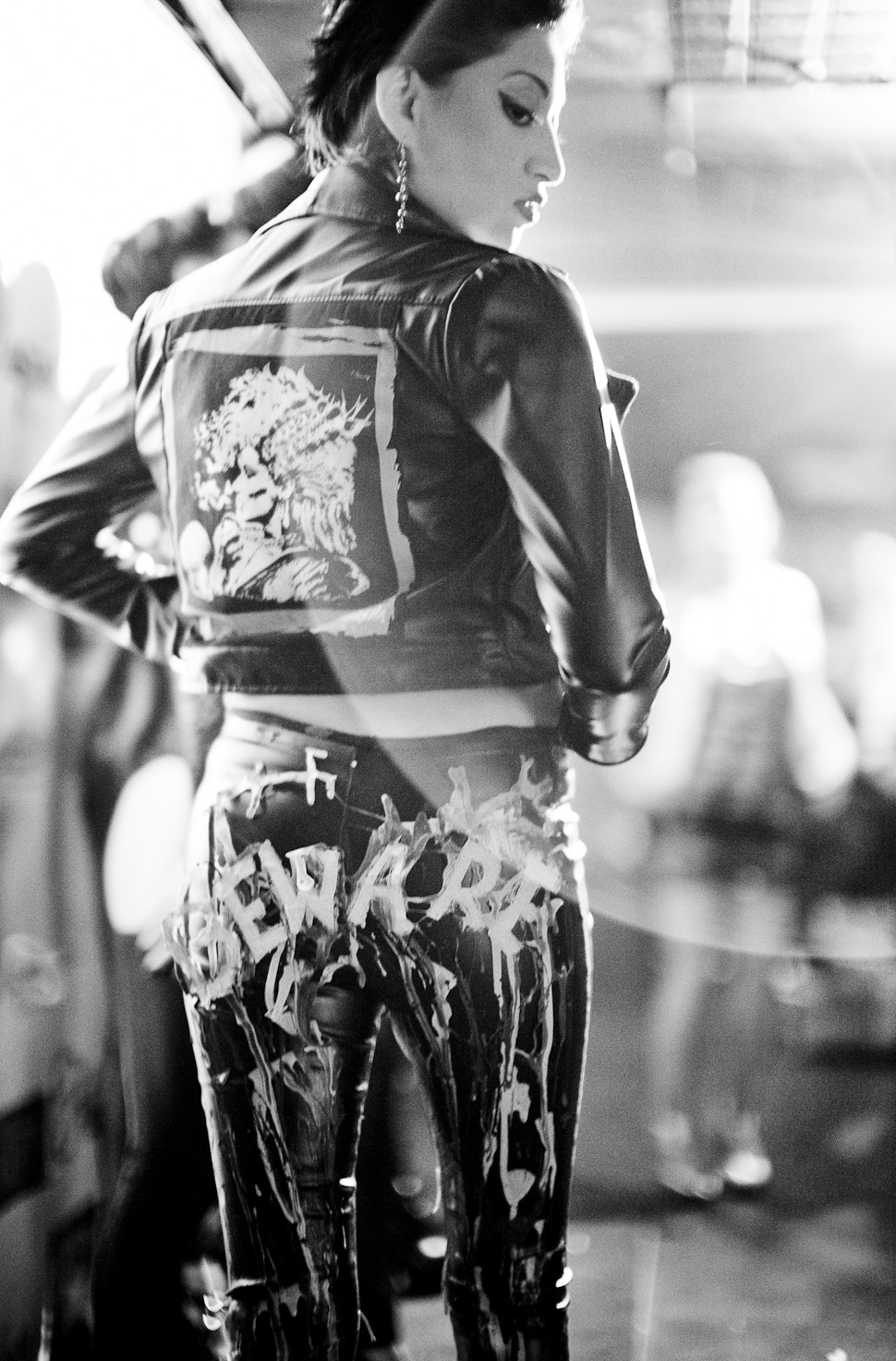 Beware ... Punk is Back. Leica M 240 with Leica 50mm Noctilux-M ASPH f/0.95. Thorsten Overgaard © 2014
| | | |
| --- | --- | --- |
| | | |
| | "Wonderful to read your newsletter troday. As always, but today I felt the need to thank you especially by sending you this mail. Actually you deserve a thank you mail each and every time but I always think this might disturb you and so I refrain." | |
| | - H. H. (Vienna) | |
Freewheelin' with Don Hunstein
New York, United States, February 24, 2014
Before leaving New York for this time, I visited Don Hunstein who is the photographer behind the Bob Dylan Freewhelin' cover and many other classic music photographs of Simon & Garfunkel, Johnny Cash, Miles Davis, Aretha Franklin, etc. as fetured in the December 2013 book "Keeping Time"
The photo session will be in a upcoming Story Behind That Picture, but here is a preview.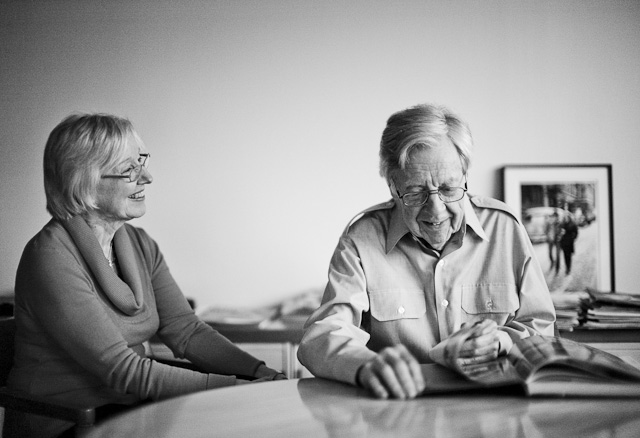 Photographer Don Hunstein with his wife of 45 years, DeeAnne in their home in New York, February 2014.
© 2014 by Thorsten Overgaard.
"I have visited your site for quite some time now. I have also already joined your mailing list.
I would like to thank you sincerely for all the knowledge and passion for photography you are sharing with the readers of your interesting and inspiring site. I have to say I share most, if not all of your views regarding the point of photography itself as well as the importance of having quality and simplicity in life."



- B. V. (Slovenia)
| | | |
| --- | --- | --- |
| | | |
| | "I was participant on your photo workshops in Malmö in 2011 and 2012. My abilities increased beyond imagination after that. Will you be offering a workshop only about portrait photography?" | |
| | - C. B. (Sweden) | |