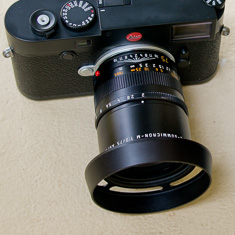 E49 ventilated shade Black Paint on Leica 75mm APO-Summicron-M ASPH f/2.0
Ventilated Lens Shade
for Adventurers made for E49 Leica lenses.
Sits on the inside filter thread and incorporates a 55mm filter thread on the shade for E55 filters. (49mm filters can be placed between the lens and the shade though).
Ships worldwide in 15-30 days.
#E49 Shade Black Paint
For 75mm APO-Summicron-M ASPH f/2.0and other lenses with 49mm filter thread.

Black Paint
$199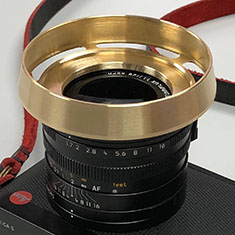 Brass raw shade for E49 filter thread.
E49 Brass
Brass E49 ventilated shade for E49 filter threats and the Leica Q and Leica Q2.
In stock. Ships worldwide in 15 - 30 days. (choose FedEx for faster shipping).
#E49Brass
Ventilated Lens Shade in Brass
for the Leica Q and any other E49 lens with 49mm filter thread
49mm filter can sit between lens and shade or via black step-down ring, or 62mm filter fits on front of the shade.
For Leica Q, Leica Q2 and Leica 75mm APO-Summicron-M ASPH f/2.0 (11637) and any lens with 49mm filter thread.

Limited stock
Brass $298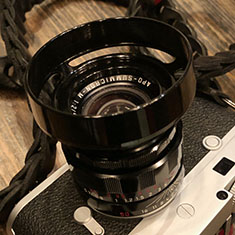 Brass Black Painted E49 ventilated shade (here shown on the E39).
E49
Brass Black Paint
Sold out.
#E49BrassBlack

Limited Stock
Brass Black Paint
$348

+ FedEx Shipping
If you would like fastest possible shipping with FedEx and a tracking number, add FedEx Shipping to your order here.
Price: $24
(One fee no matter how many shades)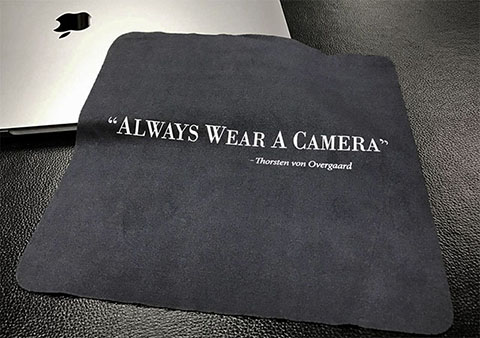 Extra Microfiber Cloths
"Always Wear a Camera" by Thorsten von Overgaard. The ventilated shade always comes with one, bnut if you want extras, order here.
#CLOTH
Ships internationally. Usually arrives within ten days.

$20.00 (for two)