Leica 40mm Summicron-C f/2.0
Minolta 40mm M-Rokkor f/2.0

By: Thorsten Overgaard. March 17, 2019.
A hidden gem in the Leica lens lineup
Between 1973 and 1979, Leica Camera AG produced 54,000 lenses of the Leica 40mm Summicron-C f/2.0 (order no 11542), made for the Leica CL (also known as the "Leica Mini M") film camera they developed with Minolta. It's lens it's easy to get around, and it's not expensive.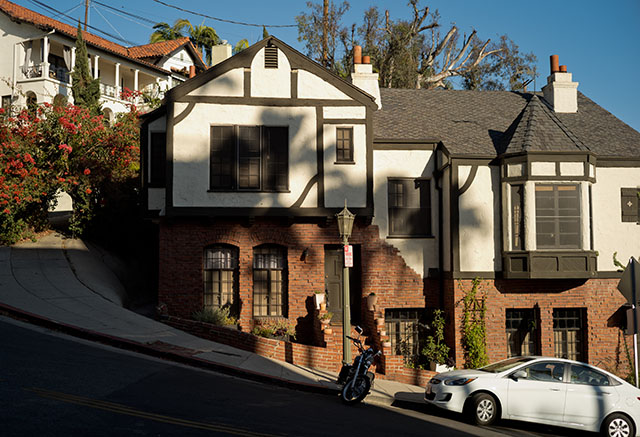 Los Angeles. Leica M10 with 40mm Summicron-C f/2.0. © Thorsten Overgaard.
The Minolta CLE and the Leica CL were sister cameras in an age where Leica tried to catch up with the Japanese camera producers of the so popular SLR cameras. The idea was to work with Minolta. A lot of Minolta staff went to Leica in Wetzlar to learn the German way of engineering and assembling, which obviously took quite some resources.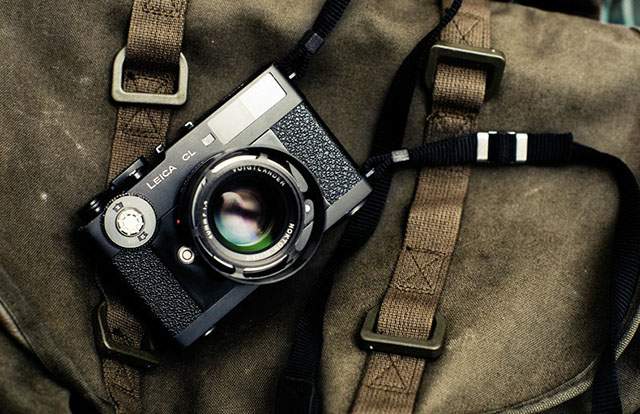 The Leica CL 35mm film camera was made as Leica CL and Minolta CLE and shared technology. It also introduced three CL lenses together with it, as a compact and economical alternative to the Leica M camera.
Despite the success of the Leica CL and the Minolta CLE, the innovative cameras didn't save Leica. In early 1980's the Leitz family had to sell the Leica company. But that's another story for another day.
What we are left with is the hidden gem of the Leica lens lineup, the Leica 40mm Summicron-M f/2.0 that sells second-hand on eBay and elsewhere for around $350 - $600.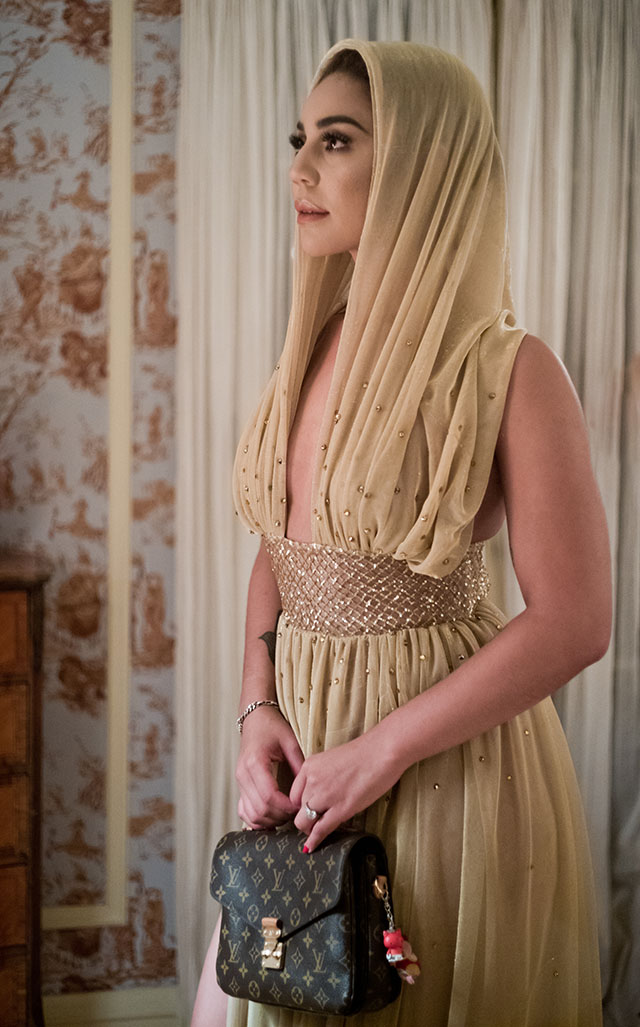 Leica M10 with Leica 40mm Summicron-C f/2.0. © Thorsten Overgaard.
Should I buy the 40mm Summicron-C..?
If you are looking for something to tweak things a bit, the 40mm Summicron-M f/2.0 offers the usual high lens quality, the look of the 1970's and a very compact lens. So if you lust for something different, this is the one to throw your love at. It fits straight onto the Leica M.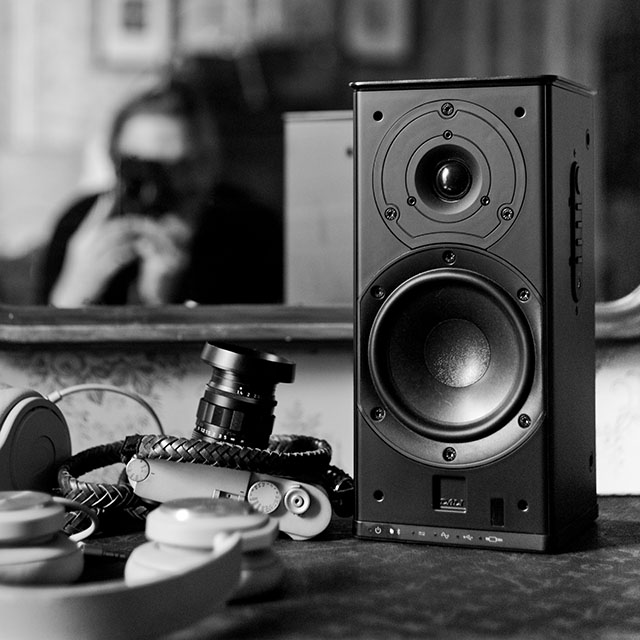 Leica M9 with Leica 40mm Summicron-C f/2.0. © Thorsten Overgaard.
Imagine the framelines
As the Leica M only have 35mm framelines and 50mm framelines, and never had 40mm framelines you have to imagine or approximate where the frame is. If you use an EVF (electronic viewfinder), you see the frame exactly..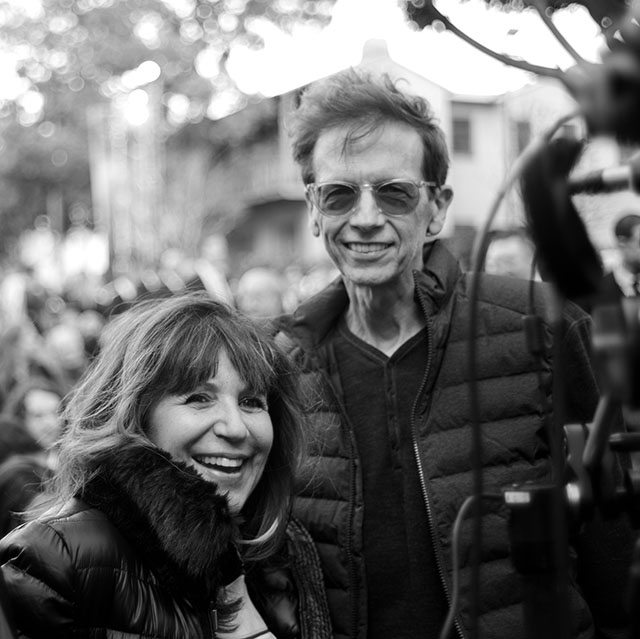 Raven and David Campbebell. Leica M9 with Leica 40mm Summicron-C f/2.0. © Thorsten Overgaard.
The look of the 1970's
The Leica 40mm Summicron-C f/2.0 is pretty detailed and with very good control of light, colors and contrast. What you see, compared with for example the current Leica 35mm Summilux-M f/1.4 FLE (which is a $5,500 lens), is that newer Leica designs tend to be able to pick up more details in the shades.
For me, the Leica 40mm Summicron-M f/2.0 represents a somewhat 'film look' because it doesn't have the crisp high-contrast details as modern lenses have.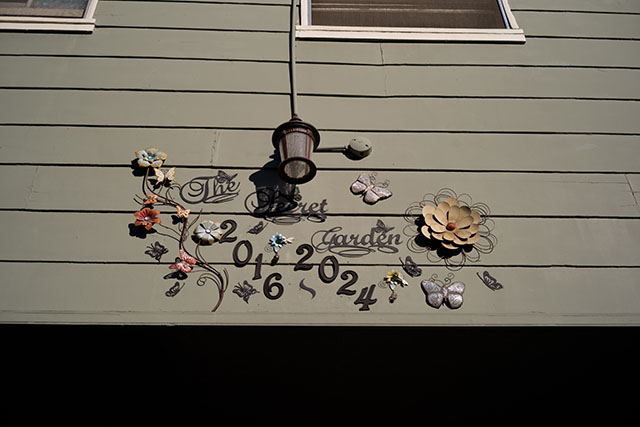 Leica M10 with Leica 40mm Summicron-C f/2.0. © Thorsten Overgaard.
Buy the new eBook
"Composition in Photography"
by Thorsten von Overgaard

Composition in Photography
- The Photographer as Storyteller

This book will inspire your photographic eye and make you wonder about all the possibilities you can now see.

In this exciting new book Thorsten Overgaard expands and simplifies the subject of composition. It's elevated from geometric patterns to actual storytelling by practical use of space, rhythm, time, colors, emotions and intuition in your photography.

- The Basics of Composition.
- Composition in the Third Dimension.
- Picture Stories.
- Accenturating with Light.
- Photograph as a Melody.
- Which lens are you?
- Fear of sharpness?.
- Vanishing Point.
- The most important
element of composition

- What is the unknown secret
why it is you mostly can't get
the Rule of Thirds to work?

- How does a camera see
differently than the eye?

- What does quantum physics and
photography have in common?

- What's the greatest adventure you can
set out on in photography these days?
- A Sense of Geometry.

Only $398.00.
Order now. Instant delivery.

864 pages. 550 Illustrations.

"It's your best work so far"

"I'm being gently led"

" I love this book!!!"

"The book is incredible"'

"It's like therapy for the human spirit."

"Beautiful and inspiring"

"Full of practical advice
and shared experience"

'I love how hands-on and
laid back Thorsten's witting style is"

"Inspiring"

"Intense and thought-provoking"

100% satisfaction of money back.
Close focus
A feature of the Leica 40mm Summicron-C is that you can close focus as near as 80 cm. If you pick a long background with some sparkling light, you will get some nice sparkles.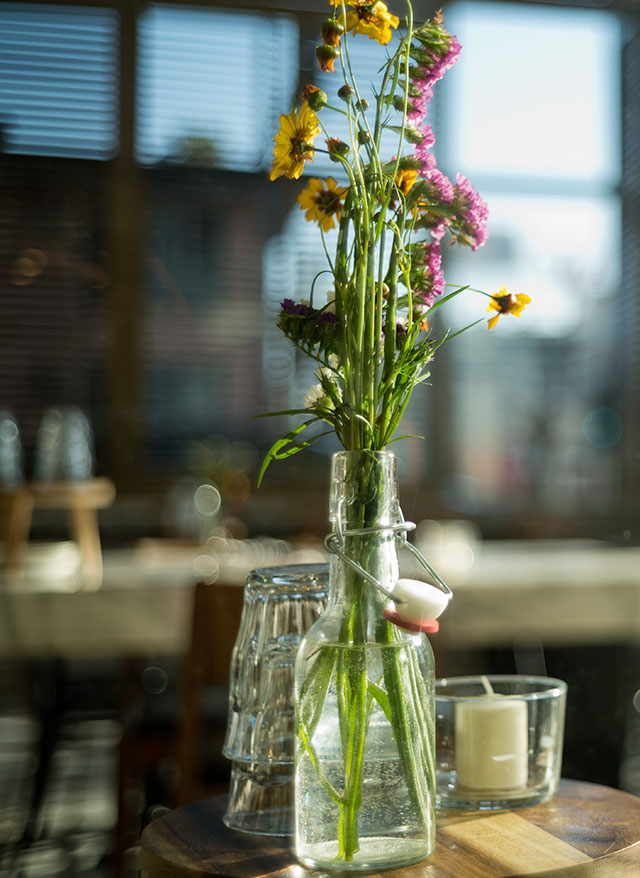 Leica M10 with Leica 40mm Summicron-C f/2.0. © Thorsten Overgaard.
Compact lens
With just 120g and a length of 23mm (1 inch), this is as compact as it gets for street photography and travel.
Designers
Optical designers of the 40mm Summicron-C is Georg Knetsch, Hermann Desch (also 21mm and 28mm Elmarit), Heinz Marquardt (also 60mm Macro-Elmarit-F, 28mm Elmarit-M and 50mm Summilux-R), and Walter Watz (also 35mm Summilux-M and 35mm Summilux-M Aspherical AA).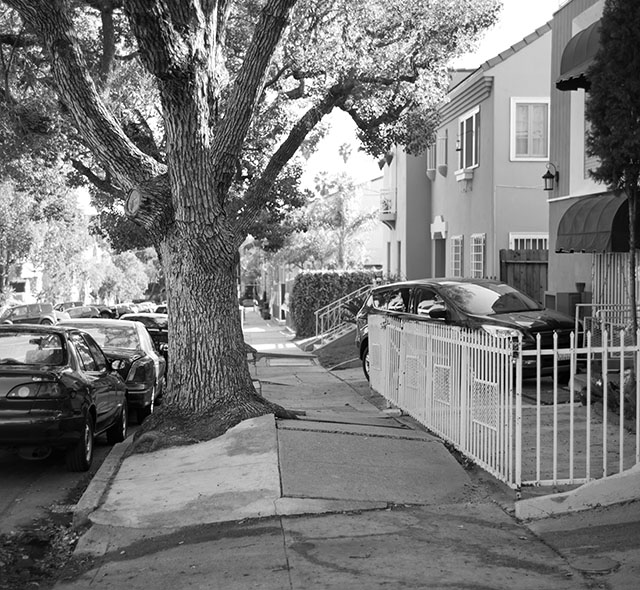 Leica M10 with Leica 40mm Summicron-C f/2.0. © Thorsten Overgaard.
Lens shade
| | |
| --- | --- |
| | |
| | The original rubber hood (order no 12.518) |
| | |
The Leica 50mm Summicron-M f/2.0 comes with an original rubber hood (order no 12.518), which was a popular hood back in the 1980's. The original rubber hood is not worth pursuing as the rubber will be pretty old looking. I prefer mine to look a little more sophisticated, so I fitted the E39 Ventilated Shade that I designed myself for Leica lenses.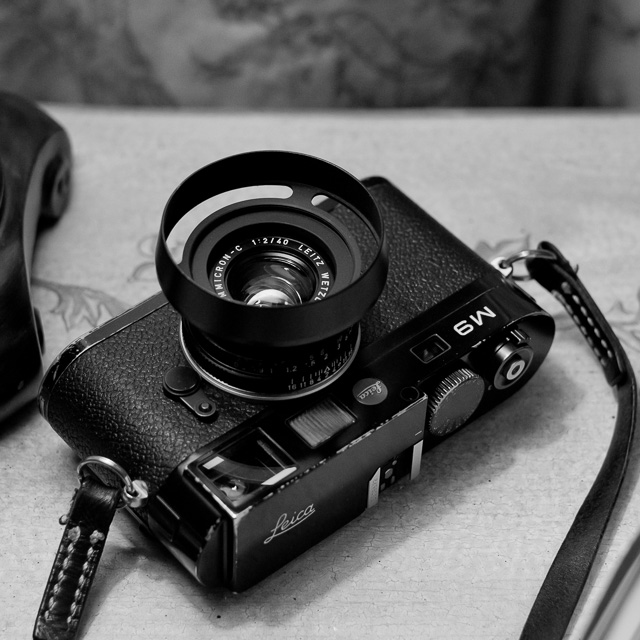 Leica 40mm Summicron-C f/2.0 with the E39 Ventilated Shade designed by Thorsten Overgaard.
To be continued ...
I hope you enjoyed today's story. As always feel free to email me with suggestions, ideas and comments.
New Lightroom Survival Kit
for only $498

270 pages on how to set up a photography workflow, from calibrating the screen to editing in Lightroom, and printing. How to deal with Lightroom CC vs. Lightroom CC Classic. How to organize files, back up, clouds, use DAM (Digital Asset Management) catalogs and Photoshop.

Read more here

Video tutorials, image test files, presets, checklists, definitions, tutorials of Lightroom and Photoshop that boils down years of experience to a workflow you can implement in less than one day.

10+ years experience in one package

Why spend years figuring out the smartest way to do things when you can tap into the best way of doing things? My workflow has been refined through years of field work.


Professional workflow experience made simple, logical and easy to use.

Update for only $198

Update your Lightroom Survival Kit to the new
Lightroom Survival Kit for only $198.
You get a complete new installation. Order here.




Only $498.00

Order today.
Instant delivery.

Now comes with
FREE Leica Presets
for Lightroom
by Thorsten Overgaard
($68 value)

Full satisfaction
or money back.


Compatible from Lightroom 1.0 to Lightroom Classic CC version 8.2.
I like simple things

I make things for myself the way I think they should be, and I use them for my travel to more than twentyfive countries a year. Once I am happy with the way stuff works, I make it available for you to buy.

SHOP THE COLLECTION:

Ventilated Shades f

or most Leica lenses




Classic look to the lenses, sturdy protection against bumps and scratches ... and yes, they shade for the light as well.



Camera Straps f

or Leica M and Leica Q




"Simply a leather strap" – My handmade soft calfskin camera strap is the ultimate sophisication in simpliciy and luxury.

Camera Pouches

for Leica M and Leica Q




The soft calfskin pouch you don't need ... but you just can't resist! For camera with lens, or to keep track of loose parts.

"The Von" Camera Bag Carry-On Travel


Made to travel in style. Handmade by the best artisans in Milano, Venice and Verona to bring the owner a liftetime of happiness.

24h Travel Bag

with lots of Carry-On space




I decided to make a bag with all the space I could ever need to bring onto an airplane.



The Von Mini Messenger


The Ideal Walkabout Photographers Bag

.

Tested for three years all over the world by me.

Camera Backpack


I've made a series of backpacks becuase they are practical for many things.

Document Carry-On for iPad or Computer


Put a mess of everything in this and you look stylish and organized.

Desk Blotters and Larger-Than-Life Mousepad


Nothing beats the feelling of soft calfskin leather on your desk ... but this one takes away reflections, damps the keyboards and makes you happy!

Computer shade for MacBook Pro 15"


Better tonality, accurate colors and concentration for the eyes with my travel shade that snaps onto the MacBook with magnets and folds for travel.

Workshops & Masterclasses
With Thorsten von Overgaard for Leica enthusiasts and digital photographers in more than 25 countries a year. Pick your favorite city and meet Thorsten Overgaard.
Photography Extension Courses


Start an extension course with Thorsten Overgaard, work at your own pace and take the time you want.

At your own pace, and home

One-on-one Training anywhere in the world
Train with Thorsten Overgaard personally, tailored for you and private, any place in the world, or online.

Video Classes:

Learn from Thorsten Overgaard




Watch to learn about your camera, how to use light, how to do street photography, or simply to stay inspired.

eBooks on Photography


The foremost Leica expert and multi award-winning photographer Thorsten Overgard write books that teach and inspire.

Signed Prints by Thosten von Overgaard
Select photgoraphs from the archive of Thorsten von Overgaard, signed, sealed and delivered for your collection.


Adobe Lightroom Presets for Leica


As a Leica and Lightroom user you will love the simplicity and original look of the Presets Thorsten made for his Leica files.

Used Leica Cameras


Ken Hansen New York Inc

updated stock list of second-hand Leica lenses.