Famous Leica Photographers
By: Thorsten Overgaard. November 21, 2022. Latest edit November 27, 2023.
An Oxymoron
Some Leica photographers are famous because they took one or many historic photos. Other Leica photographers are famous for being in movies, playing guitar, or being influencers, or posessing some other excellent skill. Apart from being recognizeable, the Leica users featured on this page for your visual pleasure, share the love for photography and the Leica.
Some of the celebrities and famous users of Leica has been Aleksandr Rodchenko, André Kertész, Walker Evans, François-Marie Banier, Garry Winogrand, Ed Clark, Henri Cartier-Bresson, Annie Leibovitz, Ernest Hemingway (IIIf), Robert Capa (aka Endre Ernö Friedmann), Jan Grarup, Robert McNeely, Bruce Gilden, Eugene Smith, Robert Frank, Ilse Bing (Queen of the Leica), William Klein, Nobuyoshi Araki, Garry Winogrand, Inge Morath, Lee Friedlander, Sheikh Saud Al Thani, Leni Riefenstahl, President Dmitry Medvedev and Sebastião Salgado.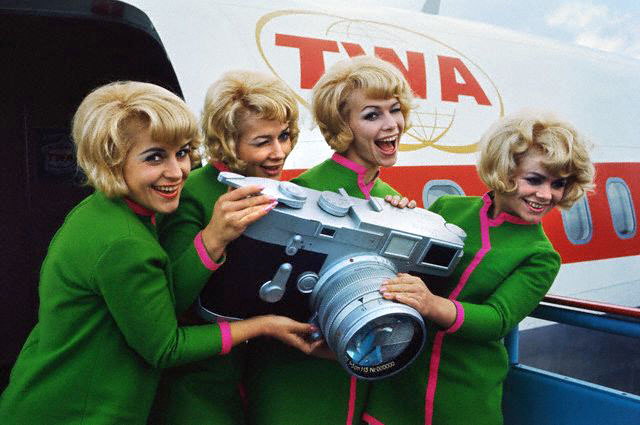 The German entertainers, The Jacob Sisters holding a big Leica M in Las Vegas, 1967. © Bettmann/Corbis.
The dummy camera made of wood by the way still exist in a collection in the USA.

Queen Elizabeth II used to use a silver Leica M3 with a Leica 50mm Summicron-M f/2.0 (Serial 15xxxxx) and also got a Leica M6 gifted from Leica Camera AG. She got the choice between a black and a silver Leica M6 and chooed the silver one with 50mm Summicron-M f/2.0
Che Guevara
with 90mm

The Kiss (LIFE)

Mick Jagger by
Bob Bonis with M3
Other Leica users of fame is Bryan Adams, Seal, Annie Leibovitz, Lenny Kravitz, Eric Clapton, Miles Davis, Ann Curry, Chow Yun Fat, Katie Hoff, Scarlett Johansson, Brendan Fraser, Jeff Bridges, Brad Pitt, Brigitte Bardot, Charles Bronson, Andy Lau, Woody Allen, Jamie Cullum, Paris Hilton, Kanye West, Yul Brynner, Wim Wenders, Bruce Springsteen, Posh Spice ... the list goes on.
The famous head shot of Che Guevara, reproduced on millions of rebellious T-shirts and student walls: that was taken on a Leica with a portrait lens — a short telephoto of 90 mm — by Alberto Díaz Gutiérrez, better known as Korda, in 1960.
The celebrated "The Kiss" in Times Square on V-J Day, 1945 — a sailor craned over a nurse, bending her backward, her hand raised against his chest in polite half-protestation. The man behind the camera was Alfred Eisenstaedt, of Life magazin. He did 80 frontpages for LIFE magazine in his lifetime and was a dedicated Leica user, having inflence on some of the tweaks to the classic design.
When the lost Beatles and lost Rolling Stones photographs emerged in 2010, it was thanks to their road manager from 1964-1967 Bob Bonis who always carried his Leica M3. How unbelieveable it might be, he was road manager for the hottest tickets back then .... and photographed them when they tried to fix their car, when at the pool outside the Fort Harrison hotel where they wrote "(I can't get no) Satisfaction- and many other exclusive moments.
The famous photo of the "Napalm girl" by Huynh Cong 'Nick' Ut of Associated Press was taken on June 8, 1972 with his Leica M2 and Leica Summicron 35/2 on a Kodak 400 ISO B&W film.

The photo very much changed the view on the Vietnam war, though President Nixon doubted its authencity - he thought it might have been 'fixed'.

The 9-year old girl in the photo, Phan Thi Kim Phúc, survived her burnings from the napalm bombing after 14 months in the hospital. The photographer took her to the hospital before he delivered the film to AP. She later founded an organization to help children of war. The image won the Pulizer Price.
The first adopters of the Leica
Dr. Paul Wolff was a local German photographer who got one of the very first Leica cameras ever made in 1925. Henri Cartier-Bresson was also an early adopter of the Leica (recommended to him by no other than Robert Capa), and happened to become the most famed "street photographer" ever. And there were others, but those two summarize the first and the biggest.
Also another curious detail of the Leica is that an astoundinglyis large number of female photographers used the Leica from the first years it came out. Or, perhaps the Leica enabled women to become photographers. I'll leave you with that thought to decide for yourself.
The first adopter of the Leica: Dr. Paul Wolff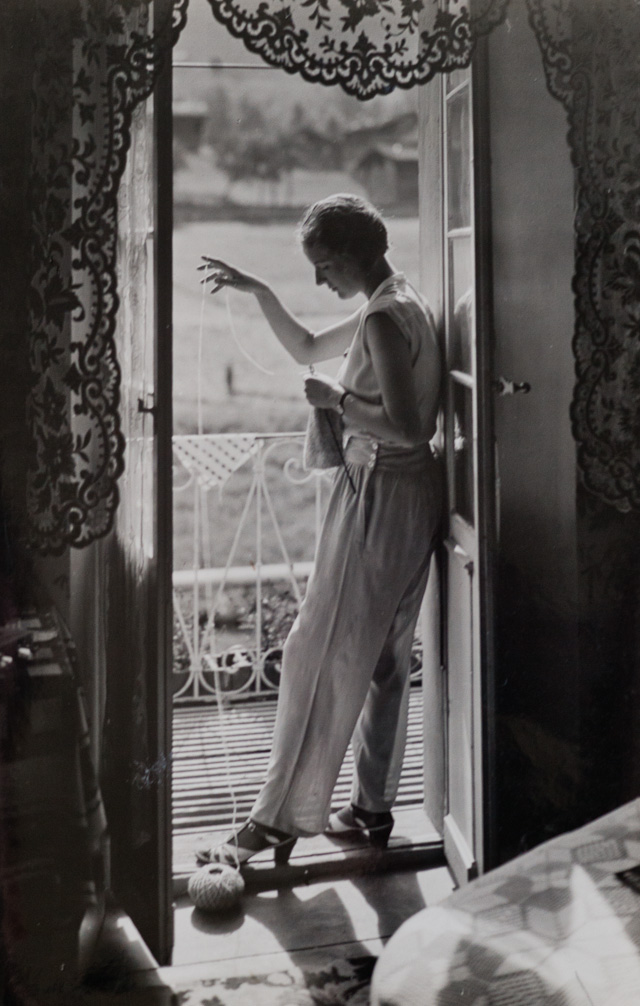 "In granmothers summer house", by Dr. Paul Wolff (1887-1951) is a print I bought in 2013. Dr. Wolff was one of the first ambassadors of the Leica. A professional photographer from Frankfurt, he started working with the Leica despite most professional photographers view that "high quality has to be large format and big cameras". Dr. paul Wolff went on producing a large catalog of photographs using the Leica. Unfortunately his house and archive burned in 1940's, so only a few prints are remaining. I bought a handfull, and Leica bought most of what else was available (1200 prints in 2011 which they plan to put into an exhibition and book). See my article "Dr. Paul Wolff and the Leica".
The greatest photographer using the Leica: Henri Cartier-Bresson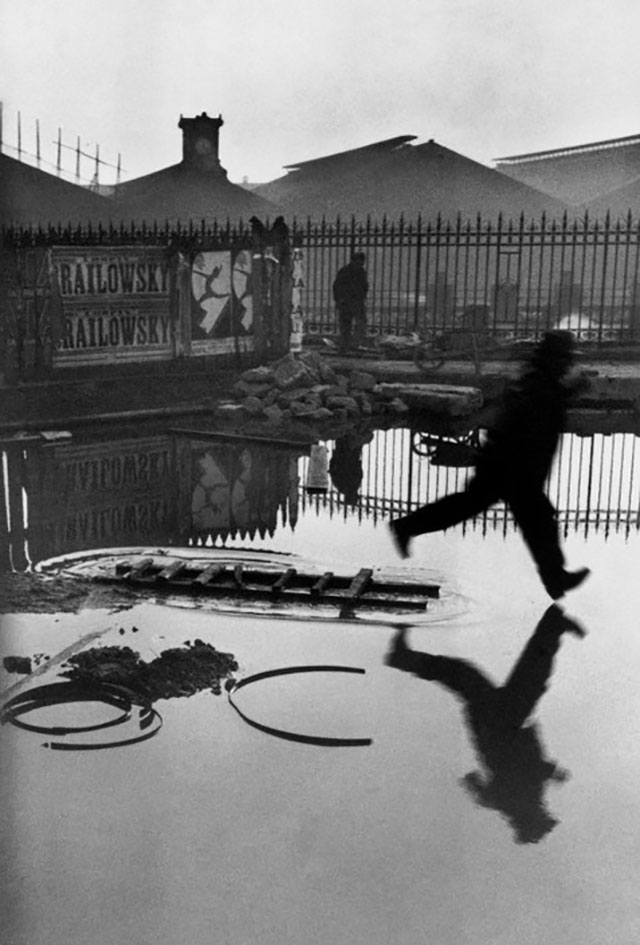 Henri Cartier-Bresson "Behind Saint Lazare" , or simply known as The Jumping Man, taken in Paris in 1932, taken with his first Leica, the Leica-Couplex (Leica D) with the 50mm Elmar f/3.5. Read my re-visit to the location in 2017, trying to recreate a similar scene, "Behind Saint-Lazare".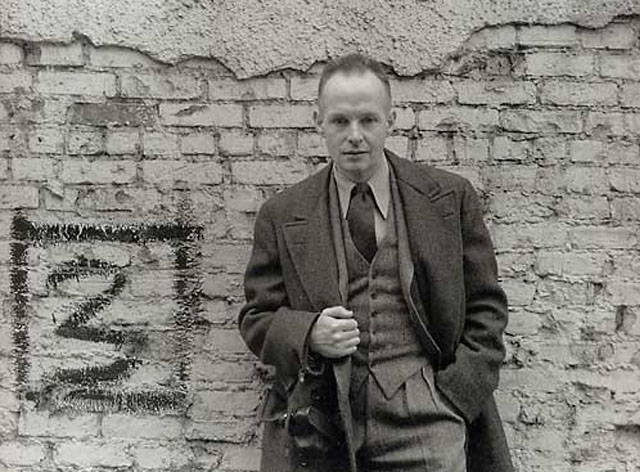 The famous Leica-user, Magnum photographer Henri Cartier-Bresson (1908-2004) photographed in New York in 1947 by fellow photographer Arnold Newman.
The first female war photographer: Gerda Taro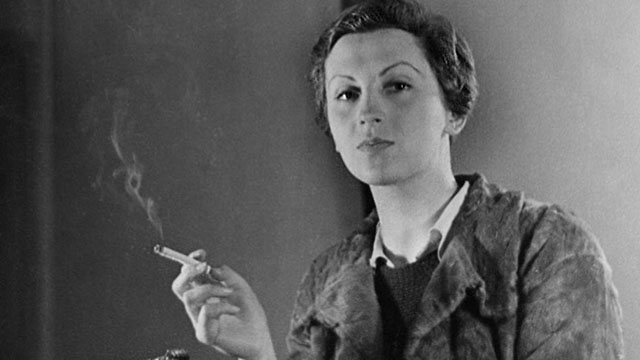 Gerda Taro (1910-1936) was a war photographer, a Leica photographer and in a romantic relationship with Robert Capa – and had the unfortune of being the first female war photographer to die in action, only 26 years old. She was unknown for many years, untill a suitcase with 4,500 nagetives appeared in December 2007, also known as "The Mexican Suitcase", three boxes of neagtives containing 4,500 negatives of the Spanish Civil War by Robert Capa, Gerda Taro, and "Chim" David Seymour. Robert Capa and Gerda Taro had a romantic relationship 1935-1937 and her and Robert Capa's photos appear in the book "Death in the Making" (1938).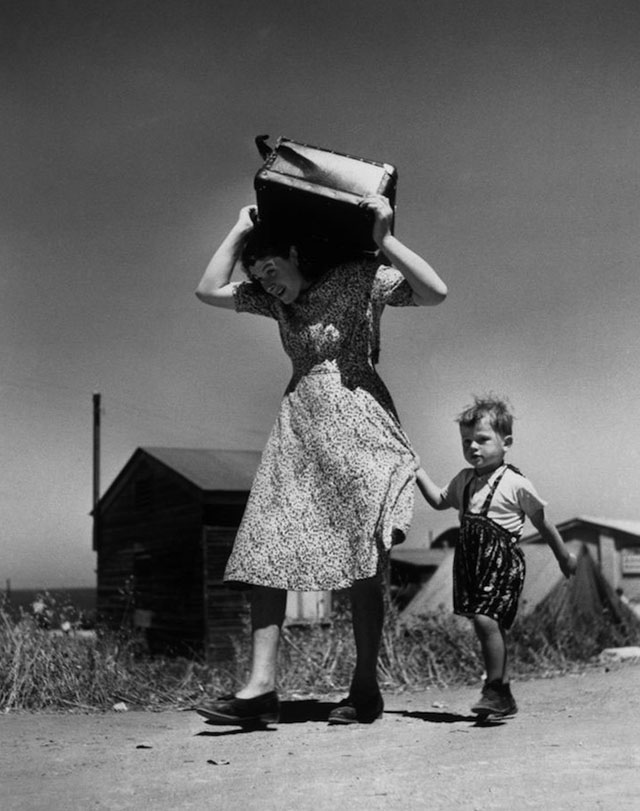 Gerda Taro's photo from 1936 from the Spanish Civil War with a Leica III and a 5cm Summar lens.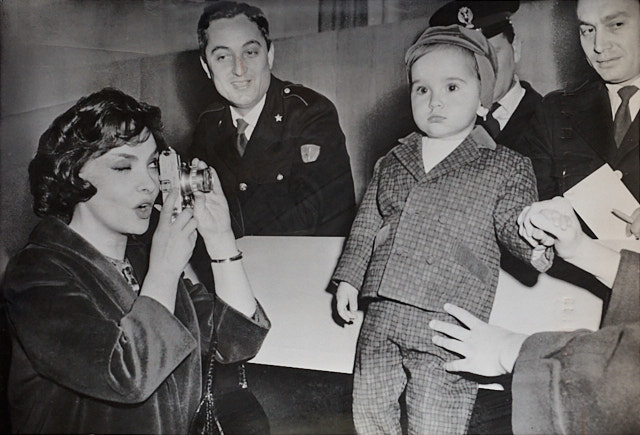 Gina Lollobrigida (1927-2023) was an Italian actress, international symbol of elegance – and a Leica photographer . Here in Rome Airport 1959 with her Leica, photographing her then 19 months old son Milko Skofic Jr. while waiting for his dad. She photographed Paul Newman, Salvador Dalí, Henry Kissinger, Audrey Hepburn, Ella Fitzgerald, and the German national football team, to name a few. © Associated Press.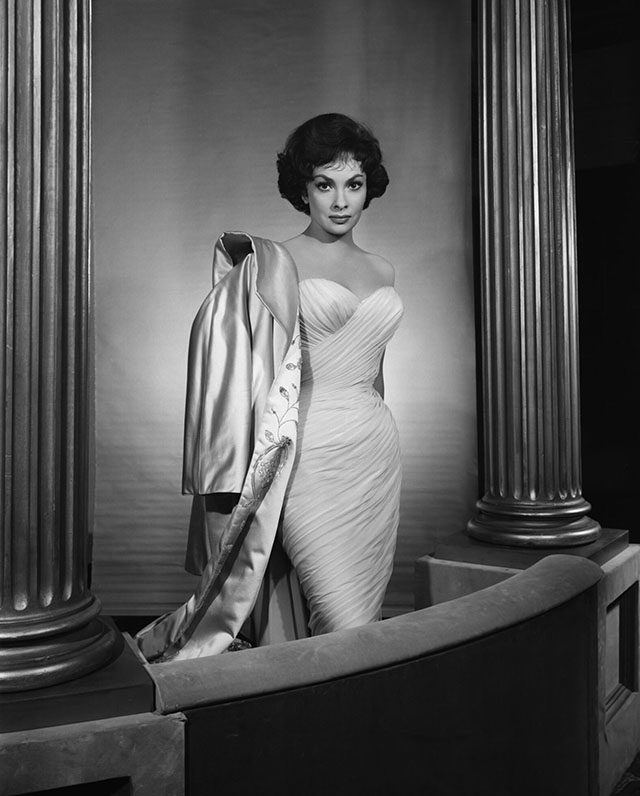 Here Gina Lollobrigida is photographed in 1958 by another (sometimes Leica) photographer, Yousuf Karsh to illustrate her talent both in front and behind the camera.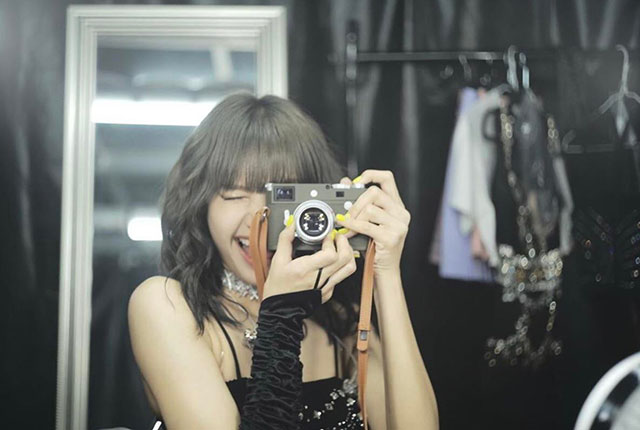 The rapper "Lisa" Lalisa Manobal (1997) is known for her extensive camea and Leica collection, besides being in the South Korean girl group Blackpink and a solo artists since 2021.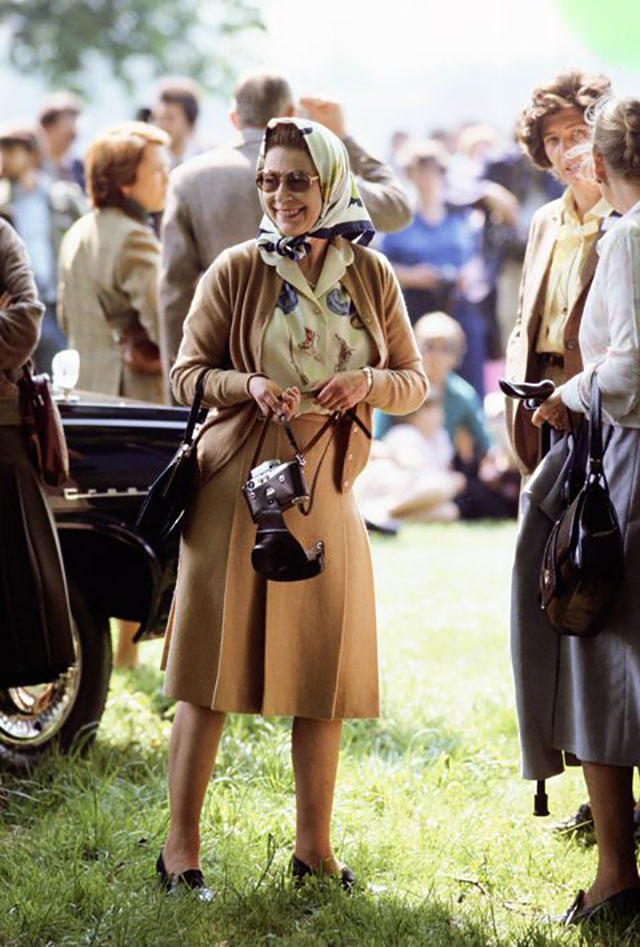 Queen Elizabeth II (1926-2022) with her Leica M3.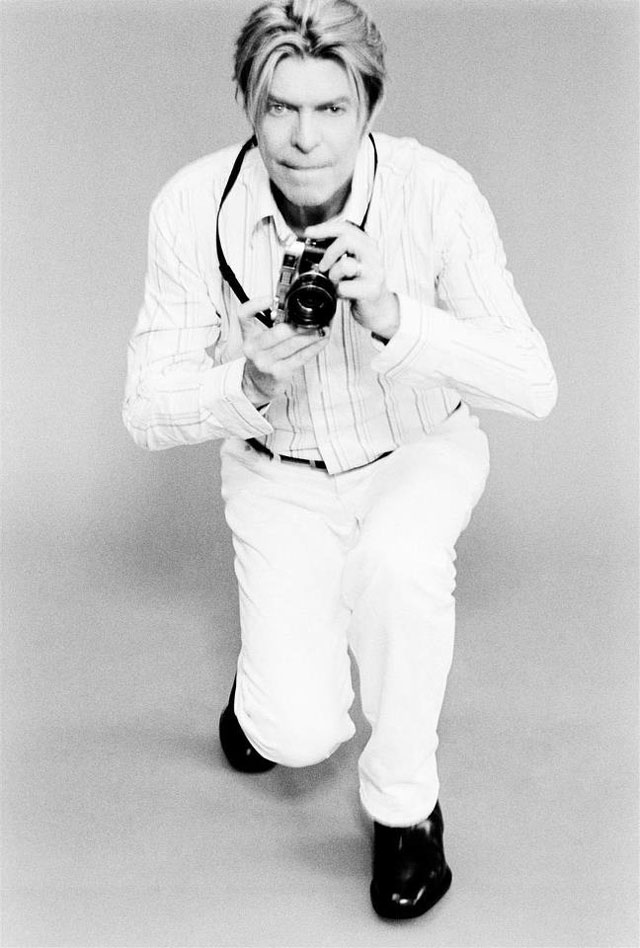 David Bowie 2003, by Ellen Von Unwerth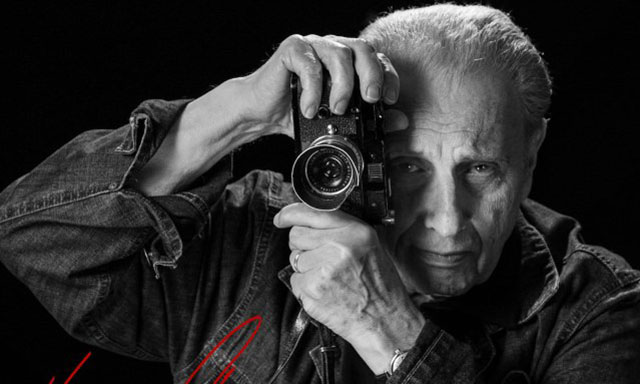 Henri Dauman (1933) is considered one of the gratest newsphotographers of the 20th century and used Leica, Nikon and other cameras throughout his career photographing for LIFE, New York Times, Newsweek, Smithsonian and more. The documentary "Henri Dauman - Look Up" is about his life and photos.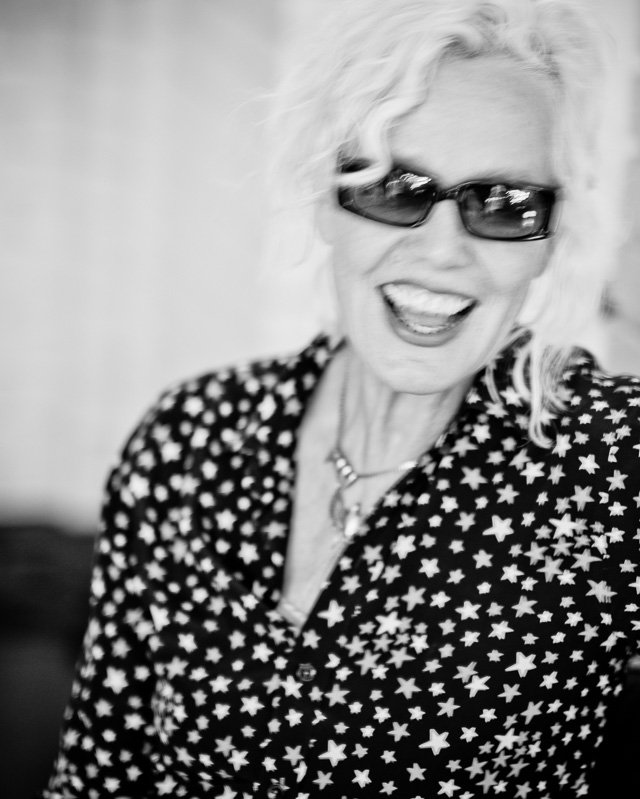 Ellen von Unwerth uses many cameras, sometimes Leica SL and Leica S. At other times, simply an iPhone. © Thorsten Overgaard.

Stanley Kubrick's (1928-1999) self-portrait with his Leica.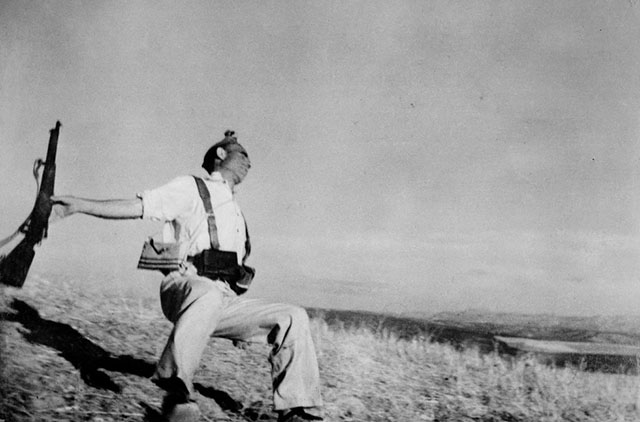 Robert Capa's famous photograph "THE FAlLLING SOlDIER" (aka "Death of a loyalist militiaman") from the Córdoba front in Spain, September 1936, taken with his Leica III with a non coated Leitz Summar 5 cm f/2 . A 7x9 inch print was sold for 75,000 Euro at Sothebys auction in 2019. His first Leica camera, a Leica II (Model D) number 90023 with Leitz Elmar 50 mm f/3.5 was sold at auction in 2012 for 65,000 Euro.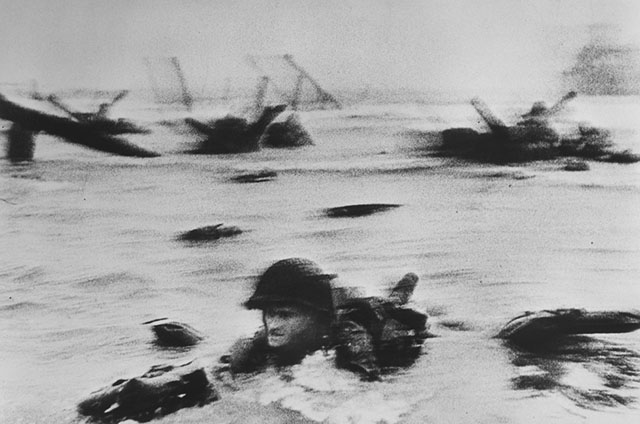 Robert Capa's famous photograph "American troops landing on Omaha Beach, D-Day", June 6, 1944 on Normanduy. Omaha Beach.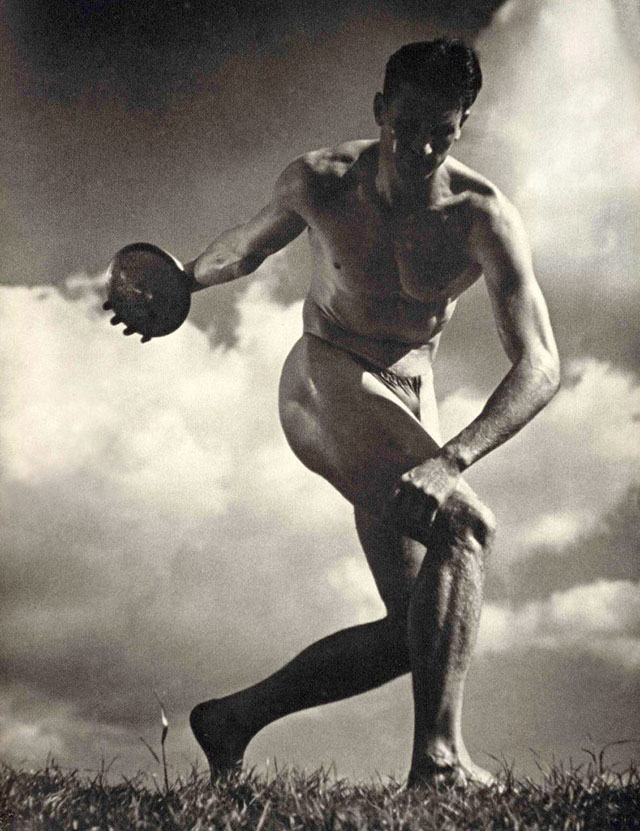 Leni Riefenstahl's "The-Discus-Thrower" is one of many stellar photographs she made with the Leica III. She lived a long life of 101 years (1902-2003) and was 'on the wrong side of history' as the propaganda filmmaker and photographer for the Nazi's 1932-1938. The documentary "The Wonderful Horrible Life of Leni Riefenstahl" (1993) gives a view into her life. She did photography projects with her Leicaflex SL as well in Africa in the 1970's.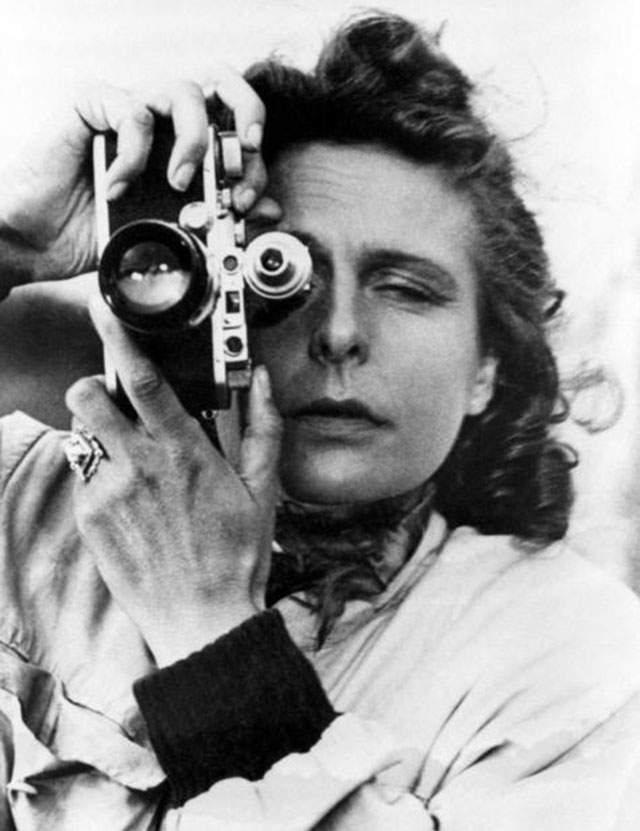 Leni Riefenstahl (Helene Bertha Amalie "Leni" Riefenstahl, 1902 - 2003) with her Leica. She kept using Leitz Leicaflex and Leica M cameras throughout her life.

Jill Freedman (1939-2019) was an American documentary photographer. Here she is seen in Poland in 1993.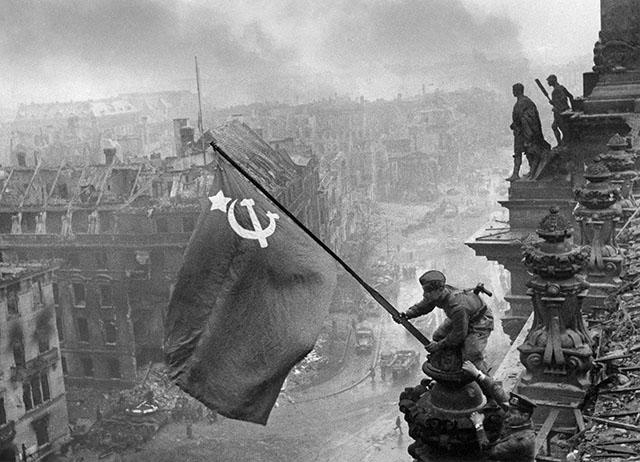 This famous phototaph, "RAISING A FLAG OVER THE REICHSTAG" was taken on May 2, 1945 by Jewgeni Chaldej (1917-1997) with his Leica III with Leitz Elmar 3.5cm f/3.5 (the camera was later sold for $193,000 in an 2014 auchtion). Jewgeni Chaldej (Yevgeny Khaldei) was a Soviet Red Army naval officer and photographer. His father and three of his four sisters were murdered by the Nazis during the war.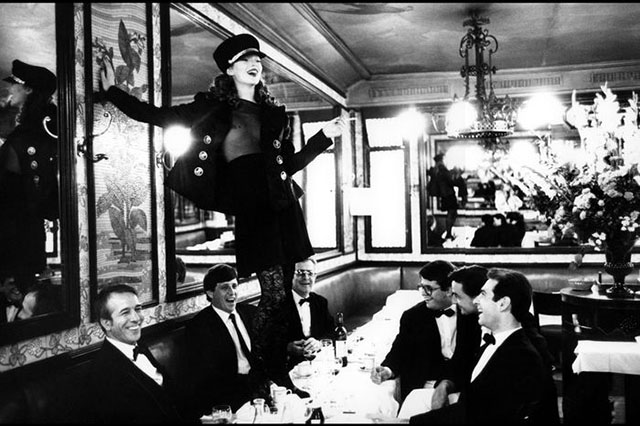 Arthur Elgort (1940-) is a New York photographer who used many cameras, but also Leica M6 and other Leica cameras in hiw work. He made his debut in British Vogue in 1971 and works from a one-of-a-kind daylight studio on 138 Grand St in New York, though best known for taking the modls to the street. kAbove Kate Moss on the table at Café Lipp in Paris, 1993. "I was not the first person to photograph Kate Moss, but maybe the second," hen famously noted. His daughter Sophia Elgort followed in his footsteps as a New York photographer.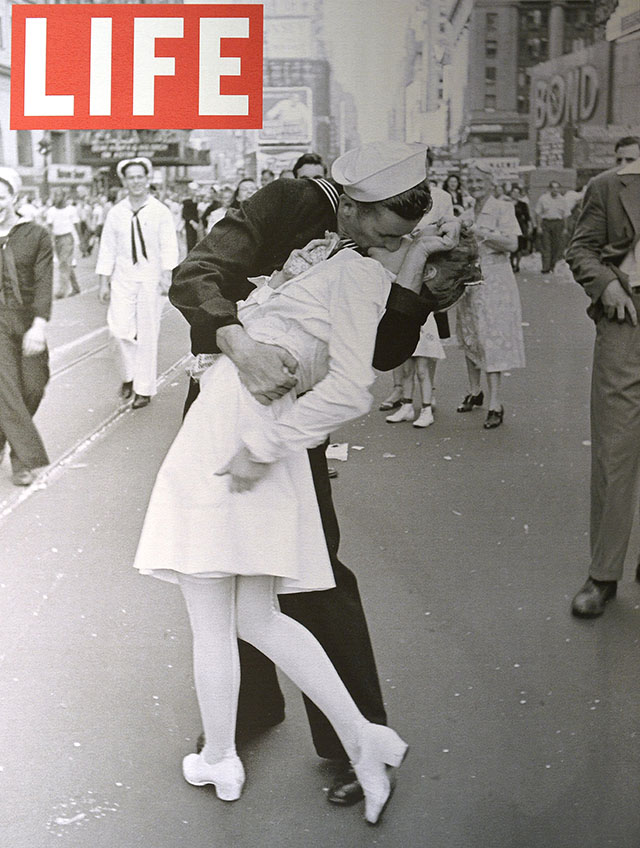 Alfred Eisenstaedt took his famous photo "THE KISS" of on August 14, 1945 with a Leica IIIa with Leitz Summitar 5 cm f/2. The camera was later sold on auction for 113,000 Euro in 2013.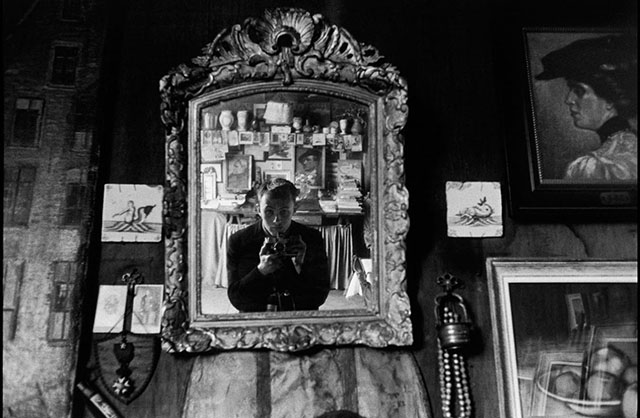 Bruce Davidson (1933) is an American photographer and member of Magnum since 1958. Her a self portrait from 1957.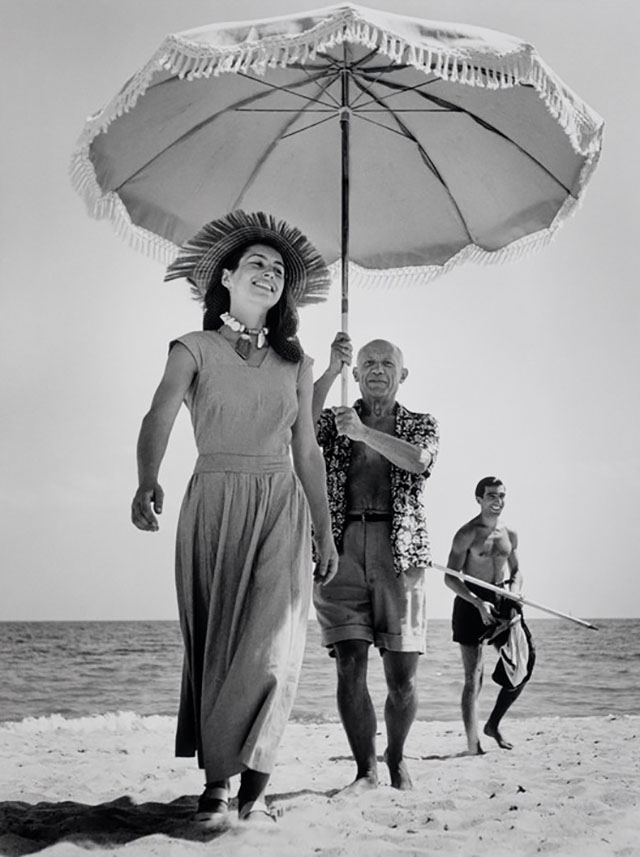 Robert Capa's famous photograph of Pablo Picasso with Françoise Gilot and his nephew Javier Vilato, August 1948.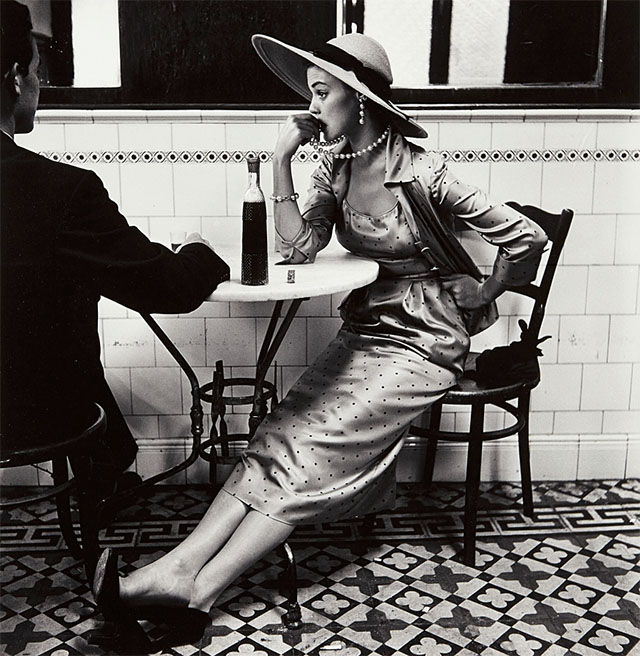 Irving Penn was a Leica user from 1950-1958. In this photo, model Jean Patchett in a cafe in Peru for Vogue.
Irving Penn (1917-2009) began using a 35mm Leica in 1950 during his travel assignments for Vogue. When Penn traveled to France, Spain, and Morocco in 1950, he frequently used a telephoto lens with the Leica in order to capture distant images. In the late 1950s, Penn converted his studio equipment from Leica to a Nikon system: "In a burst of romantic passion for this new apparatus (forgetting gratitude to the Leica and with even a certain amount of disloyalty) I diverted myself of all our studios [sic] elaborate and superb Leica equipment, taking a terrible financial beating in the process, not finding a panacea and exchanging one set of headaches for another."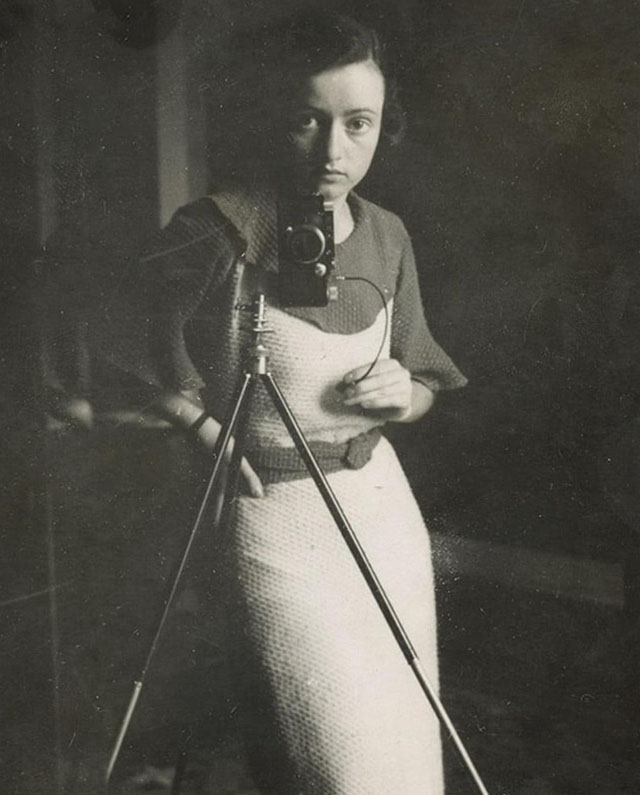 Lore Kruger (1914-2009) was a German photographer most famous for her photographs taken before World War II, in the style of "New Seeing" inspired by Bauhaus. A suitcase with her pictues landed at the CO Berlin gallery and resulted in the large exhibtion in 2015.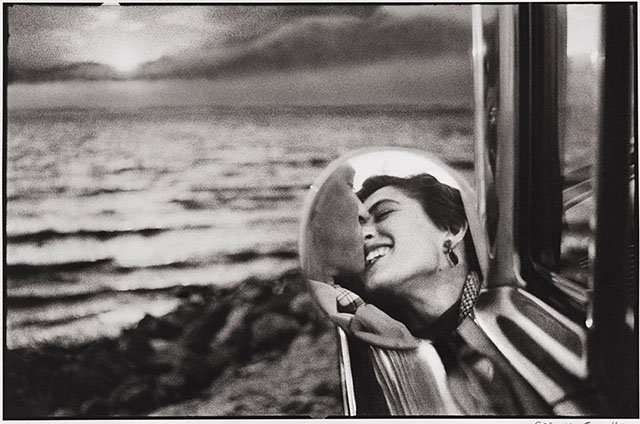 Elliott Erwitt's famous photograph "CALIFORNIA KISS" was photographed during his holiday in California with his Leica M3 and 50mm Summilux f/1.4. It was lying around unnoticed in the Magnum Photo archives till Elliott found it when he was preparing an 1982-exhibition. He used to use a Rolleiflex, but fellow Magnum photographer Robert Capa talked him into using a Leica as well.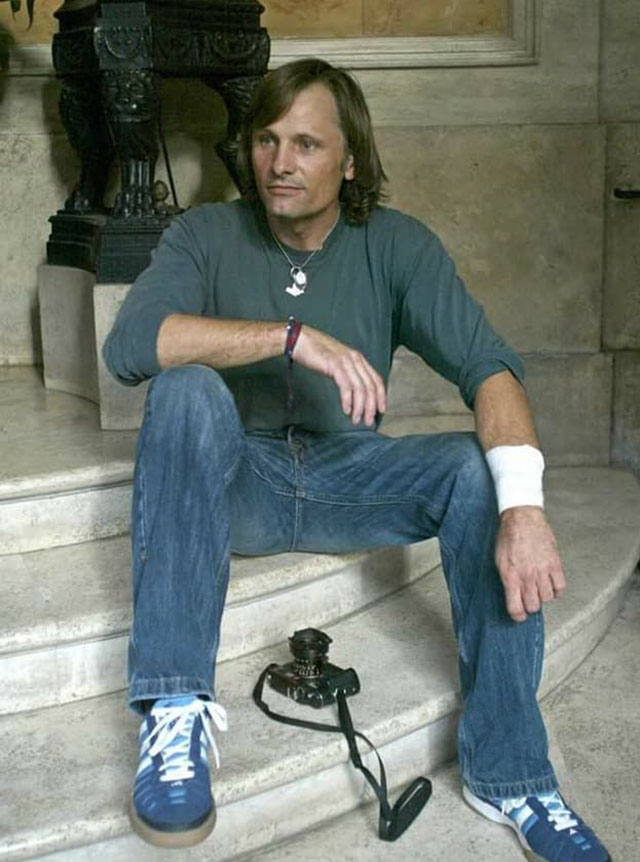 Viggo Mortensen (1958) is most known as an actor in Green Book, A History of Violence and as Aragorn in The Lord of the Rings, but is also an avid photographer, using Hasselblad and Leica and has published several books of his photographs.


The famous photo of the "Napalm girl" by Huynh Cong 'Nick' Ut of Associated Press was taken on June 8, 1972 with his Leica M2 and Leica Summicron 35/2 on a Kodak 400 ISO B&W film.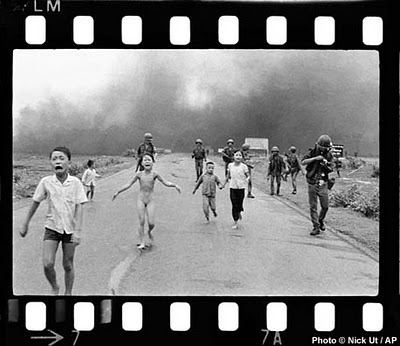 "Napalm girl" by Huynh Cong 'Nick' Ut of Associated Press
William Eggleston's "En Route to New Orleans" from 1971–73 is an excellent example of his use of light and colors (and the Leica). This photograph sold on auction for 45,600 €.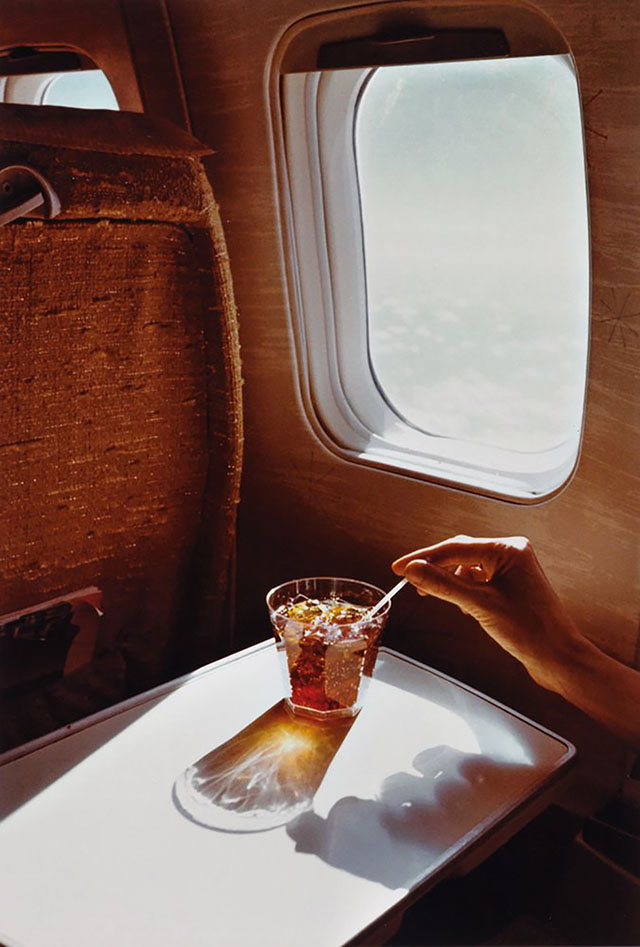 William Eggleston "En Route to New Orleans" 1971–73.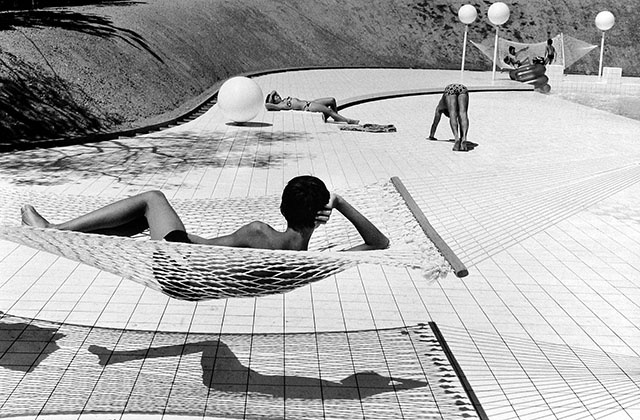 Martine Franch (1938-2012) made this photograph people by a swimming pool designed by Alain Capeilleres. She was discovering photography and the Leica in 1963 and met Henri Cartier-Bresson in 1966, whom she married.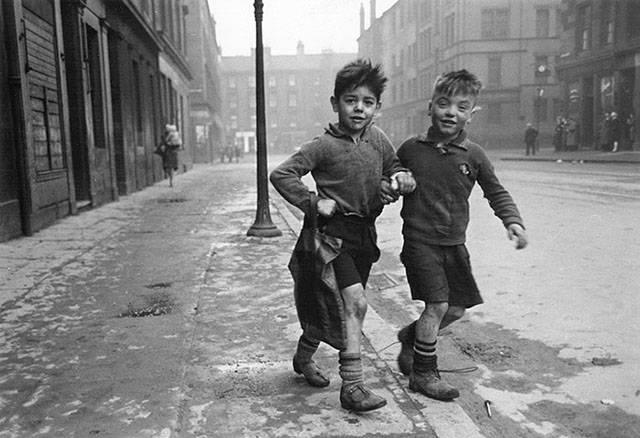 Bert Hardy (1913-1995) became one of the first professional photographers to use a Leica 35mm camera in 1938, three years before he started a lifelong career for Picture Post. Above is his photo from 1948, "Gorbals boys".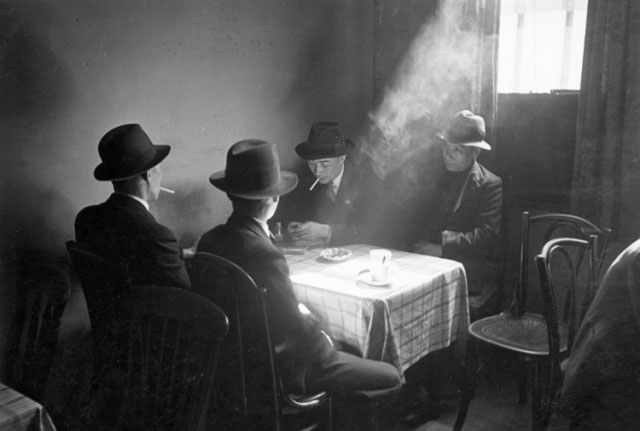 Chinese cafe in Liverpool by Bert Hardy (1913-1995).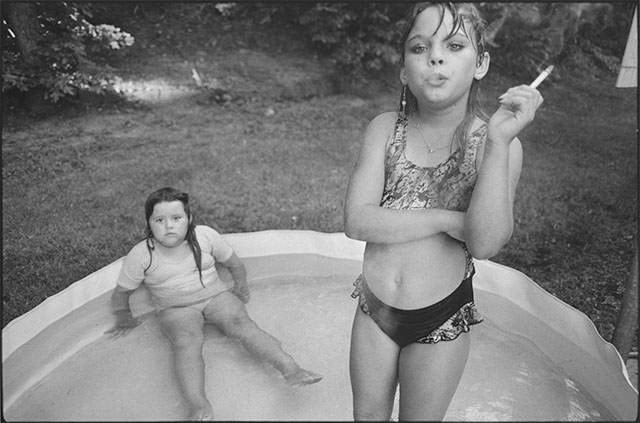 In 1990, American photographer Mary Ellen Mark (1940-2015) photographed "The Smoking Girl" Amanda Marie Ellison, 9 (and Amy Minton Velasquez, 8 sitting) in the "Sin City" disctict of Valdese, N.C. for Life magazine to cover a school for "problem children" .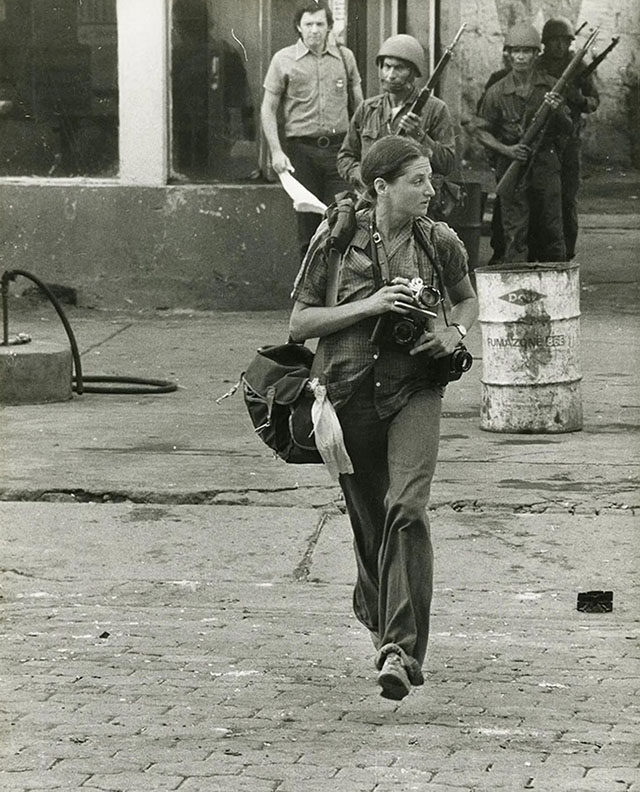 Susan Meiselas (1948) is an American photographer and memebr of Magnum since 1980. Here she is photographed in Nicaragua in 1978 by Alain Dejean.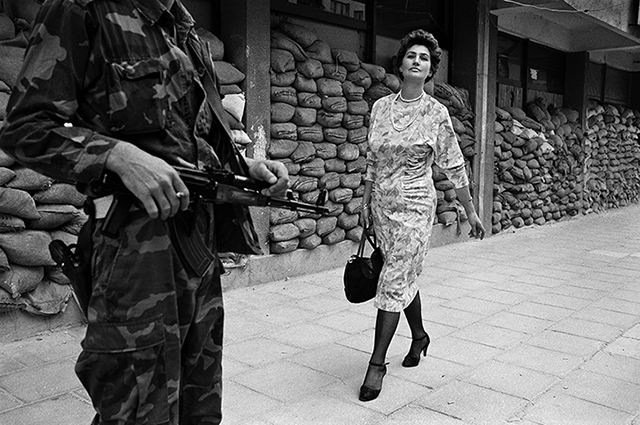 British photojournalist Tom Stoddart (1953-2021) photographed the strong "Woman of Bosnia" in 1995 with his Leica M6 (hiding in a shelter from the falling bombs when he saw this Bosnian woman walking tall and proud).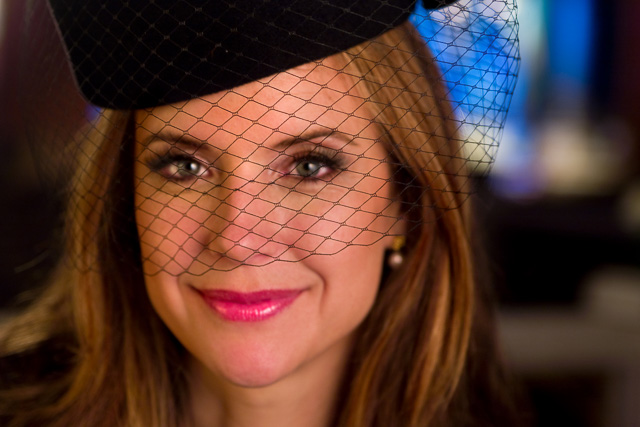 Thorsten von Overgaard's photograph of actress Kelly Preston on October 2008, photographed with his Leica R8 DMR and 35-70mm Vario-Elmarit-R f/2.8. © Thorsten Overgaard. AP Associated Press.

Peter Turnley is a traditional Leica M film photographer that turned to the Leica M Monochrom. Photo above is one of his classic film photographs, from the book "French Kiss". Peter Turnley divides his time between New York and Paris.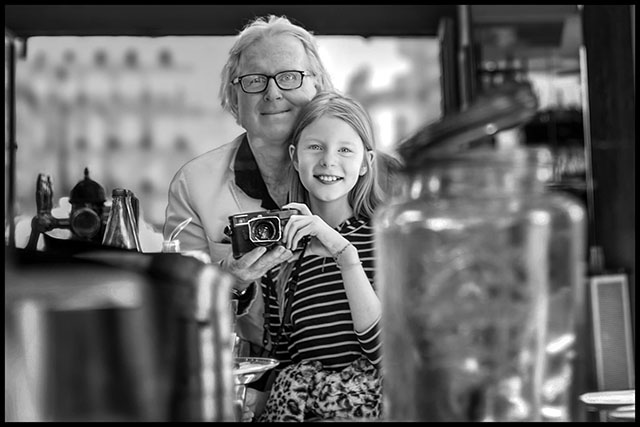 David Turnley is the twin brother of Peter Turnley and mostly post photos from Paris where he lives. Since they made a book together from the road they lived, they have both been war- and news photographers. But then of course ther is the daily life, and David publish almost new photo every day. Here is next generation, David Turnley's daughter Dawson who took this selfie of them in May 2023.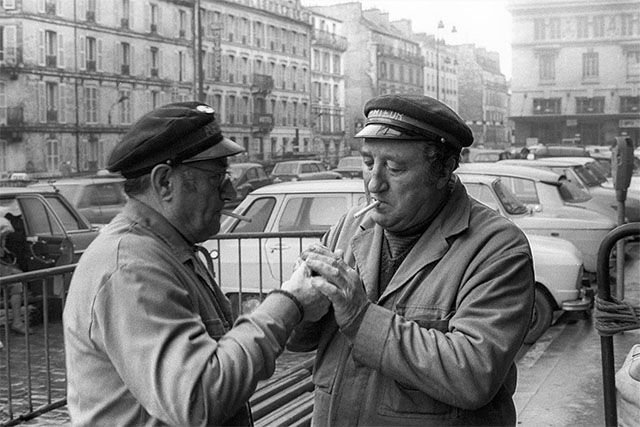 David Turnley has been photographing for many years, all over the world, but here is one of his photographs from Paris in 1975. David Turnley is a winner of the Pulitzer Prize, two World Press Photos of the Year, and the Robert Capa Award for Courage. He was also an Associate Professor at University of Michigan.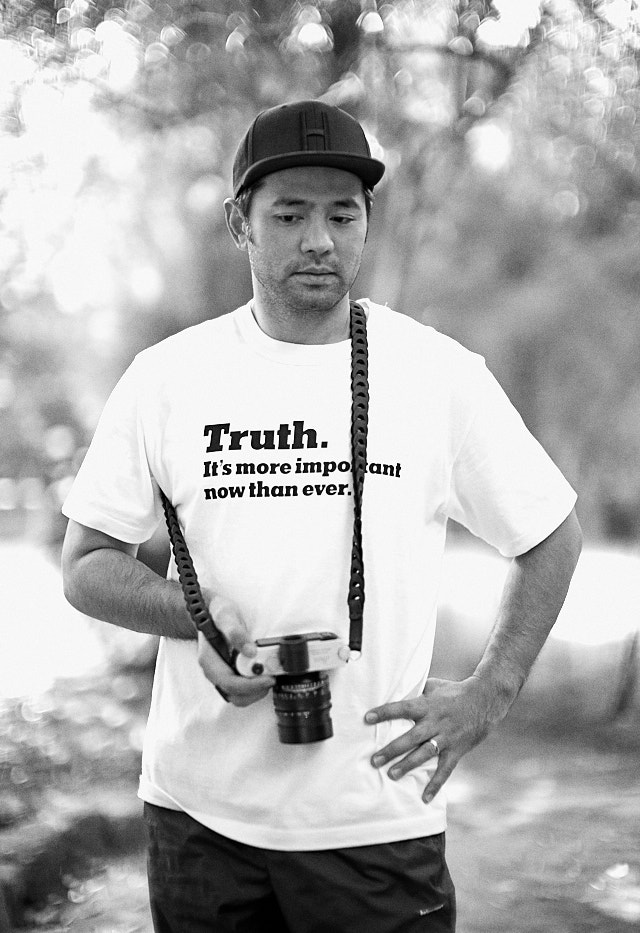 Hayden Kho jr "Doc Hayden" of the Philiphines is part of a famous doctor duo with his wife Vicki Belo ... and a Laice fan with a growing collection of Leica M and other Leica cameras. He is seldom seen without a camera within reach. © Thorsten Overgaard.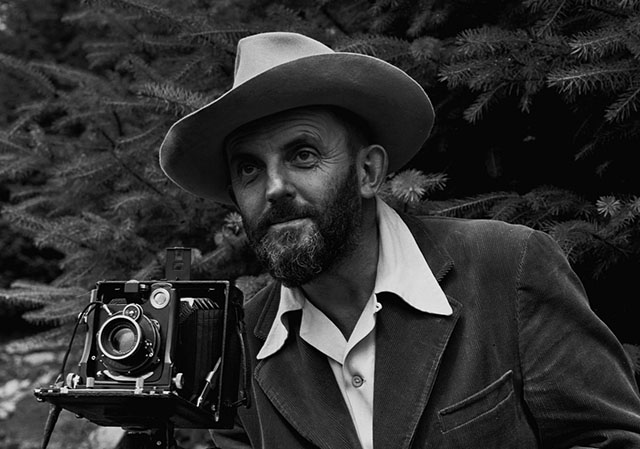 Ansel Adams did not use Leica much, he used mainly Sinar, but he looks incredible stylish in this photo.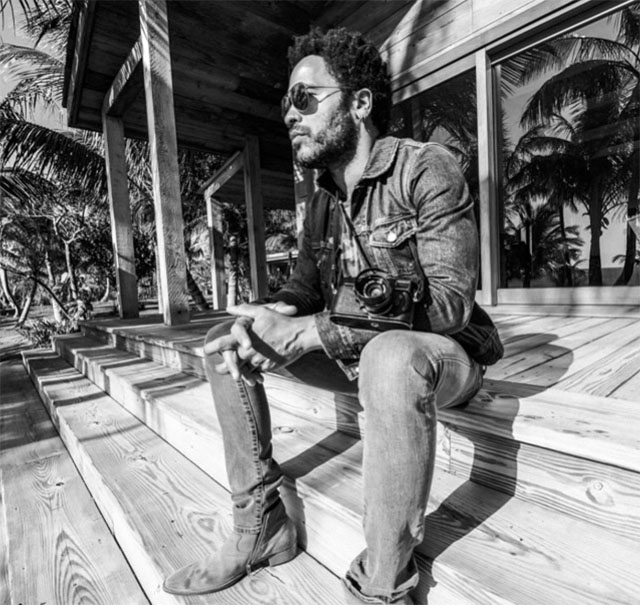 Lenny Kravitz' is a die-hard Leica user, having designed several limited editions for Leica through his design company Kravitz Design.
Full Leica Q2 Pack

14 video classes with work book
+ 448 page eBook,
+ Styles for Capture One for Leica Q2
+ Lightroom Presets. for Leica Q2
Normal price $821.00


Normal price $821.00

Save 45%

Only $448.00

USE CODE: "ILOVEQ2"

Buy now. Instant delivery via email
100% satisfaction or money back.

Item #1914-0521

Leica Q2 Know-All-eBook

448 pages illustrated for Computer,
Kindle, iPad or smartphone.

Only $298.00

Buy now. Instant delivery via email
100% satisfaction or money back.

Item #1914-0820
From grandfather to grandson - A Leica M3
A sweet story unfolded as I met this 17 year photographer with his Leica M3 and a rare collectors kit in a bag, in Paris, September 2013. All was bought from new in the 50s by his grandfather and now handed over to the grandson. They are both equally thrilled to see the camera is still being used, thought the dream is to get a Leica M 240.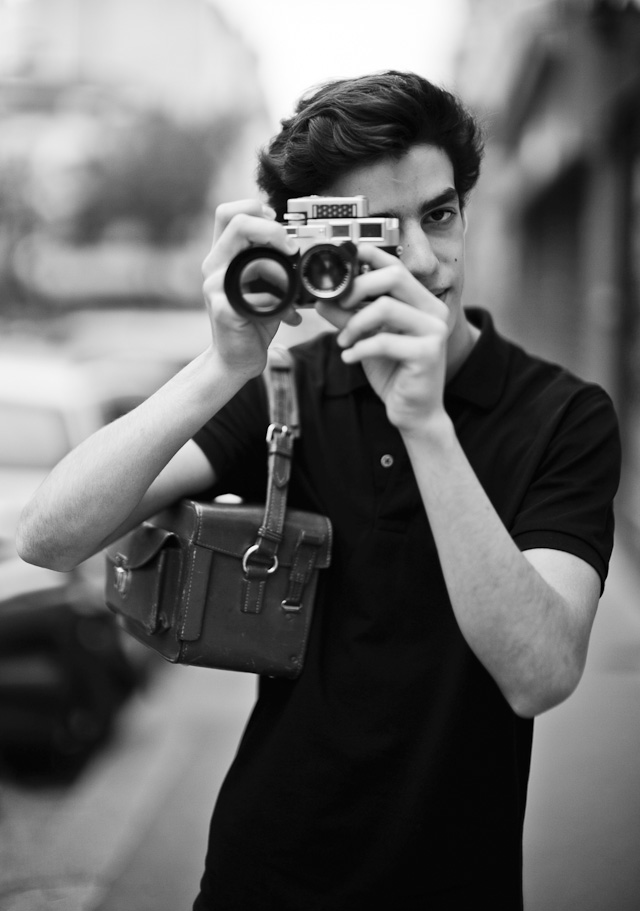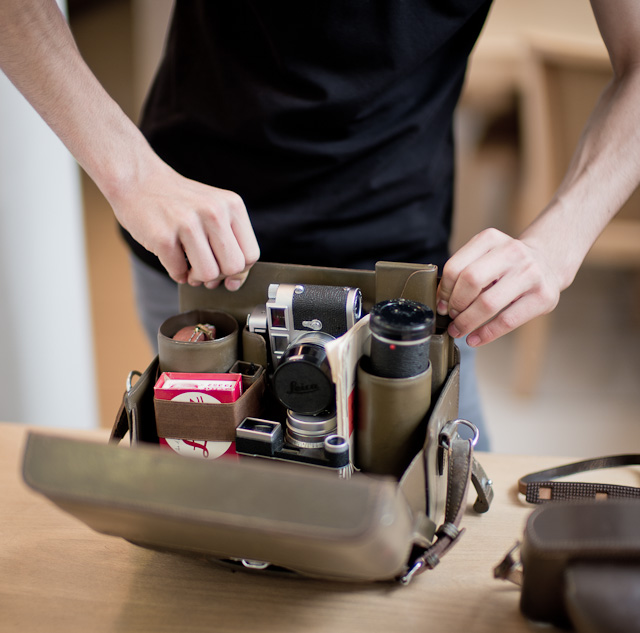 Now, that is a bag with a Leica kit ... © Thorsten Overgaard.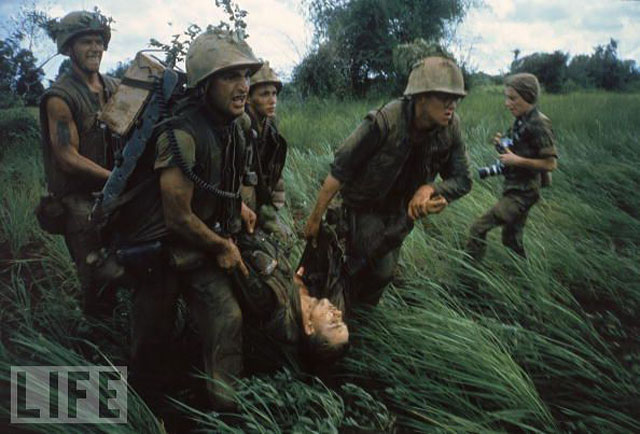 Vietnam photographer Larry Burrow's Leica M4 picture from January 1966 of marines recovering a body comrade (girl to the right in the picture is Catherine LeRoy, the first woman photographer to win the Robert Capa Gold Medal Award (see below).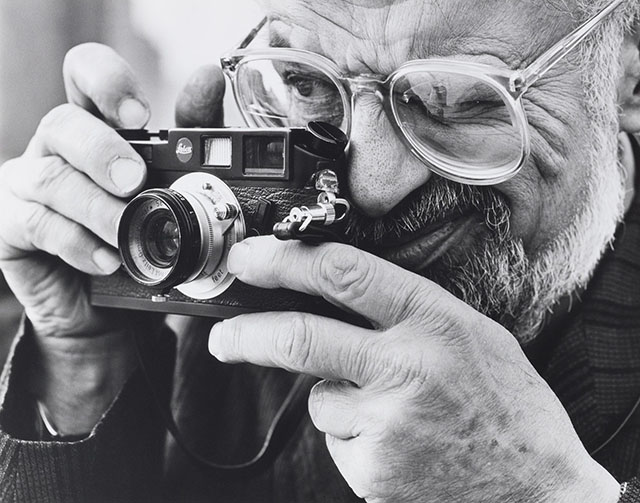 Snapshot Poetics: "I do my sketching and observing with the camera". The great Beat-poet Allen Ginsberg (1926-1997) with his Leica M6. Amongst other things, he said this which may be true for most Leica users and their cameras and lenses: "Somethings once you've loved them become yours forever. And if you try to let them go they only circle back and return to you. They become apart of who you are..."
See some of his photographs with quotations in this Lens Culture article.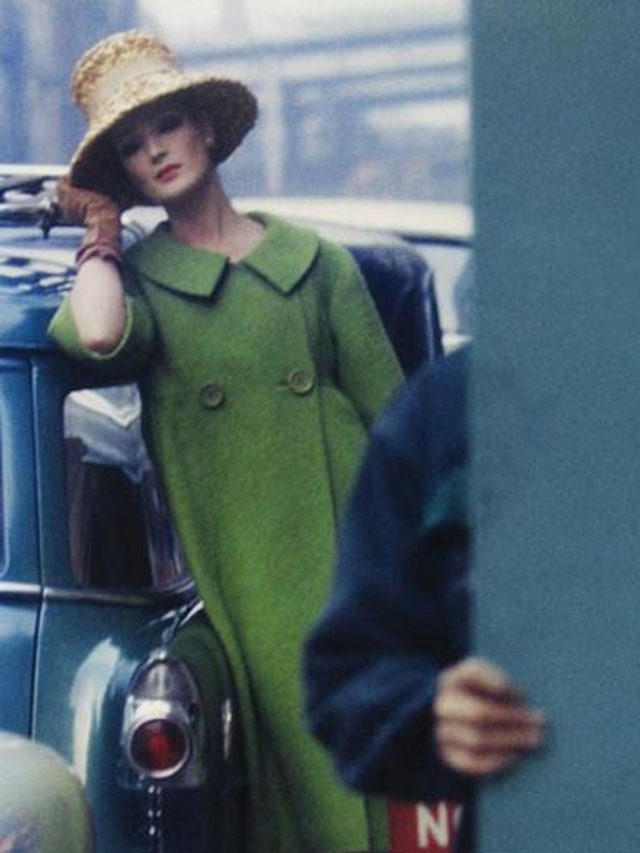 Saul Leiter (1923-2013) was a remarkable American color and street photographer who lived an all too quiet existence till he "was discovered" in 2006 with the book Early Colour (published by Steidl). Inspired by Henri Cartier-Bresson in the 1950's, Saul photographed his neighbourhood in New York around his home at 111 East 10th Street and soon developed a skill for finding great colors to saturate his Kodachrome 64 films. He used a Leica M with tele lenses, mostly. Also see the documentary "In No Great Hurry" and this video about the Saul Leiter Foundation. Above: Saul Leiter for Harpers Bazaar. Below: A Paris cafe in 1959.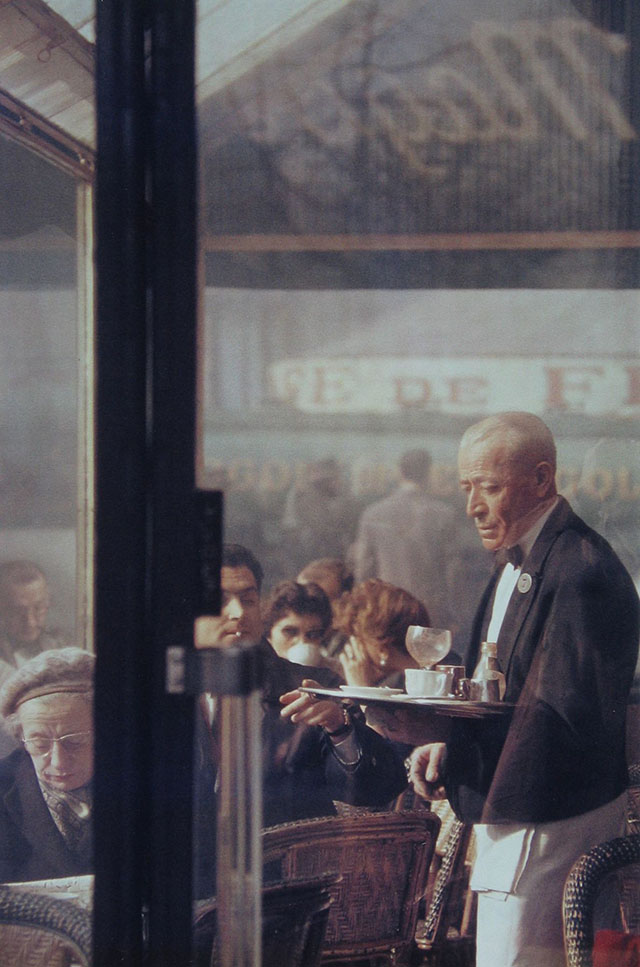 Color photos by Saul Leiter, "Cafe Les Deux Magots in Paris, 1959".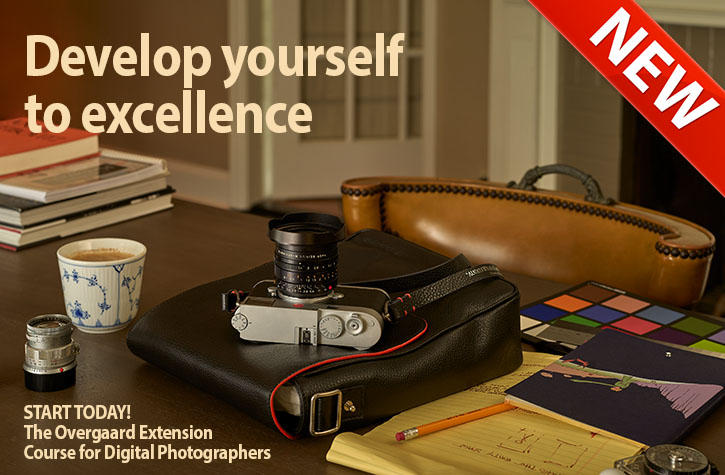 The Thorsten Overgaard Photoraphy Extension Course has been so popular it has been unavailable for the last couple of years. Now it is in a new design that allow more to participate, and you can start today.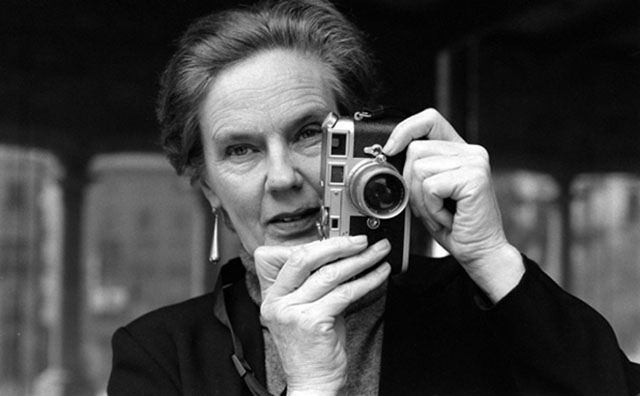 Martine Franck (1938-2012) with her Leica. In 1963, she went to China, taking her cousin's Leica camera with her, and discovered the joys of documenting other cultures. In 1966 she met Henri Cartier-Bresson and they married.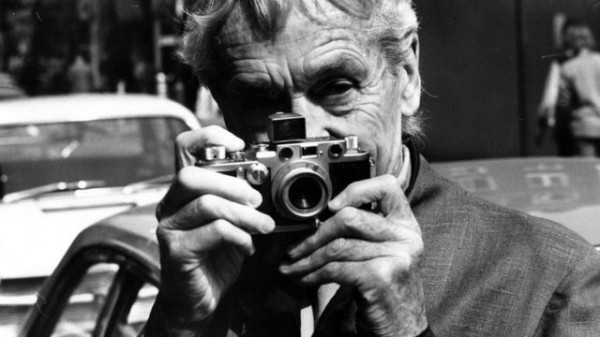 Jacques Henri Lartigue (1894 - 1986).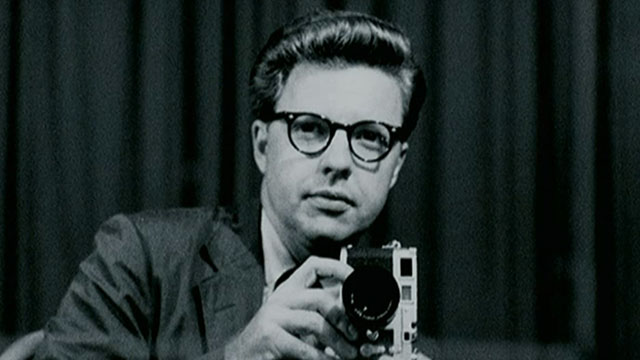 Don Hunstein with his Leica. Don is the master behind the famous cover for Freewheelin' Bob Dylan and many behind the scenes photos of musicians like Duke Ellington, Miles Davis and who else came by Columbia Records where Don worked for 30 years. His book of music photography "Keeping Time: The Photographs of Don Hunstein" is available at Amazon and elsewhere. Short video at BBC.
I visited Don Hunstein in 2014 in New York and photographed him. You can see the images and read The story Behind That Picture here: "Freewheelin' With Don Hunstein".
Wim Wenders presents the Leica M8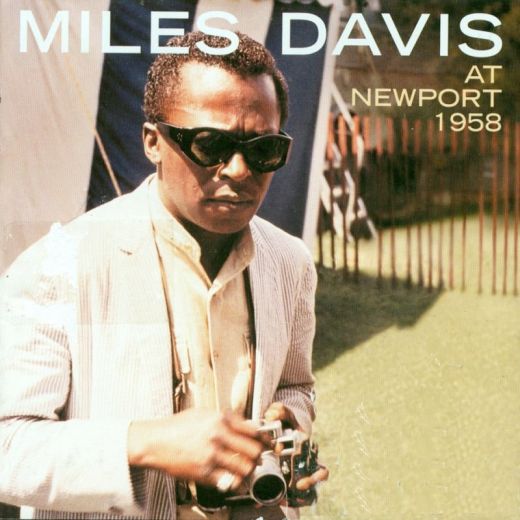 Miles Davis with his Leica on the cover of the Live at Newport 1958. In an 1976-interview by Sy Johnson available online here Miles talk about the Leica he got in Germany and how much he liked it. He said he had the clerk set the shutter speed and aperture at the store when he bought the camera and hadn't changed them since.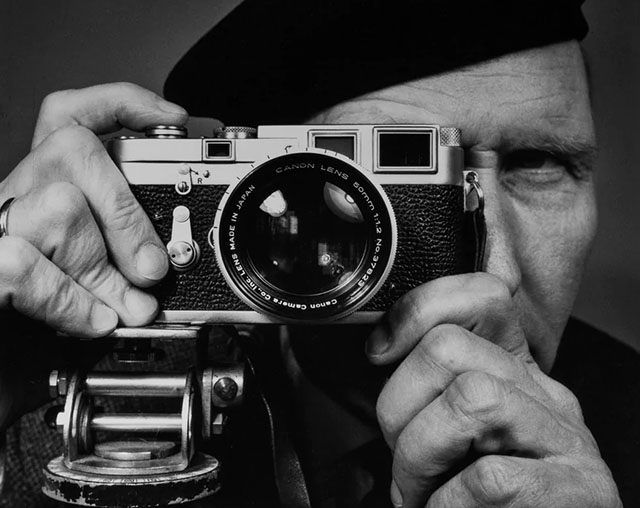 Franz Hubmann (1914-2007) self portrait with a Leica in 1960. Austrian reportage photojournalist.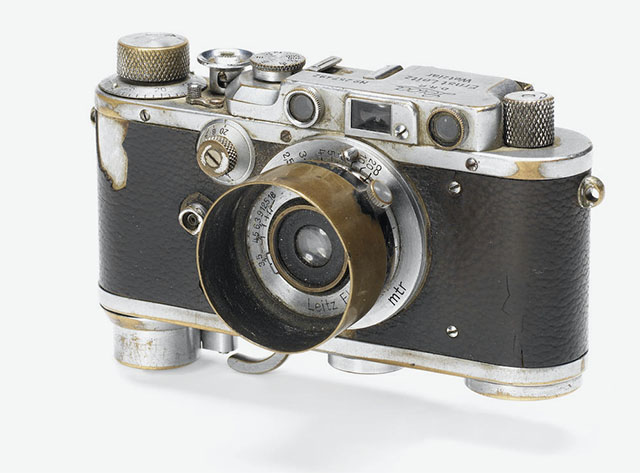 Jewgeni Chaldej's Leica III with Leitz Elmar 3.5cm f/3.5 he used for the photo "RAISING A FLAG OVER THE REICHSTAG" above.The camera was sold for 193,000 USD in 2014.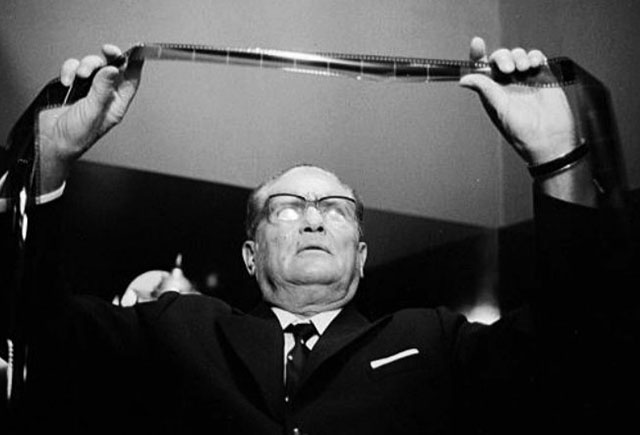 Preident Josip Broz Tito (1892-1980) was an avid photographer and used a Leica R3 electronics amongst other Leica cameras and many other brands. Here he is seen in his darkroom. Tito was president of Yogoslavia (now divided into Bosnia, Croatia, Macedonia, Montenegro, Serbia and Slovenia) and amongst many other remarkable things, during World War II, he was the leader of the Partisans, often regarded as the most effective resistance movement in occupied Europe, and later he founded The Non-Aligned Movement, uniting 120 countries to make the UN Human Rights Declaration a reality.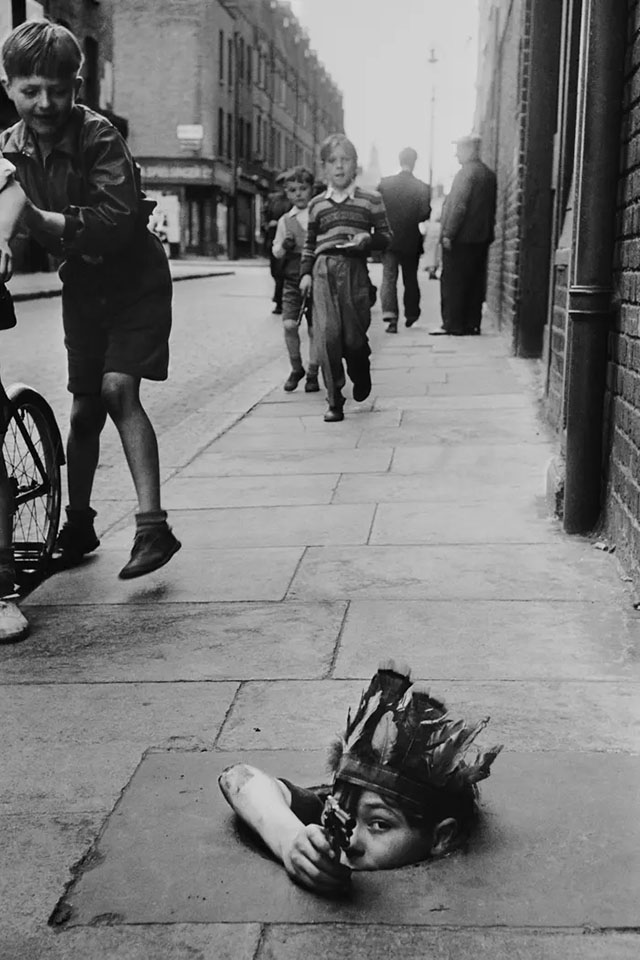 Thurston Hopkins (1913-2014) was a Leica user and photographer for British Picture Post. At age 23 he transformed from newspaper illustrator to photographer.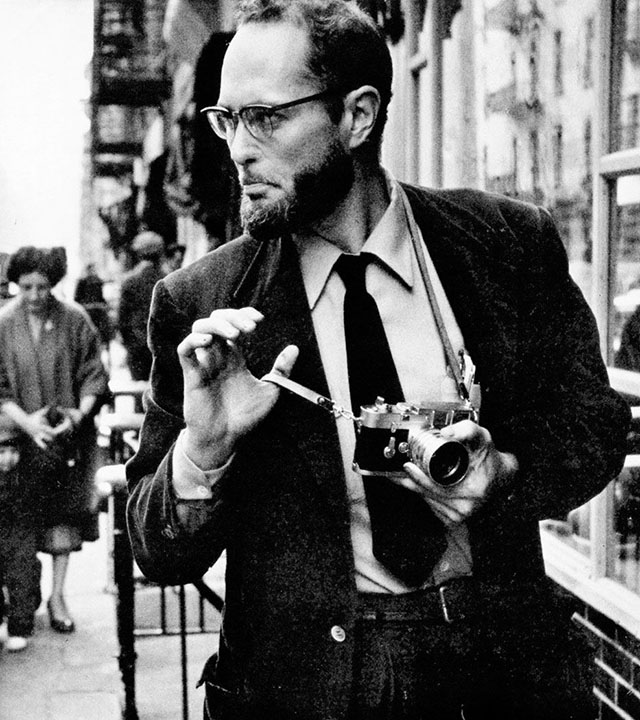 Eugene William Smith (1918-1978) who was one of the famous names delivering photographs to LIFE magazine used Leica, amongst other cameras. On the set of Charlie Chaplin's "Limelight" he had six Leica's on hand, each equipped with one lens (28mm, 35mm, 35mm, 50mm, 85mm, 135mm - two cameras with a 35mm, which he used the most, in case one ran out of film). There's a couple of videos about him on YouTube: "The story of W. Eugene Smith" and "The World of W. Eugene Smith"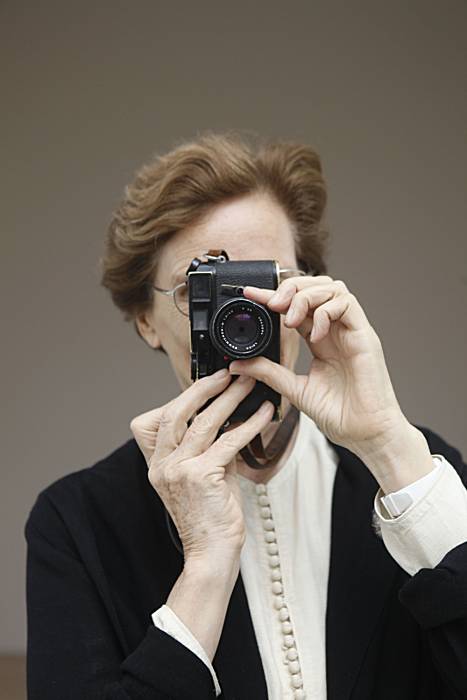 Ms. Martine Franck (1938-2012), the wife of Henri Cartier-Bresson .
Full Leica M11 Pack

15 video classes with work book
+ 455 page eBook,
+ Styles for Capture One for Leica M11
+ Lightroom Presets. for Leica M11
Normal price $897.00


Normal price $897.00

Save 45%

Only $487.00

USE CODE: "ILOVEM11"

PREORDER. Be the first to get this.
100% satisfaction or money back.

Item #2150-0222

Leica M11 Know-All-eBook

455 pages illustrated for Computer,
Kindle, iPad or smartphone.

Only $298.00

PREORDER. Be the first to get this.
100% satisfaction or money back.

Item #2151-0222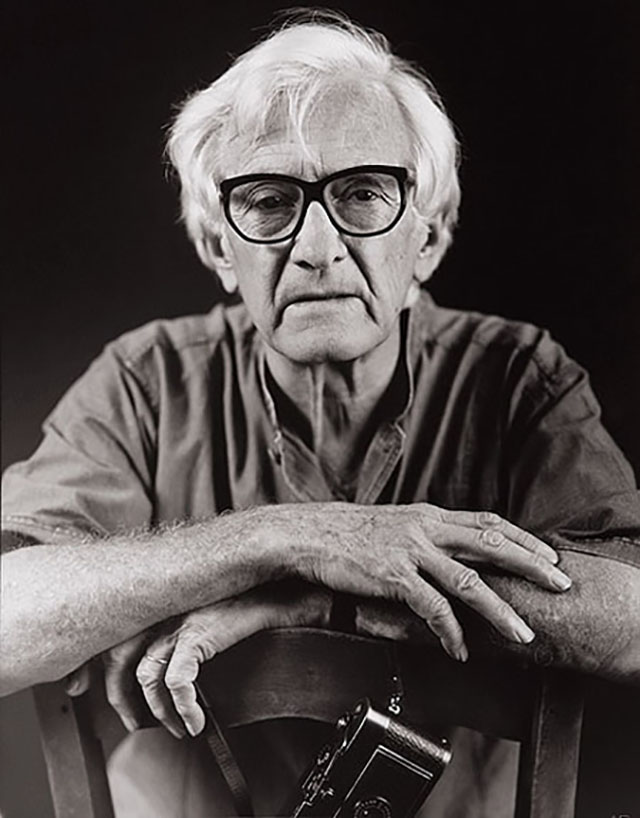 Marc Rriboud (1923-2016) was a French photographer.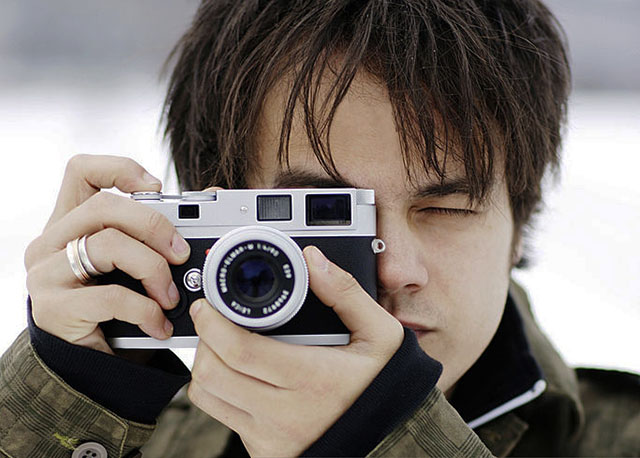 Singer and composer Jamie Cullum is an avid Leica user.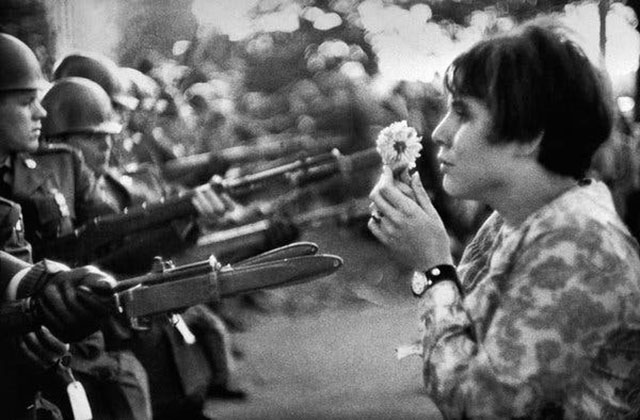 Marc Rriboud. Washington DC 1967, anti-Vietnam demonstration.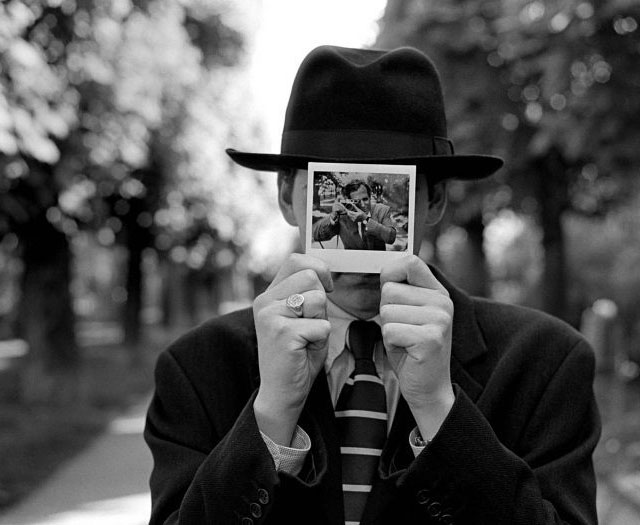 Rodney Smith (1947-2016) was a Leica M4 user in New York, and then a Hasselblad 500 with 80mm user for most of his work. You could say he primarly created photographs He thought them out, arranged them and made them. HHis photos are popular for interiors, with an element of both composition genius and humor. This photo taken with a Hasselblad shows a Polaroid of Rodney Smith with his Leica - a sort of crosspoint in his career. But he never shot digital, so he used both Leica M4 and Hasselblad in 2015. Many Leica users have a soft spot for Hasselblad, just as manuy Hasselblad users have a soft spot for Leica. Read my article about Rodney Smith here.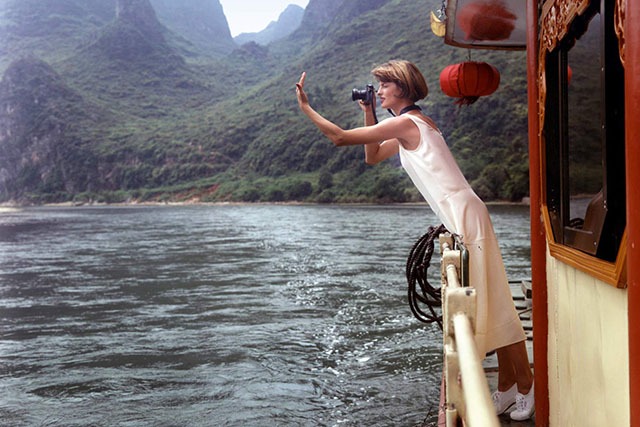 Linda Evangelista with the Leica M6 she bought in Kowloon, Hong Kong and took on the Li River in Guangxi.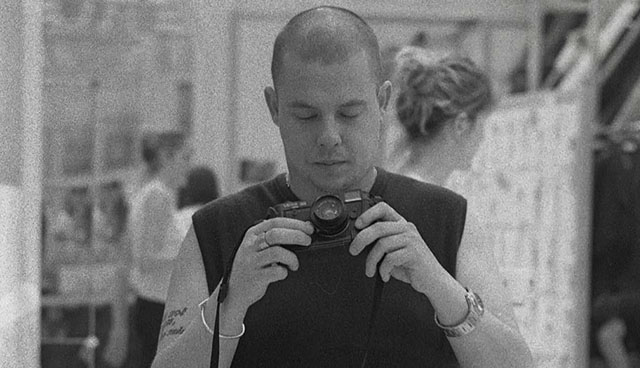 Alexander McQueen (1969-2010) with his Leica M6 in the documentary "McQueen" (2018).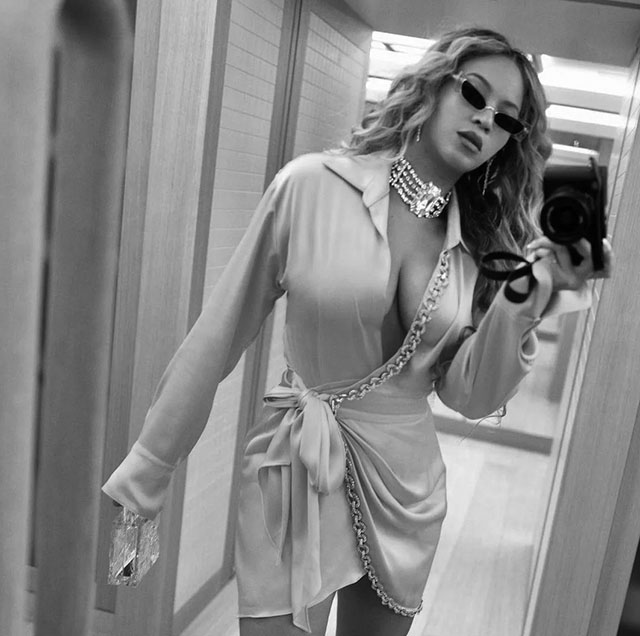 Beyoncé (Knowles-Carter) occasionally is seen with her Leica or her Fujifilm camera. Here she is with the Leica Q2.


Magnum photographer Inge Morath now and then. The photo to the right is from 1958.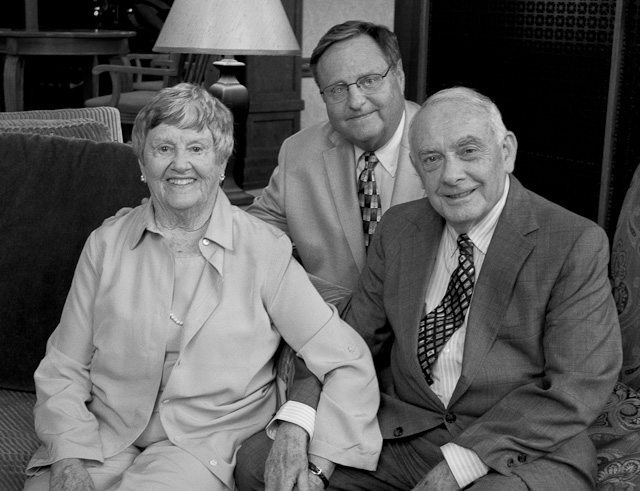 The Clark Family and the Leica: The story of Joe, Bernice and Junebug Clark of Detroit, USA is a story of real Leica users. Back in issue 1/1961 of the Leica Photography International magazine the family was featured in a 6-page story "One-Family Show" with the following intro:
"Joe's son Juneberg Clark not only didn't learn how to use a Leica untill he was three, but never earned a dime from his pictures until he was five!" (where he sold his first image to The Detroit News for whom he then worked for at age 6).
Junebug was 11 in 1961 when the family was featured in the LFI, and in 2011 the family donated the entire archive of photos shot by the mother, father and son to The University of North Texas that will curate, digitize and archive the collection for educational purposes. The collection represents one of the most extensive family archives from the golden age of American photography. The Clark's work has been featured in Life Magazine, National Geographic, Look and Newsweek.
The father, Joe Clark originally took work in Detroit as a nightwatch but was was so handy with the Leica that his images was soon exhibited, which then lead to assignments for companies and magazines. When the son Juneebug was born, he too handled the Leica pretty well, and one afternoon when Junebug was taking a bath in the backyard and dad was out, mother Bernice took up the Leica and made some pictures that ended up in magazines and was the kickstart of her lifelong career.
Junebug Clark is a teacher at MAYBORN School of Journalism today.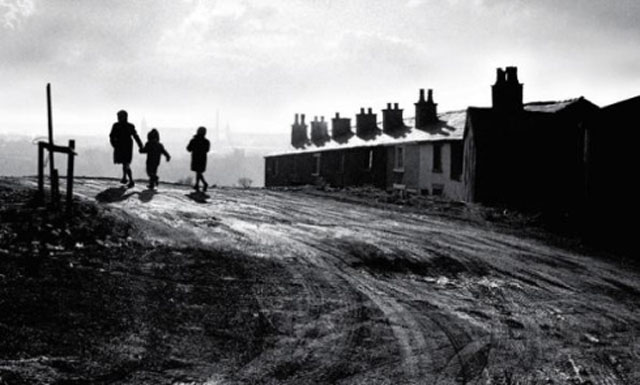 Harold Crompton Robinson (1928-2008) was a professional photorapher who always had a Leica by his hand and won just about every photo competition he ever entered (which he did sparingly and unassumingly). His son Stephen Robinson is a professional photographer in Zambia, also a Leica user.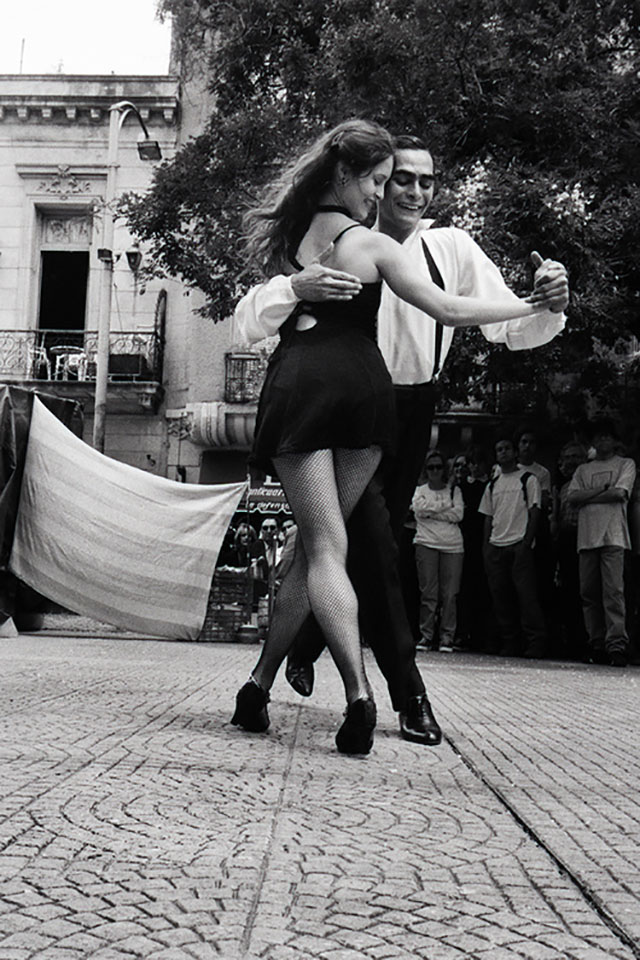 Paul Ickovic (1944) emigrated from England to the US when he was 13. He was an assistant to Henri Cartier-Bresson. Using a Leica, one lens and black and white film, he has traveled the world, writing, drawing and photographing.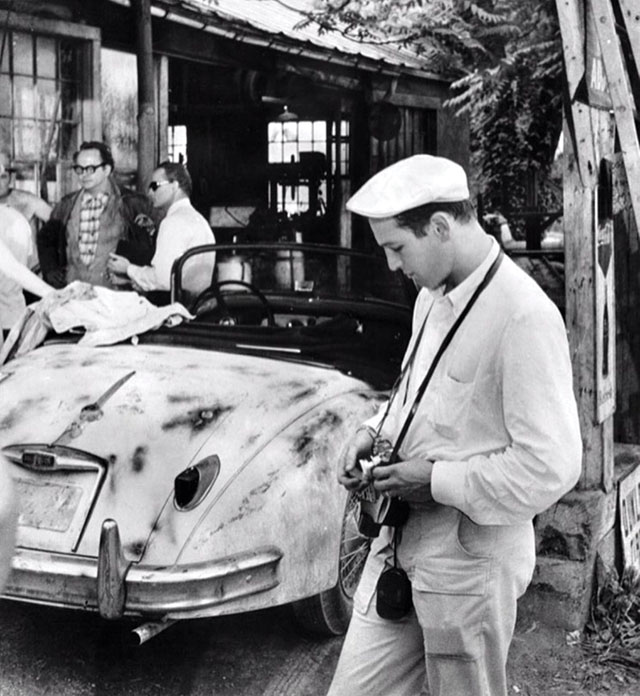 Paul Newman with his Leica (director Sidney Lumet and actor Marlon Brandoin in the background).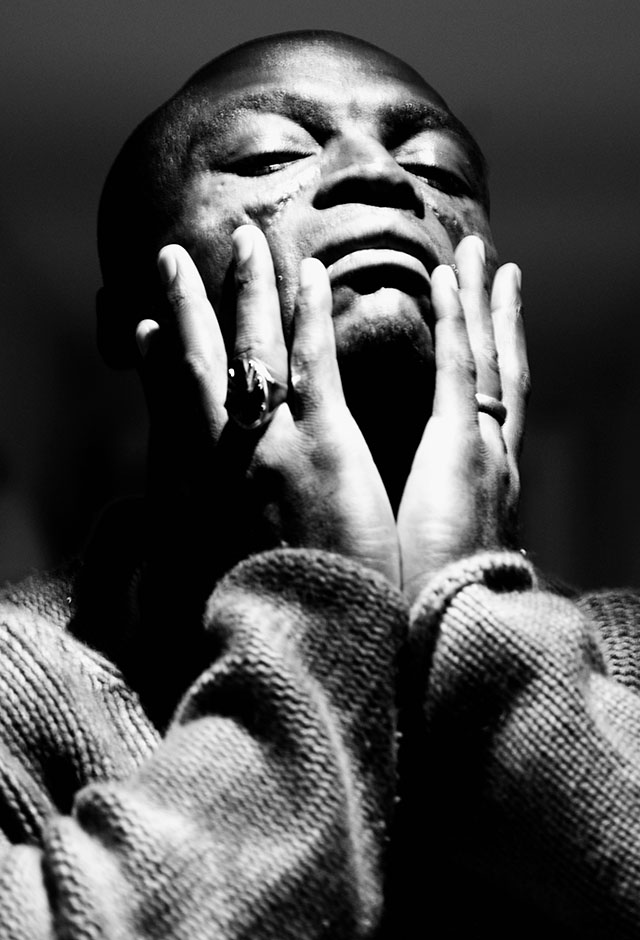 Seal (Henry Samuel) is a big fan of Leica, with a private collection of 35+ Leica cameras that he uses at home, on tour and out and about. © Thorsten Overgaard (Leica DMR with Leica 35-75-mm f/2.8).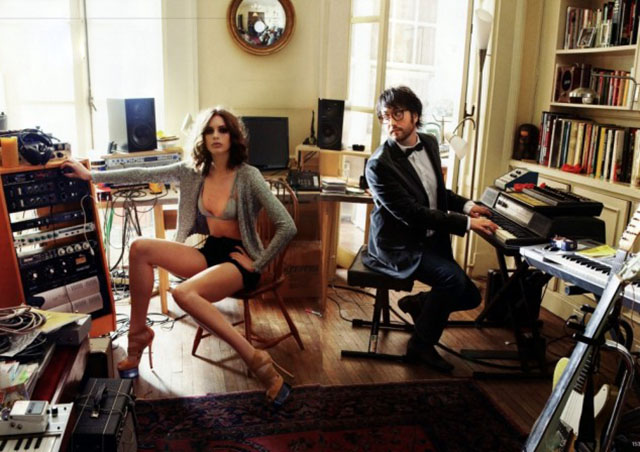 Sean Ono Lennon and wife Charlotte Kemp Muhl are both artists, record label founders ... and enthusiastic Leica users. Leica M, Leica SL, Leica Digilux 2, but also Hasselblad and film cameras.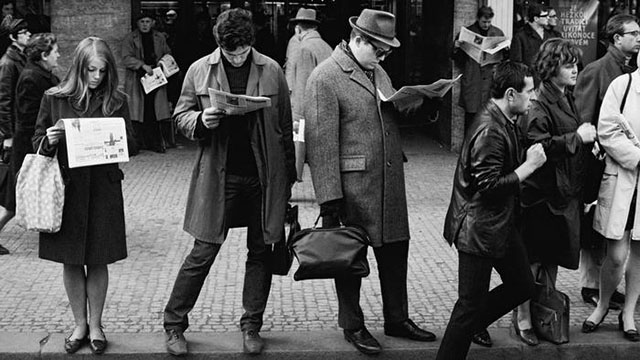 Robert Lebeck (1929-2014) was a German photographer. Here is "Prague Sprint "(1968), capturing the atmosphere of newfound press freedom following a brief liberalization.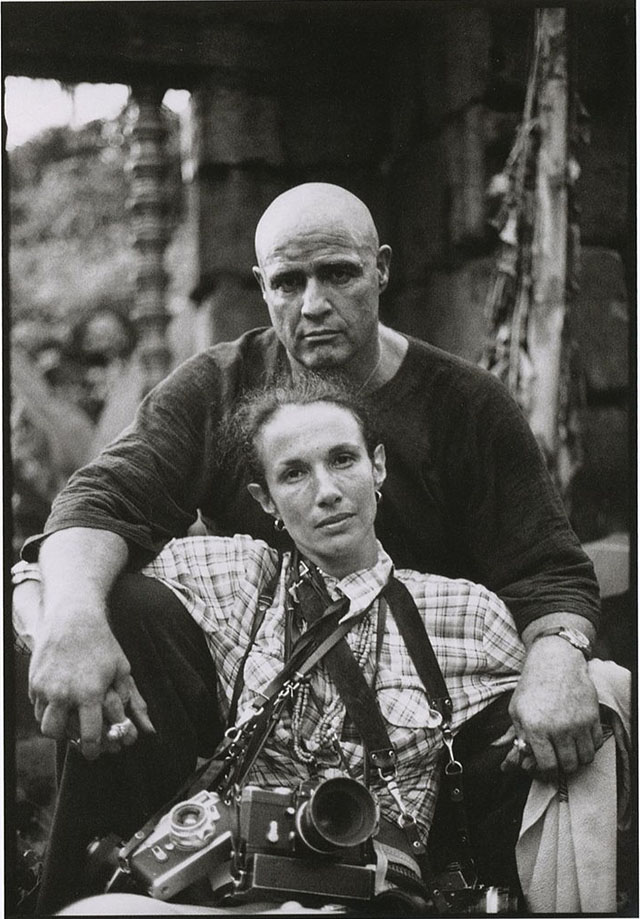 Mary Ellen Mark with Marlon Brando on the set of "Apocalpyse Now" 1979.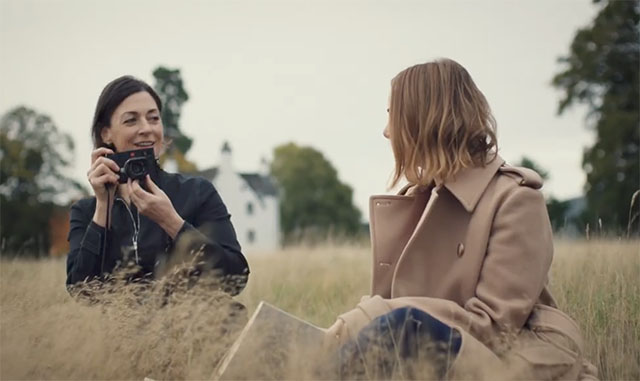 Mary McCartney, daughter of Paul and Linda, is a very enthuastic Leica user, to say it mildly. She can be seen using good ol' film cameras as the Leica Minilux, Leica M6, as well as modern Leica Q, Leica SL2 and - naturally - Leica M. In the photo, Mary and sister Stella McCartney.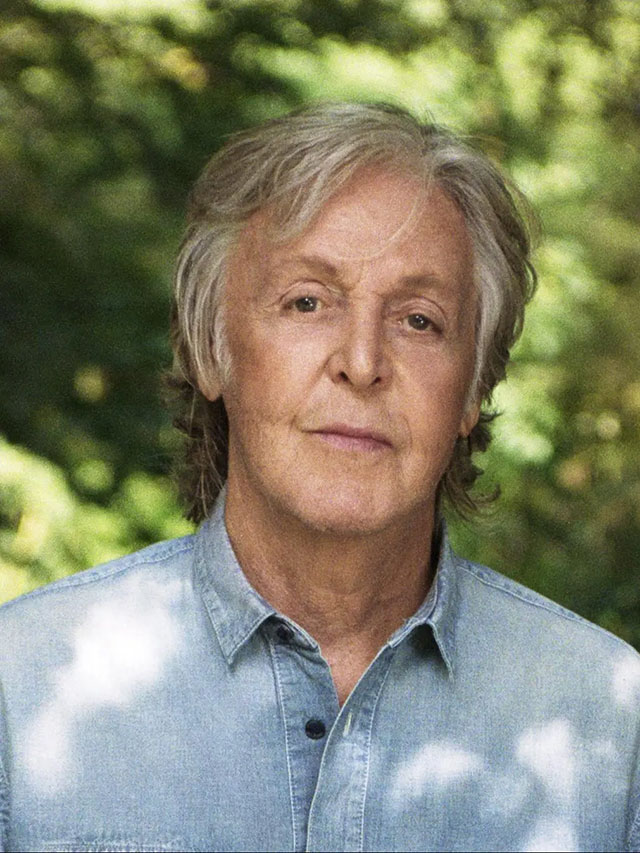 A photo of Paul McCartney by daughter Mary McCartney.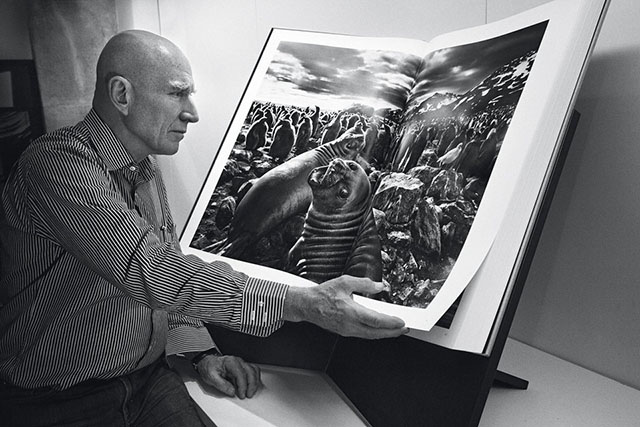 Sebastião Salgado with his book "Genesis". Salgado have been using Leica for many years, but also other cameras. When using Leica film cameras, he has been known to use three cameras at the same time, each with different lens.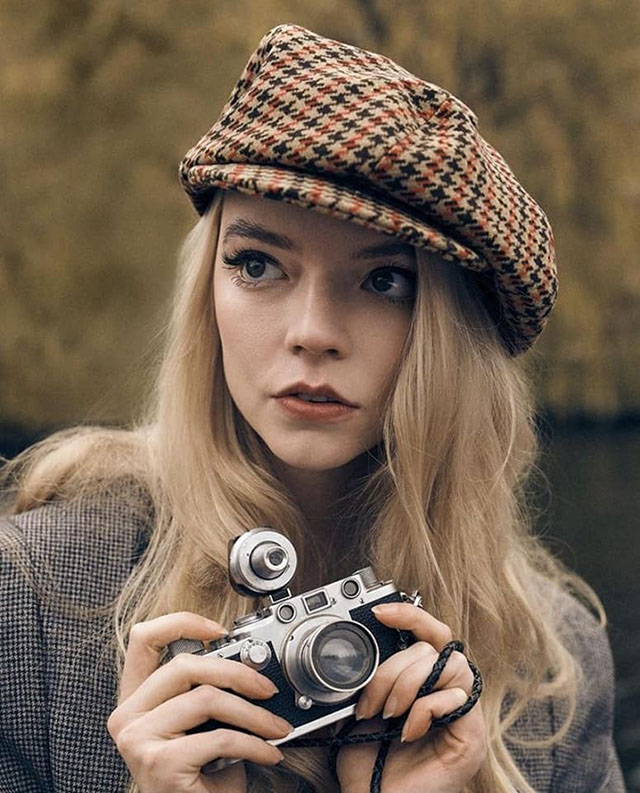 Actress Anya Taylor-Joy with her Leica.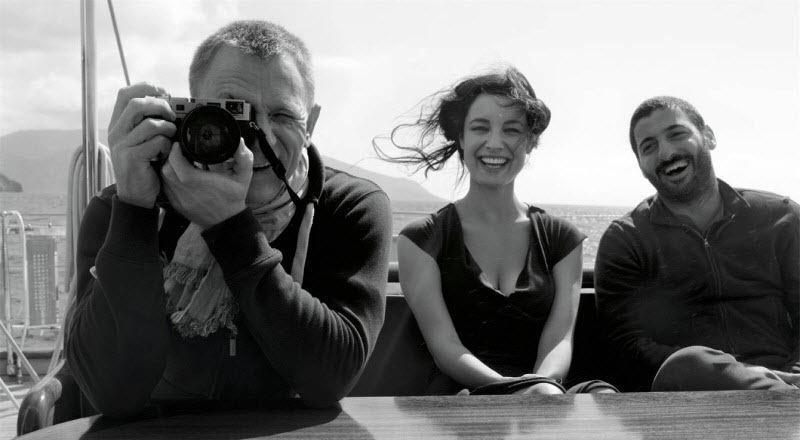 Daniel Craig with his Leica.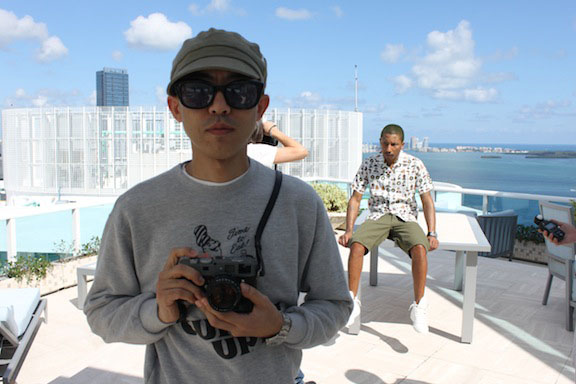 Nigo with his Leica M9-P hammerthorne (and Pharrel in the background). He is a fashion designer and entrepreneur. He later sold it at Sotherby's together with (some of) his colletions of special suitcases, art and more.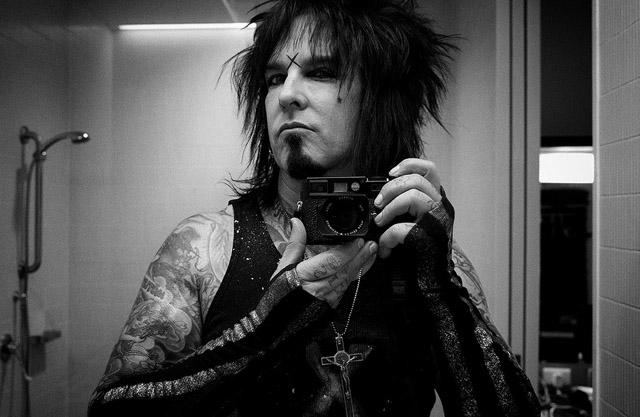 American musician of Mötley Crüe and radio host Nikki Sixx with "The SEXY BEAST", his Leica M9. You can find his photo blog "Some Call me Sizxx" here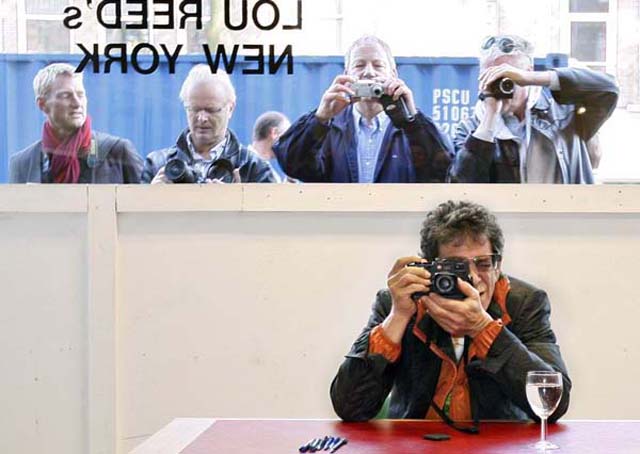 Lou Reed is known for his quote, "God should have a Leica". Here he is with his Leica M8 that he did quite a lot of infrared photography with. Read an article about his photography and exhibitions here.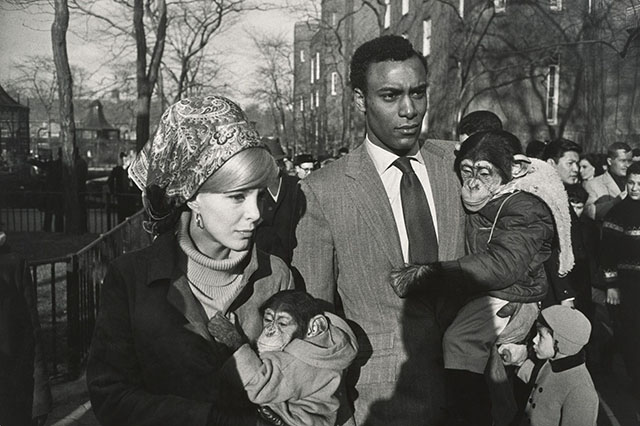 Garry Winogrand (1928-1984) said, "I photograph to see what the world looks like in photographs.". Here a photo, "Central Park Zoo" taken in New York in 1967. Read an interview of 1982 with him, or video here from Rice University.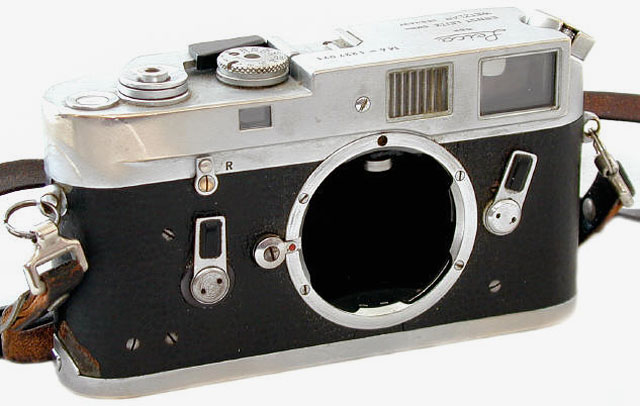 The well-used Leica M4 of Garry Winogrand.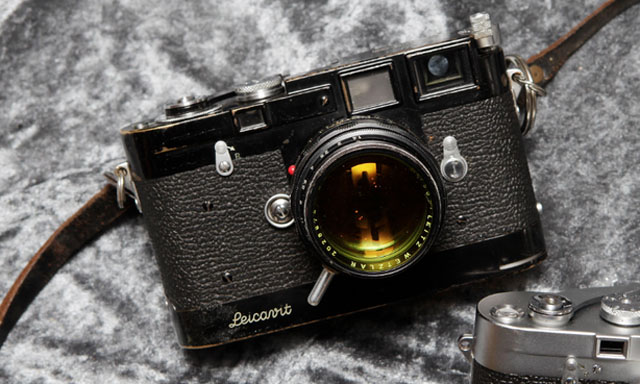 The Leica M3D that belonged to LIFE photographer David Douglas Duncan, also known for photographing Pablo Picasso through many years. The camera wa sold for 2.2 million dollars.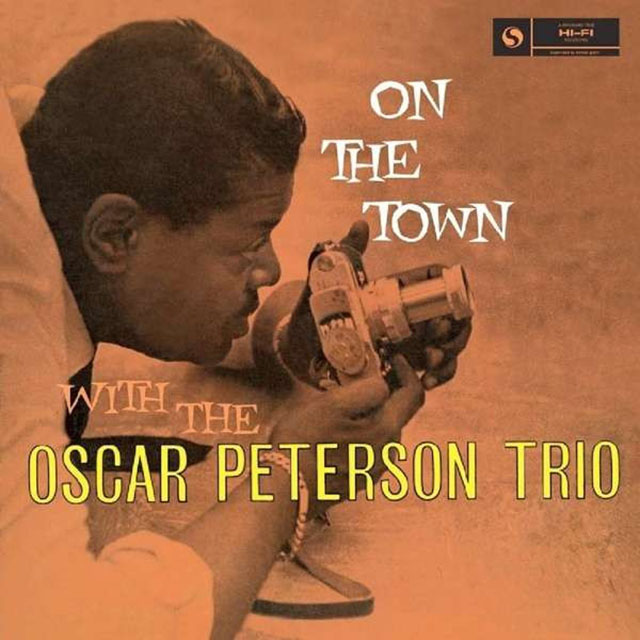 Oscar Peterson was not only a Leica fan, he was a great fan of all things photography with his own darkroom and a large camera collection. When I photographed his drummer, Alvin Queen at Montmartre in Copenhagen in 2013, he told me that Oscar Peterson also inspired many others to take up photography: "I'm also in photography which I started while performing with Oscar Peterson in 2004, but I'm a Nikon D3 man, not a Leica user. Before Oscar died in 2007 he had a collection of more then 600 cameras which I used to enjoy at his house in Canada.
Thorsten von Overgaard's portrait of the HRH The Crown Prince Frederik & HRH The Crown Princess Mary with their four children in front of the royal palace Amalienborg in Copenhagen, with Leica M9 and 50mm Summicron-M f/2.0 II on April 2011.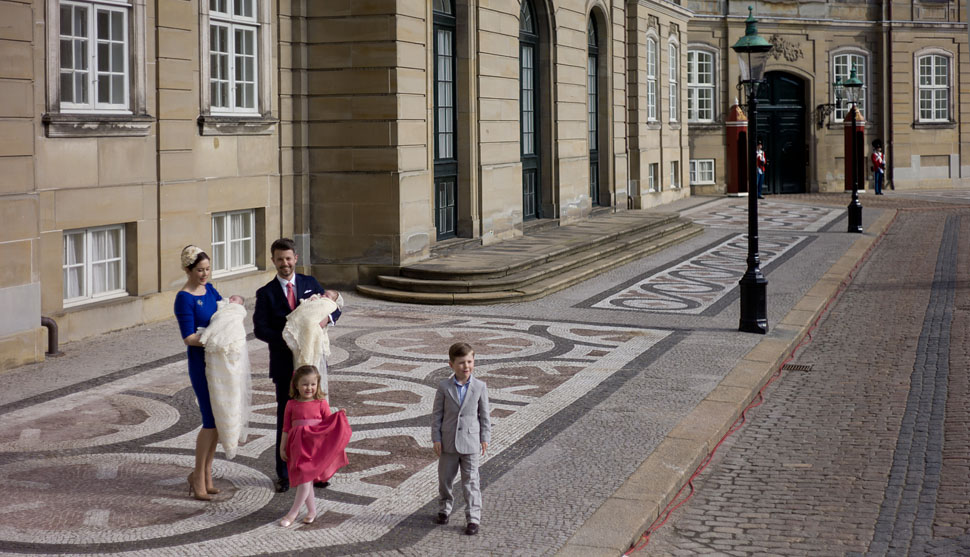 HRH The Crown Prince Frederik & HRH The Crown Princess Mary with their four children i front of the royal palace Amalienborg in Copenhage. © Thorsten von Overgaard.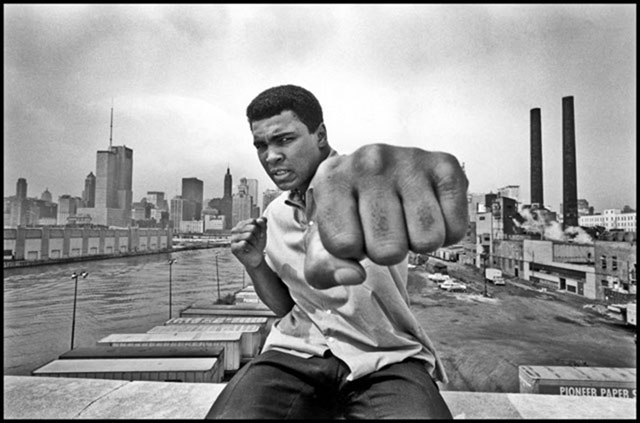 Thomas Hoepker (1936) is a German photographer and member of Magnum Photos. Here is from his famous series of Muhammed Ali.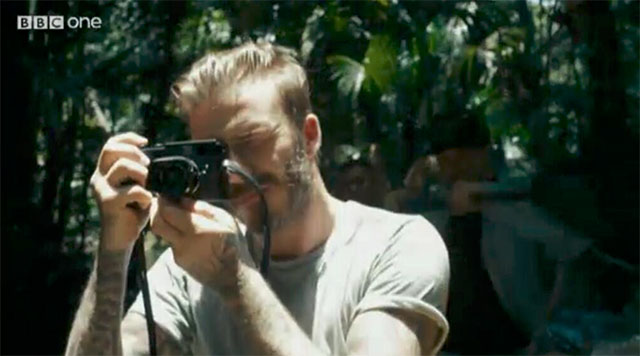 Our friend David Beckham was spotted with his Leica in the BBC documentary "David Beckham Into the Unknown" in July 2014.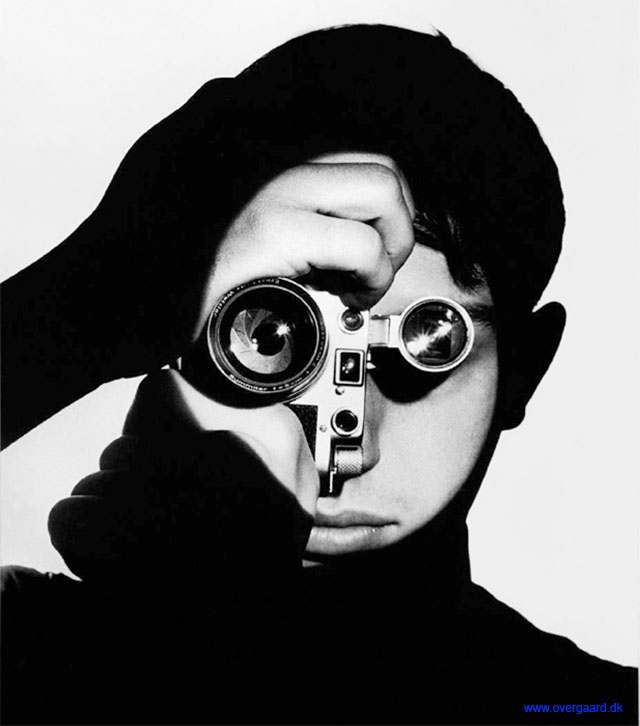 Portrait of Magnum photographer Dennis Stock (1928 – 2010) by Andreas Feininger, 1951. Feininger took this now-iconic photograph for Life magazine, after Dennis Stock won first prize in a competition for young photographers.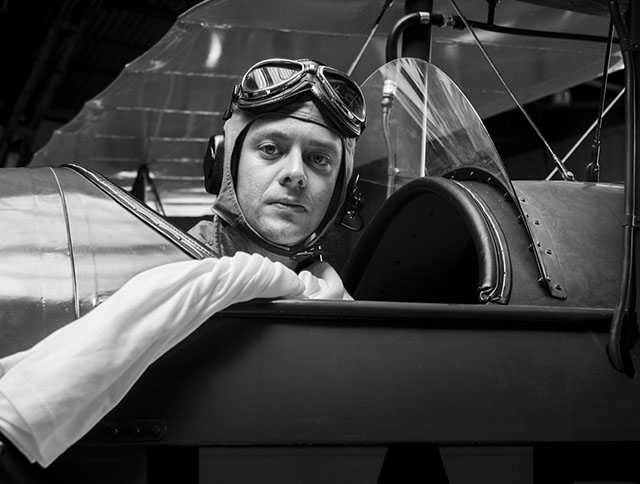 Gianni Berengo-Gardin (1930) is an Italian photographer who have used his Leica for reportage, editorial work and book illustration and advertising. Here's one of his photographs.

Alodia Gosiengfiao is telvision celebrity and a Leica M and Leica Q user.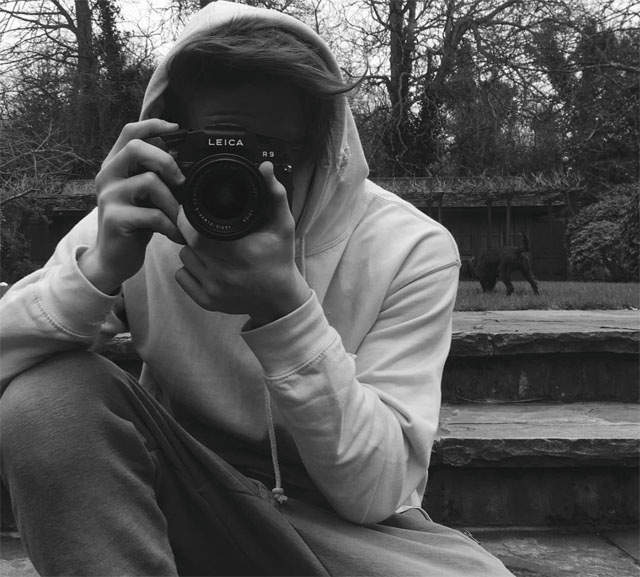 Brooklyn Beckham was commissioned his first Burberry shoot at age 16 (February 2016) where he used a film camera, the Leica R9. He has a rather impressive collection of cameras, inclouding Leica Minilux, Leica M digital rangefinders, and more.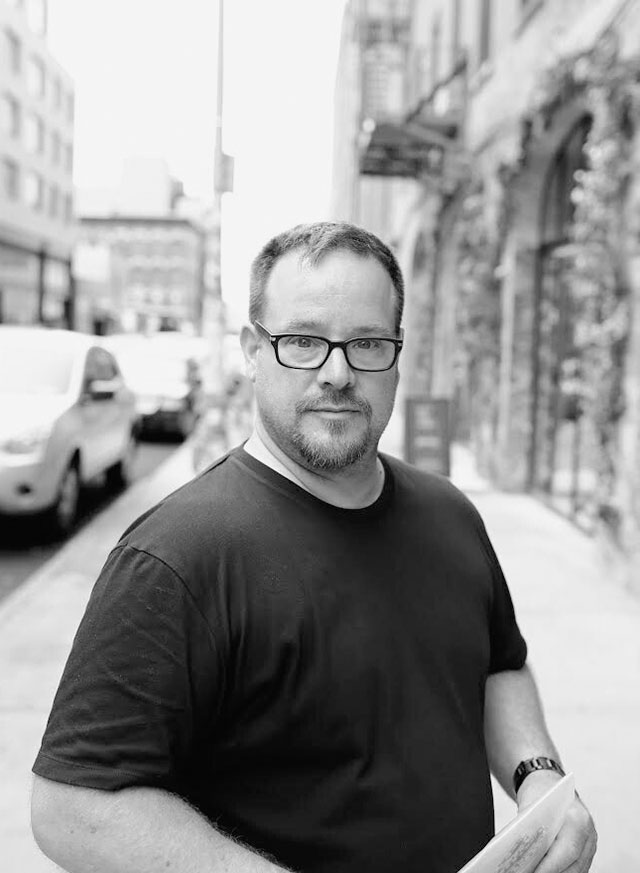 Stash (Josh Franklin, born 1967) is an American graffiti artist and Leica fan. In 2022 he also made a special edition of the Leica D-Lux 7 with Leica Camera AG, the "A Bathing Ape x Stash" edition.

War photographer Jan Grarup with his Leica M Monochrom in Afghanistan, 2013. Multiple winner of World Press Photo Award, the Oskar Barnack Award the Danis Press Photographers Association yearly awards.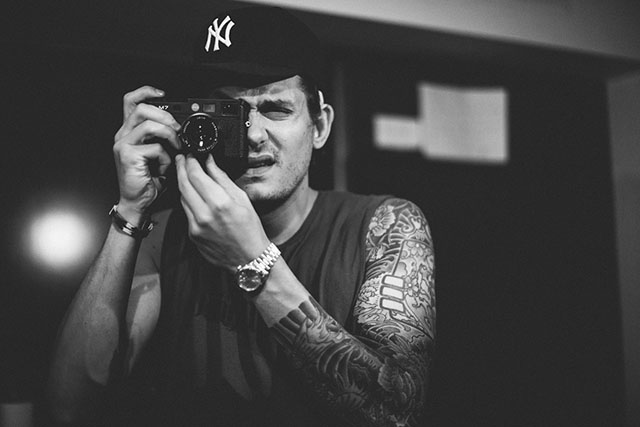 John Mayer with his film Leica M7. He has a few, a Leica M silver and Leica M9 in black, and so it goes.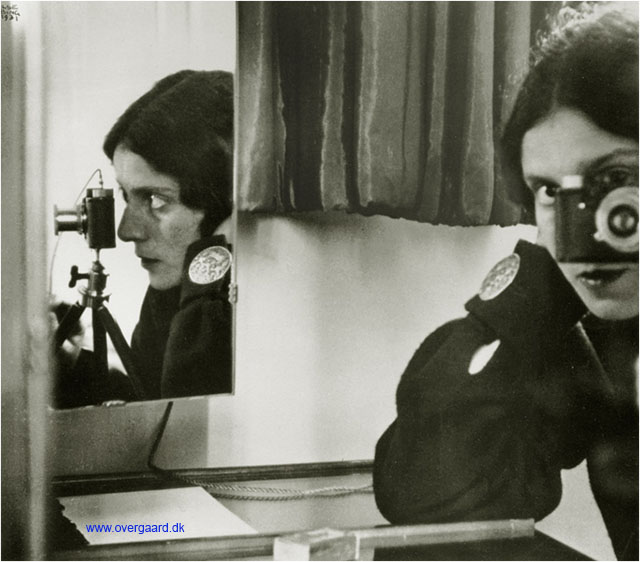 German pioneer avant-garde and commercial photographer Ilse Bing (1899-1998) self portrait. Known as "Queen of the Leica". She gave up photography in the 1950's after a 15 year almost explosive career with exhibitions at Louvre in Paris, Mueum of Modern Art in New York and dedicated her time to writing poetry, made drawings and collages, and occasionally incorporated bits of photos.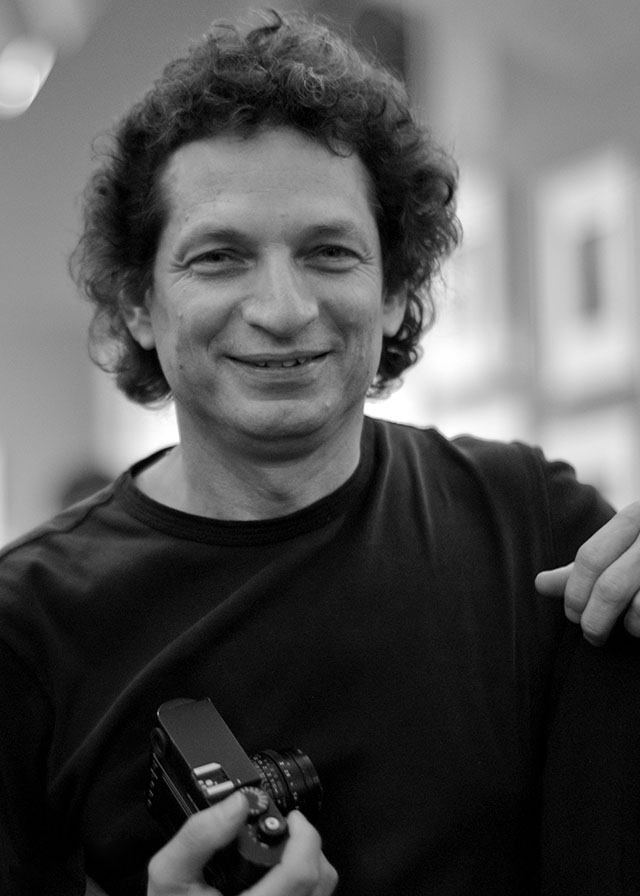 The World Press Photo Award winner 2009 was taken with a Leica M6 TTL and 28mm by Anthony Suau.
He previously won the World PRess Photo Award in 1987 and a Pulitzer Prize in 1984 for his photographs of the famine [hunger] in Ethiopia. © Thorsten Overgard.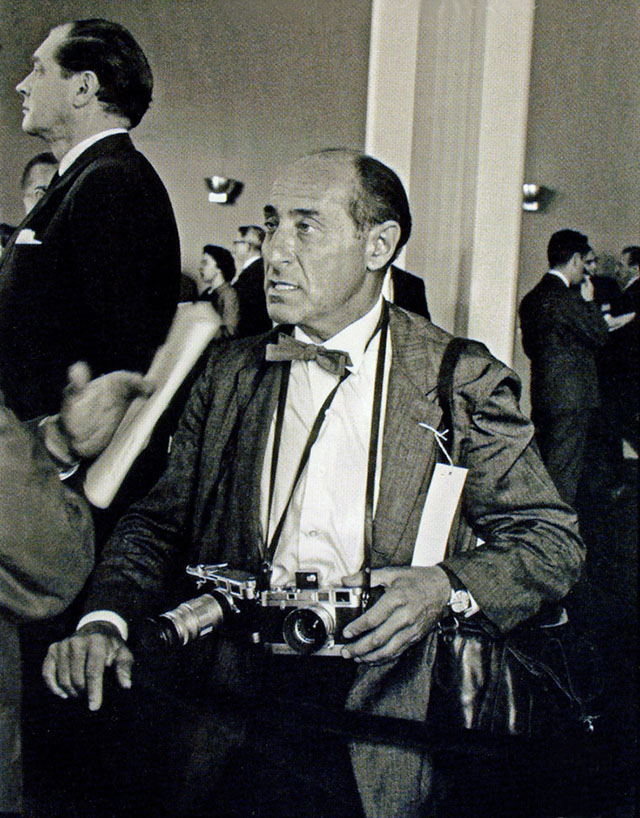 Alfred Eisenstaed, the LIFE photographer who photographed "The Kiss", here in the UN building in New York, 1961 (photo by by Lisl Steiner). He received a special edition Leica M3 serial no 1000001 from Leica Camera AG in 1960, re-fitted with gold plated parts in 1989. He originally owned and used 35/1.4, 90/2, 35/2.8 and a 65/3.5 with the camera. He also owned and used two Leicaflex SLR cameras and Telyt 200mm, 280mm and 400mm lenses.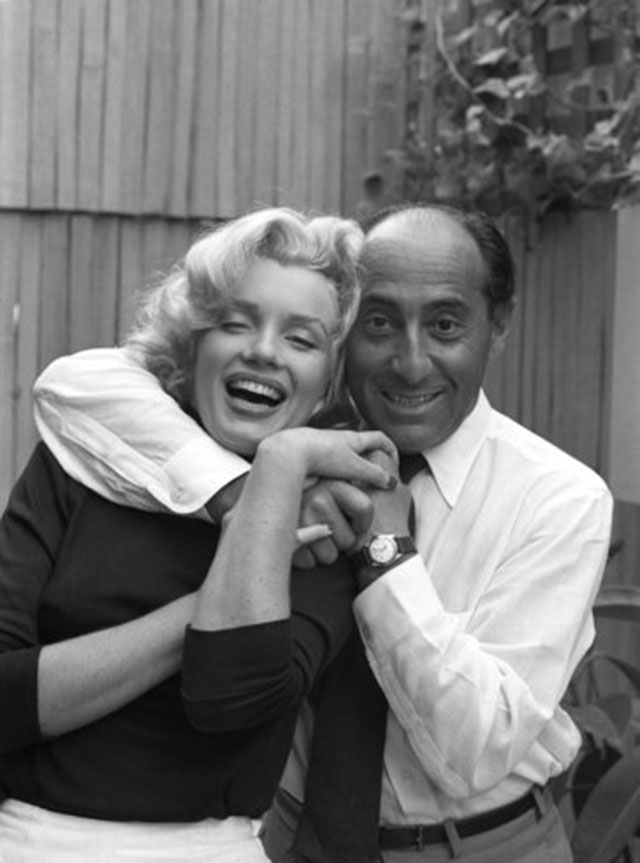 Alfred Eisenstaed with Marilyn Monroe in Beverly Hills, 1953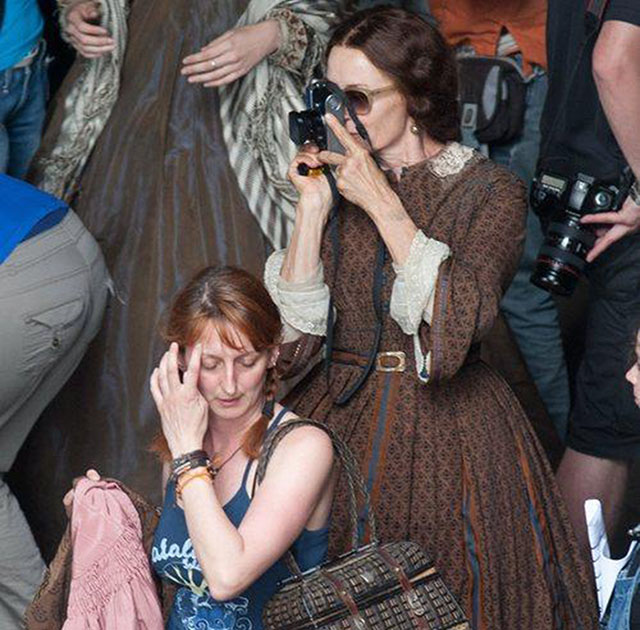 Jessica Lange (born 1949) is an avid Leica photographer on set, in life and doing photo projects and exhibitions. In 2008 she published her book 50 Photographs along with an exhibition at the George Eastman House. In 2010 she published her book In Mexico along with an exhibition. In 2013 she made a children's picture book It's About a Little Bird, and in 2014 she exhibited in Moscow's Multimedia Art Museum.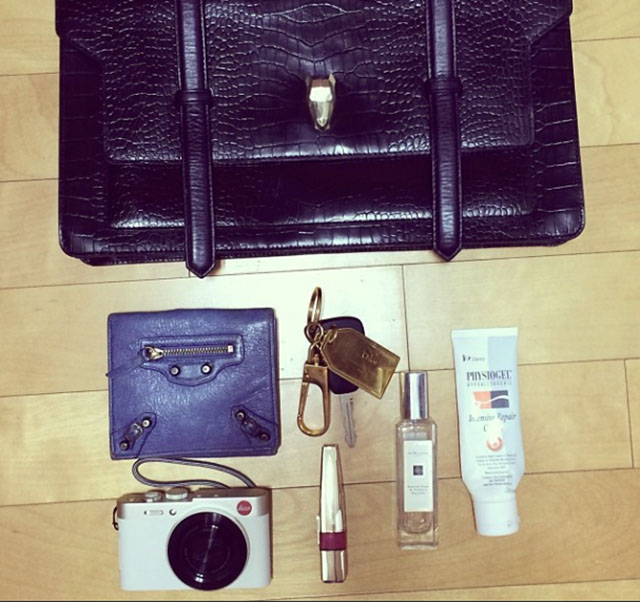 The daily kit of Hyoni Kang (Ford's Supermodel of the World 2008) includes the Leica C-Lux.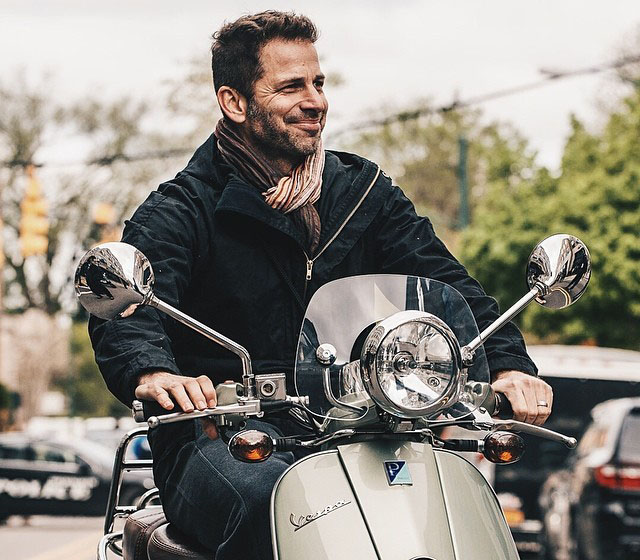 Batman movie director Zack Snyder is also an avid Leica photographer. The first released image from the 2014 Batman movie was tweeted by Zack Snyder on his twitter - shot with the Leica M Monochrom.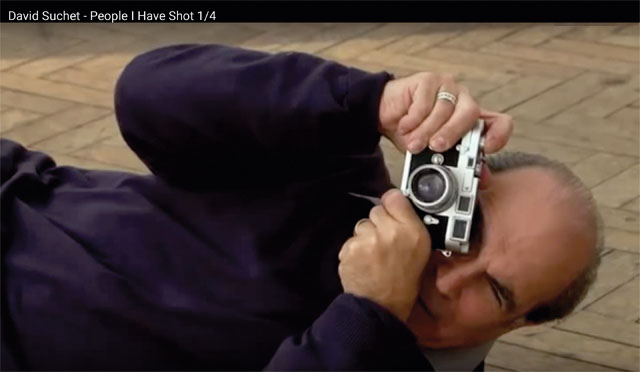 British actor David Suchet is an avid Leica photographer, known and loved as 'Poirot' for many people. He uses his grand-dad's Leica M3 (which he did a documentary about for ITV in 2012 - click on the picture above to watch or here to read the article), as well as Leica M 262 and Leica M Monochrom.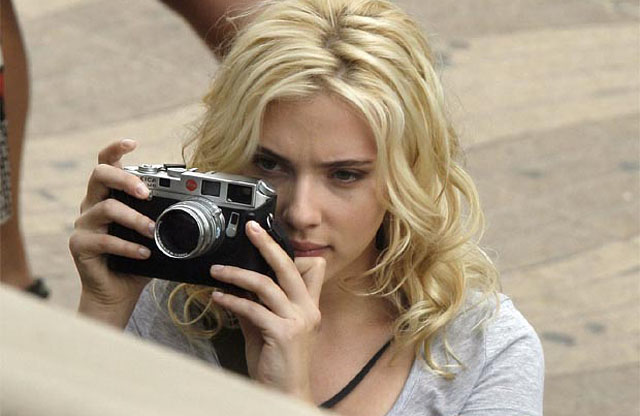 Classic beauty meets classic beauty: Scarlett Johansson using her Leica M6 during filming in Spain of "Vicky Cristina Barcelona" with Woody Allen, June 2007 (unknown photographer; from a blog). Or, the camera might be Woody Allen's own as he is a Leica fan as well (and by the way received a honorary Leica M8.2 from Leica in 2008).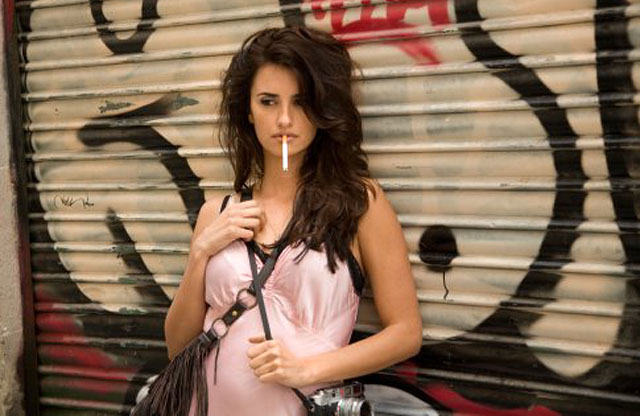 Another notable photos from "Vicky Cristina Barcelona," Penelope Cruz with her Leica (or Woody's or whatever).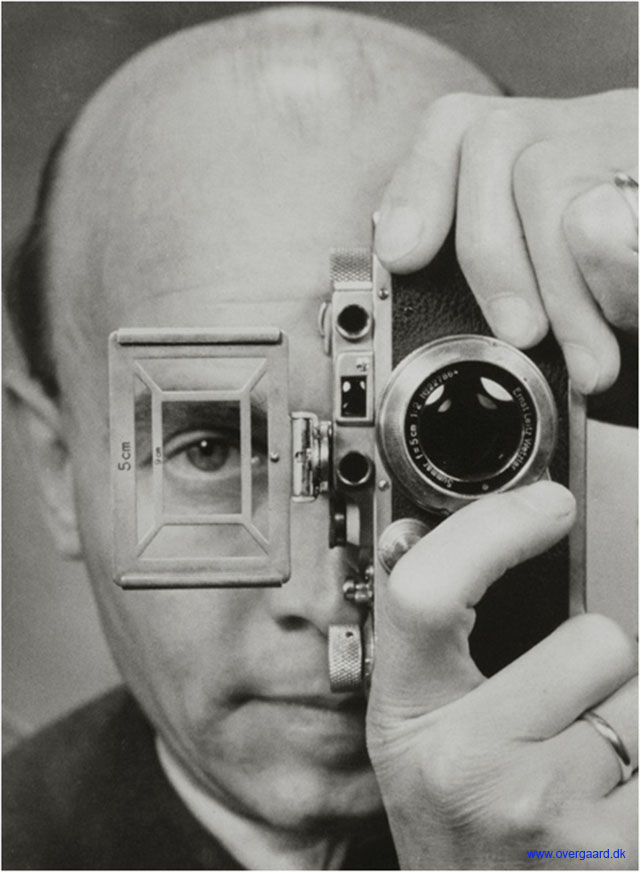 Selfie anno 1948 of German entertainment photographer Umbo alias Otto Umbehr (1902 - 1980). Founding member of the Umbo Delphot (Deutscher Photodienst GmbH) agency in 1928 that was closed when the Nazis came to power in 1933. His archive of more than 50,000 negatives burned in 1943.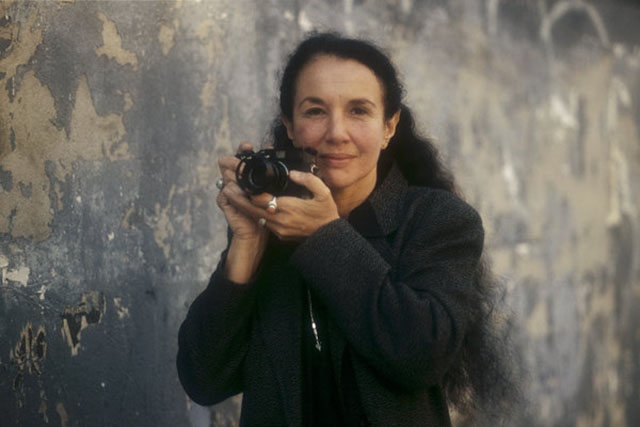 Mary Ellen Mark (1940-2015) with Leica in New York City in 1987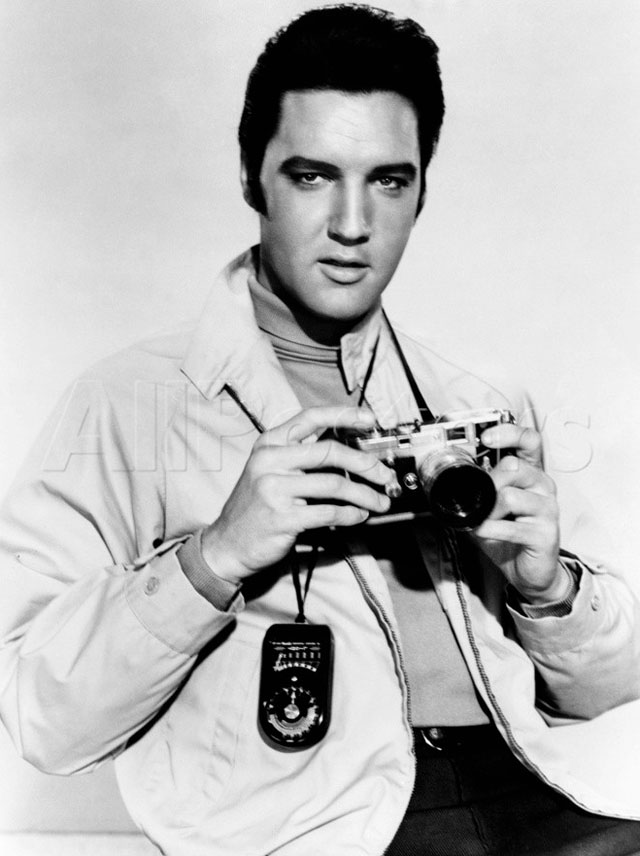 Elvis Presley with his Leica (1968)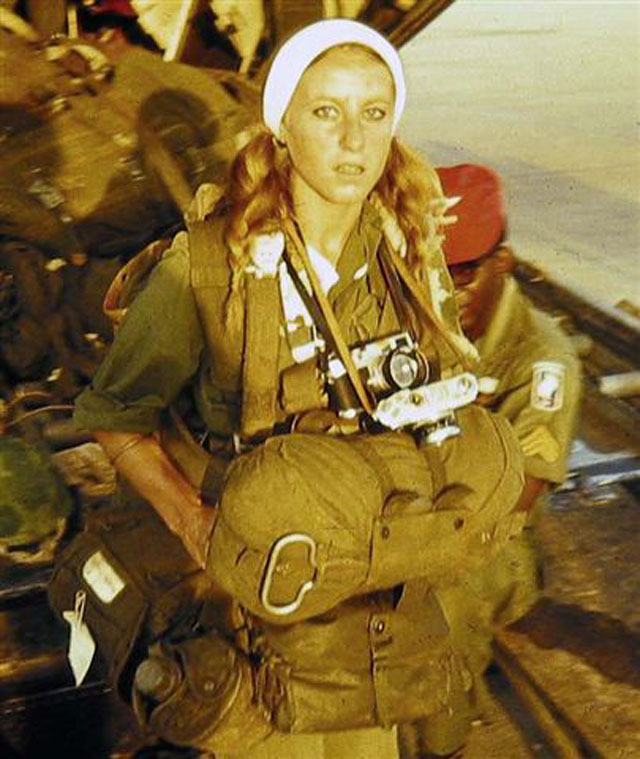 French born Catherine LeRoy (1944-2006) in Vietnam, the first woman photographer to win the Robert Capa Gold Medal Award.
Buy the new eBook
"A Little Book on Photography"
by Thorsten von Overgaard

Order now - Instant delivery.

★ ★ ★ ★ ★ ★

It's a humorous understatement to call this
new eBook by Thorsten Overgaard for
"A Little Book on Photography".
It's a grand book, a history lesson, life experience, a biography and poetry book and brilliant photo book!
All in one beautiful package of 180 pages
to fire you up and get you to love
photography ... unconditionally!

"A Little Book on Photography"
eBook for computer, Kindle and iPad.
New release March 2017.
Intro price only $47 - 180 pages.

Buy Now

Instant Delivery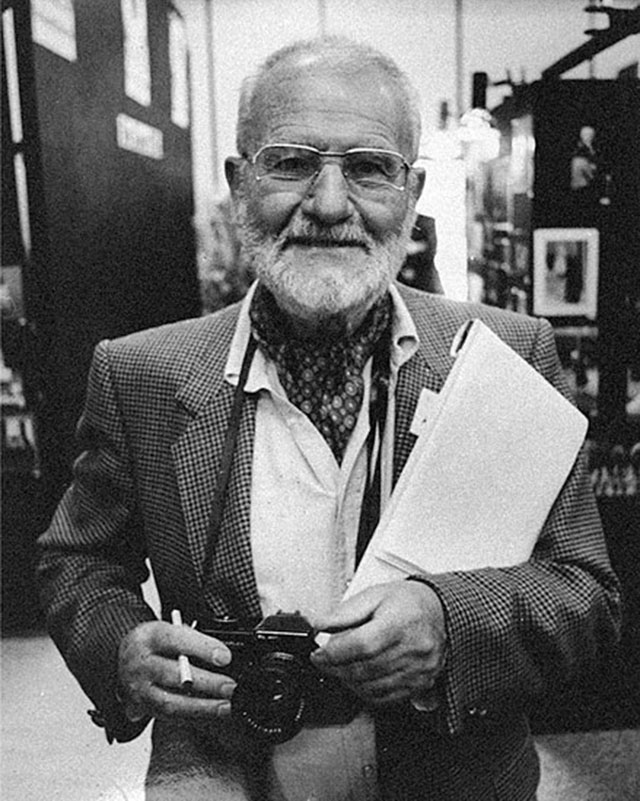 German photo legend Hanns Hubmann (1910-1996) with his Leica in 1988.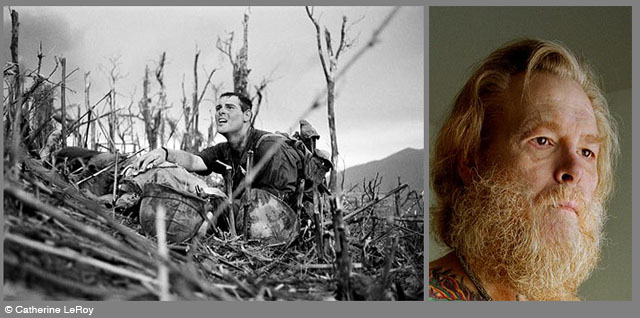 Catherine LeRoy's image of Corpsman Vernon "Doc" Wike during the battle for Hill 881 in 1967 in Khe Sanh, Vietnam, and as a portrait years later in 2005. For more images, see the book Great Photographers and Writers in Vietnam.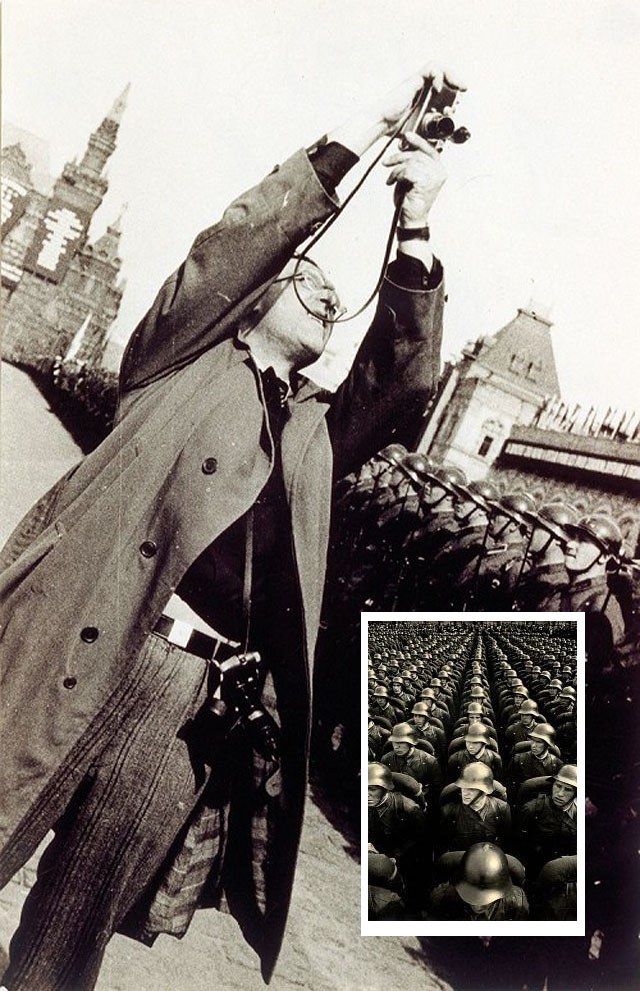 Photographer Georgii Petrusov on the Red Square in Moscow, 1936. Photographed by Alexsandr Rodtschenko. The inserted image is the result of the work (which was sold at Sotherbys in 2008 as Gelantin silver print).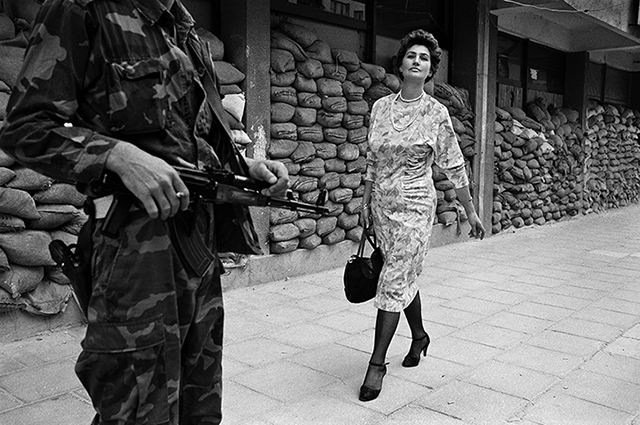 British photojournalist and Leica user Tom Stoddart (1953-2021) did a great feature on BBC to celebrate the 100 years gone past: "One hundred years of Leica cameras". Above is his historic image from Sarajevo, a woman conquering war with beauty and elegance. See more on his website, featuring also exclusive behind-the-scenes photogrpahs from the Tony Blair campaign.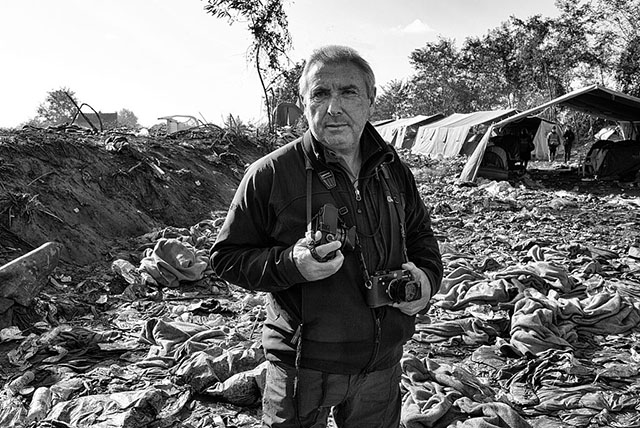 Tom Stoddart with his Leica M9 and Leica M240. He was seriously injured in 1992 covering fighting in Bosnia, while in 1997 he was given bakstage access to Tony Blair's historic general election campaign. Stoddart was in Berlin when the wall came down in 1989 and was on the Staten Island Ferry when the World Trade Centre was destroyed in 2001.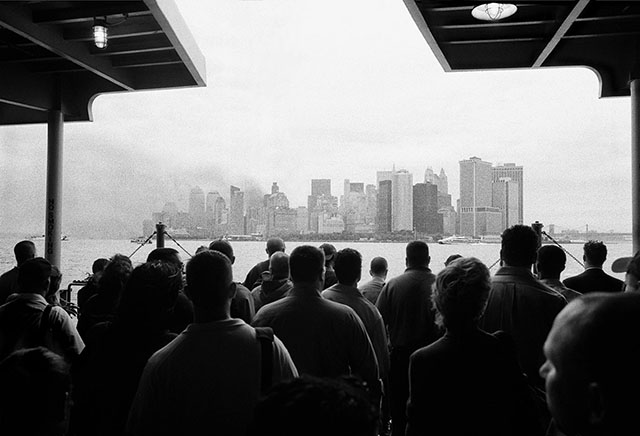 Tom Stoddart (2001). The attack on the Twin Towers, seen from the Staten Island Ferry.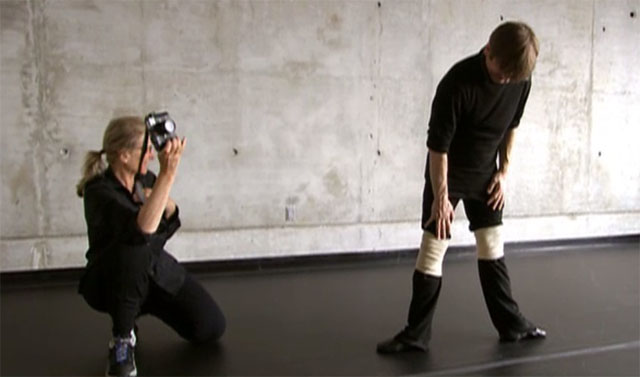 Annie Leibovitz with her Leica M6 she uses for assignments and for private family photos. She uses several cameras such as Hasselblad, Mamyia, Leica S2, Leica M6, Canon, Nikon - and no particlur brand (the famous John Lennon photo of him naked next to Yoko Ono, taken hours before his death, was a 6x6 shot). Photo from the 2008-documentary "Annie Leibovitz: Life Through a Lens" by Barbera Leibovitz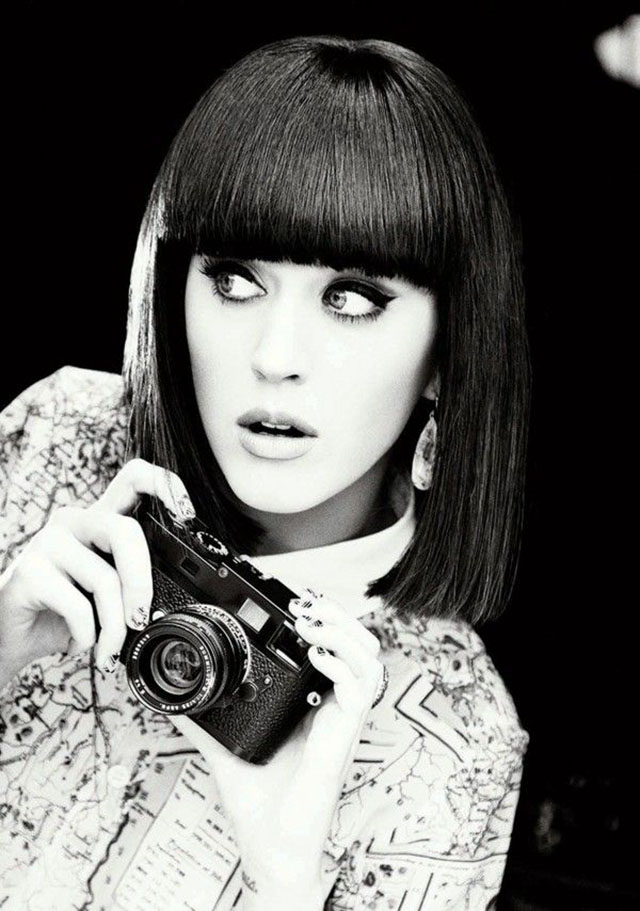 Katy Perry with Leica - Ellen von Unwerth Photoshoot 2012
NEW VERSION 11.3

Buy Now. Instant delivery.

New Version 11.3

ONLY $698.00


Now includes
4+ hours of
video tutorials.

100% satisfaction
or 100% refund.
More info.



#2130-1121-3


Update to Version 11.3

Apply code "UPDATE113" on checkout to get this complete version 11.3 update.

$298.00

Updates all previous Surival Kit versions since 2009.

Buy the complete new
Lightroom Survival Kit 11.3
The Legendary Tutorial for Photographers

Brand-new JUNE 2022-version.
Now with brand-new 4+ hours of video tutorials.
New sections on compostition and storytelling.
How to edit color photos.
How to edit black & white photos.
How to do keywords logical and easy.

The most successful photo editing kit ever

Photographer Thorsten Overgaard first released the Lightroom Survival Kit in 2009 and have honed it with new and fresh updates. This Version 11 is the most radical updated and renewed version ever, four years in the making.


Professional workflow experience made simple, logical and easy to use.

Master editor makes it simple to understand

The Survival Kit is unique and one-of-a-kind being made for photographers for photographers. When someone understands their subject, they can explain it so it is easy to understand. The hallmark of Thorsten Overgaard is to make expert knowledge shown and told in a way so anyone can apply it.

Hands-on advice that works

With a 450 pages workbook and 4+ hours of video, every element of digital photography is touched on, in handy chapters and pre-flight checklists. Editing of color vs black and white photos, keywording, cropping of images, fine-tuning of tones, color balance and color control, export of originals, printing, archiving and backup, and much more.

Comes with the Overgaard Leica Presets (Value $48)

The Lightroom Survival Kit comes with Thorsten Overgaard's special-made Lightroom Presets for all digital cameras and for Leica digital cameras.

Understand all from camera to the final print

Chapters in this version goes over the background for High Dynamic Range (HDR), digital raw files and how to set up a professional photography workflow, from calibrating the screen to editing in Lightroom, and to making a final print. And more ...

10+ years experience in one package

No need to spend years figuring out the smartest way to do things when you can tap into the best way of doing things right here. The workflow of Thorsten Overgaard as been refined through years of field work with more than a thousand workshop attendees.

This method of workflow now used by thousands

The Survival Kit has been taught to thousands in workshops and in this Survival Kit. What does it do? It make you enjoy taking and making photos, and it increases your production considerabely. Most important of all, it'll give you back ownership of your files (which you will understand why is so important, once you have bought the Survival Kit and started applying its methods).

"Thorsten's methodology is perhaps not what hardware-, software- and cloud-companies want us to do, but as a former IT engineer I can only acknowledge his views about preserving our digital heritage. This workflow explained is for me the best I have ever seen".

★★★★★

Video tutorials, image files, presets, checklists, definitions, tutorials of Lightroom, that boils down years of experience to a workflow you can implement in less than one day.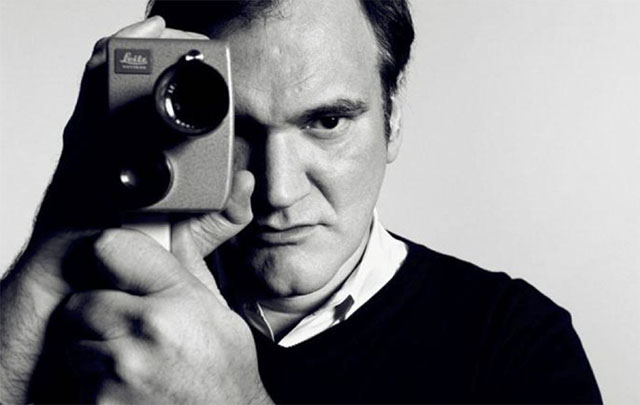 Quentin Tarantino with his Leitz Leicina S8 camera. Yes, Leica used to make film cameras for a short while. Today they make Leitz Cine lenses.

Brad Pitt is also, besides being interested in architecture and design, an enthusiastic photographer. One the above shot he's using a Leica R8 DMR but uses Leica M cameras as well. He did a very nice black and white series of his wife Angelina Jolie for W Magazine (November 2008 edition).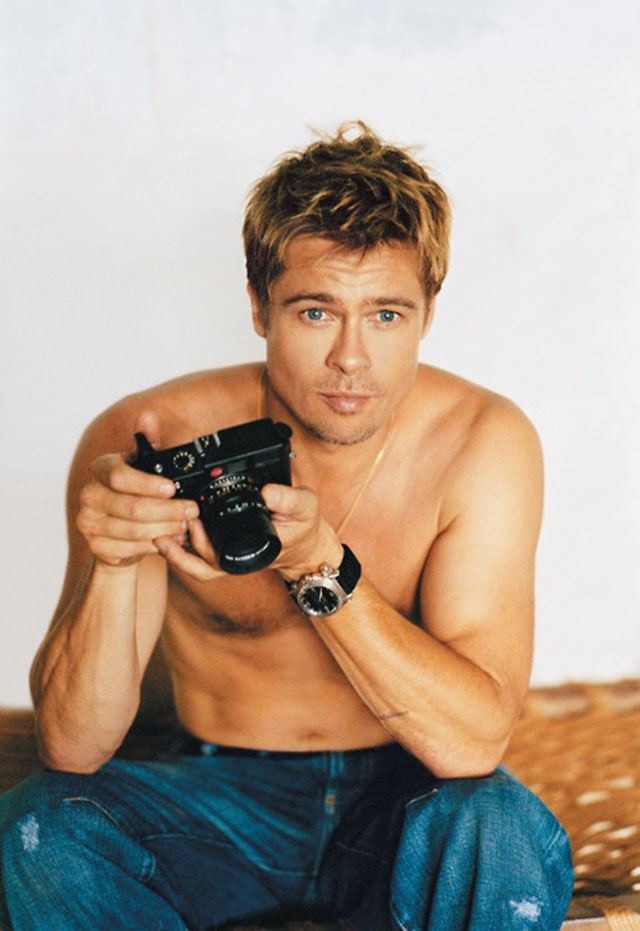 Brad Pitt with his film Leica.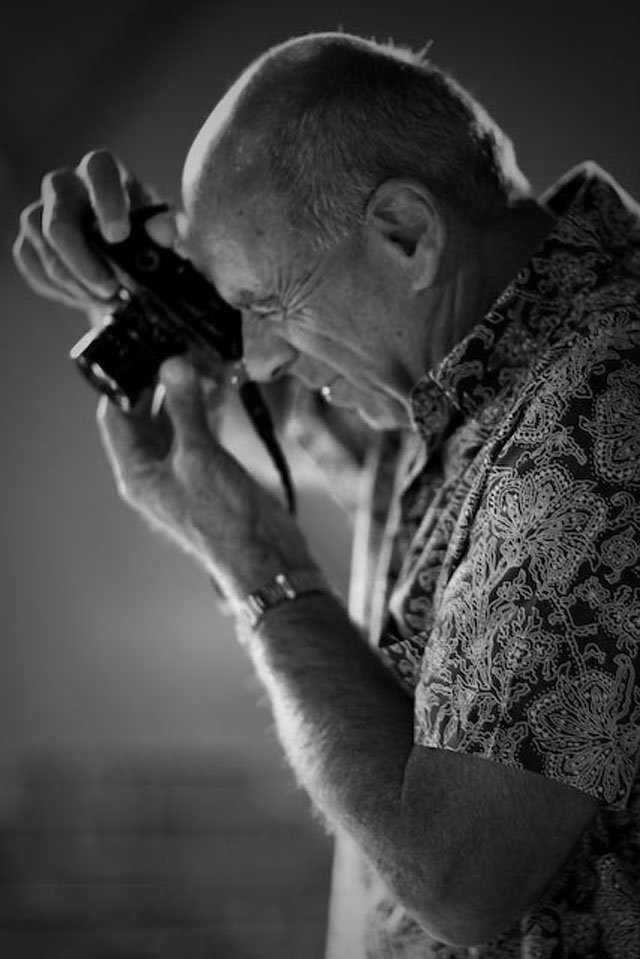 Ralph Gibson with his Leica. He started his career as a photographer in the US Navy and later became assistant to Robert Frank before he set out for himself.

Robert Frank (1924-2019) was a famous American reportage photographer ... and much more. He used a range of cameras and motion film cameras, and of course also his Leica.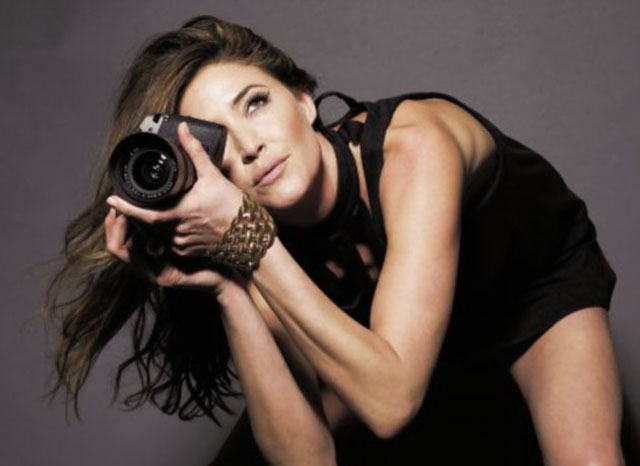 Model, television presenter and photogarpher Lisa Snowdon.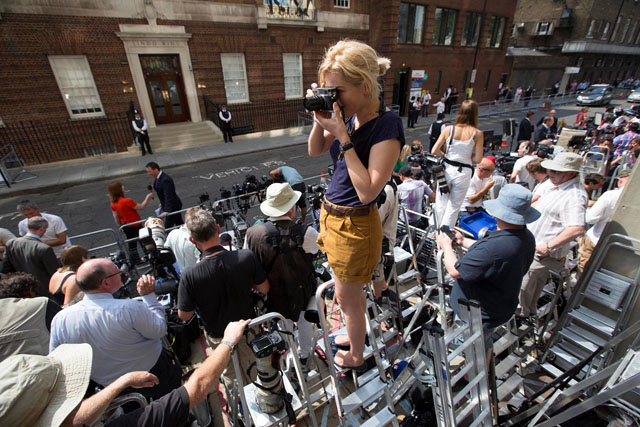 London-based photographer Sarah Lee of The Guardian with her Leica M-E. She also writes for The Guardian photography blog. Photo by Richad Pohle.

Woody Allen found the big smile for this event where he was gifted a special edition of the Leica M9 whilst being in company of beautiful women and the majority-owner of Leica, Dr. Andreas Kaufmann (left).
Advertisement:



Audrey Tautou has also been an avid Leica shooter since a producer handed her a Leica a few years back. Here she is in 2009 with her Leica M8 in a Chanel No 5 film (See the movie on YouTube).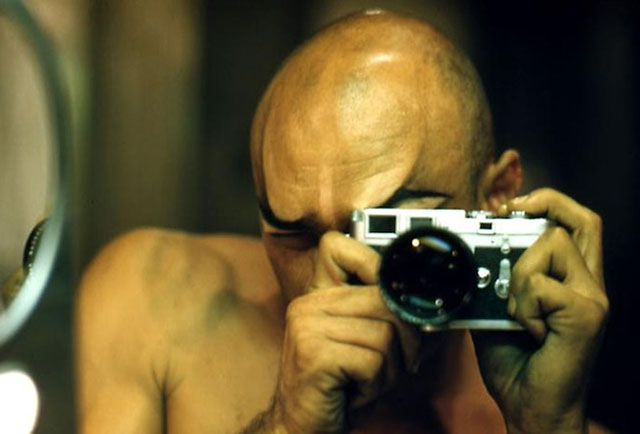 Yul Brynner self portrait with his Leica M3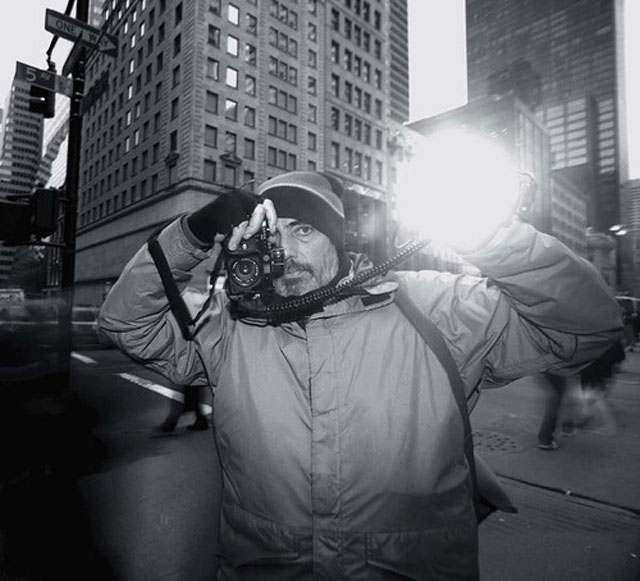 Magnum photographer Bruce Guilden with his Leica in New York.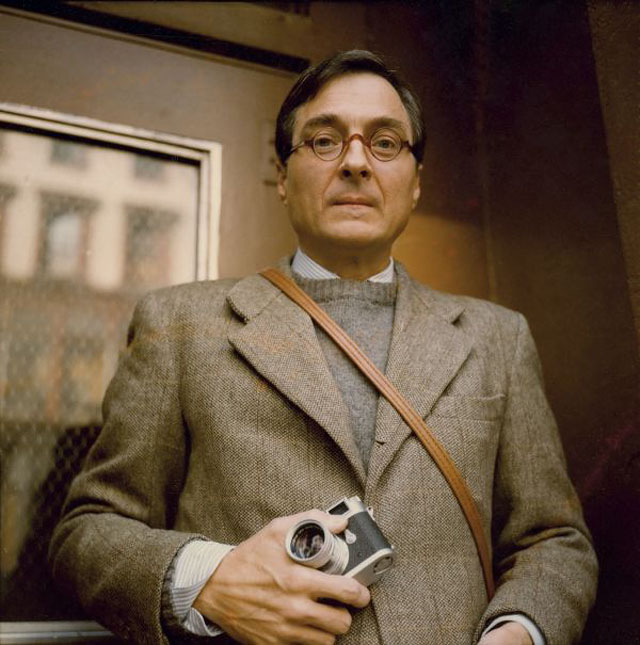 American photographer William Eggleston (born 1939) with his Leica. See some of his photographs here: Artsy.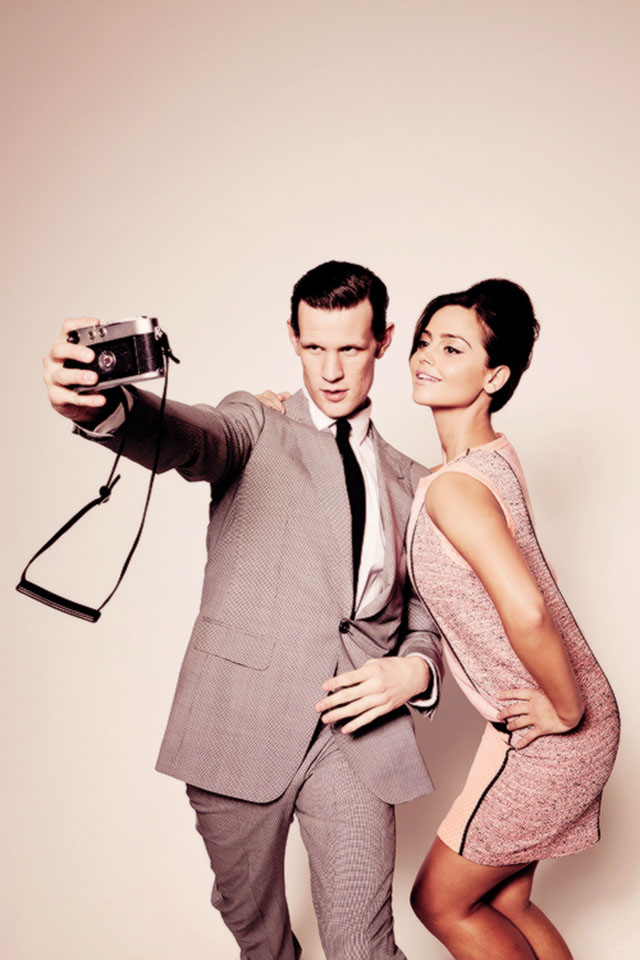 Dr. Who also uses Leica to document his travels. Of course.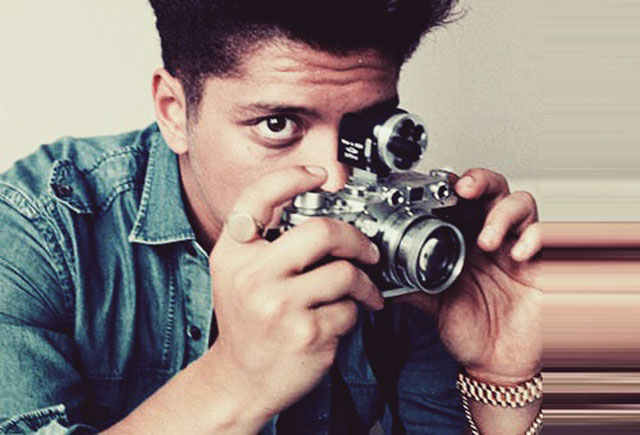 Bruno Mars with Leica.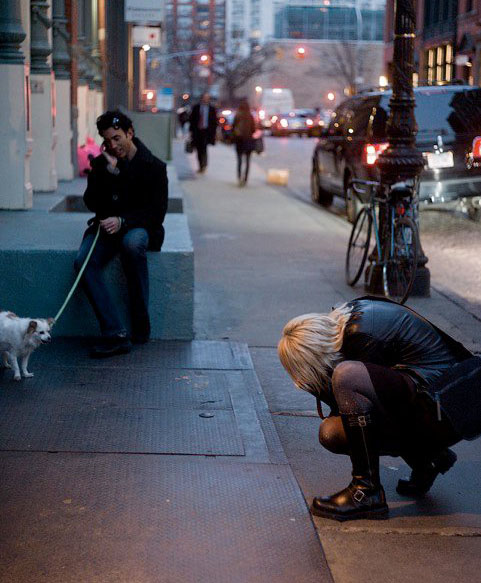 Austrian/New Zealand/New York photographer Birgit Krippner. See this interview with her about her and her Leica M9.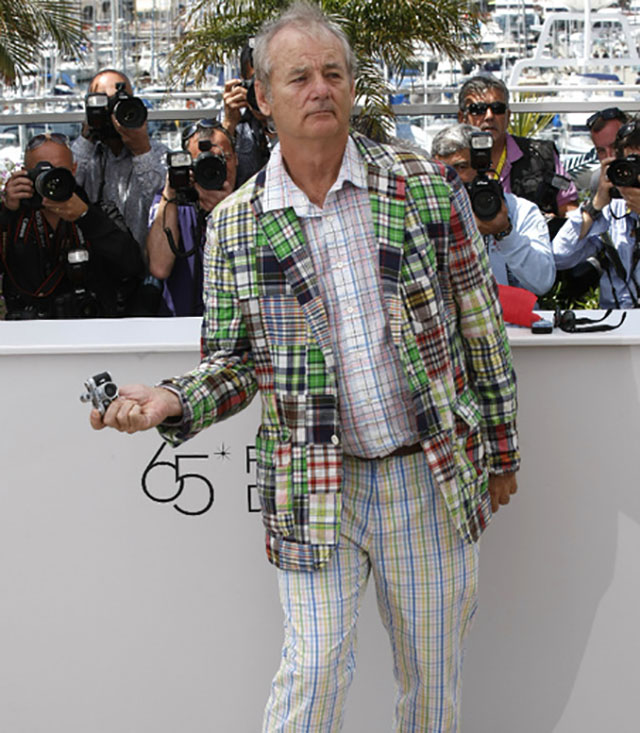 Bill Murray in Cannes working the small Minox Leica.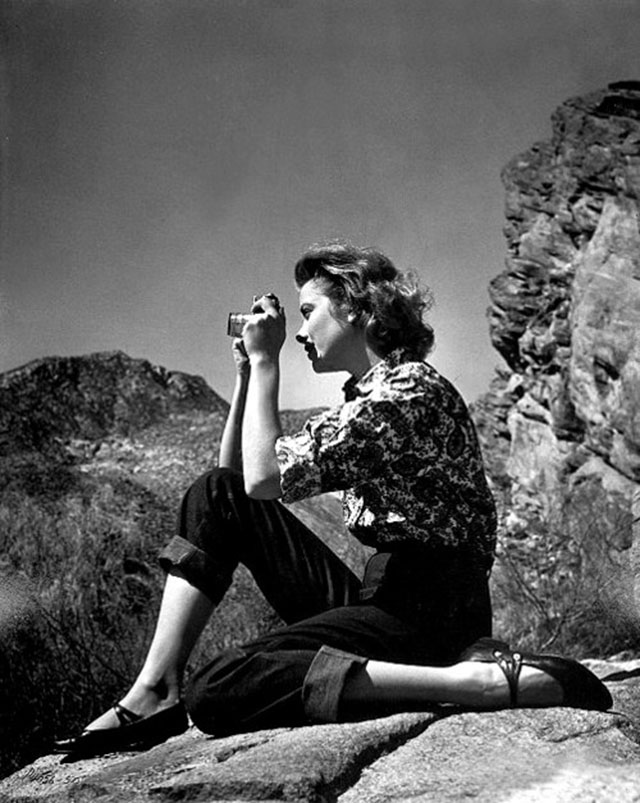 Grace Kelly with Leica

Not all Leica photographers are M photographers. Doug Herr of Wildlightphoto.com in Sacramento County, California, is a Leica R user, specialized in birds of western North America.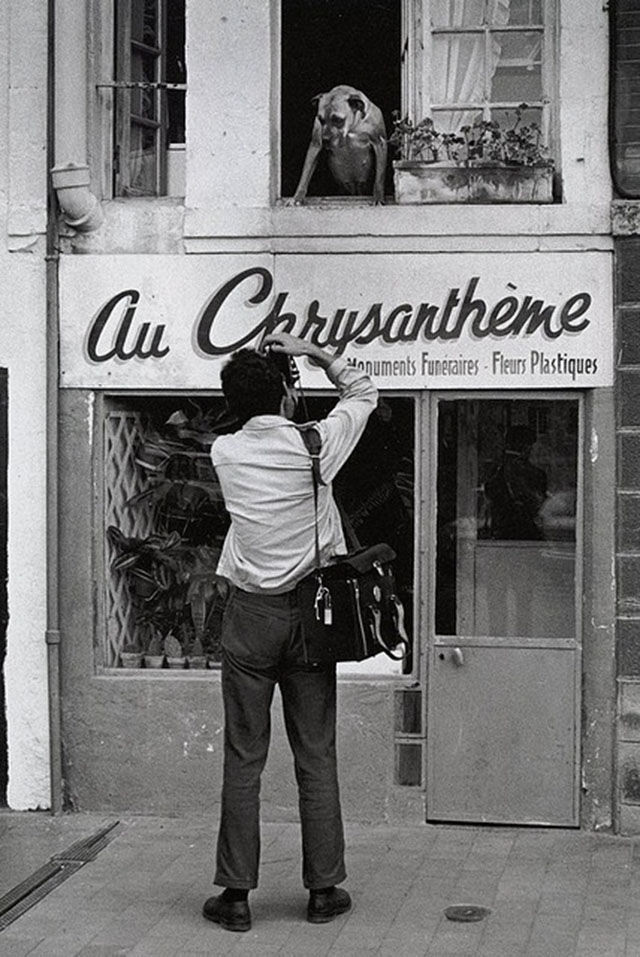 Elliott Erwitt in France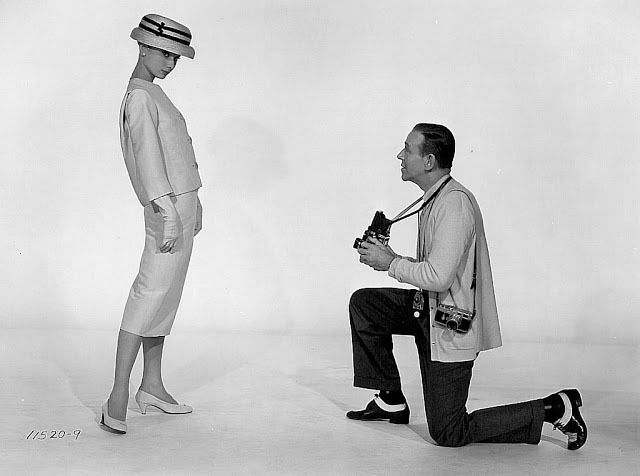 Audrey Hepburn in the studio with Fred Astaire who has his Leica and Rollieflex.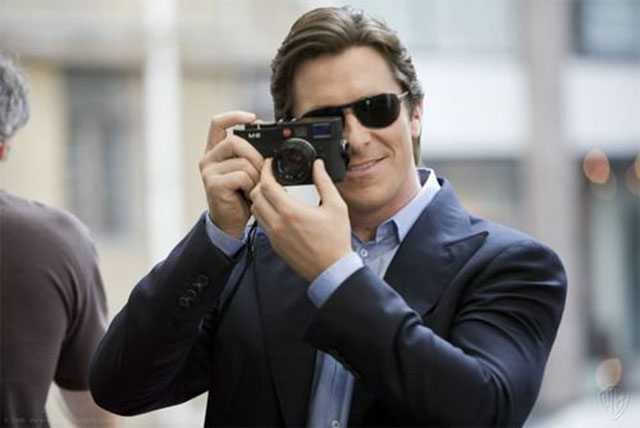 Christian Bale with his Leica ("I was ... looking at the light")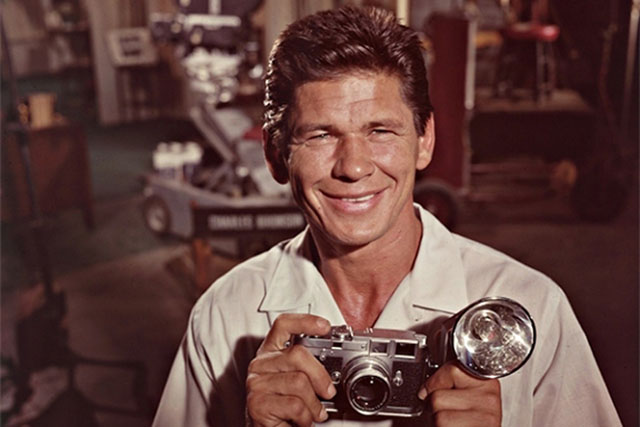 Charles Bronson with Leica M3, from his television series, Man With A Camera, 1958-60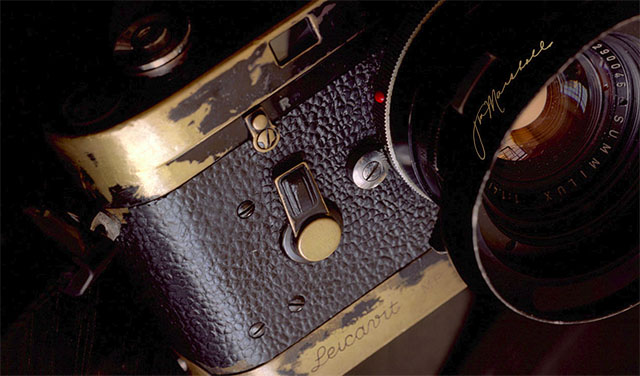 The well-used Leica MP of Jim Marshall (1936-2010) who photographed The Beatles, Jimi Hendrix, Bod Dylan, Johnny Cash, Janis Joplin ... them all. Also a video about him here.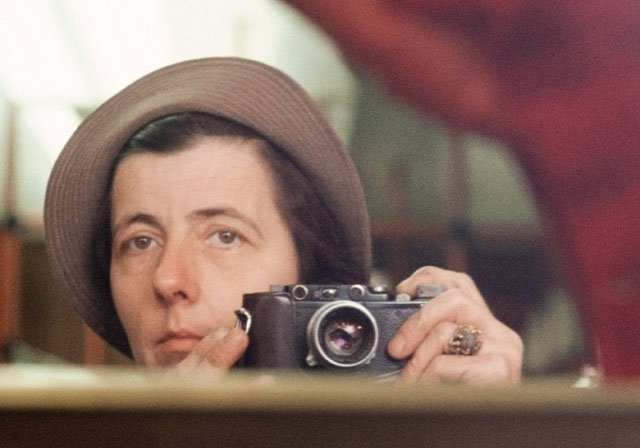 Vivian Maier is mostly known for her 6x6 cm negatives photographed with the Rollieflex she got in 1952. When color film came about she started using Kodak Ektachrome and a Leica IIIc. Many of those color films are still undeveloped and may remain so till a technology exist to save them.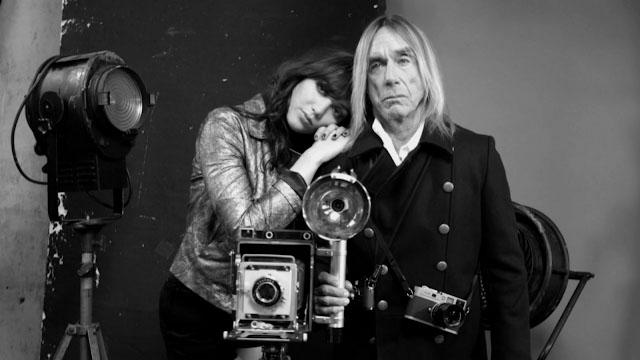 Daisy Lowe and Iggy Pop in the studio with the Leica.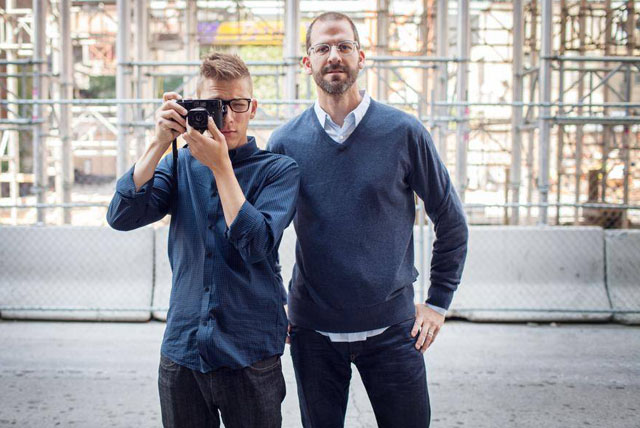 John Maloof is the one who discovered Vivian Maier and who owns the majority of the archive. Here he is with his own Leica (and director of the movie "Finding Vivian Maier", Charlie Siskel).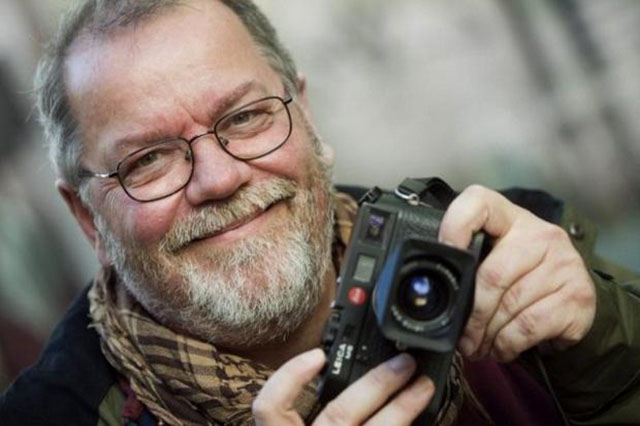 Danish Middle East correnspondent Lasse Jensen has been reporting from the Middle East for Danish television for more than 25 years. For his blog and him self he uses a Leica M9 and have used Leica M3, M6.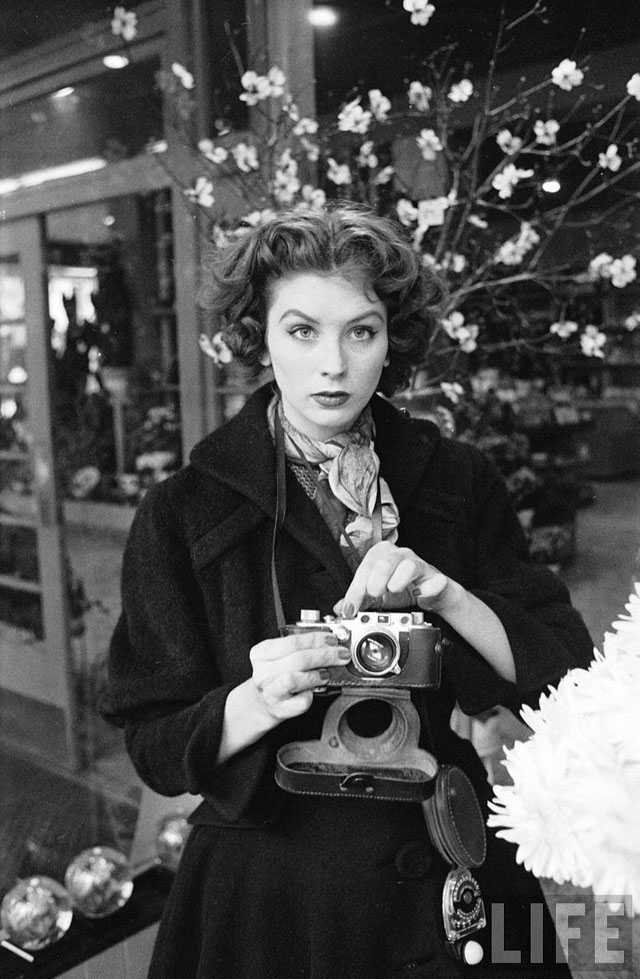 Model, actress and photographer Suzy Parker in New York, 1953 (photo by by Peter Stackpole)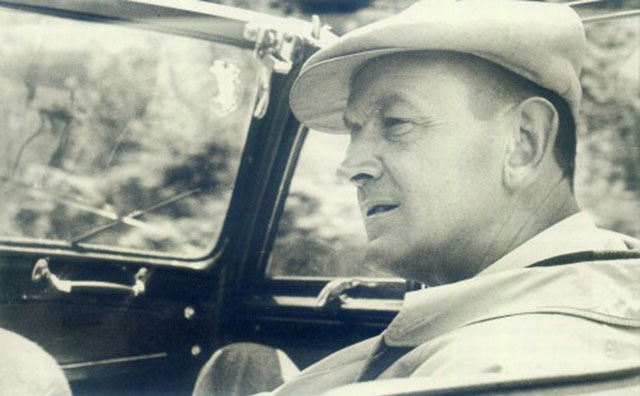 Dr. Paul Wolff (1887-1951) was a prominent German photogrpaher and one of the first to adopt the Leica from he got one of the 31 prototypes that were made in 1924. Whilst many of his photographs are published, a great deal of his archive burned during the World War II. He published 25-30 books with his photos from 1914 to 1950, amongst them the book "Meine Erfahrungen mit der Leica" (1934; there was an exhibiton of the same name the year before) and the "Meine Erfahrungen mit der Leica farbig" (1944, "My experience with Color Photography") . Photo by: Willi Klar, 1940. Read my article about Dr. Paul Wolff here: "Dr. Paul Wolff and the Leica".
Leica Camera AG bought 1200 prints from Archiv Tritschler & Wolff in 2011 and plan to make a book and exhibtion with author Dr. Hans-Michael Koetzle (who also did the 100 year book of Leica).

Brigitte Bardot with Leica
Buy the new eBook
"Composition in Photography"
by Thorsten von Overgaard

Composition in Photography
- The Photographer as Storyteller

This book will inspire your photographic eye and make you wonder about all the possibilities you can now see.

In this exciting new book Thorsten Overgaard expands and simplifies the subject of composition. It's elevated from geometric patterns to actual storytelling by practical use of space, rhythm, time, colors, emotions and intuition in your photography.

- The Basics of Composition.
- Composition in the Third Dimension.
- Picture Stories.
- Accenturating with Light.
- Photograph as a Melody.
- Which lens are you?
- Fear of sharpness?.
- Vanishing Point.
- The most important
element of composition

- What is the unknown secret
why it is you mostly can't get
the Rule of Thirds to work?

- How does a camera see
differently than the eye?

- What does quantum physics and
photography have in common?

- What's the greatest adventure you can
set out on in photography these days?
- A Sense of Geometry.

Only $398.00.
Order now. Instant delivery.

864 pages. 550 Illustrations.

"It's your best work so far"

"I'm being gently led"

" I love this book!!!"

"The book is incredible"'

"It's like therapy for the human spirit."

"Beautiful and inspiring"

"Full of practical advice
and shared experience"

'I love how hands-on and
laid back Thorsten's witting style is"

"Inspiring"

"Intense and thought-provoking"

100% satisfaction of money back.