Leica M Type 240 Digital Rangefinder Camera - Page 31

Index of Thorsten von Overgaard's user review pages covering Leica M9, Leica M9-P, M-E, Leica M10,
Leica M 240, Leica M-D 262, Leica M Monochrom, M 246 as well as Leica Q and Leica SL:


By: Thorsten Overgaard. June 8, 2013. Latest edited November 7, 2016.
Add to Flipboard Magazine.
Learning the new Leica M Type 240
The question is if a camera can make your thinking change. Can it make life simpler and your images better? This is what I ask myself after three months of using the Leica M 240. Not that I have the answers yet, but I did notice that I take more color photos, without actually wanting to admit that the colors are better. But then why do I use the colors..?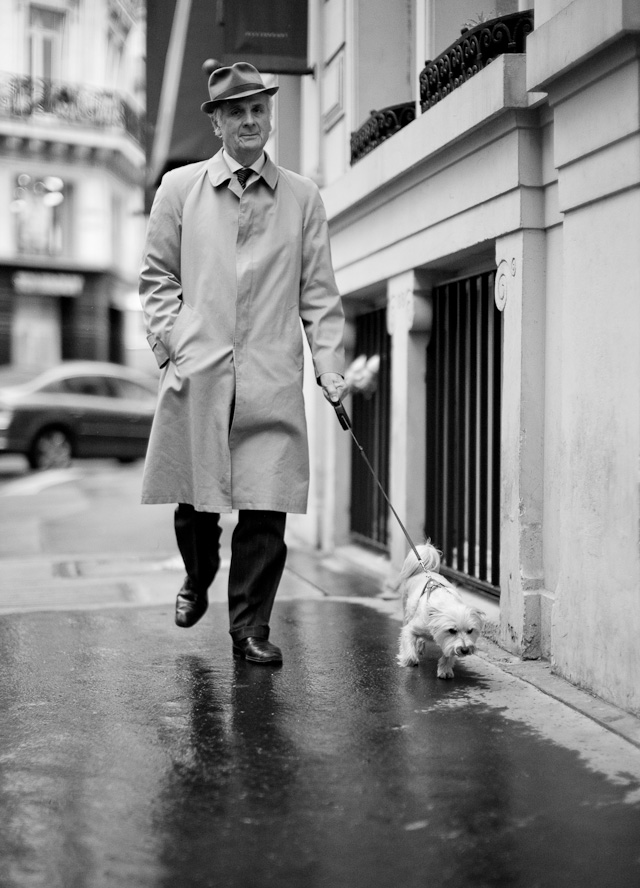 Old Style in Paris. Leica M Type 240 with Leica 50mm Noctilux-M ASPH f/0.95. © 2013-2016 Thorsten Overgaard.
Light metering in the Leica M Type 240
The Leica M Type 240 has three light metering methods. The Classic Center-weighted, intelligent metering called Multi-field and a Spot metering.
Classic
Center-weighted:
Advanced
Center-weighted:
Advanced
Spot:
Advanced
Multi-field:
Classic
Live View
Live View
Live View
It is a bit confusing that the menu on the Leica M 240 has two settings for metering; Classic and Advanced. The manual doesn't offer much help. In fact, the manual seems written by someone who doesn't understand light metering and has never seen the camera (in other words, it's bad).

In MENU there is a choice in CAMERA settings between Classic and Advanced.

In SET there is a choice between Classic Center-weighted, Multi-field or Spot metering.
| | |
| --- | --- |
| | |
| | The Classic lightmeter measures an area of 1/3 of the sensor from three small eyes in the bottom of the bayonet. |
What I recommend is to choose Classic and Center-weighted (see menu settings below to the right). This is the same metering method as the Leica M9, Leica M9-P, Leica M-E and Leica M Monochrom. This is the method where three small eyes inside the camera measure the reflection from the two grey and one white line on the shutter curtain. The size it measures is always 1/3 of the sensor.
For more details on how to use the Classic Center-weighted light meter in the Leica M Type 240, Leica M9, Leica M9-P, Leica M-E and Leica M Monochrom, have a look at the page 17 of this article, "How to trick a stupid light meter into making intelligent photos".

My recommended setting:

Choose Center-weighted

SET screen 1 of 1

200
White Balance
Automatic
File Format
DNG + JPG fine
JPEG Resolution
Off
Video Resolution
1080p@25fps
Exposure Compensation
Off
Exposure Metering
Center-weighted
User Profile
---

Choose Classic

Menu screen 1/5 "Camera"

Automatic
Self Timer
2 s
Light Metering Mode
Classic
Exposure Bracketing
Off
Flash Sync. Mode
Start of Exp.
Auto Slow Sync.
1 / focal length
The other Advanced metering methods only work with Live View as they read from the actual live view image on the sensor:
The Spot metering measures only a small spot in the center of the frame and only works with Live View.
The Multi-field metering measures the brightness of the Live View image in 24 Fields in the image. The brightness distribution is used to predict what kind of scene it is (landscape, portrait, back light, etc.). More information is not available as to what the camera sees or how many intelligent metering settings it has stored.
The number of scenarios stored in the camera is intellectual property, as it is the case for all 'intelligent' light metering systems from different manufacturers. For us as users it means that we can use the Multi-field metering and see how it works. If it works well, it's good. If it doesn't always work and we can't figure out what makes it work and what doesn't (which is usually the case with 'intelligent' light metering systems), we can't control the metering.
As the whole idea with metering is to control the exposure, I as a photographer need to understand how the camera measures the light. Hence, for me, the Classic Center-weighted metering is the best method.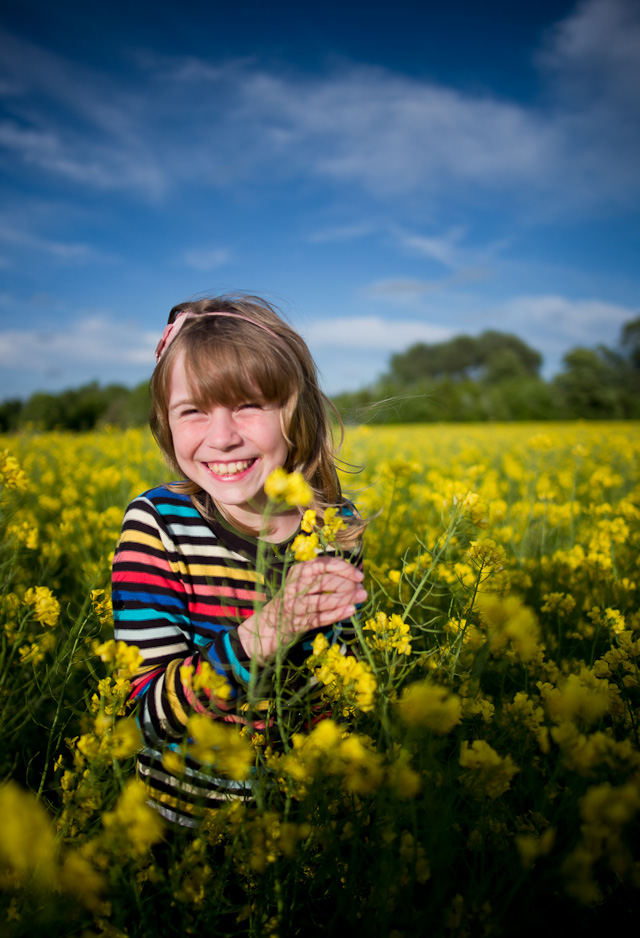 Leica 21mm Summilux-M ASPH f/1.4. " width="640" height="938">
My daughter Robin Isabella, June 2013. Leica M 240 with Leica 21mm Summilux-M ASPH f/1.4.
New from Thorsten Overgaard:
Leica M Video Masterclasses

Enjoy this easy to use video class with
Thorsten Overgaard going over the Leica M10. More than one hour one-on-one with Thorsten on the camera, the menu, shooting outside, focusing and more.

For computer, iPad, smartphone and Kindle.

Thorsten Overgaard
Leica M10 Masterclass Video Course

Only $398.00

100% satisfaction or 100% return.

Order now. Instant delivery.
#1801-0917


Enjoy this easy to use video class with
Thorsten Overgaard going over the Leica M 240. Almost two hours one-on-one with Thorsten on the camera, the menu, shooting outside, focusing and more.

For computer, iPad, smartphone and Kindle.

Thorsten Overgaard
Leica M 240 Masterclass Video Course

Only $398.00

100% satisfaction or 100% return.

Order now. Instant delivery.
#1844-1017




Buy both and save $300.00

Leica M10 Video Masterclass and Leica M240 Video Masterclass
ONLY $498.00
Further on light metering: Using ND filters
ND-filters are Neutral Density filters for lenses. One could say they are sunglasses for lenses. When there is too much light, you add ND filters.
The Leica M Type 240 has a base ISO of 200 ISO which is what it should be set at when shooting in daylight. In theory 200 ISO should result in the best image quality from the sensor as it is the natural, unaltered ISO.
The maximum shutter speed is 1/4000 second. This means that if you photograph in sunshine, the aperture must be f/2.8 - f/4.0 to make a correct exposure at 1/4000 second at ISO 200.
As you often shoot with Leica lenses with an aperture of f/0.95, f/1.4 or f/2.0 you will want to use them wide open. That is what they were designed for. To do that, you add a ND filter that reduces the light with 3 stops.
A f/0.95 lens is reduced to f/2.8 this way, but the aperture stays wide open at f/0.95 and you maintain the DOF (depth of field), bokeh (the look of the out-of-focus areas) and artistic look of the lens.
A f/2.0 lens is reduced to f/5.6 but maintains the DOF, bokeh and artistic look of the lens at f/2.0. For example a Leica 90mm APO-Summicron-M ASPH f/2.0 lens for portrait where you keep the possibility to have the background completely creamy and out of focus - even in sunshine.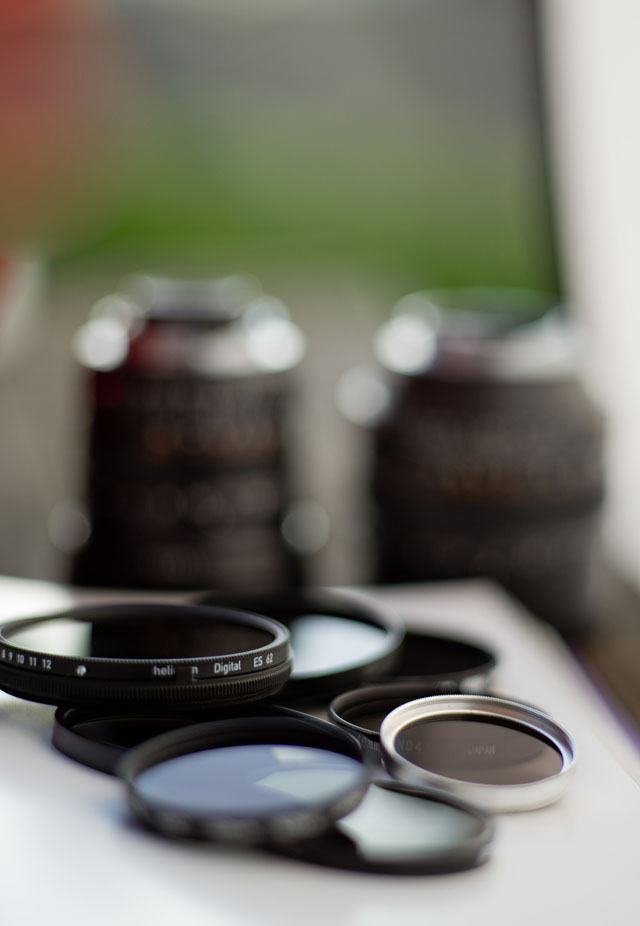 ND-filters for Leica lenses.
You can also get variable ND-filters, for example a Heliopan that will go from 1/3 stop to 6 stops. B+W (Biermann and Weber, est. 1947, merged 1985 to be B+W filters from Schneider Optical Works in Germany) also made one, but took it back from the market as they couldn't produce it in the quality they aimed for. A 62mm variable Heliopan filter will fit the Leica f/0.95 Noctilux with a 60mm - 62mm step-up ring (and still fit inside the lens shade). As of August 2013 B+W Filters released their B+W 62mm XS-Pro Digital ND Vario MRC nano Filter as well. Same story, get the 62mm and a step-up ring though they also do a 58mm that will fit a f/1.0 Noctilux with 58mm filters straight on.
ND-filters can be hard to chase down as most camera stores don't stock them. When they do, they stock 6-stop because most ND-filters in traditional photography are used for motion-stop (meaning that you want a lens to work as a f/32 or something so as to take a lot of images over a very long time).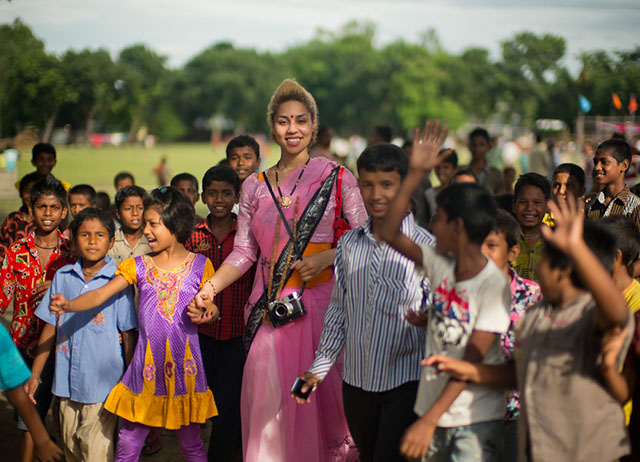 Joy Villa in Bangladesh with the Leica M240. © Thorsten Overgaard.
For Leica lenses it is a matter of how to use the lens wide open at f/0.95, f/1.4, f/2.0 or what the widest aperture is. The most extreme intake of light is the goal.
You want the ND-filter to be dark enough to make it possible to shoot wide open in sunshine. On the other hand, you do not want the ND-filter to be so dark it can't be used when a cloud goes in front of the sun or you shortly walk inside a building to get a cup of coffee (where there naturally always is a great photo waiting). So 3-stop is the one you should usually get (also referred to as 8X filter).
3-stop will enable you to shoot wide open in sunshine at f/0.95 at 200 ISO. And when you shortly go inside, you can increase the ISO to 800 (2 stops) or 1600 ISO (3 stops) so as to keep shooting as if there were no ND-filter on.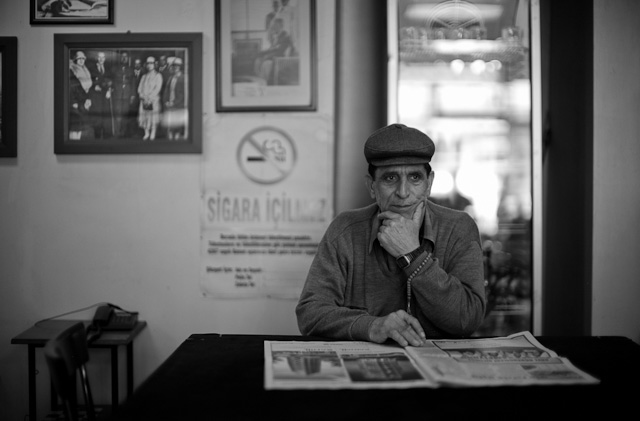 Istanbul coffee hangout, May 2013. Leica M Type 240 with Leica 50mm Noctilux-M ASPH f/0.95 with 3-stop ND-filter. 800 ISO, 1/60 second.
Variable ND-filters are interesting when you use Leica M9 with a base ISO of 160, the Leica M240 with a base ISO of 200 and Leica M Monochrom with a base ISO of 320. Different needs because the Leica M Monochrom is twice as lightstrong as the Leica M9. In other words, when you shoot a f/0.95 at 320 ISO you are in trouble in sunshine and will often need either 1/8000 second (which you don't have), or a 4-stop ND-filter.
Neutral Density filters are - as the name says - neutral, meaning that they don't do anything but reduce the light. No effects or colors are added. You want good quality ND-filters because you don't want to lose colors, tonality or sharpness. Leica should make quality ND-filters, but they don't. They made a 3-stop 67mm ND-filter for the Leica Digilux 2, but that was a one time event (I got one and plan to sell it when I get old so I can buy a Rolls Royce).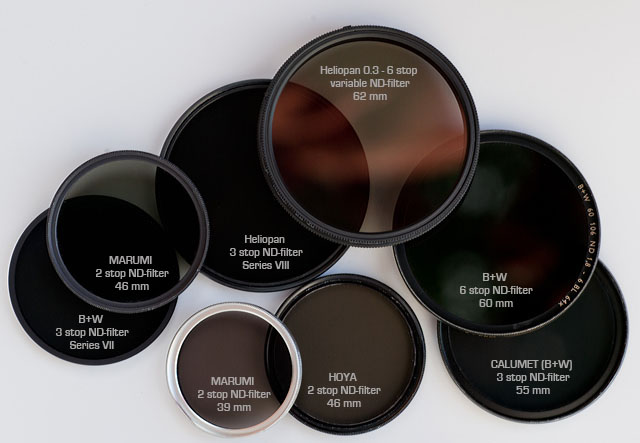 Some of my ND-filters for different lenses. Marumi/Kenko, Hoya, Heliopan, B+W, Calumet (by B+W), etc. Leica does not make ND filters, so you will have to find other brands that does.
Stops:
The many names for the same ND-filters:
Light reduced to:
1-stop
ND 0.3
ND 2X
ND2
1-BL
50%
2-stop
ND 0.6
ND 4X
ND4
2-BL
25%
3-stop
ND 0.9
ND 8X
ND8

3-BL

12.5%
4-stop
ND 1.2
ND 12X
ND12
4-BL
6.25%
6-stop
ND 1.8
ND 64X
ND64
6-BL
1.56%
ND 2.0
ND 100X
ND100
1%
10-stop
ND 3.0
ND 1000X
ND1000
10-BL
0.1%
1-6 stop variable
ND 0.3 - 1.8
ND 2X - 64X
ND0.3 - 1.8
1 - 6 BL
50% - 1.56%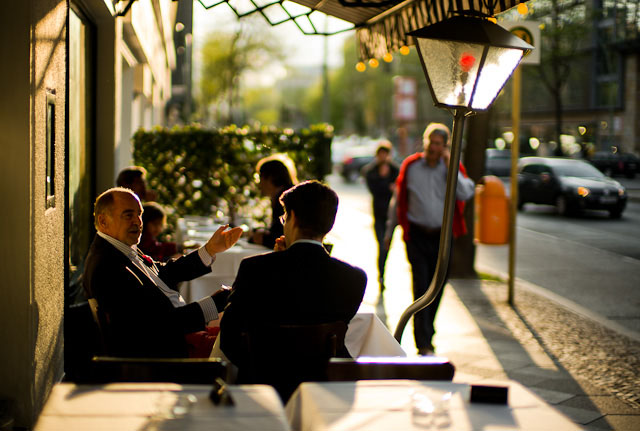 Sunshine outside Paris Bar in Berlin, May 2013. Leica M Type 240 with Leica 50mm Noctilux-M ASPH f/0.95
Buy the new eBook
"A Little Book on Photography"
by Thorsten von Overgaard

Order now - Instant delivery.

★ ★ ★ ★ ★ ★

It's a humorous understatement to call this
new eBook by Thorsten Overgaard for
"A Little Book on Photography".
It's a grand book, a history lesson, life experience, a biography and poetry book and brilliant photo book!
All in one beautiful package of 180 pages
to fire you up and get you to love
photography ... unconditionally!

"A Little Book on Photography"
eBook for computer, Kindle and iPad.
New release March 2017.
Intro price only $47 - 180 pages.

Buy Now

Instant Delivery
The wheel on Leica M240 - Exposure compensation
It has always been possible to do exposure compensation with the Leica M9, and with the thumbs wheel on the Leica M240 it has become easier. It is not a way to use a Leica M in my opinion.
Exposure compensation is something invented for dSLR cameras that 'forgot' to place the basic ways to compensate the exposure outside on the camera as they used to be in the 70's and earlier.
In fact, up until the 70's, all cameras had exposure controls (aperture and shutter speed) on the outside of the camera (and nothing but film inside). Then somebody got the idea to hide those complicated things and let the camera figure it all out for you. But to make the camera look fancy, they put some other buttons on the outside.
A few years later people got unsatisfied with that their pictures looked too dark or too bright. Then somebody got the great idea to install a way to compensate for exposure in just one button ... the wheel.
Leica M Type 240 is one of the few cameras that actually puts the user in total control of all the ways to control exposure (aperture and shutter speed), so one should use them. This is how to gain 100% control and apply 100% logics to ones photography; technically and aesthetically.
The main problem for dSLR users that get a Leica M 240
Direct control is what makes photography simple again. It so happens to also be the main problem for new users going from dSLR to Leica M, one has to get used to the simplicity of having to decide for yourself. And that you can actually do it.

Hamburg, April 2013. Leica M type 240 with Leica 50mm Noctilux-M ASPH f/0.95.
If you never had to make a decision for yourself in your (photographic) life, you might think you were spared from difficulty. You were never asked to - or able to - understand how your camera worked. You might be under the impression that it is very advanced and needs a computer to figure out. When new users coming from dSLR to Leica M 240 figure out how simple it is, that's when they start talking about life quality.
They really do.
What the wheel is there for
One thing is that the thumbs wheel and built-in thumbs rest on the Leica M240 gives a more stable grip on the camera. The wheel also very quickly becomes a fast way to set ISO and operate the menu. It is so natural that I have to think how and when I actually use it. I do remember it being a little confusing that the vertical wheel on the back of the Leica M9 now was a horizontal thumbs wheel on the Leica M 240. But that is one of the things that just works by it self after a few days.
It is also an extra backup that both the thumbs wheel and the arrow button below the wheel can be used to scroll the menus. On the Leica M9, if the thumbs wheel got damaged, you couldn't use the camera. If you damage one of the two ways to use the menus on the Leica M 240, you still got the other.
Join the NEW Thorsten von Overgaard
Photography Extension Course

"My wife game me this course and I absolutely love it.
Now I think more in light and shadows. Used a lot of the techniques on a recent trip and
my photos have improved a lot. Well done, Thorsten!"
S.N. (Mexico)

"I am happy with my purchase of the extension course. Well written, easy to understand"
K.D. (USA)

"I very much enjoy the incredible knowledge"
V.V. (United Kingdom)

"Addictive, beautifully and simplistically written. Just amazing. Cleared my concepts"
V.P. (USA)

"The extension course is the best course I read about photography (and I'm still at the beginning)"
M.S. (Luxembourg)

"I'm already in page 81 of the Extension Course, and your communication and words provoked a change in me at an aesthetic level that I felt but I couldn't explain"
C.L. (USA)


The NEW
Overgaard Photography Extension Course

The waiting list is over!

After a couple of years with a long waiting list, I have finally redesigned the course so I can handle the students interested in this course. Not only that. The number of pages has gone up from 120 to 330!

I teach you the basics of photography in an easy-to-understand and step-by-step way that anyone from ages 12 to 90 can understand and easily apply.

The intention with this extension course is to get you going in your photography adventure with lightning speed, and to inspire you to reach to new heights.

Enjoy!

Specially tailored for Leica and digital photographers.

You work at your own pace after you receive the full package of material via mail. It works as a PDF on computer, iPad, Kindle, or - if you like - make your own print.

Join the Home School for
Leica and Digital Photographers

Only $798.00

Buy now. Instant delivery by mail.

ITEM #1708-2016

Note: If you have bought The Overgaard Extension Course (2010) previously you may enroll on this new course for free. Simply e-mail me.
White balance with the Leica M Type 240
The Leica M9 was terrible in Auto White Balance when it was released in September 2009, but improved every time Leica Camera AG released a firmware update. In the beginning I always did Manual WB (White Balance) on the Leica M9 using a white balance card.
As it has improved over time with the firmware updates I mostly use the Leica M9 on Auto White Balance in daytime and set it to 3200 Kelvin when the daylight goes away and we turn to artificial light (which is mostly Tungsten light, the same as 3200 Kelvin).
(For more on White Balance and how light has color temperatures named Kelvin, read my article "White balancing for more beauty").
When I photograph something where I want the colors to be correct, I always set Manual White Balance. It is so much better to get the white balance and exposure correct in the camera. You don't want to adjust exposure or white balance in Lightroom.
RIGHT
WRONG
Manuel set white balance
Wrong white balance
Manual White Balancing with a grey card or white paper is the way to get the colors right. As can be seen in the above where the image to the left is Manual White Balance and all colors correct from the beginning. On the right the white balance is slightly off ... and everything is subject to correction. Too much work, too much uncertainty.
Leica M 240 Auto White Balance for most, but Manuel White Balance when it counts
After the first three months use I do the same with the Leica M 240. Some have criticised the Leica M 240 for bad Auto White Balance. I don't find this to be the case. I find that it is surprisingly good in artificial light but can be improved, and I also took note that some of the examples critics posted were set wrong (not on Auto White Balance) and in mixed light sources where it is simply impossible to get a 'correct' white balance.
The way the camera figures out the white balance is by finding neutral grey or neutral white areas in a scenery and then measuring how this neutral area is off from clean daylight white. Based on that measurement, the camera corrects all colors in the image. But obviously, the camera can't know what is the main subject in an image, so in mixed light conditions it may pick a neutral area in the background whereas the face in the front is the one you wanted correct. That is why you have to do manual WB by placing a neutral grey card or white piece of paper in front of that face to get the colors correct.

Setting the White Balance manually on the Leica M Type 240
In many advertisements and camera manuals, the idea is promoted that you have the person hold the WB card and then shoot auto. And then adjust the WB in the computer afterwards. "Fix it in post," as they say.
There are many reasons why this is not optimum. First off, I can't get the Queen to hold the WhiBal, nor does it work to have people hold a WB card in the street doing street photography.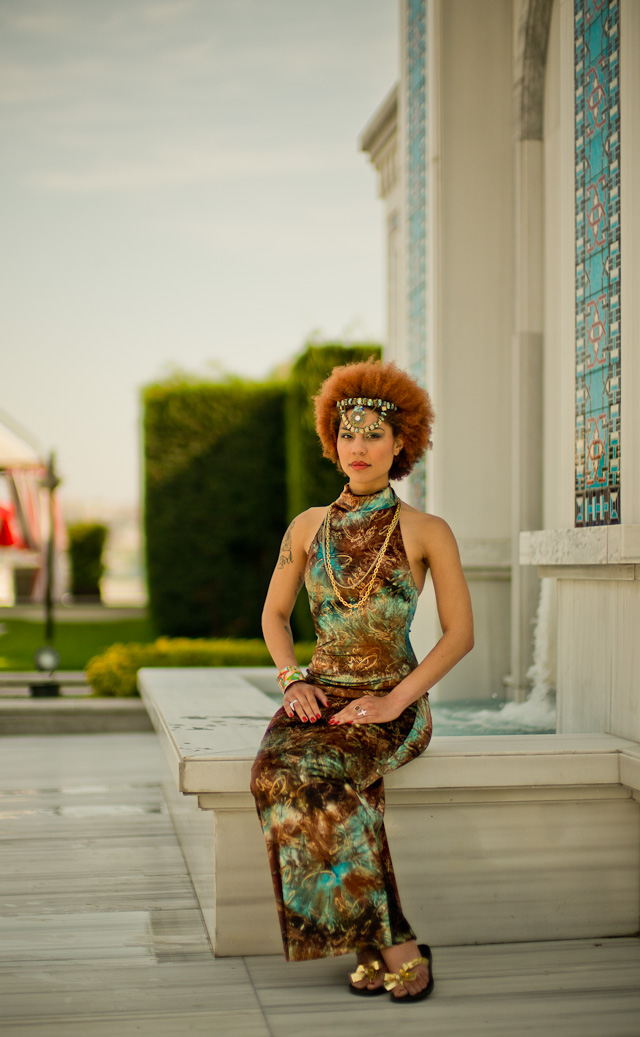 Leica M 240 with Leica 50mm Noctilux-M ASPH f/0.95. Joy Villa at Four Seasons Hotel Bosphorus, Istanbul. Headpiece by Sacia O Hats, dress by Stacey Blanchet, sandals by Guess, bracelet by Hermès. © 2013 Thorsten Overgaard.
The main reason why shooting everything on Auto WB and then adjusting the WB based on the first image in the series where the WhiBal card is held by the model is a bad idea, is that you use computer power (and time) to do so. Every DNG image in Lightroom is a raw image with a "sidecar" of information. When you scroll through images in Lightroom, the program takes the DNG image and reads the "sidecar" to apply the changes you made. The image you look on is created on the fly each time; DNG and "side car", and that is a computer process that requires computer power. Now, multiply that by 200 "fixed in post" images and you see the waste of time and energy.
"Now multiply that by infinity, take that to the depths of forever, and you still barely have a glimpse of what I'm talking about," to quote Brad Pitt in the movie "Meet Joe Black".
The right way to photograph is to do it right in the first place. Get it right in the camera, and then use Lightroom for the actual necessary small adjustments.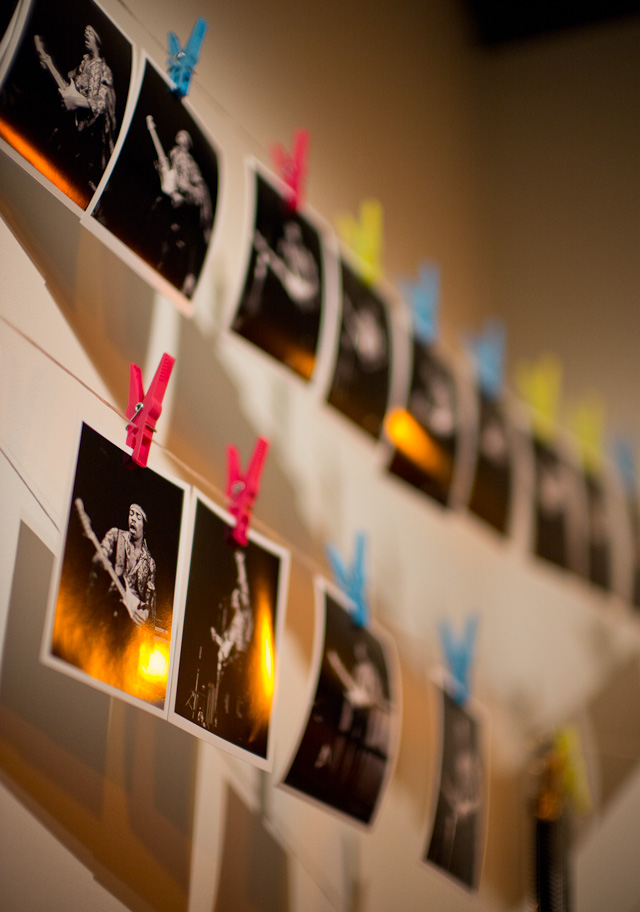 From a display darkroom at the exhibition BEAT in Denmark, March 2013: Jimi Hendrix' concert on September 3, 1970, photographed by Jørgen Angels. Jørgen Angels was in the darkroom making these prints when he heard on the radio that Jimi Hendrix had died in London. Leica M Type 240 with Leica 50mm Noctilux-M ASPH f/0.95.
It is likely that the Leica M 240 with the firmware updates we undoubtedly will see over the next years will raise to be even better than the Leica M9 in Auto White Balance.
Of course the center of attention in the image is also the light you adjust for, no matter how many different light sources that may be around. If it is a face in the center, you adjust for that face and the background will turn out as it may. Just as with metering where the light metering must be done on the main subject.
Ignorance is Bliss
Black and white photography is also depending on color temperatures. However, it is not very obvious when looking at a black and white photograph how it would have looked if the colors had been corrected. It is what it is, and if it looks good, it doesn't really matter.
I usually adjust white balance in the Leica M9 and Leica M 240 as I want to be able to use both the color DNG and the black and white JPG. But I also know many photographers who never adjust for white balance when shooting black and white, and that works too.
When you photograph DNG (that is always color) and change that to black and white in Lightroom, you can both adjust WB in the image before you change it to black and white, and/or you can use the B&W rulers to adjust how each color is turned into a tone in the black and white image.
When you shoot JPG Fine in the camera and set the Film Mode to Black-and-white (in Leica M 240), the camera converts the image to black and white based on what the white balance is set to beforehand. The JPG Fine does not offer any possible correction of color temperature or color tones afterwards.
The Leica M Monochrom shoots black and white based on a fixed daylight temperature and does not offer any adjustment of white balance (see the Page 21 for more on how the Leica M Monochrom sees colors).
The need for simplicity
Perhaps inspired partly by the possible perfection of the Leica M 240 and the complications of the new menu and the possible add-ons, I felt an urge to simplify things again: When I was using mainly Leica R9 with the DMR digital back I would travel with a kit of many lenses so as to cover many things. A trolley.
One of the improvements of life quality the Leica M9 brought about for me was that I discovered that I could do everything with just one small Leica M9 camera body and a 50mm Summicron f/2.0 lens. I could walk through airports without any trouble, but also people would not consider me a professional photographer because I didn't have a large camera over the shoulder.

"The charmer". This shot was on the way out a minibus to visit the most conservative Muslim neighbourhood in Istanbul. Leica M 240 with Leica 50mm Noctilux-M ASPH f/0.95
With the Leica M 240 I found myself traveling with a camera bag with two Leica M9 cameras, a Leica M Monochrom and a Leica M 240. And on top of that, two 50mm lenses, two 35mm lenses, two 90mm lenses and a 21mm lens. Not to mention the R-to-M adaptor and one or two R lenses to go with it, the OUFRO macro adapter, microphone and EVF. Plus ND-filters to fit all the lenses.
My thinking was, "How do I get back to what is me photographically, and how do I ensure it is fun and I use the most advanced tools to get optimum results?"
My resulting action was to focus on the fun and sexy lenses that I would actually use. I used to have the 50mm as my main lens and a 21mm and a 90mm as backup. But if I had to, I would leave home for two weeks with just a 50mm.
The 21mm Super-Elmar-M ASPH is very good and in family with the 35mm Summilux-M ASPH f/1.4 with FLoating Elements (FLE) in terms of seeing shadow details, sharpness and all. But in my view a boring perfect lens, the type of lens that thankfully does not fill up a lot of space and only sees the light of day when you actually need a 90 degree angle.
But I also have great affinity for the 21mm angle, so I decided to change that one to the 21mm Summilux-M ASPH f/1.4. This is a sexy lens that is designed optimum for shooting against the light and with possibilities of composing not only two-dimensional, but three-dimensional using the DOF (Depth Of Field). In the 21mm Summilux I see a lens that I would actually have fun shooting, even when I don't need the wide angle. It also was part of my consideration that the designer, Peter Karbe, had told me I should try to shoot portraits with a 21mm Summilux because it had no distortion. When I finally made up my mind, Camera Electronics in Perth had one they shipped so it arrived few hours later, express directly to the counter of the coffee bar in Sydney where I went every morning to get my fix.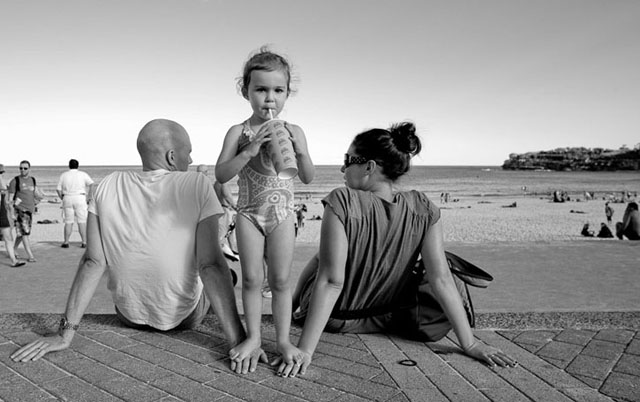 Standing On My Own Two Feet. One of my first photos with the Leica M 240 and Leica 21mm Summilux-M ASPH f/1.4 at the beach in Sydney, March 2013.
The Leica 90mm APO-Summicron-M ASPH f/2.0 has amazingly more precise than real life colors and a unique 3D feel to every macro detail and overall image. Even though I don't find it a very sexy lens, it is extraordinarily perfect. You don't get any better 90mm. So that was the one I kept.
The 90mm Summarit-M f/2.5 I sent off. It has served me well and is easy and light to travel with. But in comparison with the 90mm APO-Summicron-M ASPH f/2.0 the latter is worth the extra weight, price and all.
Also my 35mm Summicron-M ASPH f/2.0 and 35mm Summilux-M ASPH f/1.4 FLE I got rid of. I never used them. Even though I recognize the 35mm FLE as a real workhorse I could probably use as my only lens. And the 35mm Summicron ASPH f/2.0 I only bought to show how great it is. I wanted to shoot a lot with it, but in reality I never got around to do it.
I don't have issues with weight of the lenses. Almost all the lenses I use are the most heavy in their focal length. But for me they are still within reasonable weight that I can carry them all day without any discomfort.
I prefer to travel simple, and preferable with as little weight as possible. I can still hand-carry my computer and camera bag in airports. But when out and about I don't want to feel the weight of extra equipment. One way of making sure that does not happen is to cut away everything you don't need. If you decide on a 50mm for the day, you put that 50mm on the camera and there is no reason to bring other lenses.
I use either no bag or a small bag for walking about. If I have a small bag it is for filters, batteries, cigarettes, phone, a scarf and a Marc Jacobs cashmere jumper. Some times I will drop a reflector, lightmeter and one extra lens in my own or somebody elses bag if I will be needing that. But I actually will consider hard if I really will be needing it.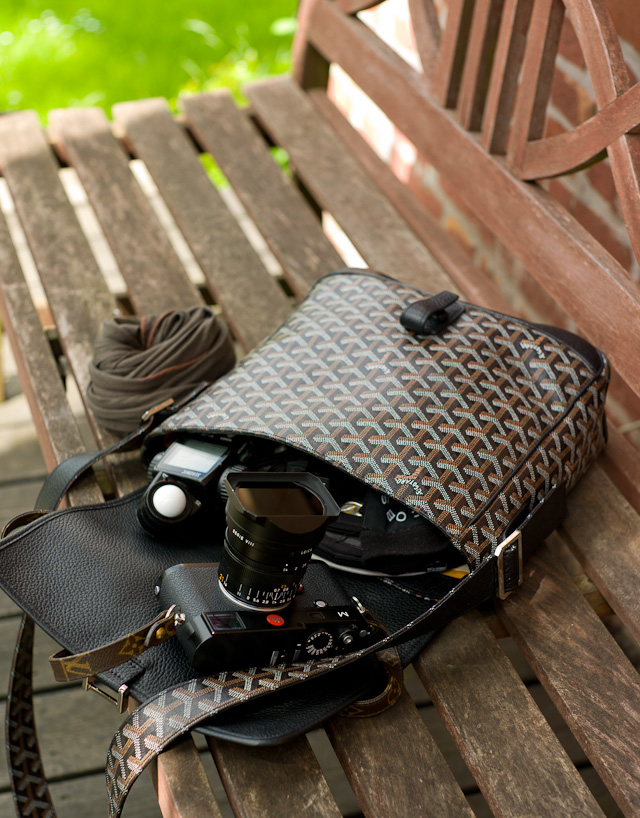 My Goyard "Sac Grand Bleu" bag that is light and is a small bag, which means that you basically don't feel it (different size bags will feel differently even though the weight of the content is the same). When it has to, it fits reflector, lightmeter, filters, batteries, cigarettes, telephone, notebook, scarf, jumper/jacket and even an extra lens or two. The Goyard is very similar to Louis Vuitton in origin of the brand, materials and handmade quality, only Goyard bags and suitcases are sold in stores only in Paris, London, Tokyo, Hong Kong, New York and San Francisco.
Buy more to solve problems
It is an interesting observation that what makes the Leica M talked about as "life quality" is that it is so right. It feels right, it is simple, it is beautiful and logical. Industrial design at its best.
Shooting digital photography is not necessarily simple. It requires computers, software and an understanding for how those things work. And if one wants to share ones photo, one might have to have a printer with the right settings and the right paper. Or make a website, with what that implies of complications.
It is very normal that when something becomes a complicated problem, the way to solve it is to buy more. Especially if you have the buying power to do so. To get the editing done right you buy more screens. To ensure the files are properly handled you make a complicated setup of hard drives and clouds so every time you download images from your SD-card, they are backed up on several devices and in the cloud so you never lose anything. And just to be sure you do it correct, you have bought so many SD-cards that you don't have to delete any of them till 14 days later.
Every time you get something it involves researching which to get, learning how to use it and taking care of it.
Buying more stuff does not make life simpler, hence it seldom solves problems. The problem you are trying to handle is that you already have some stuff that doesn't work.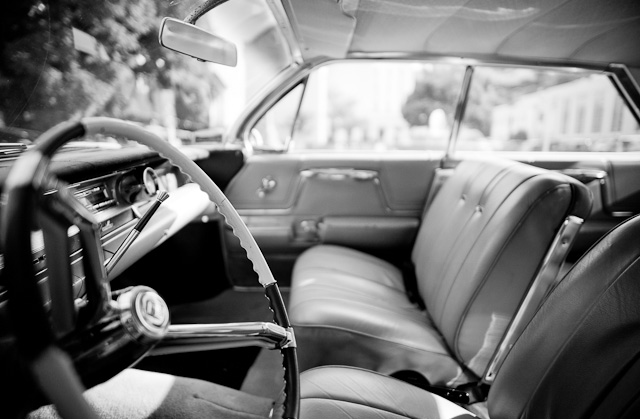 Inside an automobile, Napier, April 2013. Leica M 240 with Leica 21mm Summilux-M ASPH f/1.4.
When I had two batteries for one Leica M9 I always knew which battery was full, and I always had enough power for a whole days shooting. When I got three batteries I couldn't find out which was what and wrongly thought I had so much battery power I didn't had to charge. I now have eight batteries for three M9/MM bodies, and I never had that many batteries to travel with and yet so little battery power (despite the fact that I have four chargers). I some times have to resist the urge to buy more batteries.
A year ago I lost all my pictures from San Francisco: I had so many copies of them on four different backups so when I cleaned up, I accidentally deleted them all. Now, my rule is that I have only one original and only one backup. Better take the chance that those two copies break down than all the time it takes to maintain and then delete four copies!
Buying more stuff and hiring more people to get things done is so normal that it takes an extra and almost un-human effort to cut things away. Simplicity might be a natural state of things, but in today's society the universal solvent has become to buy stuff. Only in crisis do we have to cut away and that is not pleasant. Real luxury is to be able to cut things down and make life simple when you can actually afford much more.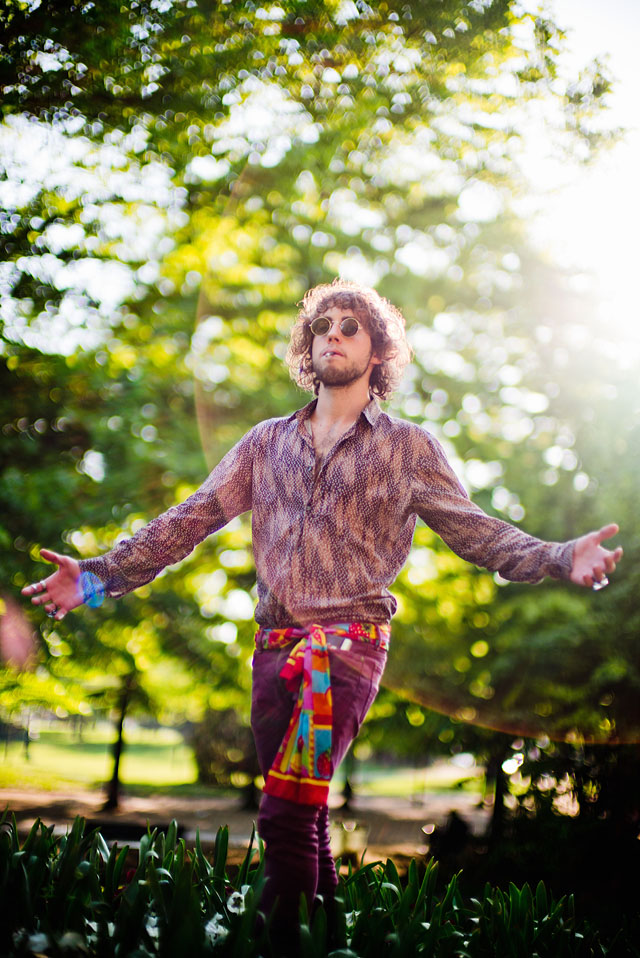 French actor Ylane Duparc in Paris, May 2013. Leica M 240 with Leica 50mm Noctilux-M ASPH f/0.95
Be a pirate
Be reckless and travel with just one camera and one lens. Don't protect the camera inside a soft camera bag but wear it in the open and use it to take photos. Then, if you are so wreck less that you drop the camera or your recklessness caused the camera to get soaked in the rain while chasing interesting reflections of light ... then solve it by buying another one or get the camera repaired. Don't start buying backup cameras that you have to protect together with the other well-protected camera. Why take on the responsibility of two expensive cameras if the first one is not ever in danger? Not to mention that in three years you will have to invest in two new ones.
We laugh, but we know it is true. That's how it works, but you have to fight it. Be smart and make things simpler and more fun. That's what you felt when you first held the Leica and knew you had to have it. Simplicity.
Having said this, it is actually good to have two of each thing in the same way it is good to have a fire exit. But be realistic. What would happen if one camera died. Could you get a backup or shoot with another camera for a while? "What would be easier?" is what we should ask our self, "To have two of the same and only use one, or to have just one and solve the problem if it arises?"
In other cases, your life is simpler if you know there is a backup, just in case ... even though you also know you will likely never use it.
The point is, be wreck less, be a pirate. Use your equipment.
The review display on the Leica M Type 240
The display on the Leica M 240 is larger than the one on the Leica M9, Leica M9-P, Leica M-E and Leica M Monochrom.
I never had any complaints about the display quality or size of the Leica M9 as I use it in black & white to see the exposure, and to set the menus. The display on the Leica M9 worked fine for that purpose.
The new display on the Leica M Type 240 however may live up to some peoples request for a larger display with finer definition and better colors.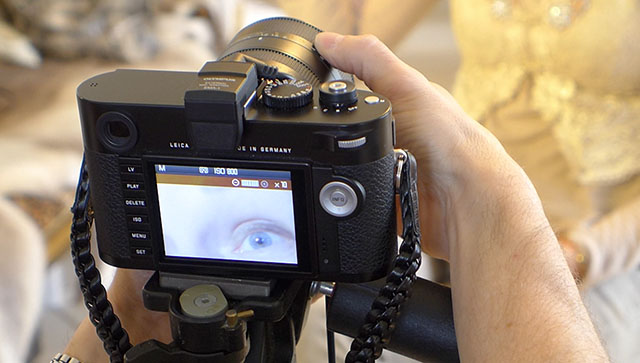 The Leica M Type 240 display is larger, has more definition and better colors than the Leica M9. Here it is shown with the 10X focusing.
The display of the Leica M 240 tends to show the images too sharp and in too high contrast compared to what the result will be when the image has been imported in Lightroom.
It is not really a problem in that a camera display should always just be used as a guideline as to how the contrast and focus may look, compared to how it usually looks like on that same display. But it is not a final picture. You adjust exposure based on the information the camera display seems to give you. But the sharpness, actual tonality, colors, cropping and such you will see and evaluate on the large screen of a computer.
The problem with the image in the display is that you seldom view the display under the working conditions you should look at a display screen. There is too much or too little light and the angle is not necessarily correct. Further, the preview you see on the display is a JPG generated by the camera for you to see. When you import the image to Lightroom, it is a careful calibrated camera profile that 'translates' the image data to the large screen. Thus colors, contrast and sharpness will be different.
Leica 21mm Summilux-M ASPH f/1.4. " width="640" height="358">
Napier nightlife, New Zealand, April 2013. Leica M 240 with Leica 21mm Summilux-M ASPH f/1.4.
It is also when you view the image on a large screen that you see the true potential of an image. Details that you never saw on the camera display now make the photo great ... or ruin the composition. It is a bit like seeing thumbnails on the internet. When you click to see the larger picture it looks different. All this means is that you should photograph, and then consult the display to check the main exposure and for adjusting the menu. The actual viewing of the photos ... do that when you get home to the big screen.
The larger display could be seen as a departure from the nice industrial design of the Leica M9. But then again, the display on the leica M9 could be seen as a departure from the nice industrial design of the Leica M film cameras. We just got used to having a display on the back of the camera.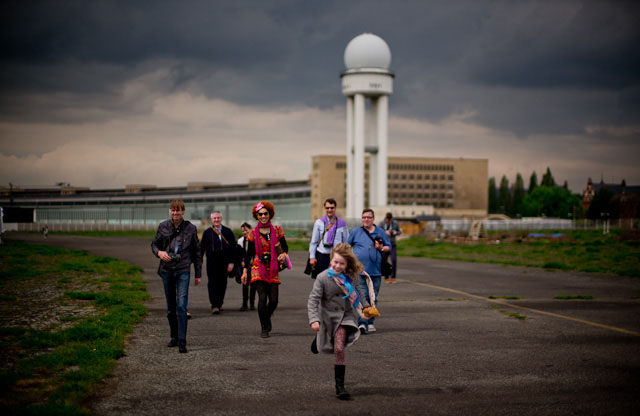 Overgaard Workshop in Berlin, May 2013. Leica M 240 with Leica 50mm Noctilux-M ASPH f/0.95

Leica M 240 Definitions:
| | |
| --- | --- |
| | |
| | 1:2/50 the description says. But what does it mean? |
| | |
1: - Basically means 1 divided with. But why is it on the front of the lens? If you look close, a lens will often say 1:2/50mm on the front, meaning it is a 50mm lens with an f/2.0 apterture. The 1: itself is a ratio, that indicates that the aperture diameter (25mm) is the ratio of 50mm divided with 2.
It's a strange way of writing product information on modern products, but here's how it's right:
a) A lens is called a 50mm lens because there is 50mm from the sensor to the center of focus inside the lens.
b) A lens is f/2.0 when the widest opening is 50mm divided with 2 = The lens opening is 25mm in diameter at it's widest. Had it been an f/2.8 lens (1:2.8/50), the widest aperture opening would be 50mm divided with 2.8 = 17.8mm.
Aperture = The f/ stop on the camera that regulates how much light passes through the lens. On a f/1.7 lens the lens is fully open" at f/1.7. At f/2.0 the aperture inside the lens make the hole through the lens smaller so only half the amount of light at f/1.7 passes through. For each f/-stop (4.0 - 5.6 - 8.0 - 11 - 16) you halve the light. The aperture of the lens is basically the focal length divided with the f/-stop = size of the hole (28mm divided with f/1.7 = the hole is 45 mm).
ORIGIN: Late Middle English : from Latin apertura, from apert- 'opened,' from aperire 'to open'.
| | |
| --- | --- |
| | |
| | The camera in Aperture Priority Mode |
| | |
Aperture Priority Mode. When the shutter speed dial on top of a Leica camera is set to A, it is short for "Aperture Priority" and allows the user to set a specific aperture value (f-number) while the camera selects a shutter speed to match it that will result in proper exposure based on the lighting conditions as measured by the camera's light meter. In other words, you set the aperture as priority (f/1.4 for example), and the camera calculates a shutter speed (1/250 of a second) that matches that. If you change the aperture to f/2.0 by changing the aperture ring on the lens, the camera will re-calculate the speed to 1/125 so as to get the same amount of light to hit the sensor (f/2.0 is half the light through the lens as f/1.4 and 1/125 if twice the amount of light on the sensor as 1/250).
| | |
| --- | --- |
| | spherical (ball) |
| | a-spherical (non-ball) |
| | |
ASPH = (Aspherical lens) stands for "aspheric design". Most lenses have a spherical design - that is, the radius of curvature is constant. These are easy to manufacture by grinding while "spinning" the glass. This design however restricts the number of optical corrections that can be made to the design to render the most realistic image possible. ASPH lenses (a-spherical, meaning non-spherical), however, involve usually 1 element that does *not* have a constant radius of curvature. These elements can be made by 1) expensive manual grinding, 2) molded plastic, or 3) Leica's patented "press" process, where the element is pressed into an aspherical ("non-spherical") shape. This design allows Leica to introduce corrections into compact lens designs that weren't possible before. Practically, the lens performs "better" (up to interpretation) due to increased correction of the image, in a package not significantly bigger than the spherical version.
There is another Aspherical lens manufacture technique: an uneven coating layer is applied to a spherical lens. The coating is thicker on the edges (or on the center, depending). Canon "Lens Work II" calls these "simulated" aspherical lenses. Simulated and Glass-Molded (GMo) asphericals show up in non-L Canon lenses, while the L lenses have actual ground aspheric elements.
A- means non, or without. From Latin, ex.
Sphere: ORIGIN Middle English : from Old French espere, from late Latin sphera, earlier sphaera, from Greek sphaira "ball".
Normal spheric lens (grinded)
ASPH (note the shape of the glass as result of pressing rather than grinding)
Banding = Noise in digital images. Horizontal lines in a horizontal picture (if the camera is in portrait mode/vertical, the lines will obviously be vertical). It's simply noise; the result of uncontrolled algorithms working overtime with an image the sensor really can't see because it's very dark. (If your image has vertical lines in it, it is more likely that the sensor needs remapping).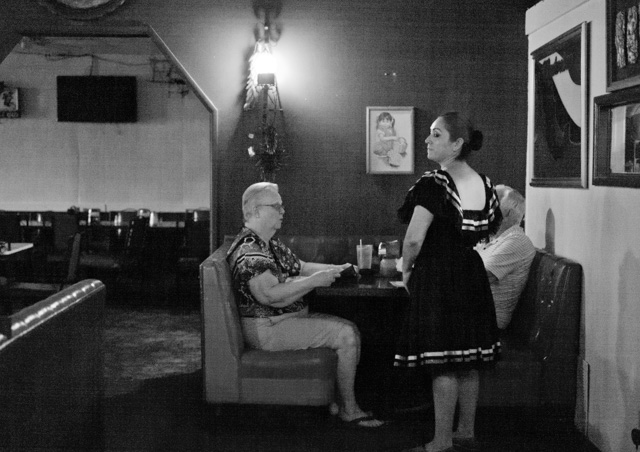 This image at 6400 ISO, underexposed and then brought up to correct exposure in Lightroom, displays banding: Horizontal lines in the image. Leica M-D 262 with Leica 50mm APO-Summicron-M ASPH f/2.0.
Base ISO = The ISO the digital sensor was born with. Even a digital sensor goes from say 50 ISO to 25,000 ISO, it only has one base ISO. Any other setting is an algorithm that figures out how the image whould look if there was 64 times more light, or half the light, etc.
When you go down from Base ISO (for example 200 to 100 ISO), you can expect a decrease in quality. When you go up, the decrease is much less. For some sensors, you loose 2-3 stops by going down 1 step in ISO, but can go 8 steps up and only loose 1 stop in dynamic range. Basically, your ISO range should be from Base ISO and as far up as you can, before you see visible decrease in quality (mostly 3200 ISO - 6400 ISO).
Base ISO for Leica M9 is 160 ISO, for Leica M240 it is 200 ISO. For Leica M10 it is around 160 ISO. For Leica M Monochrom it is 320 ISO. For Leica Q and Leica Q2 it is around 100 ISO. For Panasonic Lumix S it is 200 ISO. For most Canon cameras the base ISO is around 100, for most Nikon cameras it is around 200 ISO.
Bokeh = The visual quality of the out-of-focus areas of a photographic image, especially as rendered by a particular lens: It's a matter of taste and usually photographers discuss a 'nice' or 'pleasant' bokeh (the out-of-focus area is always unsharp, which is why the quality discussed is if one likes the way it renders or not by a particular lens). The closer you get to something, the 'more' bokeh' you get (in that the focus becomes less for the background and foreground at close distances than at long distances). ORIGIN from Japanese 'bo-ke' which mean 'fuzzines' or 'blur.'.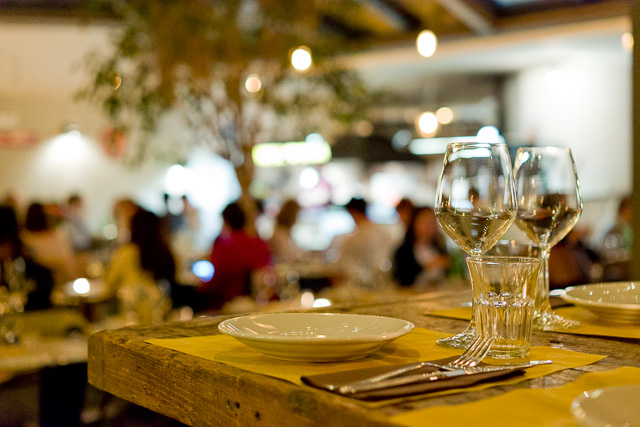 Bokeh: The visual quality of the out-of-focus areas of a photographic image. Photo at Bar del Fico in Rome. Leica TL2 with Leica 35mm Summilux-TL ASPH f/1.4. © 2017 Thorsten Overgaard.
Camera - is today's short name for Camera Obscura (meaning "a dark room"). Camera means Chambre and was used only as a Latin or alien word, actually only for Spanish soldiers' rooms, until popularized in connection with photography in 1727: "Camera Obscura". In 1793 the slang term "camera" was used by Sterne Tr. Shandy: "Will make drawings of you in the camera" and by Foster (1878), "The eye is a camera". Camera Obscura was described by Iraqi scientist Ibn-al-Haytham in his book, "Book of Optics" (1021) and by Leonardo da Vinci in 1500; popularized and made widely known in 1589 by Baptista Porta when he mentioned the principle in his book "Natural Magic". Johannes Kepler mentions Camera Obscura in 1604.
Camera = chambre (room), Obscura = dark (or cover).
Why is it called a "camera"..?

The word Camera is today's short name for Camera Obscura (which originally means "a dark room").

Origin of the word Obscura means "dark" or "covered", and the word Camera means Chambre and was used originally only as a Latin or alien word, actually only for Spanish soldiers' rooms, until popularized in connection with photography in 1727: "Camera Obscura".

In 1793 the slang term "camera" was used by Sterne Tr. Shandy: "Will make drawings of you in the camera" and by Foster (1878), "The eye is a camera".


Ibn-al-Haytham mentioned Camera Obscura in his "Book of Optics" in 1021.

The concept of Camera Obscura was described by Iraqi scientist Ibn-al-Haytham in his book, "Book of Optics" (1021) and by Leonardo da Vinci in 1500; popularized and made widely known in 1589 by Baptista Porta when he mentioned the principle in his book "Natural Magic". Johannes Kepler mentions Camera Obscura in 1604.

Camera = chambre (room), Obscura = dark (or cover).
C = Continuous shooting (when you hold the shutter release down).
CMOS sensor (as used in Leica CL, Leica T/TL/TL2, Leica M 240, Leica M-P 240. M-E 240, Leica M Monochrom Typ 246, Leica S Typ 007, Leica SL, Leica Q, Leica Q2, Leica M10, Leica X, Leica D-Lux, etc.) = (Complimentary Metal Oxide Semiconductor) chips use transistors at each pixel to move the charge through traditional wires. This offers flexibility because each pixel is treated individually. Traditional manufacturing processes are used to make CMOS. It's the same as creating microchips. Because they're easier to produce, CMOS sensors are cheaper than CCD sensors. CMOS allow Live View and use less energy than CCD.
Contrast - The degree of difference between tones in a picture. Latin contra- 'against' + stare 'stand.'
Depth - Distance between front and back. Distance from viewer and object.
| | |
| --- | --- |
| | |
| | Lens distortion looks like this. The lines are not straight. Our eye uses distortion correction. Lens designers can design lenses so they have very little distortion, or they can make less complicated lens designs and "fix" the distortion in software. |
| | |
Distortion = In photo optics/lenses: When straight lines in a scene don't remain straight because of optical aberration.
Lens designers can correct for distortion to a degree so the whole image field is perfect corrected and all lines remain straight. In modern lens design many designs rely on Software Distortion Correction (SDC).
The eye adjusts for distortion so we always see vertical and horizontal lines straight when we look at things. Even when you get new prescription glasses (if you use such), you will often experience distortion in your new glasses. After a few days they eyes have adjusted for the glasses and the distortion you saw to begin with is now gone. Software Distortion Correction (SDC) is far behind what the human eye can perform of adjustments. (Also see my definition on Perspective for more on the eye and optics)
DNG = Digital Negative, an open standard developed by Adobe. It is a single file that contains the raw image data from the sensor of the camera as well as date, time, GPS, focal length, settings, etc.
The alternative is a RAW file + XLM file where the RAW file contains the image information and the XML contains the rest of information about where, how and when the picture was taken.
A Camera Raw profile (that is specific for that camera) in the computer helps the software program, for example Adobe Lightroom, to translate the RAW data into the image.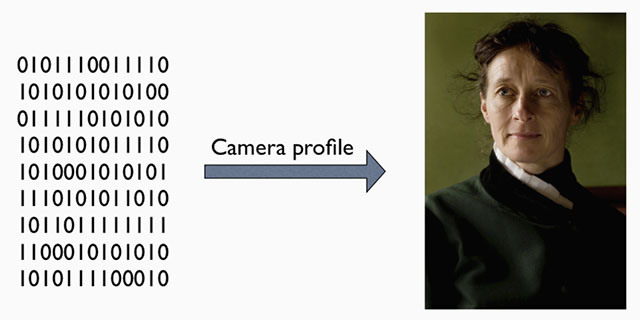 A raw file (or DNG) is simply the full recording of digital data (1's and 0's) from the sensor. In the computer, the sensor data is translated into the exact colors, via a camera profile.
DOF = Depth of Field. This is how much of the image will be in focus or "acceptable sharp". The DOF is determined by the subject distance (the farther away, the larger area is sharp; the closer the focus is, the less of the lage is sharp), the lens aperture (the depth of field is narrow at f/1.4 and larger at f/5.6) and the focal length of the lens (tele lenses has very narrow depth of field whereas wide angle lenses has a wide depth of field) and film or sensor size (small-sensor cameras has a wide depth of field wheras medium format or large format cameras has a very narrow depth of field). As an example, a Leica 21mm Super-Angulon-M f/3.4 lens is sharp all over the focus field from 2 meter to infinity when set at a distance of 3 meters at f/3.4. The DOF scale measurement on top of the Leica lenses shows lines for each f-stop that indicates from which distance to which distance the image will be sharp. Shallow DOF is a generally used term in photography that refer to lenses with very narrow focus tolerance (which can be used to do selective focus; making irrelevant subjects in the foreground and background blurry so only the subjects of essence are in focus and catches the viewers eye).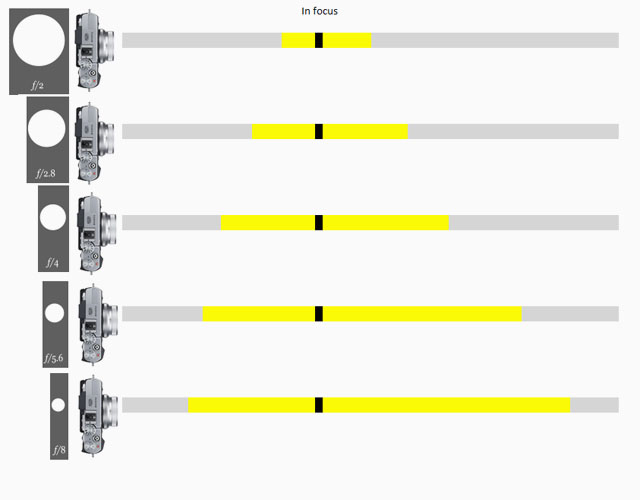 Depth Of Field scale from Fujifilm.
Dynamic range. The grade of 'contrast range' (or number of tones) a film or sensor, or simply a photograph, possess between bright and dark tones. The human eye is said to have a dynamic range of 10-14 'stops' (but because we scan area by area and compile a concept of the overall scene, they eye is often thought to have a much higher dynamic range), Film used to have 7-13 'stops' and some modern sensors have up to 15-17 'stops'.
EVF = Electronic ViewFinder. A viewfinder where you look at a small screen through optics/prisms. The advantage is that you see what the sensor sees. In the Leica M 240 you buy the EVF as an acessory and mount it on top in the hotshoe when you want to use it.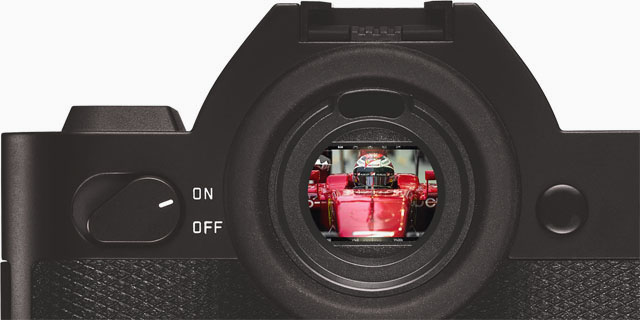 The EVF (Electronic Viewfinder) on the Leica SL 601.
Exposure Bracketing = The possibility to set the camera to automatically record a series of images where the exposure is above and below what the camera measures. The idea is that at least one of the images will be correctly exposed.
f/ (f-stop, also known as aperture).
f- (focal length). Often given in mm, for example 90mm. In the past they were often given in cm or inch, for example 9.5 cm or 3.2 inch.
f-stop = the ratio of the focal length (for example 50mm) of a camera lens to the diameter of the aperture being used for a particular shot. (E.g., f/8, indicating that the focal length is eight times the diameter of the aperture hole: 50mm/8 = 6,25 mm); or the other way around, the hole is the focal length divided with 8).
ORIGIN early 20th cent.: from f (denoting the focal length) and number.
One f-stop is a doubling or halving of the light going through the lens to the film, by adjusting the aperture riing. Adjusting the f-setting from f 1.4 to f.2.0 is halving the light that goes through the lens. Most Leica lenses has half f-stops to enable the photographer to adjust the light more precicely.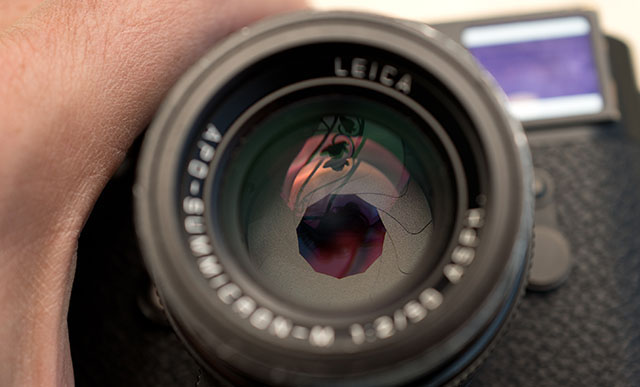 The aperture blades inside the lens is clearly visible in this photo by Eolake Stobblehouse.
Flare = Burst of light. Internal reflections between (and within) lens elements inside a lens. Mostly, flare has a characteristic "space travel" look to it, making it cool. Particularly in older lenses with less or no coating of the glass surfaces to suppress this, it can be a really cool effect. In newer lens designs, the coatings and overall design try to suppress flare and any reflections to a degree, so that there is seldom any flare to be picked up (moving the lens to pick up a strong sunbeam), but instead a "milking out" (or "ghosting") of a circular area of the frame; meaning simply overexposed without any flare-looking flares.
Sunlight creating (fairly supressed) flare in the bottom right quadrant of the image of a modern lens.

The camera moved slightly to avoid the flare.


Older lenses with less coating, or without coating, are known to create flare that can look like this (Leica 50mm Summicron-M f/2.0 II Rigid model from the 1960's). © Thorsten Overgaard.
| | |
| --- | --- |
| | |
| | A 28 mm lens has a 74° viewing angle |
| | |
Focal length = On the Leica Q it is 28mm and originally referred to the distance from the sensor (or film in older days) to the center of focus inside the lens. Nobody uses that measurement, except those who construct lenses! For users of lenses, focal length refers to how wide the lens sees. The viewing angle, which is often given in for example 90° viewing angle for a 21mm lens, 74° viewing angle for a 28mm lens, 6° viewing angle for a 400mm lens, etc.
Each human eye individually has anywhere from a 120° to 200° angle of view, but focus only in the center.
Focus, in - Sharp and clear in appearance. Focus - "The burning point (of a lens or mirror)". In Latin the word focus meant fireplace or hearth. The word was probably first employed outside of its Latin literal use as "the burning point of a lens or mirror" in optics, and then came to mean any central point. The German astronomer Johannes Kepler first recorded the word in this sense in 1604.
Full Frame (FF) = The size of the sensor is 24 x 36mm which is the format Oskar Barnack and Leica Camera AG invented with the first Leica that was introduced in 1925. Many other formats invented since, such as APS, APS-C and all usually refer to Full Frame ratio, by which it means what size they have compared to Full Frame.
| | |
| --- | --- |
| | |
| | Full Frame is "king of photography" |
| | |
The 24 x 36mm Full Frame format is so "king of photography" that it has continued to be the ideal for all cameras. Besides this, there exists Large Format cameras such as 4x5" (100 x 125 mm) and Medium Format 6x6 (60 x 60mm amongst other sizes in that area).
Hue = A color or shade depending on the dominant wavelength of red, green or blue. The word Hue comes from Swedish hy which is "skin complexion". It is independent of intensity, so often (in computer editing programs for example), Hue is an adjustment along Saturation which is (intensity of color as compared to white).
ISO = Light sensitivity of the camera sensor is given in ISO (International Organization for Standardization). It's a standard that was used in film and is now used in all digital cameras also. The base ISO for the Leica Q sensor is 100 ISO which means that this is what the sensor "sees". All other levels are computer algorithms calculating the effect as if the sensor could "see" more (hence noise at higher ISO levels).
ISO goes in steps of doubling: When the ISO is raised from 100 ISO to 200 ISO, the camera only need half the amount of light to make a picture. For each step in ISO to 400, 800, 1600, 3200, etc the light sensitivity is doubled for the sensor (and the camera sensor only need half the light of the previous ISO to record the same image).
JPEG = A standard for picture format made in the 1990's by Joint Photographic Experts Group). Mostly referred to as JPG as in L1003455.JPG which would be the name for a JPG file from the camera.
Summilux = Refers to the maximum lens aperture - normally f1.4 , "-lux" added for "light" (ie. the enhanced light gathering abilities). In the Leica Q the lens is a Summilux even it is a f/1.7 and not f/1.4.
Leica = A compound word derived from " (Lei)tz" and "(ca)mera". Apparently they were originally going to use "LECA", but another camera company already used a similar name in France, so they inserted the 'i' to prevent any confusion.
Leica Thread-Mount (LTM): Also known as M39, is the screw mounted lenses for Leica cameras. It's a simple as that; you screw on the lens, and back in 1932, the possibility to change the lens was the big news. The M39 system was updated with the M Bayonet from 1954 for the Leica M3. The M bayonet is a quick way to change lenses and is the current mount for Leica M digital rangefinders.
Lens hood = (also called a Lens shade). A tube or ring attached to the front of a camera lens to prevent unwanted light from reaching the lens and sensor. In the past where lenses were not coated to prevent internal reflections inside the lens, the lens hood was often essential. These days where lenses are coated, the shade serves just as much as decoration and protection (bumper) as well.
ORIGIN Old English hod; related to Dutch hoed, German Hut 'hat,' also to hat.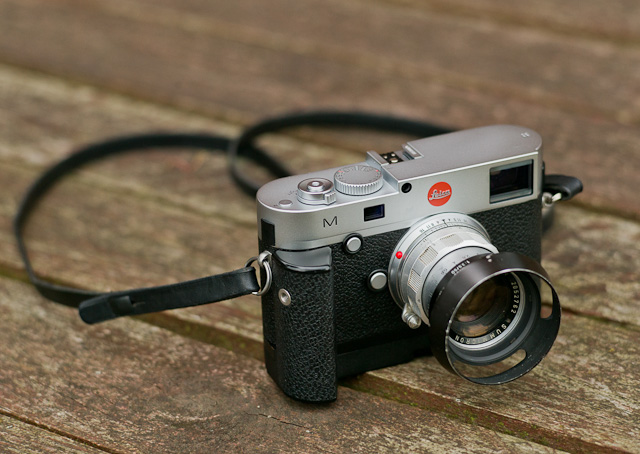 Lens hood or Lens shade attached to the front of the lens to prevent light rays from the side to hit the optics, which could introduce unwanted light and hence reduce contrast of the image. These days where lenses are coated, the shade serves as decoration and protection as well. In the photo is a Leica M240 with a 50mm Summicron from the 1960's and the original ventilated lens hood.
| | |
| --- | --- |
| | |
| | Bubble Level Gauge to mount onto the flash shoe. |
| | |
Level Gauge = This is a tool in the viewfinder to see if you hold the camera 100% horizontal and/or vertical. You can turn it on in the Menu > Photo Live View Setup > Level Gauge > On.
Before level gauge was integrated as a digitized feature in modern digital camers, it was a Bubble Level Gauge / Spirit Level you put on top of the camera.
The idea is to be able to get 100% vertical and horizontal lines (because if you tilt the camera slightly, the horizon will not be horizontal, and of you tilt the camera forward or backwards, the lines of for example vertical buildings will not be vertical.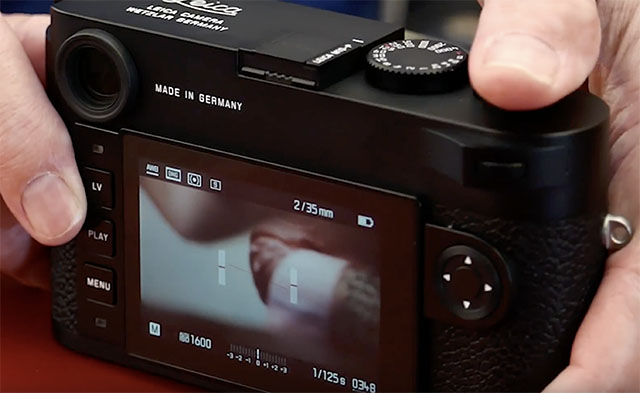 Digitized level gauge in a Leica M10-P. You tilt the camera up and down (front/back and left/right) till the level is completely straight.
Light = Tiny particles called photons that behaves like both waves and particles. Light makes objects visible by reflecting off of them, and in photography that reflecting off of subjects is what creates textures, shapes, colors and luminance. Light in its natural form (emanating from the sun) also gives life to plants and living things, and makes (most) people happier. So far, nobody has been able to determine exactly what light is. The word photography means "writing with light" (photo = light, -graphy = writing). Read more about light in my book Finding the Magic of Light.
Live View = This is the ability to see the image the sensor see, live, via the screen of a digital camera, or via an electronic viewfinder (EVF).
M (as in "M3", "M6", "M7" etc.)
A) The M originally stands for "Messsucher", which is German "Meßsucher" for "Rangefinder". The "3" in M3 was chosen because of the three bright line finders for the 50, 90 and 135 mm lenses. Later the numbers of the M cameras were more or less chosen to follow each other.
M-body evolution in chronologic order:
M3 - MP - M2 - M1 - MD - MDA - M4 - M5 - CL - MD-2 - M4-2 - M4-P - M6 - M6 TTL - M7 - MP - M8 - M8.2 - M9 - M9-P - MM (black and white sensor) - ME (Type 220) - Leica M (Type 240) - Leica M-P 240 - Leica M 246 Monochrom - Leica M-A (type 127, film camera) - Leica M 262 - Leica M-D 262 (without a screen) - Leica M10 - Leica M10-P.
B) M also refer to M-mount as the M bayonet that couple the Leica M lenses to the Leica M camera. Before the M bayonet the coupling between the camera and lens was screwmount.
C) M nowadays refer to the Leica M line of cameras rather than the "Messsucher".
M9
Leica M9 is a model name for the Leica M9 that was introduced on September 9, 2009 (as the first full-frame digital Leica M). It was the latest model designation using the M and a number. From their next model, Leica Camera AG introduced a new model system so each camera would simply be a Leica M but then with a model designation like Typ 240, Typ 246, Typ M-D 262 and so on. The idea was inspired from Apple who name their computers for example MacBook Pro and then it has a sub- model number designation which model it is (and which would define speed of processor, etc).
MACRO = Macro lens. The Leica Q2 lens can be turned to Macro which enables you to go close so as to enlarge smaller subjects. The word macro comes from Greek makros 'long, large.'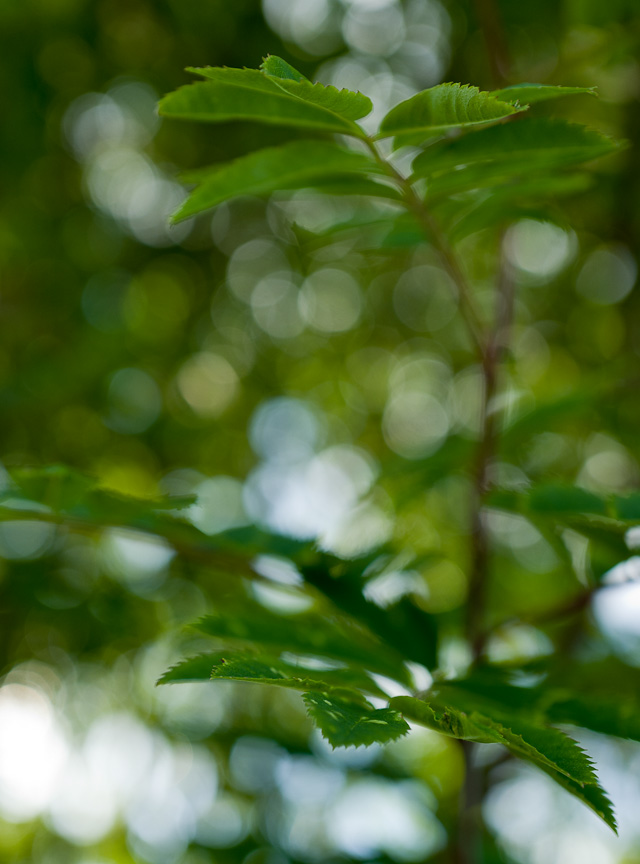 The word macro comes from Greek makros 'long, large.' Leica Q in Macro mode, 1ii ISO, f/2.8, 1/500 second. © 2015 Thorsten Overgaard.
Mandler, Dr. Walter (1922 - 2005)
Legendary Leica lens designer and CEO of Ernst Leitz Canada (ELCAN) 1952-1985. Read more in Leica History.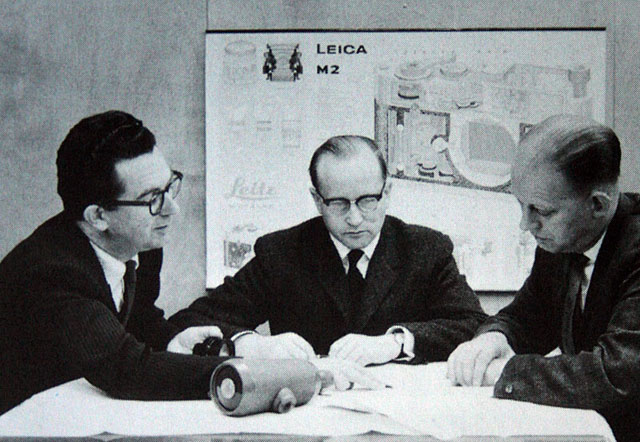 Dr. Walter Mandler (center) at the Ernst Leitz Camera factory.
Megapixel (or MP) - Millions of pixels. See pixel further down. How many units of RGB is recorded by a given sensor by taking height x widt. A Leica M10 delivers a 5952 x 3968 pixel file = 23,617,536 piexls. On a screen the resolution you choose determines the size of the image. Say you have a 5000 pixel wide file and your screen is set for 8000 pixels wide. Then the image will fill only the 5000 pixels fo the 8000 and the rest will be empty, If you then change the screen resolution to 5000 wide, the image would be able to fill out the whole screen.
Meßsucher = (rangefinder or distance finder) = Mess = range, sucher = finder. It is always correctly written with the "ß". There are technically not three "s", rather the "ß" and one "s" because it is a word constructed by the combining of two precise words.
mm = millimeter(s), as in a 50mm lens. (Earlier in lens history lenses focal length was given in cm = centimeters; as in a 5 cm lens). For anyone used to centimeters and millimeters, it's no wonder. But if you grew up with inches, feet and yards, you may have had a hard time grasping what a 50mm lens was. But as lenses were designed first in Europe, the metric system with centimeters and millimeters was used to describe lenses.
The reason a 50mm lens is a 50mm lens is that there is 50mm from the focus plane (the film or sensor) to the center of focus inside the lens. When photography was a young subject, it was engineers who made it all, and the users were expected to understand. The engineers were so into the making of the lenses, that it apparently never dawned upon them that today's users would think of a 21mm lens as a wide angle lens rather than a lens where there is 21mm from the sensor to the center of focus inside the optics.
No.
Number, on this site Leica catalog numbers or order numbers. Some the numbers changed depending on the number of cams in the lens: The Elmarit-R f2.8/135mm started life as No. 11 111, however when fitted with 2 cams for the SL became No. 11 211, yet another No. for the 3 cams lens and a fourth number for 3 cam only at the end of its life. Number changes also applied to M lenses depending on whether they were screw-thread, bayonet or for M3 with "spectacles". Thus the No. in the Thorsten Overgaard Leica Lens Compendium list is a guideline but not a comlete list of existing catalog numbers.
Noctilux = Also known as "King of the Night" because "Nocti" means Night and "Lux" means Light. The f/1.0 lenes from Leica are named "Noctilux". The first Leica Noctilux lens was the 50mm Noctilux f/1.2 which shortly after it's introduction was improved to the 50mm Noctilux f/1.0. In the current model the f-stop has been improved further to f/0.95.
"Noctilux" refers to the maximum lens aperture - here f1.0 . "Nocti" for nocturnal (occurring or happening at night; ORIGIN late 15th cent.: from late Latin nocturnalis, from Latin nocturnus 'of the night,' from nox, noct- 'night.), "lux" for light. The Leica Noctilux 50mm f1.0 is famous for enabling the photographer to take photos even there is only candleligts to lit the scene. See the article "Noctilux - King of the Night"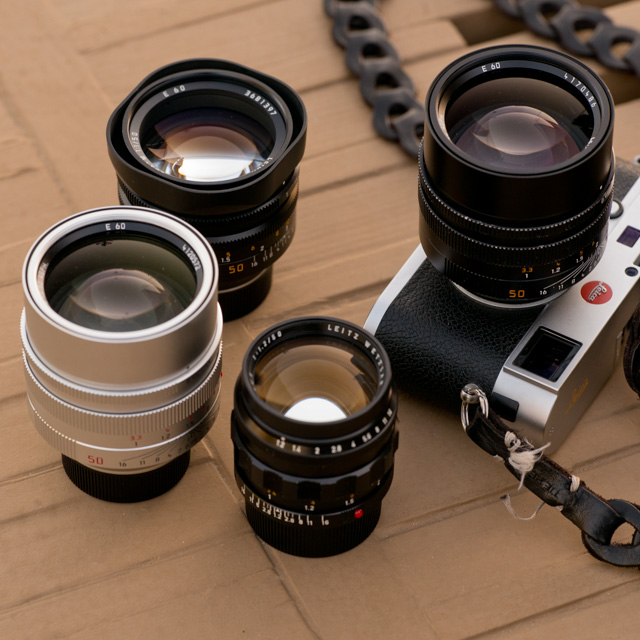 The Noctilux "King of the Night" lens. From left the f/0.95 in silver (same on the camera, in black), the f/1.0 in the back and the rare and expensive first model, the f/1.2 in the front.
ND = Neutral Density filters are grey filters that functions as 'sunglasses' for lenses. They simply block the light so that a lens can work at for example f/1.7 in sunshine.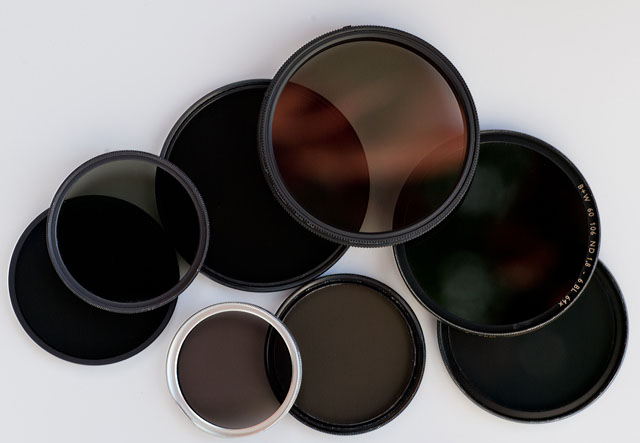 ND (Neutral Density) filters to put in front of lenses to reduce the amount of light that comes in. They don't have any other effect than that and doesn't change contrast, color or anything.
Optic = Eye or vision. From French optique or medieval Latin opticus, from Greek optikos, from optos 'seen.'
Oufro (model 16469Y)
An original Leitz Extension Ring (produced 1959-1983 as part no. 16469). Used with Oubio for all the longer (125mm+) Visoflex lenses and without OUBIO for 35/50mm. OUFRO can be stacked for greater magnification and will work on the Leica M Type 240 as macro for all lenses (including the Noctilux, 90mm APO-Summicron and even 21mm lenses).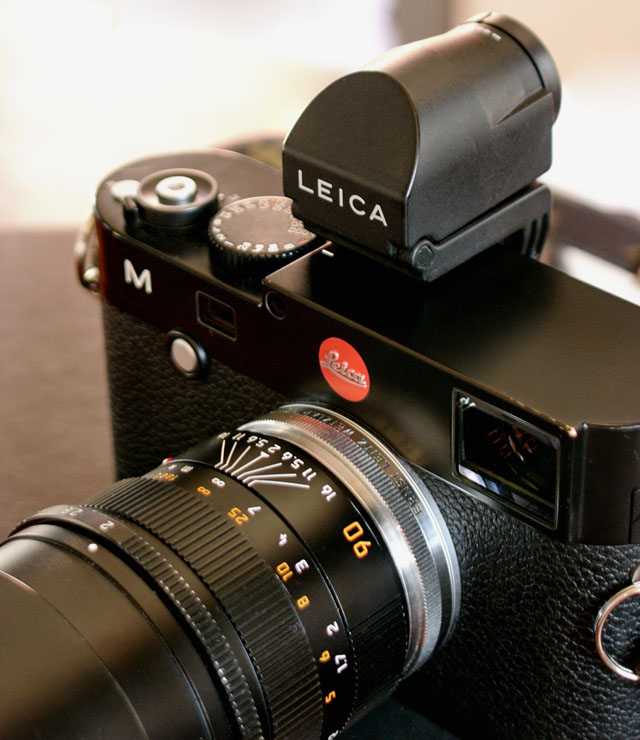 The OUFTO on Leica M Type 240 with Leica 90mm APO-Summicron-M ASPH f/2.0.
Perspective - The way objects appear to the eye; their relative position and distance. Also, selective focus (foreground and background out of focus) can change the perception of perspective (also see Three-dimensional). A wide angle "widens" the perspective and makes objects further away appear smaller than they are to the eye; and objects closer, relatively larger than they are to the eye. A tele lens will "flatten" the perspective and often objects further away will appear relatively larger than close objects than they are in real life. A 50mm lens is the one closest to the perspective and enlargement ratio of the human eye.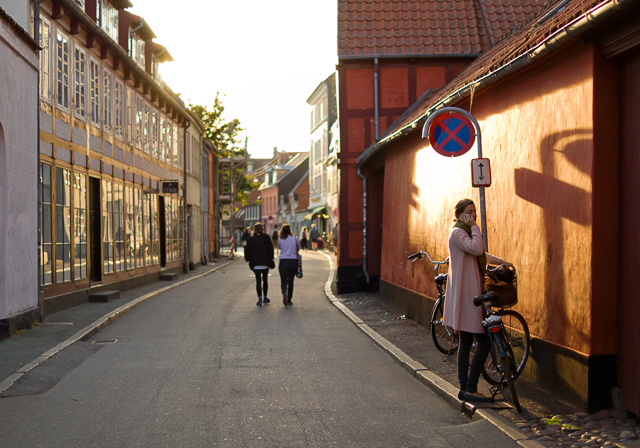 Perspective is relative position and distance. As here where the girl in front is more than two times taller than the people walking, and 8 times taller than the people in the far background. Also, the parts of the buildings closer to the viewer are "taller" than the parts of the same building further away. Late afternoon sun in Denmark. Leica TL2 with Leica 35mm Summilux-TL ASPH f/1.4. © 2017 Thorsten Overgaard.
| | |
| --- | --- |
| | |
| | Vanishing points are the points where lines meet. This is how you make perspective in paintings and drawings (and some times make movie sets or theatre stages appear more three-dimensional than they are) |
| | |
Painters works with vanishing points, which is where the lines meet, so as to create an illusion of perspective and three-dimensional effect on a two-dimensional painting or drawing.
The human eye corrects for perspective to an extreme degree. We always see vertical lines vertical and horisontal lines horisontal: The eye has a angle of view equivalent to an 8mm wide angle lens, a size ratio equivalent to a 50mm lens and we focus on relatively small area of the viewing field - one at the time. Three things happens that are worth paying attention to:
1) We compile areas of our view that we focus on, to one conceptual image that "we see". Ansel Adams, the great American landscape photographer pointed out that a large camera used for landscape photography capture every detail in focus and sharp so you can view it in detail after; but the eye does not see everything in focus when you try to compose the landscape photography, the eye scans only one part at a time and stitch the idea together. This makes composing or prevision of a landscape photography challenging.
2) We compile areas of our view that we individually adjust the exposure of. A camera adjust the exposure of the whole image frame to one exposure. That's why what looks like a nice picture to the eye of houses in sunshine with a blue sky above, becomes a photograph of darker buildings with a bright white sky: The camera simply can't take one picture that compare to what we "compiled" with our eyes, adjusting for each type of light.
3) Objects (on a table, for example) in the bottom of our viewing field will appear 100% perspective corrected - to a degree that it is impossible to correct in optics, with or without software correction. A wide angle lens, even with little distortion, will exaggerate the proportions of the closet part so it - to the eye - looks wrong.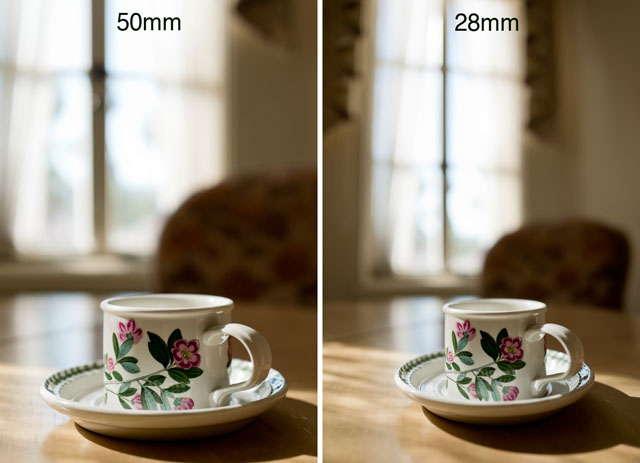 Perspective distortion: Comparing these two photographs you can see how the cup stretches in the 28mm wide angle photograph compared to the 50mm photograph. Both actually has a little stretch because both the cup is in the edge of the frame in both photographs. © 2017 Thorsten Overgaard.
Pixel - Made up word from Pix (picture) and el (element). A pixel is the smallest full-color (RGB) element in a digital imaging device. The physical size of a pixel depends on how you've set the resolution for the display screen. The color and tonal intensity of a pixel are variable, meaning that each pixel contains RGB. This is different from a camera sensor's small eyes (photosite) that are an intensity of either red, green or blue. You could say that the digital sensor's photosite (where each unit collects just one color; red, green or blue) is the input technology, whereas the pixels on a screen (where each pixel contains red, green and blue) is the output device. So while sensors are measured in megapixels (mega = million), it's their output unit of pixels, and not the input unit of photosites that is measured and stated. See illustration below.

Here's an illustration of how light goes through a color filter that enables the underlying photosites to each record if it';s an R, G or B color - combined - makes up one pixel containing RGB. © Thorsten Overgaard.
RF
(R)ange (F)inder - the mechano-optical mechanism which allows M Leicas to focus.
Alternative meaning - RF is also shorthand for Hexar RF , Konica's motorised "M-lens-compatible" rangefinder camera released in 2000.
S = Single image. When the ring by the shutter release on top of the camera (or in the menu of a digital camera in case it does not have this ring on the ourside) is moved from OFF to S, the camera takes only one photo at the time (Single). The other possibility is Continuous where the camera takes pictures continiously as long as the shutter release button is helt down. (see above).
Saturation: How colorful, intense or pure the color is. Less saturation would be less colorful, more saturation would be more colorful. In today's photography, de-saturating a photo on the computer will gradually make it less and less colorful; and full de-saturation would make it into a black and white photo.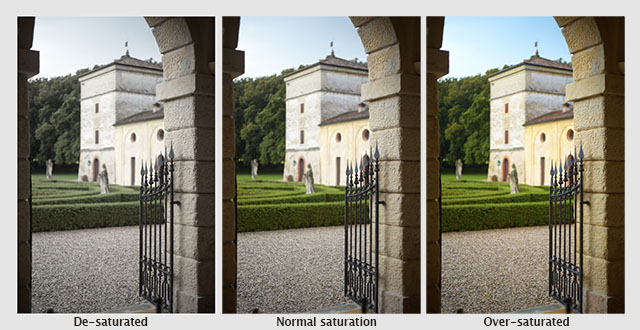 A photo from Verona, Italy de-saturated, normal saturated and over-saturated. © Thorsten Overgaard.
Sensor = A device that detects a physical property (like light) and records it. A camera sensor is a plane plate with thousands of small "eyes" with (photosites) a lens in front of each (CFA, Color Filter Array), which each individually records the amount of red, green and blue light rays that comes through the lens. Together, Red, Green and Blue form all colors of the spectrum, which becomes a pixel. Sensor comes from Latin sens- 'perceived'.
Shutter speed dial - The dial on top of the Leica M where you can set the shutter speed manually. It can also be set to A which stands for Aperture Priority (where the camera suggests a shutter speed; or when you move the dial away from A, the camera will show arrows in the viewfinder, suggesting which direction to change the Aperture to, to get the correct exposure).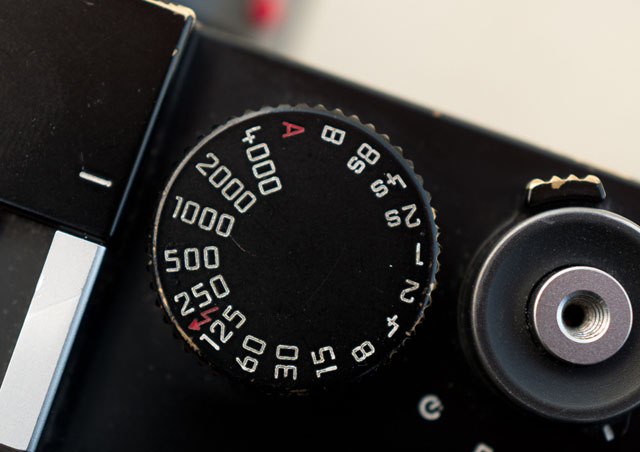 Shutter speed dial set to 1/1000 of a second.
SLR = Abbreviation for Single-Lens Reflex; the lens that forms the image on the film/sensor also provides the image in the viewfinder via a mirror. The Leica Q has no traditional viewfinder and no mirror. the image seen in the EVF is what the sensor sees.
Summicron = Refers to the maximum lens aperture - here f/2.0 . There are many guesses how this name came about, a popular one being that the "summi" came from "summit" (summit means the highest point of a hill or mountain; the highest attainable level of achievement) while the "cron" came from "chroma" (ie. for colour). Not so: The name (Summi)cron was used because the lens used Crown glass for the first time, which Leitz bought from Chance Brothers in England. The first batch of lenses were named Summikron (Crown = Krone in Deutsch). The Summi(cron) is a development from the orignal Summar (the 50mm f2.0 lens anno 1933). Vario-Summicron, Vario-Elmarit is Leica Camera AG's name for zoom lenses, for example the Vario-Summicron f/2.0 as the one that is on the Leica Digilux 2.
Summilux = Refers to the maximum lens aperture - here f1.4 , "-lux" added for "light" (ie. the enhanced light gathering abilities). In Leica terminology a Summilux is always a f/1.4 lens and a Summicron is a f/2.0 lens. In the Leica Q2 the lens is f/1.7 but is called a Summilux because it is closer to f/1.4 than f/2.0.
Three-dimensional = Having the three dimensions of height, width and depth. In photography and lens design, three-dimensional effect is also the perception of even small micro-details; the texture of skin can appear flat and dead or three-dimensional and alive. Also, selective focus (foreground and background out of focus) can change the perception of depth. Also see Perspective.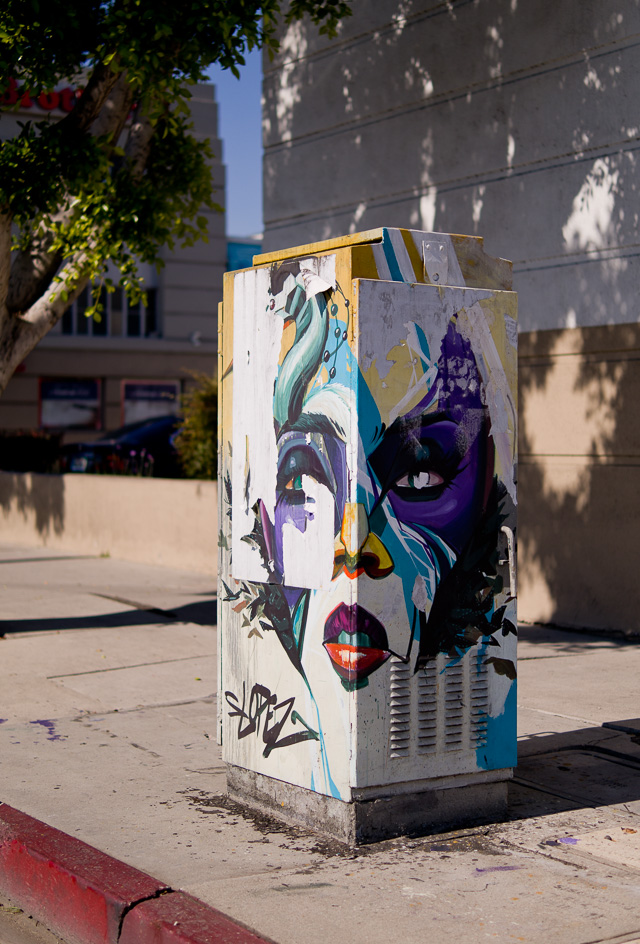 Three-dimensional = Having the three dimensions of height, width and depth. Melrose Avenue in Los Angeles. Leica TL2 with Leica 35mm Summilux-TL ASPH f/1.4. © 2017 Thorsten Overgaard.
Ventilated Shade - A shade is a hood in front of a lens that provides shade from light going straight onto the lens from outside what you are photographing, which could cause internal reflections like flare, which would make the picture less contrasty.
The ventilated shade has holes so it doesn't obstructs the view from the viewfinder. In many of today's mirrorless cameras where there is no viewfinder looking ver the lens, so there is no actual need for a ventilated shade; but they are considered classic or vintage looking and are still in high demand. It makes no difference for the purpose of the shade (to create shadow) if it is ventilated or not.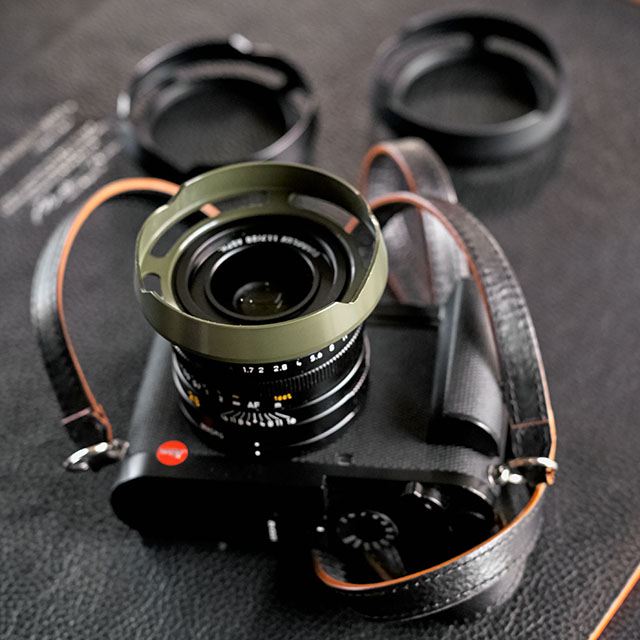 Ventilated Shade for the Leica Q. I make ventilated shades for most lenses and sell them from here.
Viewfinder = a device on a camera showing the field of view of the lens.
1) A built-in viewfinder in a camera that simply show the frame you get when you look through the viewfinder.
2) A rangefinder viewfinder which is also used to focus the lens. In Leica M cameras two pictures has to meet and lay 'on top of each other' for the picture to be in focus.
3) An external viewfinder, usually on top of the camera in the flash shoe, so as to show the field of view of lenses wider than what the built-in viewfinder can show (15mm, 21mm, 24mm, 28mm etc viewfinders exist)
4) Very simple "aiming-devices" on top of a camera that is simply a metal frame without any optics. Just a frame, as for example very old cameras (the original Leica), or when using cameras in diving where you can't look through the camera.
5) A Electronic Viewfinder (EVF) that shows what the sensor sees "live".