By: Thorsten Overgaard. December 26, 2019.
Soundtrack of our lives
Sometimes I go places for no reason, only to realize later what my reason was. Such was my visit to New York.
As I walked into Clive Davis' two story wrap-around penthouse on the two top floors of his building on 56th Street, I saw him sitting and waiting patiently by his desk. That was the photo I wanted.
I had envisioned an idea of him looking out over the city from a large window; as in looking back at a long life in music. Even though I hadn't seen the place before, I would presume there was a large panorama window in the apartment, and large windows are the source of great, soft light. So that was my initial prevision of how the photo would be.
But the setting by the table was "a real Clive moment", and straight-forward. A man with this much power, sitting by a relatively small table with a view to Central Park, with just a phone headset and a notepad. There's something about that.
We did a few adjustments, four photos and that was it. This is Clive Davis.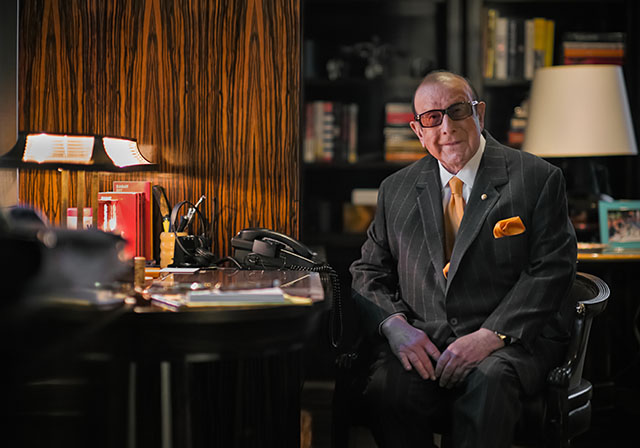 Clive Davis in his home office. Leica M10-P with 7artisans 75mm f/1.25. © Thorsten Overgaard.
For those who are not familiar with the history of Clive Davis and his monumental influence on music, the 2017-documentary Clive Davis – The Soundtrack of Our Lives has just been released on Netflix.
Clive was a relatively business-like lawyer, when he was offered to work as one of two legal staff in a record label. He did well, so they offered him to run the Gibson and Steinway business. He declined. Then they offered him another position and well, he ended up going from a lawyer with little previous interest in music, to becoming an iconic influencer in the music business. Clive Davis could spot a voice, a song and a melody when he saw one, and that's how he brought artists such as Janis Joplin, Santana, Bruce Springsteen, Chicago, Billy Joel, Ace of Base, Aerosmith, Whitney Houston and Barry Manilow to prominence.
Born in 1932, his career has been extensive and fascinating. There are many good reasons to watch this documentary on Netflix.
After the photo, Clive Davis went to the office, as he does every day.
I hope you enjoyed today's Story Behind That Picture. As always, feel free to e-mail me with suggestions, questions and ideas.