By: Thorsten Overgaard. December 11, 2019.
Ken Hansen's daughter and son-in-law continue the business
Legendary Leica dealer Ken Hansen left us earlier this year, but thanks to the strong unity of the Hansen family, his legacy continues. His son-in-law and daughter stepped forth from the background to ensure that the way Ken Hansen serviced the Leica society will continue.
You can still reach the Ken Hansen dealership by email, and from today forward you can also see the stock list of second-hand Leica equipment here.
I've written about Ken Hansen earlier, so if you are not familiar with one of the most unique Leica dealers, the story starts here: "A Talk with Ken Hansen".
Ken Hansen's son-in-law, Vico worked with Ken over a span of twelve years, since 1991. During that time, he married Ken's daughter (1992) and thus joined a tight and loving family, as well as a camera business.
To Florida and back to New York
As an example of how close the family unit was, when Ken's daughter Claudia campaigned for getting out of New York and moving to sunny Florida, the whole family moved to Florida. Ken sold the lighting department of the store and opened a small camera store in West Palm Beach in 1994.
"I would go to New York twice a month, but I was bored in Florida," she says. "So I told my dad, I'm moving back to New York. It's too quiet in Florida."
Ken Hansen replied, "What, without me?" and they decided that the whole family moved back to New York.
"Fact was", Vico says, "even though it was beautiful and all in Florida, 99% of our business came from New York. We had gotten some local contacts, but New York was still the center of the business."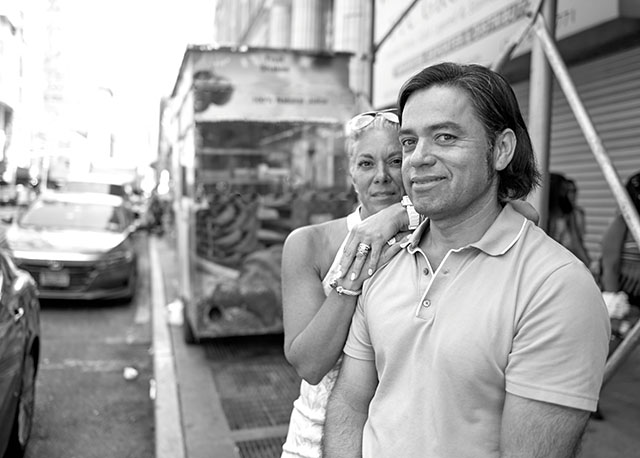 Ken Hansen's daughter Claudia and her husband Vico continue the legacy of Ken Hansen and service Leica fans all over the world. Leica M Monochrom with Leica 28mm Summiliux-M ASPH f/1.4. © Thorsten Overgaard.
Ken Hansen Photographic New York
The family moved back, and Ken Hansen opened the store "Ken Hansen Photographic New York" on 509 Madison Ave in 1997.
"I'll have a place there for seven years, because those are my lease terms," Ken told his family, "Then we can think about what we'll do after that".
As the lease ended in 2004, Ken closed the store and started operating from his apartment near Central Park.
"When we closed Madison Ave, we had huge inventory of Hasselblad, Nikon, Olympus and a lot of other stuff.", Vico tells. "Ken told me 'I'm just keeping Leica, you can keep the rest of it."
"I told him I didn't deserve all that, but he said, 'Yes, you've earned it. You have bills to pay, it is all yours.' and so it was", Vico remembers. "It was very Ken Hansen to be like that."
"Ken continued from his apartment, I continued from mine. I sold Leica reflex on eBay, R6 and all that. I still have a ton of stuff today from back then. It was a big stock."
The Legacy of Ken Hansen continues
It took Vico some weeks after Ken passed to decide he would continue the camera business and the Leica dealership, but since this he has been the one answering the calls and emails from clients who wanted to buy, sell or trade.
When Ken Hansen was ill, Vico and Claudia's daughter were frequently with him at the hospital. As Vico recalls, "He told her that all inventory goes to me. 'Whatever he wants to do with it, Vico decides', was his word. I think we're all trying to do what Ken said, and he also felt strongly that the family should stay close."
See the updated stock list of Ken Hansen NY Inc here: