By: Thorsten Overgaard. June 6, 2019.
The potential electromagnetic fields and the power cables running by my terrace prompted me to look into what effects electromagnetic fields have. The results were surprising.
You may find this a strange post amongst my articles about photography. So do I, but it was something I had to do. It follows my philosophy that when people say something about a country, a city or a subject, I go get first-hand experience to see what are the facts about it.
First-hand experience is just so more – should we call it – relatable than second-hand thoughts, information and experiences.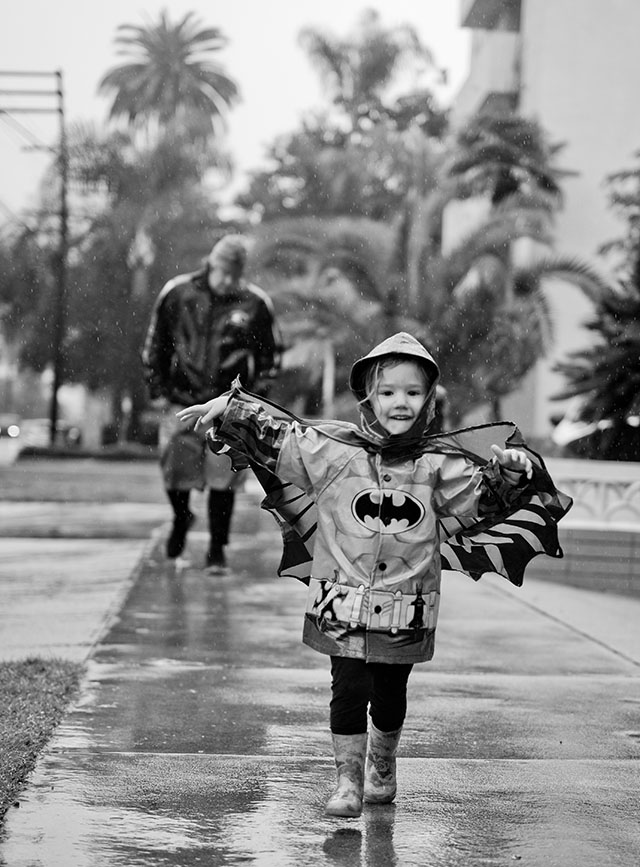 What effect does electromagnetic fields have on people ... if any? Leica M240 with Leica 50mm APO-Summicron-M ASPH f/2.0. © Thorsten Overgaard.
What I learned about electromagnetic fields
When I looked into electromagnetic fields, the short of it is that no scientific evidence shows electromagnetic fields have an impact on cancer or other ailments. Headaches, depressions or other health hazards where people suspect to find a causal relationship with electromagnetic fields cannot be proven with statistical accuracy.
0.4 microtesla (µT) is the limit, I guess
If we are to establish a playing field, then let's say that below 0.4 µT (microtesla) appears ok or is not considered a potential risk to health. Just to have something to hold onto.
A UK survey amongst 2,200 households showed that only 9 of these had a constant average of 0.4 µT throughout the days of the year. The survey of children from those homes growing up didn't show any consistent result for or against the argument that electromagnetic fields are worrisome.
My measurements of magnetic fields
With that in mind, I went about to measure the amount of µT around me. The fist simple rule is that the magnetic fields are strongest the closer you are. They decrease rather quickly as you add distance, which we usually do. Power lines are placed at a distance from homes, but other daily life things, like our mobile phones, we tend to have very close.
The cables running by my terrace go up to 0.38 when I reach out towards them. Where I normally sit on the terrace and work on my computer, or read books, they measure at 0.09 – 0.14 µT.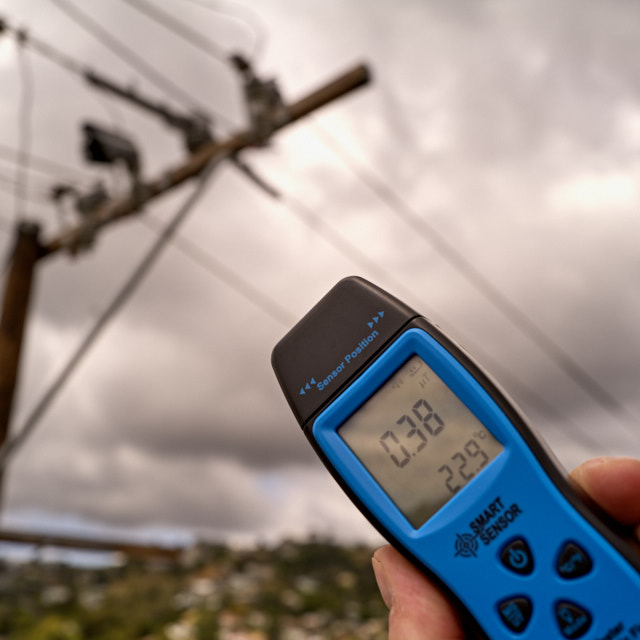 The cables running by my terrace go up to 0.38 when I reach out towards them. Where I normally sit on the terrace and work on my computer, or read books, they measure at 0.09 – 0.14 µT.
While that is something in the sense that it is not nothing (which would be 0), I went about to test other things.
Testing "normal" things in the household and offices
In some documents, living near the really big power lines that you see in some landscapes is said to be have much less influence than a toaster. So I tested the toaster, and to my surprise it hit 9.16 µT when the toaster was on.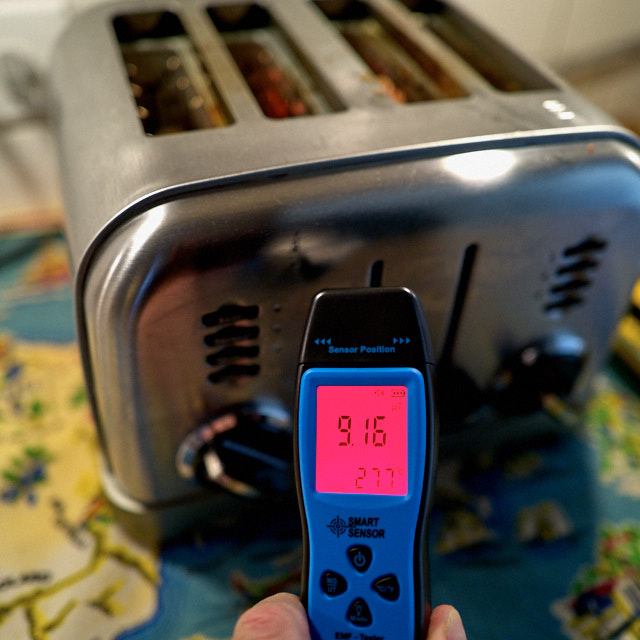 To my surprise the toaster hit 9.16 µT when turned on.
Next was the microwave, which I seldom use. This one hit 140.0 µT, so spending time around an active microwave seems the best way to really get fried.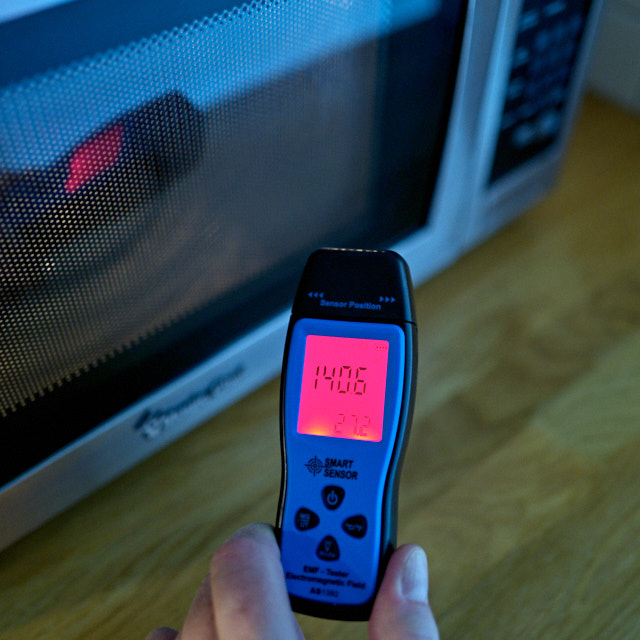 The microwave hit 140.0 µT..!
Now, I also tested being very close to a light bulb, and that innocent-looking thing is sending out 0.89 µT. We seldom are that close to light bulbs, but anyways.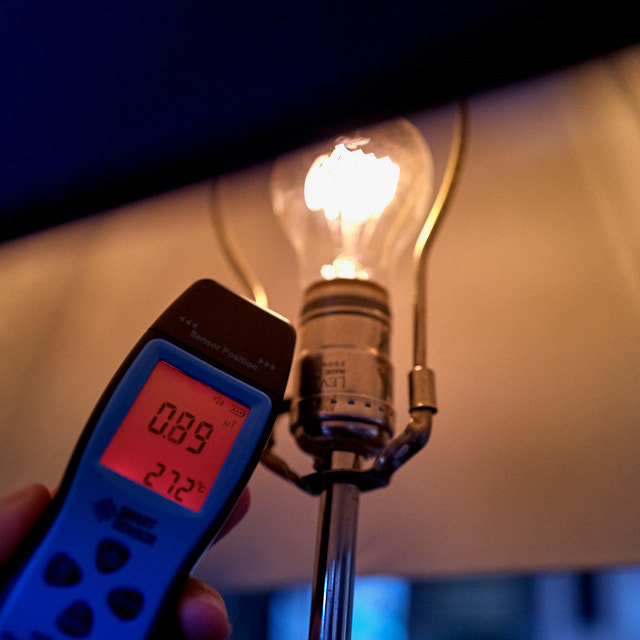 You would seldom put your head this close to a light bulb, but if you were to, you would expose yourself to 0.89 µT.
The circuit board is also a place with high µT, meaning 1.23 µT. And I guess that one, just like a power cable, will go up and down depending on how much electricity is being sent through it. If thre is a metal door in front of the circuit board, that reduces the magnetic fields a lot. And I think few people would have one circuit board in their bedroom or close to where you live or sleep.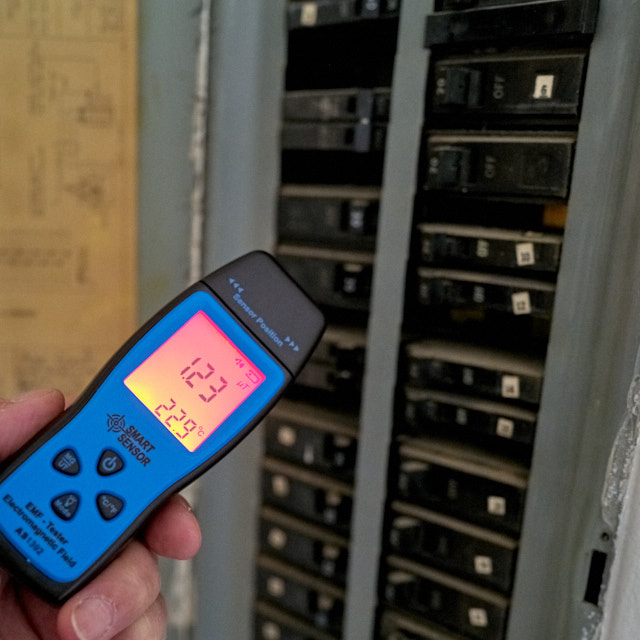 A circuit board is 1.23 µT, but the metal door shield it normally - and I guess few people work or sleep nearby their curcuit board.
Any electrical contact or activity seems to be a location with electromagnetic fields. Such as an innocent contact that puts out 0.39 µT.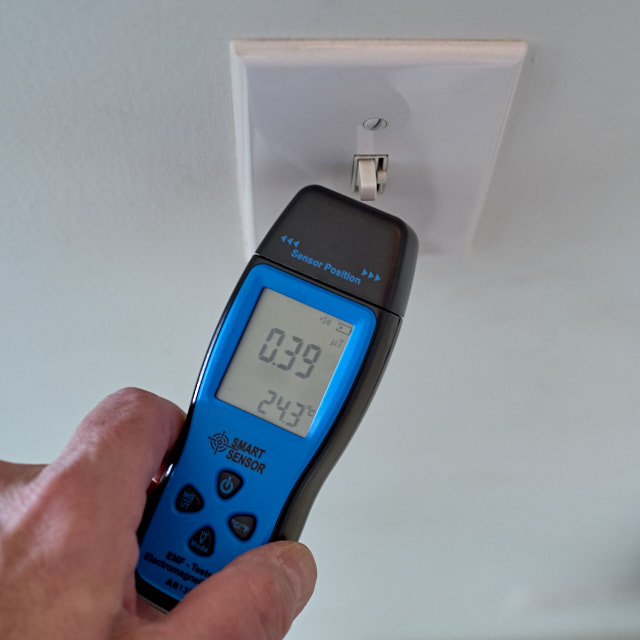 Electrical contact (with dimmer) is 0.39 µT.
To my surprise, the Nespresso machine had the alarm and red light go off as well with 6.78 µT.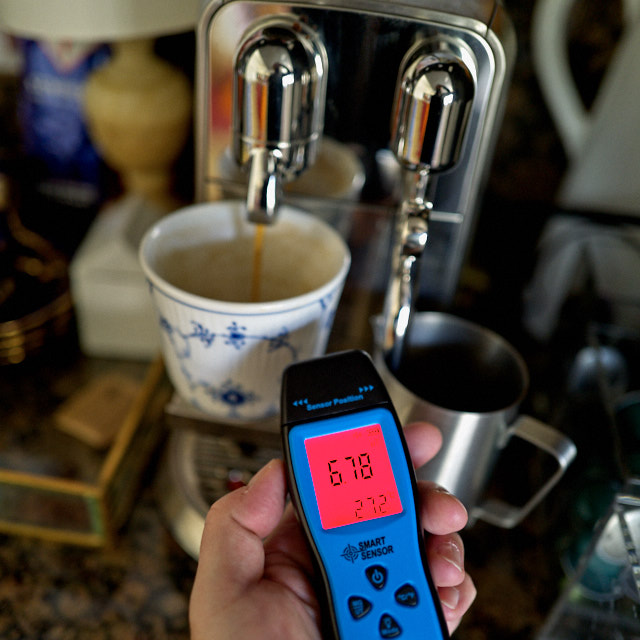 A cup of innocent coffee exposed you to 6.78 µT
My Eizo screen by the computer had 0.0 µT in the front, but when it warms up to calibrate, the back of it sends out 0.33 µT on the back where the power source runs in; and still 0 on the front. So I guess it's well insulated for rays and electromagnetic fields for the user in front of it.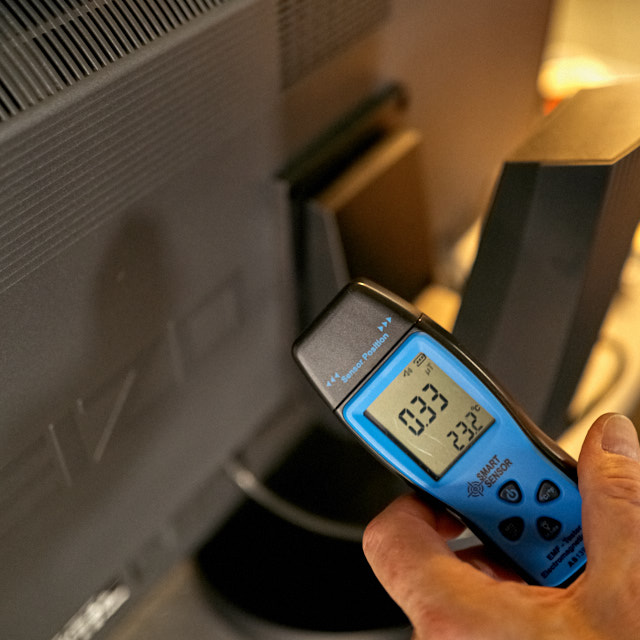 The back of my Eizo screen sends out 0.33 µT when the screen is "warming up for automatic calibration".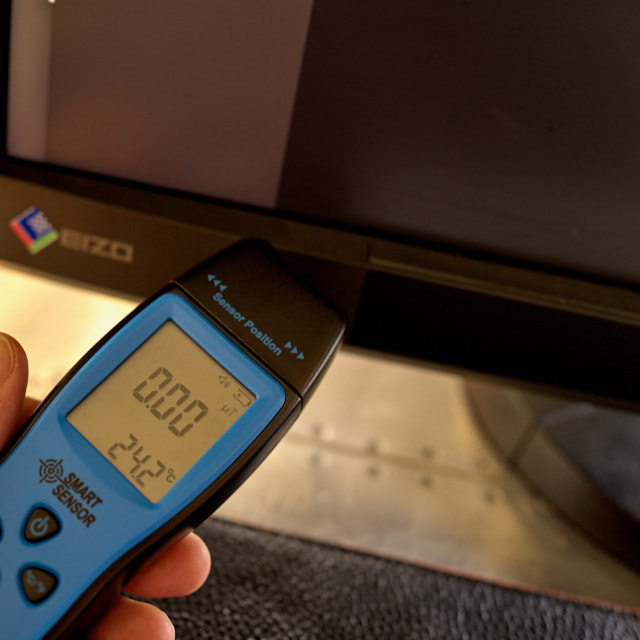 The front of the EIZO screen is 0.00 µT. The back where you're not supposed to spend time, it's up to 0.33 µT.
My Leica M10-P screen had 0.0 µT as well.
An older charger, as the DMR for example, puts out 6.32 µT.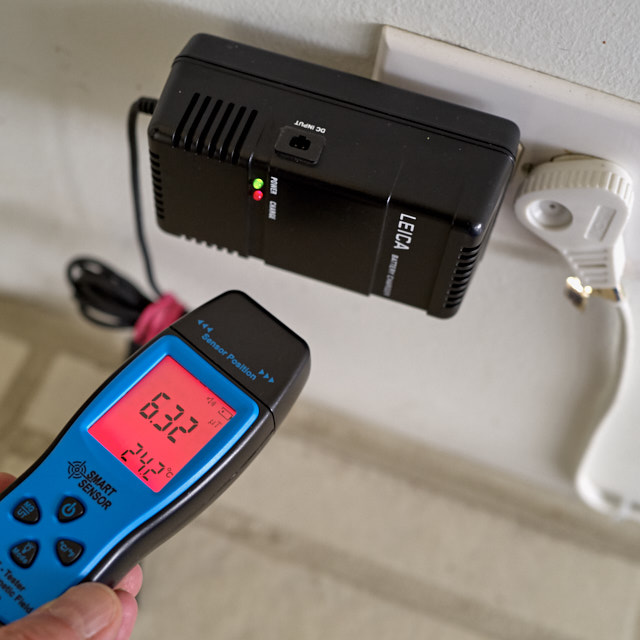 A simple battery charger for a camera (here it's a 2004 model), reach 6.32 µT.
The computer however is sending out quite a lot. 1.54 µT, but basically going up and down.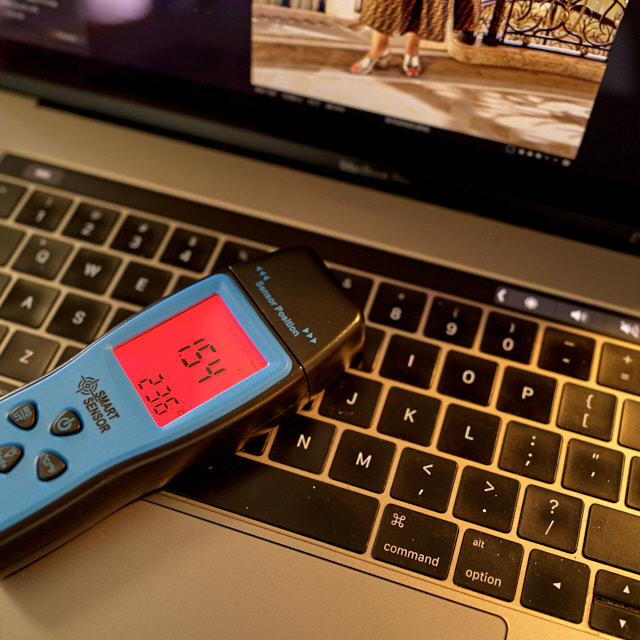 A computer goes up and down quite a bit, depending what it's doing. Here it's 1.54 µT by the keyboard wtih not much really going on.
Somewhat disturbing is that Bluetooth headphones (which also contain magnetic speakers) put out 0.24 µT in the space between the headphones (where the head normally is). I haven't quite decided what to think of this. Often I would use them for many hours on airplanes to isolate sound.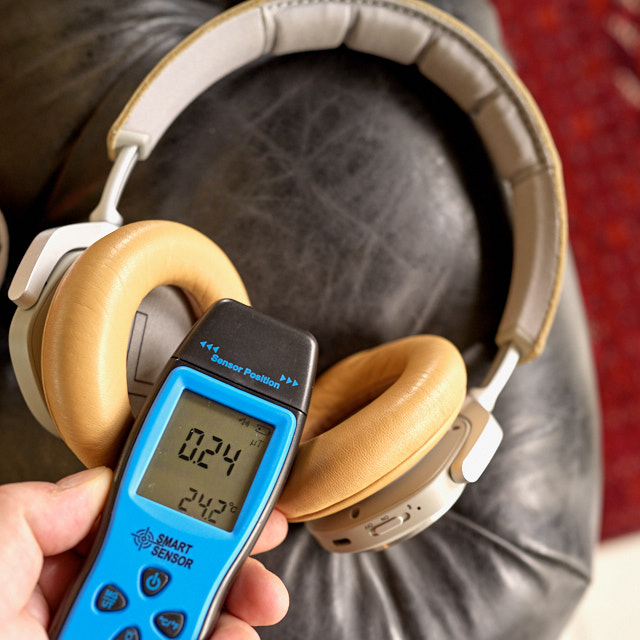 These noise-cancelling Bluetooth headphones from B&O puts out 0.24 µT.
Smartphone and electromagnetic fields
And the iPhone goes into a red beeping mode with 0.28 µT when you refresh Instagram or get mail or talk on the phone. At times of no internet activity and no calls, it is close to zero.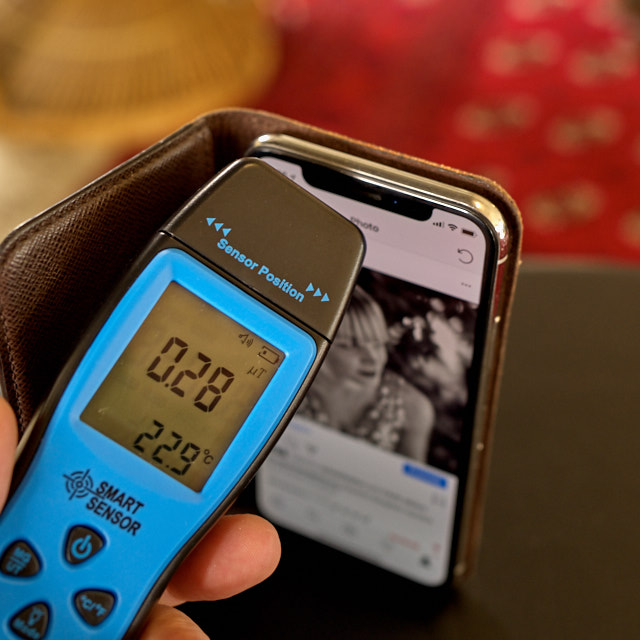 Instagram will frie your brain. The iPhone goes into a red beeping mode with 0.28 µT when you refresh Instagram or get mail.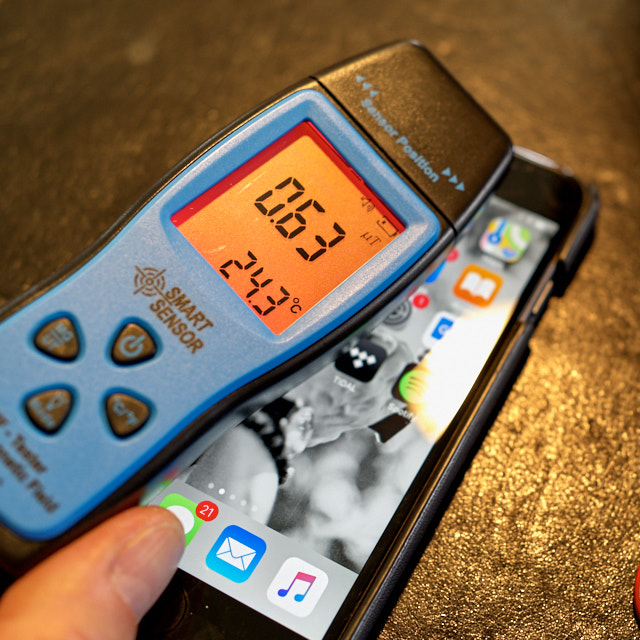 The iPhone goes up and down a lot too. Sometimes 0.28 µT, but in bursts it hit above 1.0 µT. Here it is 0.63 when I just activated the screen.
Keep a distance to smartphones ...
Somewhere on Apple's website it's recommended to hold an iPhone 15mm (2/3 inch) from the ear when using it, and we all know that nobody knows about nor does this. You can hardly use it to have a telephone conversation as it is.
Considering the smartphone these days is the device we are most likely to have near out body almost at all times, and perhaps at the bedside table at night to wake us up in the morning, this is the one piece of equipment I would reconsider the use of.
I checked my electric loudspeakers (that have amplifier and Bluetooth in them), and they were 0.00 µT.
WiFi routers and Electromagnetic Fields
Surprisingly my WiFi router didn't show much effect. Only really close to it, and only 0.39 µT in the very front of it.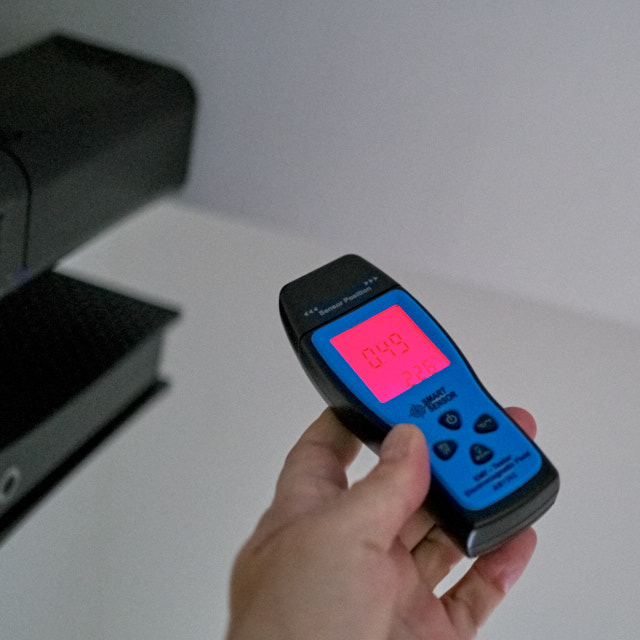 Only 0.39 µT from the strongest signal from the WiFi router was a surprise. I didn't expect it to be that low, and that is only in front of it. On the sides and back, there's hardly anything to measure. Some time ago we moved the router to a very high and remote location away from where we nomrally are. Just beacuse you have heard things. It works fine that way, so no reason to move it closer to where we spend our time. But surprising it was that a WiFi router is such a relatively weak electromagnetic field.
Buy one and test yourself
This is all fascinating, and it tells me that if I am to avoid electromagnetic fields (even if there is no scientific nor statistical proof that these are damaging), I should stand back from the Nespresso machine, and not keep iPhones on me.
The $33.00 EMF Electromagnetic Field Radion Detector Meter can be gotten from Amazon.
I could go on about measuring walls and where cables might run in the walls, and one could consider such as part of the design of a house. Also, where should powerful devices such as AC or water heaters be? And if one works in a kitchen, shouldn't the microwave be placed away from the most crowded areas?
Sometimes you wonder what the effect is of something, and then it's handy to be able to simply measure it. I forgot to bring it with me on the airplane yesterday. I'll try to remember it next time.
More to come...
I hope you enjoyed today's Story Behind That Picture, and if not surprised by the measurements, then you knew more than I before this little adventure in the household. As always, feel free to email me with questions, ideas and suggestions.
Perhaps, instead of focusing on what might damage or hurt us (which are often the things we seem not to be able to live without), I think more attention should be put on finding things that makes us happy and things that contribute to our goals in life – and then to expand upon that. Like reading real books, writing handwritten letters to people, being nice to people, finding a diner of café that makes delicious bread or a good cup of tea.
More reading: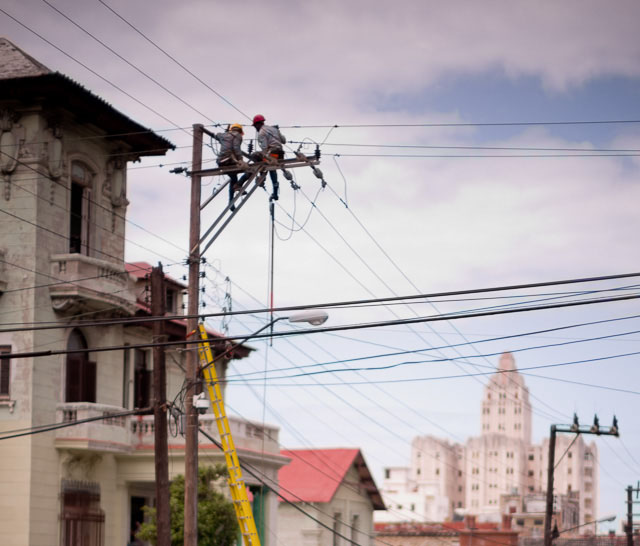 In many counbtires in Europe the cables are underground. Here it's Cuba where the cables are in the air, just like it is the case in many Asian counties, and the US.
Buy the new eBook
"Composition in Photography"
by Thorsten von Overgaard

Composition in Photography
- The Photographer as Storyteller

This book will inspire your photographic eye and make you wonder about all the possibilities you can now see.

In this exciting new book Thorsten Overgaard expands and simplifies the subject of composition. It's elevated from geometric patterns to actual storytelling by practical use of space, rhythm, time, colors, emotions and intuition in your photography.

- The Basics of Composition.
- Composition in the Third Dimension.
- Picture Stories.
- Accenturating with Light.
- Photograph as a Melody.
- Which lens are you?
- Fear of sharpness?.
- Vanishing Point.
- The most important
element of composition

- What is the unknown secret
why it is you mostly can't get
the Rule of Thirds to work?

- How does a camera see
differently than the eye?

- What does quantum physics and
photography have in common?

- What's the greatest adventure you can
set out on in photography these days?
- A Sense of Geometry.

Only $398.00.
Order now. Instant delivery.

864 pages. 550 Illustrations.

"It's your best work so far"

"I'm being gently led"

" I love this book!!!"

"The book is incredible"'

"It's like therapy for the human spirit."

"Beautiful and inspiring"

"Full of practical advice
and shared experience"

'I love how hands-on and
laid back Thorsten's witting style is"

"Inspiring"

"Intense and thought-provoking"

100% satisfaction of money back.