By: Thorsten Overgaard. June 4, 2019. Updated September 4,2019
Lens flare is when a strong light source make light bounce back and forth inside the surfaces of the optical elements in a lens.
I think lens flare is beautiful, and I always search for it in a lens. It's one of the first things I test a new lens for: "How does it play with the light?". I find that how a lens deals with flare is a very good indication of how it works with capturing the light overall. In modern lenses it's a no-no, it can be very hard to provoke.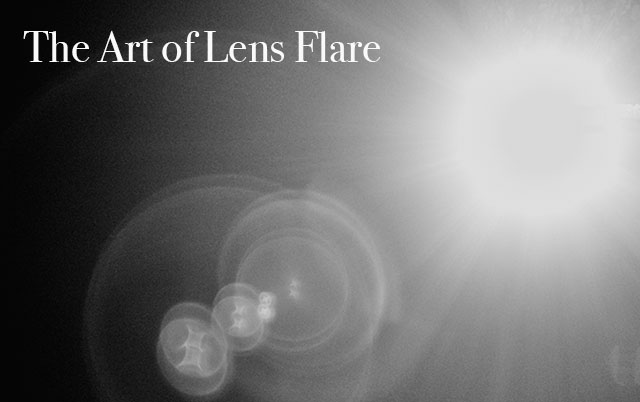 Leica 50mm Summicron-M f/2.0 lens flare. © Thorsten Overgaard.
Lens flare used to be a given in lenses, just like driving a car and a truck comes up from behind and get you strong headlights into you eyes via the rear view mirror. Then lens designers worked a lot on this and made lens designs that would suppress internal reflections; both the flare as well as other unwanted reflections that would cause the photo to 'milk out' and loose contrast and overall bleach the colors.
Mainly lens designers use coating of the surfaces, which is almost like an invisible paint or a thin layer of foil that grabs the reflections and kill them. Lens coatings are applied for this, but also to block specific color rays so as to get for example better skin tones.
Modern lens: Sunlight creating (fairly suppressed) flare in the bottom right quadrant of the image. In an older lens there would be flare all over this photo.

The camera moved slightly and the lens flare is completely gone. Leica 75mm Noctilux f/1.25.
To get lens flare, you usually have to find some older lenses without coatings. The good thing is that older lenses are usually less expensive, but not always. Some of the lenses I've used a lot to get lens flare is the Leica 50mm Summicron-M f/2.0 II 'Rigid' from the 1960's ($500 - $2000 second-hand) and the Leica 75mm Summilux-M f/1.4 from the 1980's ($3,000 - $4,000 second-hand). The Leica Noctilux f/1.0 and f/0.95 is also good at making lens flare ($4,000 - $10,500).
The ideal is a lens that can capture light really well, but also has lens flare. So it can't be a cheap plastic lens. But you can do a lot by having beautiful light on the subject. Most lenses can capture a photo well if the light is great. Clarity, definition of colors, apparent sharpness and detail all comes first and foremost from having great light on the subject. The flare then comes when you provoke a burst of light; and either the lens collapses or it can handle it. In other words, an excellent older lens is the ideal one for high quality flare.
How to provoke lens flare
You have to have a strong light source like the sun directly, or the sun peaking through leaves of a tree, or a strong reflection of the sun in a window somewhere. It can also be a street light, the front light of a car, or a spotlight in the background or above.
The best is a 'hidden' light source that peaks through from an edge. It can be in the frame, but often it is outside the frame you see in the camera, or in the very sides of the visible image frame, but obviously hitting the lens front surface strong enough to send reflections through it.
How to capture lens flare
Once you learn to play with lens flare, you get a feeling for it. You get an idea what will happen, and how much light is needed. How it moves and then suddenly goes away.
You may have the sun behind a person, and you take a series of photos where you move slightly to the side. The result will be some photos without any flare (the light source behind the person), then some photos with gradually increasing flare (the light source starts peaking out from behind the person), to some photos that are milked out completely (the light source is fully exposed to the lens and overtakes the photos with overwhelming light; or basically overexposure of the frame).
| | | | | |
| --- | --- | --- | --- | --- |
| | | | | |
| Too little | | About right | | Too much overflow |
You are literally working on the edge, so you can't expect to just take on photo and get it. You have to work it.
En electronic viewfinder if obviously a good tool to see and capture lens flare, but you still have to experiment a bit as the flare moves and changes so quickly with each little movement of the lens that you have to be fast on the trigger (or shoot in small bursts as you move the camera slightly).
The sun must be in front of the camera
Obviously, the sun or the strong light source has to be in front of the camera and not behind. It has to be so much in the front that it can hit the lens front and send strong light rays into the lens and create the desired reflections.
What technology gave us, and what technology took from us
Modern lens design gave us lenses that suppress lens flare, and then digital editing technology gave us software to create fake lens flare. Isn't that ironic?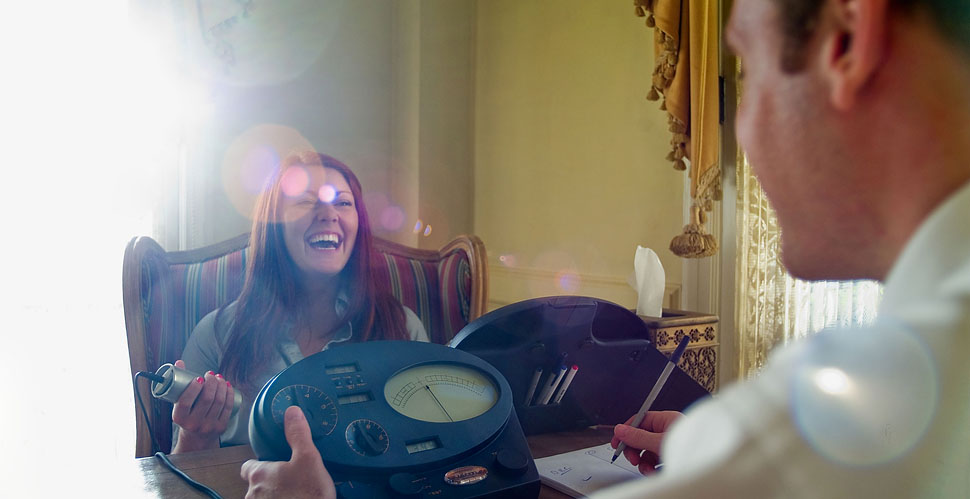 This is actual real lens flare using the Leica 19mm Elmarit-R f/2.8 Version I.
Lens flare in movies
I love movies and how big productions like Star Trek and Mission Impossible use lens flare as part of the visual expression. Sometimes they pick lenses that can create lens flare, at other times they create the lens flare digitally.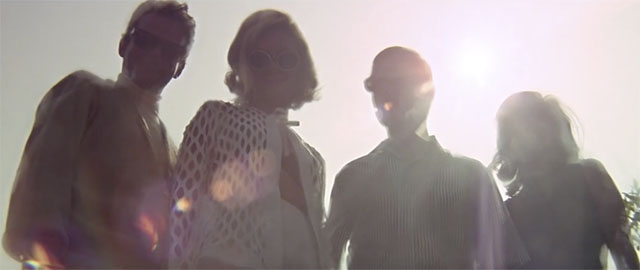 Lens flare in the movie, The Graduate (1967).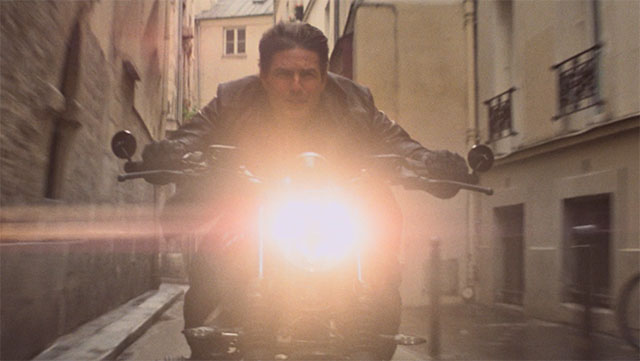 Lens flare in Mission Impossible Fallout (2019)

Lens Flare in Star Trek (2013). J.J. Abrams.
Lens flare addict
J. J. Abrams is one director who uses so much lens flare that even his wife has pointed out she can't see what's happening in the frame. He famously said, "I know there's too much lens flare ... I just love it so much. But I think admitting you're an addict is the first step towards recovery (ha ha)."
Not much chance that he will tone down the lens flare though.
What lens to use
The lenses I mentioned above may be a little on the expensive side. But any good old Nikkor or other lens from the 1970's or earlier can do the job, and even some modern 'cheap' lenses like the 7artisans 50mm f/1.1 ($398 from new) are designed in a way so they don't suppress flare.
A 'low light' lens like a f/1.0, f/1.4 or f/2.0 is usually the best to use. It has a large surface of glass in the front that can pick up 'unwanted light sources' and throw them back and forth between the lens elements. If you stop down the lens from for example f/1.4 to f/2.0 you may still have flares, but they will mostly change shape from blurry round flares to 'stop sign' shapes; smaller and with edges around them.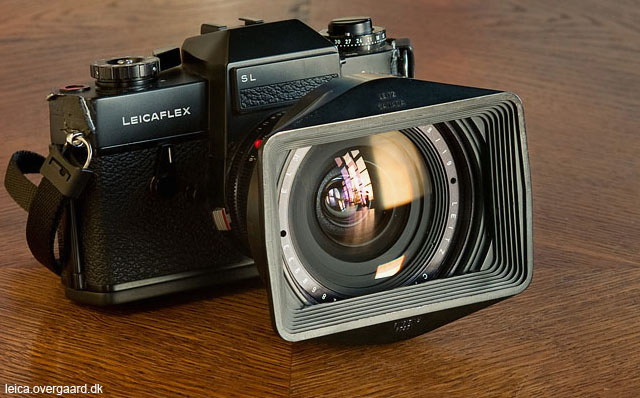 The Leica 19mm Elmarit-R f/2.8 Version I can produce great flare. Large front surface to pick up strong light from the edges, and an old design with none or little coating.
Optical effect outside a lens
Light traveling through narrow spaces, or being baunched or reflected off odd surfaces, tend to also create a flare-like effect that can be used.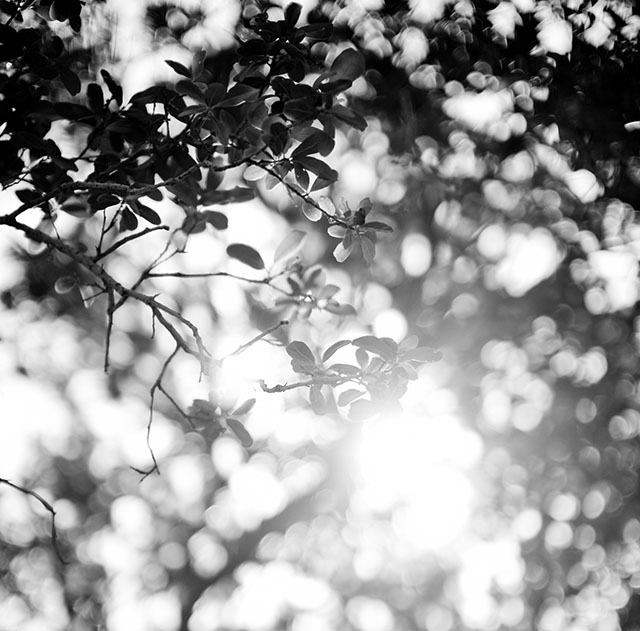 Light narrowed through a tree's leaves tend to create optical effects like flare.
Lens flare in the rain
Some times you get so lucky as to have a bit of rain on the front glass of the lens. Not enough to disturb the image, but enough to capture some odd light that becomes funny flares due to the raindrops (which are somewhat optic elements in themself).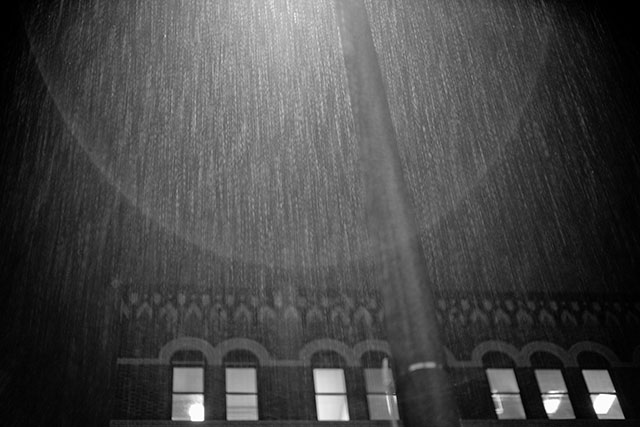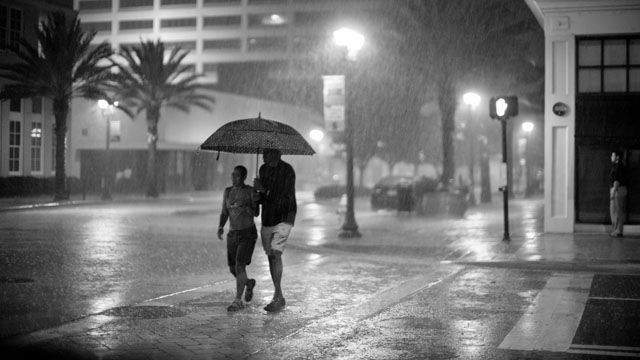 Heavy rain in Clearwater, Florida.
Definition of lens flare
Flare = Burst of light. Internal reflections between (and within) lens elements inside a lens. Mostly, flare has a characteristic "space travel" look to it, making it cool. Particularly in older lenses with less or no coating of the glass surfaces to suppress this, it can be a really cool effect. In newer lens designs, the coatings and overall design try to suppress flare and any reflections to a degree, so that there is seldom any flare to be picked up (moving the lens to pick up a strong sunbeam), but instead a "milking out" (or "ghosting") of a circular area of the frame; meaning simply overexposed without any flare-looking flares.
More to come...
I hope you enjoyed today's Story Behind That Picture. As always, feel free to email me with questions, ideas and suggestions.
Buy the new eBook
"Composition in Photography"
by Thorsten von Overgaard

Composition in Photography
- The Photographer as Storyteller

This book will inspire your photographic eye and make you wonder about all the possibilities you can now see.

In this exciting new book Thorsten Overgaard expands and simplifies the subject of composition. It's elevated from geometric patterns to actual storytelling by practical use of space, rhythm, time, colors, emotions and intuition in your photography.

- The Basics of Composition.
- Composition in the Third Dimension.
- Picture Stories.
- Accenturating with Light.
- Photograph as a Melody.
- Which lens are you?
- Fear of sharpness?.
- Vanishing Point.
- The most important
element of composition

- What is the unknown secret
why it is you mostly can't get
the Rule of Thirds to work?

- How does a camera see
differently than the eye?

- What does quantum physics and
photography have in common?

- What's the greatest adventure you can
set out on in photography these days?
- A Sense of Geometry.

Only $398.00.
Order now. Instant delivery.

864 pages. 550 Illustrations.

"It's your best work so far"

"I'm being gently led"

" I love this book!!!"

"The book is incredible"'

"It's like therapy for the human spirit."

"Beautiful and inspiring"

"Full of practical advice
and shared experience"

'I love how hands-on and
laid back Thorsten's witting style is"

"Inspiring"

"Intense and thought-provoking"

100% satisfaction of money back.