By: Thorsten Overgaard. January 26, 2019.
It was 7:00am and he had been up for hours. He had gone down to the corner to make a sketch for a painting.
He didn't need to color it, he would just make notes about which color numbers to mix, that would be it.
He waited another five minutes; and now he saw the ideal light on the walls of the old Parisian building. It was a light blue color, but with a yellow foundation too, giving it that special early morning blue light with the warm sunlight's reflection. There was an open window and warm yellow light inside.
He worked the sketch for another twenty minutes. He liked early mornings.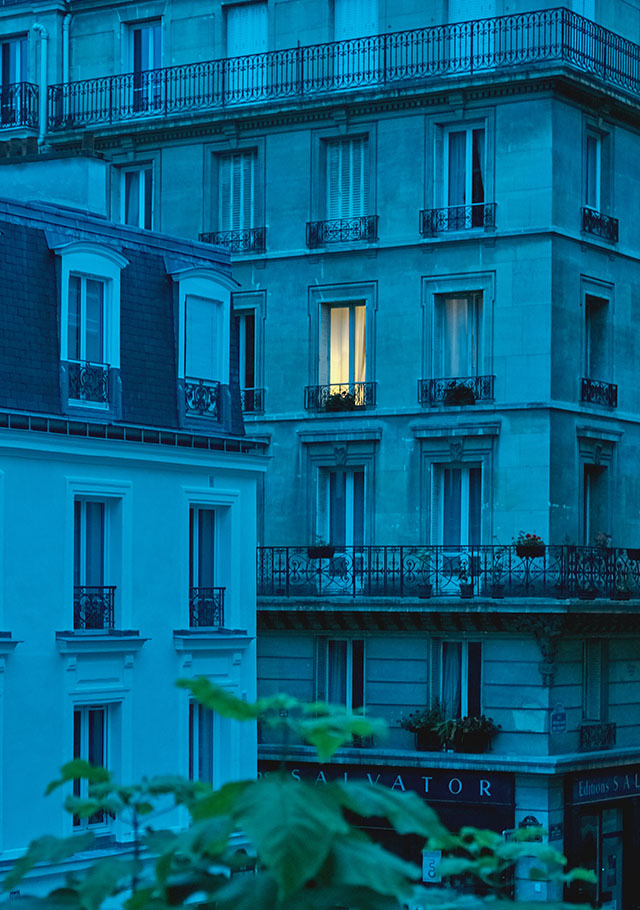 People had this idea that artists get up late, and maybe it was true that many of his colleagues slept until later in the day.
He liked mornings, the fresh day and the rapid change of light and life during the first hours. He would go for a coffee and then to the store to buy paint when they opened at 9:00am.
It had been a long day; a productive day. He decided he would go to sleep at 10:00am. Just straight home and to bed, set the alarm for 5:00pm and get to work on the painting. It would be done before the next sunrise.
Tomorrow would be a productive day too...
New Lightroom Survival Kit
for only $498

270 pages on how to set up a photography workflow, from calibrating the screen to editing in Lightroom, and printing. How to deal with Lightroom CC vs. Lightroom CC Classic. How to organize files, back up, clouds, use DAM (Digital Asset Management) catalogs and Photoshop.

Read more here

Video tutorials, image test files, presets, checklists, definitions, tutorials of Lightroom and Photoshop that boils down years of experience to a workflow you can implement in less than one day.

10+ years experience in one package

Why spend years figuring out the smartest way to do things when you can tap into the best way of doing things? My workflow has been refined through years of field work.


Professional workflow experience made simple, logical and easy to use.

Update for only $198

Update your Lightroom Survival Kit to the new
Lightroom Survival Kit for only $198.
You get a complete new installation. Order here.




Only $498.00

Order today.
Instant delivery.

Now comes with
FREE Leica Presets
for Lightroom
by Thorsten Overgaard
($68 value)

Full satisfaction
or money back.


Compatible from Lightroom 1.0 to Lightroom Classic CC version 8.2.
I hope you enjoyed today's Story Behind That Picture which was a story I wrote in my notebook when in Paris. As always, feel free to email me with questions, ideas and suggestions.