By: Thorsten Overgaard. January 5, 2019. Updated March 5, 2019.
Is now the time for Solid State Drives?
The short answer is yes. For travel and anything where you would want to be able to organize things quickly, SSD drives are a very cool thing to have. I've used a few and here is the short run-through.
One of my considerations in recent months comes from my lack of enthusiasm for Apple products. Remember when we used to visit an Apple Store and no matter what happened, it was awesome?
It's not like that anymore.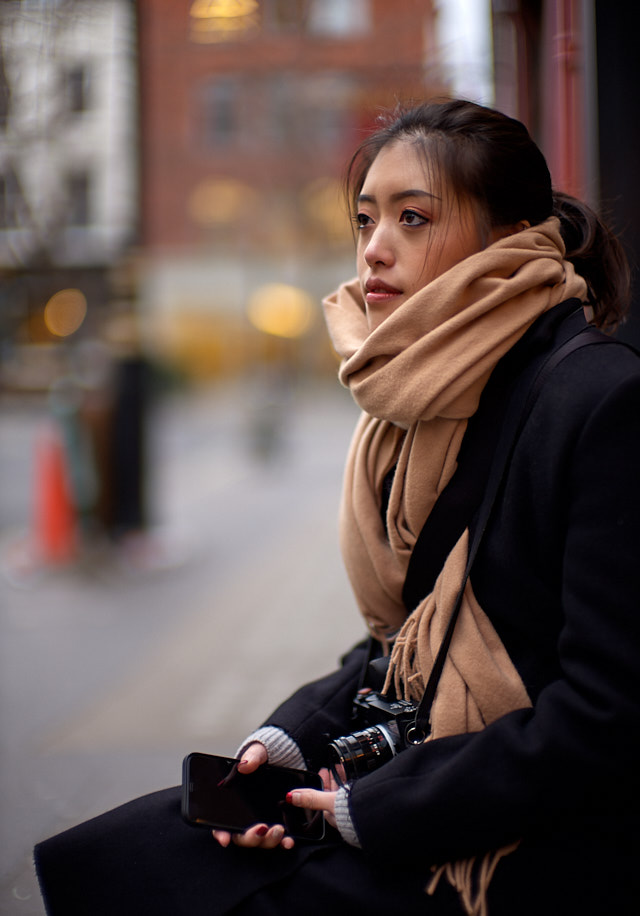 Ms. Anyamanee in London. Leica M10-P with Leica 50mm Noctilux-M ASP:H f/0.95. © Thorsten Overgaard.
Time to breathe
Whenever I think about how Apple isn't making the coolest things anymore, about how difficult it is to get anything repaired quickly, and about how their keyboards just don't work; or whenever I think about the main fault with their current strategy, or their CEO Tim Cook ... my Apple Watch suggests I take some deep breaths (based on my rapidly increasing pulse). Sometimes it also suggests I stand up for a while.
Everything to keep me calm and composed.
It's right. Not much gained by grinding over the lost paradise. Instead, I ask myself, how can I make things better for myself by rethinking the way I do things?
I want portability, simplicity, speed and scalability
I considered a few strategies for storage, which you can see below. In all strategies, one external drive is for backup only. I always have a backup of my travel archive, and I always keep my original drive and my backup drive in different bags.
The $5,500 solution with 9TB of space: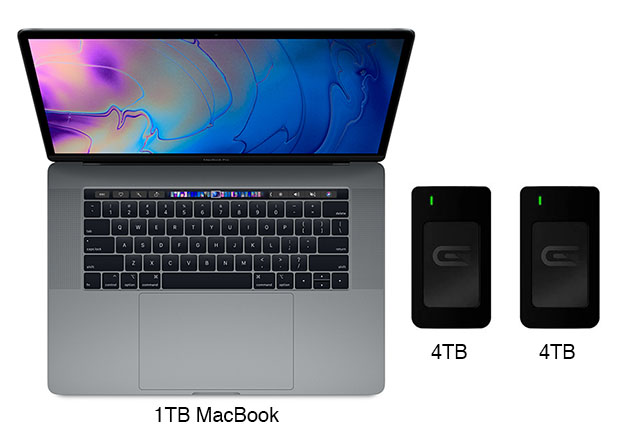 If you have the discipline to import, finish and export your photos to external archive drives without leaving a lot of unfinished work on the computer, you can do with a 1TB drive on the computer and invest in really fast and really big external SSD drives.
The $4,500 solution with 5TB of space: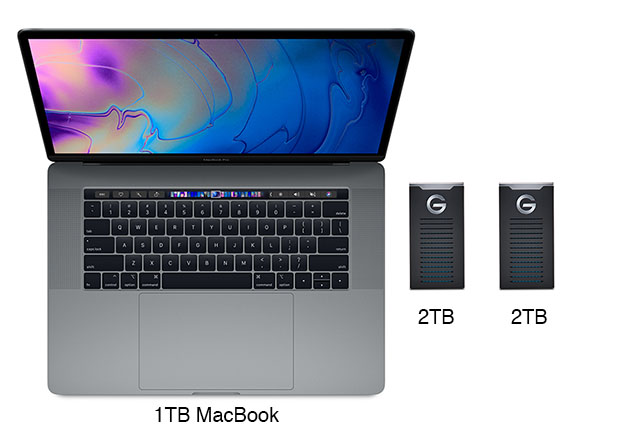 If you don't need a 4TB external drive, you can save a little by going with 2TB SSD drives.
The $8,000 solution with 8TB of space: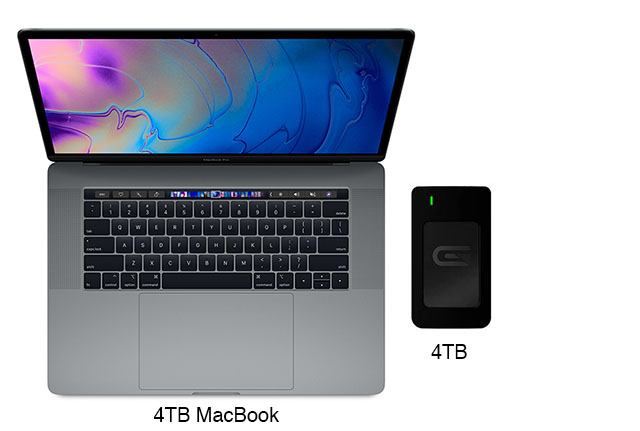 There's no better way of burning money than by spending it on the not-very-innovative and rapidly-fading Apple Computer. Each 1TB costs $1,000. And, if you are dripping in money the convenient solution might be to just leave things "organized" on a 4TB hard drive on the computer and get a 4TB external SSD raid for backup. It's the simplest solution, but just doesn't feel right.
The new way to do it is to move things around
Don't keep everything on the computer. Import to the computer, work there until you have finished it, then move it to an external archive. I'm talking photographs, of course. I generate a little over 20TB of photos a year, so that's what I move through the computer. For every month I'm on the road, I need 2TB of storage space where I can put things until I'm back home with the main archive.
The amount of data we store, move around and travel with has been growing over the years. The storage of things itself is not an issue, as a 10TB hard drive these days cost the same or less than a 120GB hard drive did when that was the biggest drive you could get.
But re-organizing files, moving things, backing up, and so on now involves such large amounts of data that it takes more time. Even 20 minutes of copying seems like forever once you've gotten the taste of how quickly SSD drives can get it done.
It's time to reconsider how we work.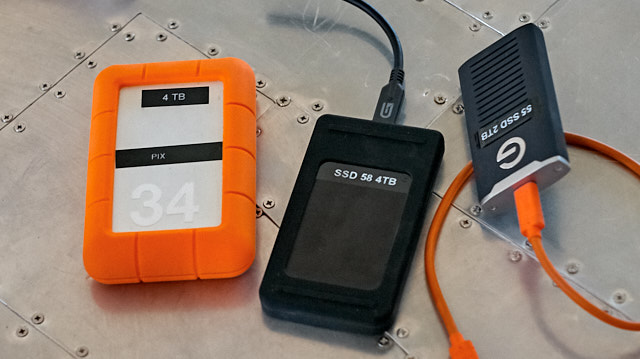 4TB LaCie portable hard drive, 4TB SSD raid from Glyph and G-Technology 2TB SSD. © 2019 Thorsten Overgaard.
Need for speed - How long does it take to copy 67GB
Here is the test speeds of how long it takes to copy 67GB if image files.


Device
Price
per TB
Type
Specified
MB/sec

Thunderbolt 3
USB-C
3.1
Gen 2
USB-C
3.0
USB
2.1
MacBook Pro 15" 4TB
Buy from BH Photo or Amazon
$1,000
SSD
2400
0:11*
Glyph 4TB raid portable
Buy from BH Photo or Amazon
$250
SSD
Raid
2800
1:35
2:07
G-Technology 2TB SSD portable
Buy from BH Photo or Amazon
$250
SSD
700
3:29
LaCie 4TB portable
Buy from BH Photo or Amazon
$40
HD
130
12:40
24:10
LaCie 20TB raid desktop
Buy from BH Photo or Amazon
$55
HD
Raid
440
5:04
LaCie 10TB desktop
Buy from BH Photo or Amazon
$50
HD
240
8:20
Other World Computing 8TB SDD dekstop
Buy from BH Photo
$625
SSD
2800
1:44
Angelbird SD-card 128GB
Buy from BH Photo or Amazon
$1,400
SD
300
8:40
The short buying advice is: Buy LaCie 20TB raid for home storage and Glyph 4TB raid SSD for travel.
As a side-note, you could consider storing things in a cloud. But moving 67GB from a cloud to your device would depend on fast and free internet. Even with 500+ mbit fast internet connection, getting 67GB down would take 1:30:00 or longer. Compared with 00:01:13 to do the same task on SSD.
Formatting as ExFat
I have started formatting my discs for use with both PC and Mac so as to be ready to use PC in the future. Formatting as ExFat will allow to use the same drive for PC and Mac. (Don't use MS-DOS formatting as it can't handle drives bigger than 2TB).
Fixing drives
The drive can go corrupt if disconnected too many times without being ejected first. The directory goes wrong. Asd the Glyph cable (and possibly other cable) doesn't sit that well in the computer, replace it with a new one. The cable you should be using for fastest transmission is a USB-C 3.1 Gen 2 cable, and it shouldn't be linger than two feet maximum.
If the drive goes corrupt, the computer will usually tell you that you should back up, and you cannot write to the drive. You may be able to fix the directory with Disk Utilities or Disk Warrior or other.
What can you use this for?
Look at the numbers and your workflow. What is most convenient, what makes the most sense now and in the next months or years? If you need to copy or work extensively on your computer, the built-in SSD disk on the MacBook is brilliant. * The short lapse of only 11 seconds can duplicate 67GB of files internally on the SDD disk of the MacBook.
If you put things away into archives with not much need to copy large chunks back and forth, the desktop hard drives are cheap at only $50 per TB.
For moving stuff back and forth, doing backups on the road, the LaCie portable hard drives offer good value for the money at $50 per TB, but if you want to be able to move, reorganize, backup and store quickly, the Glyph raid SSD offers the best speed.
I once considered using SD-cards for storage and backup on the road, as they would get bigger and they're very portable. But it's too expensive and slow to do so. Technology in this field is also slow in development.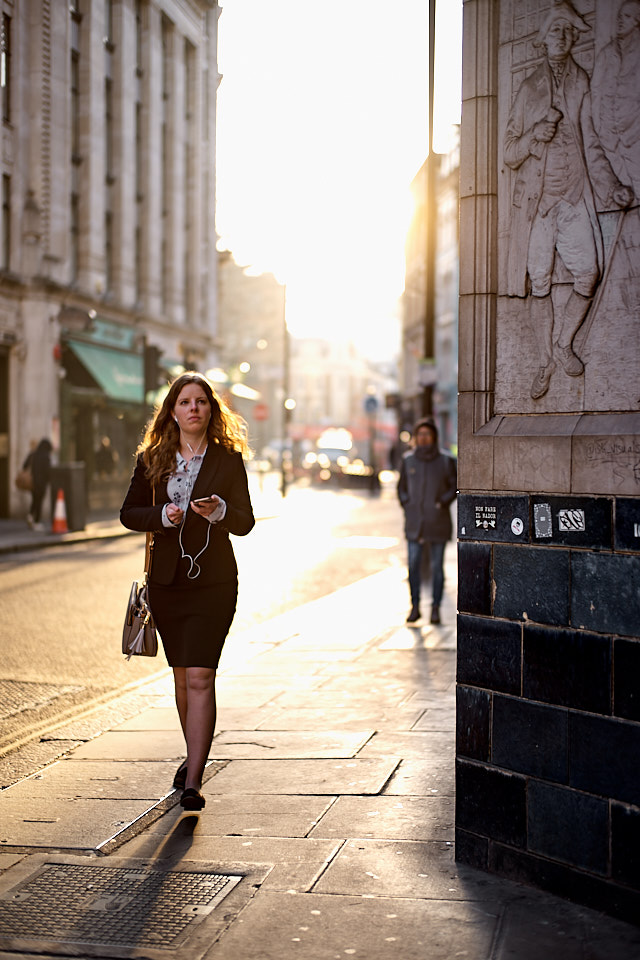 London. Leica M10-P with Leica 50mm Summilux-M ASPH f/1.4 LHSA. © Thorsten Overgaard.
Price of SSD has been halved in the last two years
While a Glyph 1TB drive was $1000 in 2016, it is now 4Tb for 1,000. Without having to take out a calculator, you can figure out that in 2020 it will be $1,000 for 8TB, and in 2022 the price per TB in a SSD drive will be in the range of portable, non-SSD hard drives today ($60 per 1 TB).
My strategy in buying SSD is to buy the largest ones available. This is because the reason to upgrade a hard drive is usually that you wanted a larger drive. A 512GB or 1TB drive is simply going to seem ridiculously small in a year or two. So far, I have replaced my portable hard drives every 18 months on average, and it's always been the availability of new, larger ones, that prompted me to buy.
The faster the drive, the less space you need
An interesting thing I noticed is that the faster it is to move data, the more likely is it that your strategy changes. For example, I had 800 GB of image files that I moved off the computer to a folder titled "TO DO" on an external SSD drive. The whole operation took just 10 minutes to do, and would have taken 1-2 hours on a traditional drive; which I never would have even attempted.
With slow drives you tend to not want to move things around but keep them in the drive, just in case, or simply because it's too much work.
I didn't expect this but that's how my thinking changed. My computer becomes more of the workspace I always wanted it to be: Put on the table what I want to work with, finish it and put it in the archive. Then take the next thing. The faster you can move data, the faster you work and think.
Once you get the ability to transfer anything with speed, you can also easily move and review what you've already got. Your view on what you need to have on which drive changes. For me, I dumped 1.5 TB of movies that I can anyways download from iTunes whenever I need them. Or easily transfer onto an external drive if I go on a longer trip and don't want to depend on wifi. My music was surprisingly only 250GB, and I only use that for synchronizing the iPhone. So I could leave that at home, or put it on the computer or an external drive.
I don't know why I didn't think of that before. It was stuck on an external drive because it was such a large amount of data to move. With the ability to move large data quickly, my view on what I need has changed; and I can easily shuffle things around as I need to.
Moving large archives of jobs that I might need for something was such a lot of work that once I had a copy on a disk, I wouldn't let go of it.

London. Leica M10-P with Leica 50mm Summilux-M ASPH f/1.4 LHSA. © Thorsten Overgaard.
Don't buy for the future, buy for now
I try to figure out my workflow with some prediction of the future. Portable hard drives I expect to change every 12-18 months, desktop hard drives I expect to change every three years (with a rolling replacement; because I don't change all of them every three years but add new drives and move the oldest ones out maybe every six months. This way I can roll over changes from, for example, Firewire 3 to the next generation; always having my most recent work on the fastest drives). I also know that changes in technology usually happen faster than what I would predict.
As a general rule I don't "invest in the future" by buying the most awesome and expensive, or buying a lot of disk space I don't need yet. Technology will change before I get to utilize the space and awesomeness, so better buy what makes sense now and be ready to upgrade.
Portable drives I tend to replace for larger ones, rather than anything else. This speaks for buying as large drives as possible, since they would last lost longer (as they fulfill your storage requests). Then again, if SSD space drops 50% in price every two years (and the units will be more and more compact), there's no point in "investing in the future" by buying a lot of extra space.
I hope you enjoyed today's Story Behind That Picture and I hope too that it gave you some useful information on how to reorganize your hard drive storage. As always, feel free to email me with questions, ideas and suggestions.