By: Thorsten Overgaard. April 9, 2020
Gets better with time
Sometimes photographs become better with time. This is one I didn't care much about, but then ten years later, I changed my mind.
I forgot what I was trying to do, but the expressions and reactions in the photograph weren't pleasing to me. I recognized there was something about it, but it wasn't what I had hoped to make when I took it.
The staff having lunch outside the restaurant weren't supposed to react, but they did. Now, ten years later that is probably what makes the photograph arresting to look at. "What is going on?" you wonder, while your eyes go from the girl crossing the street to the faces by the table, then back to the girl to solve the mystery.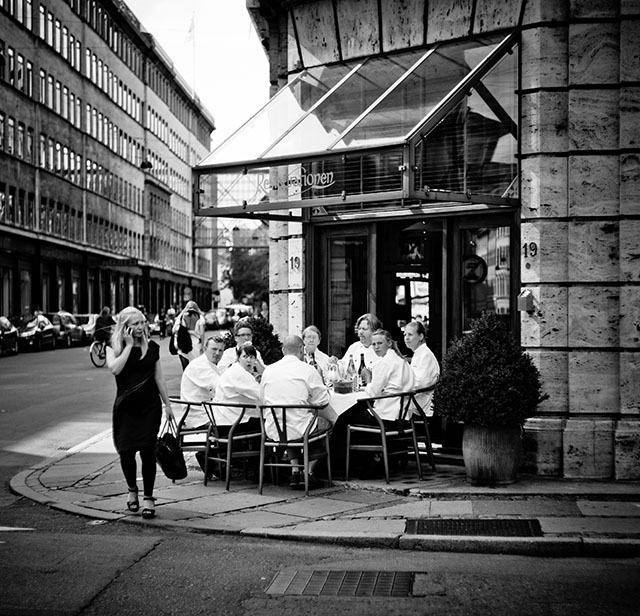 Leica M9 with Leica 50mm Summicron-M f/2.0 II (1956). © 2010 Thorsten Overgaard.
Please, don't look
The story behind this photograph was that I was walking to a café to meet with a Danish writer I was photographing. I always wear a camera, so when I saw the uniformed staff from the restaurant, I wanted to make a cozy photo. The background was not optimum, and I didn't want them to discover me and look at the camera.
So in that sense, everything went wrong.
But then I found it in the archive, posted it a few times, and the reactions made me see it in a new light. It's actually quite an interesting photograph.
I find that while some photographs become irrelevant after a few hours, days or weeks (news photographs particularly), other photographs become historic, and as such are valuable to look at.
Never delete anything
I have the rule that I never delete anything from the camera or from the hard drive: I simply focus on finalizing what is good, and the rest I leave on the disk. Maybe one day it becomes relevant or gets another significance; but mainly it's a waste to spend time deciding what is bad enough to delete. Focus on what works, forget the rest. But don't delete anything.
More to come ...
I hope you enjoyed today's Story Behind That Picture. As always feel free to email me with ideas, questions, suggestion.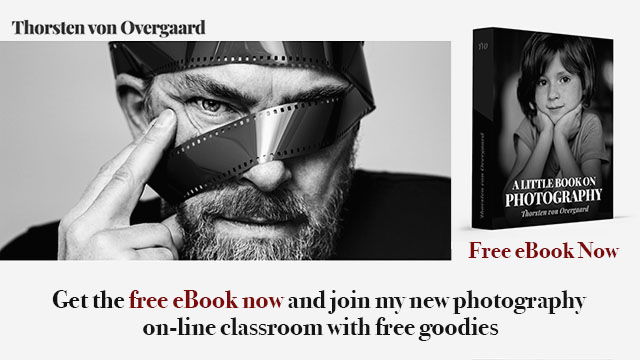 New eBook from Thorsten Overgaard:

"The Portrait Book
– How to Make People Look Beautiful"

"Love the book.
Very insightful and very well done"

"You are my favorite author"

Questions answered in this new eBook:
- What's the secret behind Mona Lisa?
- How do you make anybody look beautiful?
- What is the right timing for portraits?
- What do you say to the people?
- How to photograph your spouse?
- How to edit portraits?
- What is the one right thing in all portraits?
- How to do research for portraits?
- What is the secret to light in portraits?
- Which lens to use for portraits?
- What is the composition rules for portraits?
- How to photograph children?
- Who should I photograph?
- How to do street portraits?
- and more...

Buy Now. Instant Delivery.
Only $298.00
578 pages.
Released April 5, 2020

#1905-0119

100% satisfaction or money back.