By: Thorsten Overgaard. August 10, 2019
Being the husband of Joy Villa
I used to have my own life, but then I got a wife, and then she became a celebrity
Some might not like if their wife becomes more popular or become more than them self. I never thought of it like that. I see man and wife as a unit that work together to conqueror the world, and a couple is stronger than an individual.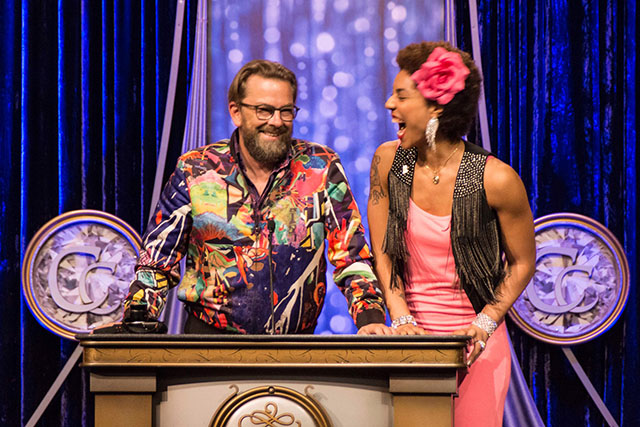 Thorsten and Joy.
Today is our seven-year anniversary
If you ever wondered, how did we meet, the answer is that we met for a photo shoot in New York. Joy say's that a voice in her head said "That's him", and I basically took advantage. I kidnapped her and took her around the world. I clearly recognized a sunshine princess when I saw her. And if there was ever a love story that started with "You had me at 'hello'" it was this one.
Being very different, we seem compatible and communicate on a unique wavelength. Joy is the outburst that is all over the place, I am the reserved craftsman. We support each other, and complete each other.
How do I keep this wild woman contained, you may wonder? I use dry humor and a stubborn approach to dealing with things. We drag each other in our own ways, and somehow that keeps us on the same road.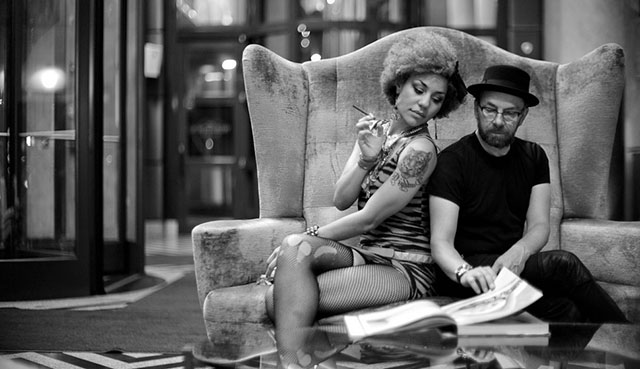 11th of August 2012 in New York, the day after we met.
Getting recognized
But getting to my thought on this, which is that we each have our own careers and in my wife's world she overshadows me and I'm simply known as "The husband of Joy Villa?". For most of my readers, that may seem strange, because most of you know Joy as the bonus in meeting me. The muse, the girlfriend, the pretty girl with a sharp mind.
Being known yourself, and having a well-known wife creates those awkward moments where people recognize you, but you're not sure until they speak whether they recognized you, or the fact that you are your wife's husband.
As time has gone by, Joy Villa has become her own brand and she has more followers than I have. Just in the last month she was visiting the White House and was commended by the president. She filmed her first feature film where she is the lead (it comes out in 2020), and Epoch magazine featured her on their cover. Sure there's been more happening, but these are a few of the highlights.

Joy Villa is the lead in The Contrast that is out in 2020 . Leica M10-P with 7artisans 50mm f/1.1.
2nd violin
I thought about this the other day. I don't mind being "The husband of Joy Villa". On the contrary I'm proud to see my wife flourish and prosper. Meeting with the president, being on television, becoming a number one Billboard artist with her music and even being on stage and getting a prize in a Women's Bikini Fitness competition.
She grows, I grow. I grow, she grows. There is no limit to how much success a couple can have; it doesn't have to be divided, it can be doubled. In our relationship, she has always been the star out there, and I the withdrawn one. No competition.
How to keep it together
A few years ago we rearranged schedules so that we would travel less (we traveled almost every day of the year, actually). We wanted a base to work from, and in particular for Joy to work from. A few lucky people have experienced workshops where Joy participated in the workshop as a model, but otherwise she's too big of a star to get on the road.
We try to coordinate our efforts so that we are in the same space, as much as possible. I think it's a unique gift being able to plan my own life and set my own schedule, so why not make it as ideal as possible? It's perhaps easier said than done, but this should be the ideal.
As we have both grown, the amount of traffic in terms of emails, twitter feeds and all has risen to tremendous heights. We hardly are up to date with each other's Instagram pages. Well, that is not true, by the way … Joy sometimes has no time to look at my Instagram postings, and I doubt she's read my last three books … but even though she has many more followers and likes, she still insists that I view and like her posts!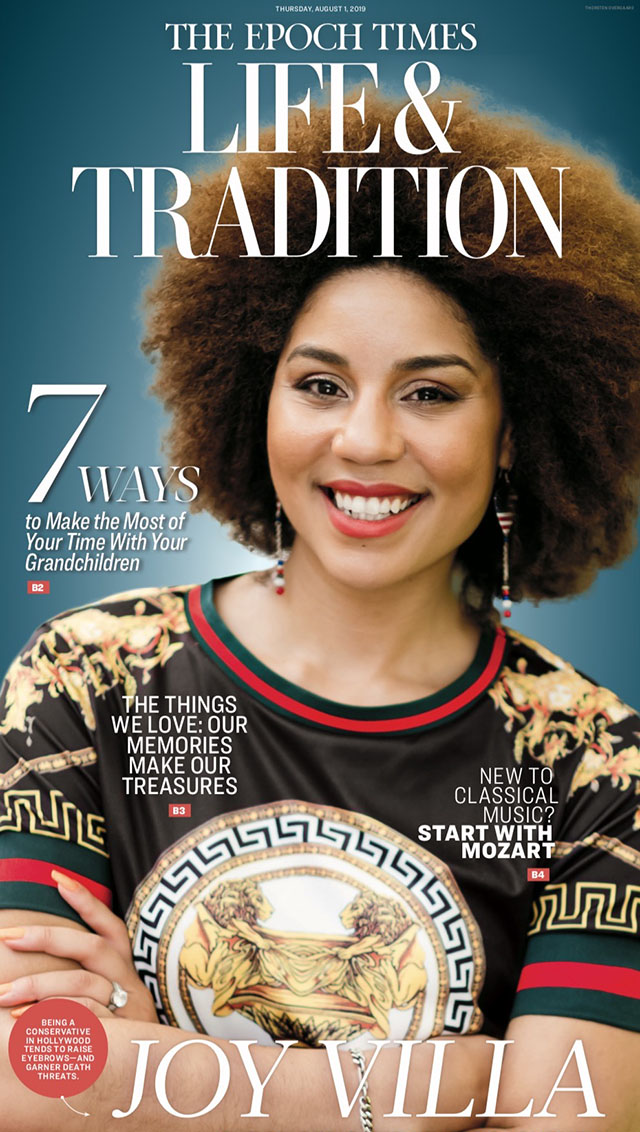 Read the interview with Joy Villa in Epoch Times.

You ever fight?
Yes, maybe 5-6 timers in the last seven years we've had disagreements. We don't talk for some hours, and I will be fuming with my back to Joy in bed, and I'm sure we will never speak again. Then I wake up with a hand around my chest, and Joy kisses me and whispers in my ear. And that is the end of that.
When I travel too long Joy will occasionally demand I get home, and once I do, she may try to make me promise never to be away for too long.

Joy Villa and Thorsten von Overgaard by Ray Katchatorian.
What do I think of politics?
I actually don't think much. As a Dane, I have no influence nor voting rights in the US, so I sort of take a backseat in this arena. I am very interested in the subject of running a country. But the political process and all of the US politics I can (thankfully) disregard and just watch as an audience.
I've always been tremendously interested in The White House for some reason. Ted Sorensen, the speechwriter and special counsel to John F. Kennedy was a good friend. I have photographed both Bill Clinton and Donald Trump. I've read a lot of books about people in the white house, from Presidents to Uniformed Secret Service and the White House Ushers.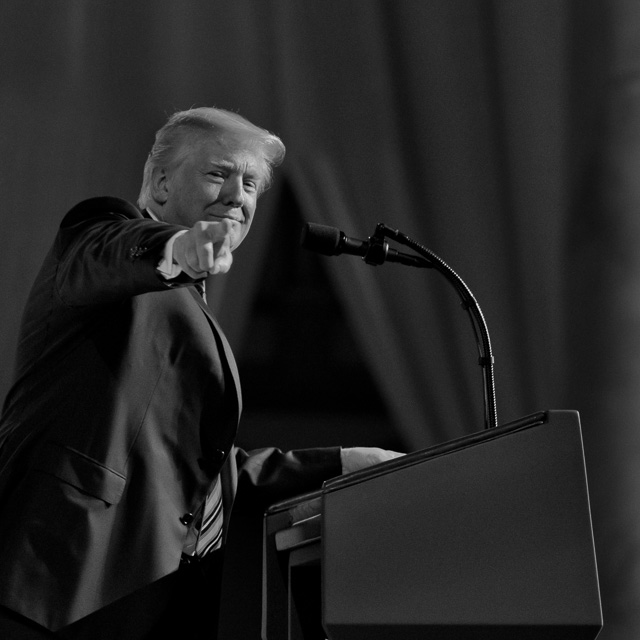 My portrait of Donald Trump.
Being a couple
I think it is a strength to not be the same. In our case, we are on different projects overall with a few overlaps, but our method of working as artists and communicators is very much the same. We inspire each other, and we get responses from each other. We make it ourselves, but we make it together.
Today it's exactly seven years ago we met and I kidnapped Joy Villa.
Love is mutual admiration.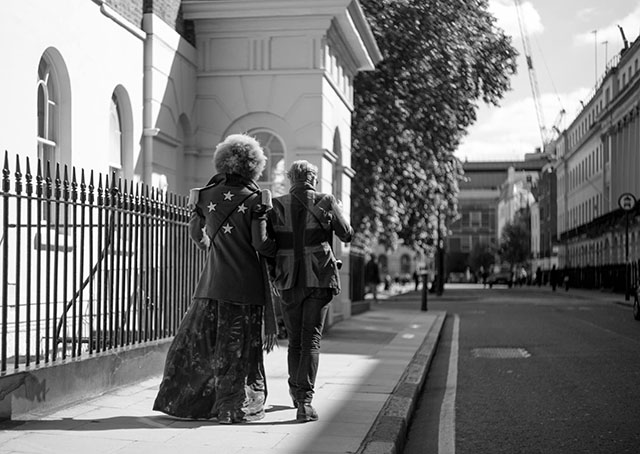 In London. Photo by Barrie Gledden.
Buy the new eBook
"Composition in Photography"
by Thorsten von Overgaard

Composition in Photography
- The Photographer as Storyteller

This book will inspire your photographic eye and make you wonder about all the possibilities you can now see.

In this exciting new book Thorsten Overgaard expands and simplifies the subject of composition. It's elevated from geometric patterns to actual storytelling by practical use of space, rhythm, time, colors, emotions and intuition in your photography.

- The Basics of Composition.
- Composition in the Third Dimension.
- Picture Stories.
- Accenturating with Light.
- Photograph as a Melody.
- Which lens are you?
- Fear of sharpness?.
- Vanishing Point.
- The most important
element of composition

- What is the unknown secret
why it is you mostly can't get
the Rule of Thirds to work?

- How does a camera see
differently than the eye?

- What does quantum physics and
photography have in common?

- What's the greatest adventure you can
set out on in photography these days?
- A Sense of Geometry.

Only $398.00.
Order now. Instant delivery.

864 pages. 550 Illustrations.

"It's your best work so far"

"I'm being gently led"

" I love this book!!!"

"The book is incredible"'

"It's like therapy for the human spirit."

"Beautiful and inspiring"

"Full of practical advice
and shared experience"

'I love how hands-on and
laid back Thorsten's witting style is"

"Inspiring"

"Intense and thought-provoking"

100% satisfaction of money back.