By: Thorsten Overgaard. March 21, 2015
No matter how much you get published, nothing beats the feeling of opening the newspaper and see your own photograph in print
I sold my first photograph for $900 to Ogilvy & Mather advertising agency when I was 15. I still remember how I was admiring my photo in the newspaper each and every time they used it.
Most photographers will admit with childish delight how they have driven through a city at night to admire a poster or billboard using one of their photos. Or stayed up late to catch the first of tomorrows newspapers when delivered to a newsstand after midnight.
Just to sit and drool over their own photographs in print.
Writers do the same. Things just look so good when published. The context makes the difference. Even it is a well-known photo for you, seeing it on print is like seeing your own work from somebody else's viewpoint. Even if you finished writing an article late in the evening before deadline, seeing it in print next morning is bliss. "I did this?" you ask yourself.
It's a great feeling knowing that you did.
Validation.
A few days ago there was an envelope with a German magazine. I wondered why I had gotten it, but then realized it had one of my photos in it.
I have a lot of photos I have only seen on statements of picture sale. Usually it is too late to get the actual magazine that has already been replaced by the next issue. This German magazine I would never have gotten, not a chance. It was a nice gesture of them sending it.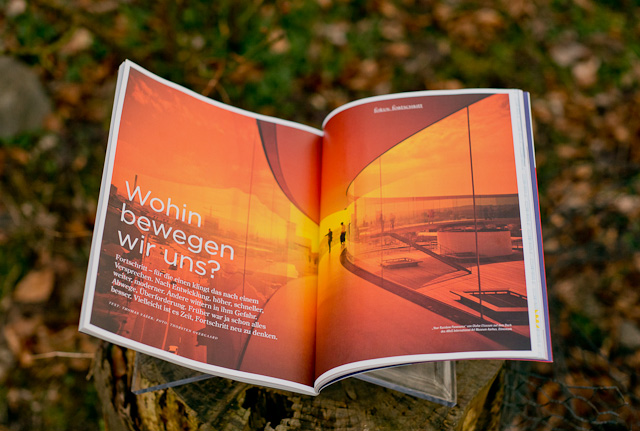 HOHE LUFT Philosophie-Zeitschrift with my photograph over two pages.
They contacted me some months ago that they would like to buy a picture they had seen on my website. They asked if I could send an original file and an invoice of €600. I could.
I happens fairly often that someone wants to use a picture they have found on my website. Some photographers don't post pictures on social medias or forums out of fear for copyright infringement. Some use Adobe Flash to design their websites so people can't just copy their photos easily.
I don't agree. If people can't find your photos, they can't buy them. Adobe Flash websites are slow to make and Google can't index photos from Flash websites, nor is there any keywords to be found for the Google indexing machine (you have to make a separate file on the website for Google to index - which few take the trouble to make).
I have mentioned earlier that I get pictures "stolen", but mostly it is someone in a larger company who forget to fill out a form. It's easy to send an invoice later, and the normal fee for copyright infringement is double the price.
Anyways, that was not the case here. The HOHE LUFT magazine asked nicely, paid on time and even sends me a printed magazine.
God bless them!
As always, feel free to mail me comments, suggestions and ideas to thorsten@overgaard.dk
Thorsten Overgaard