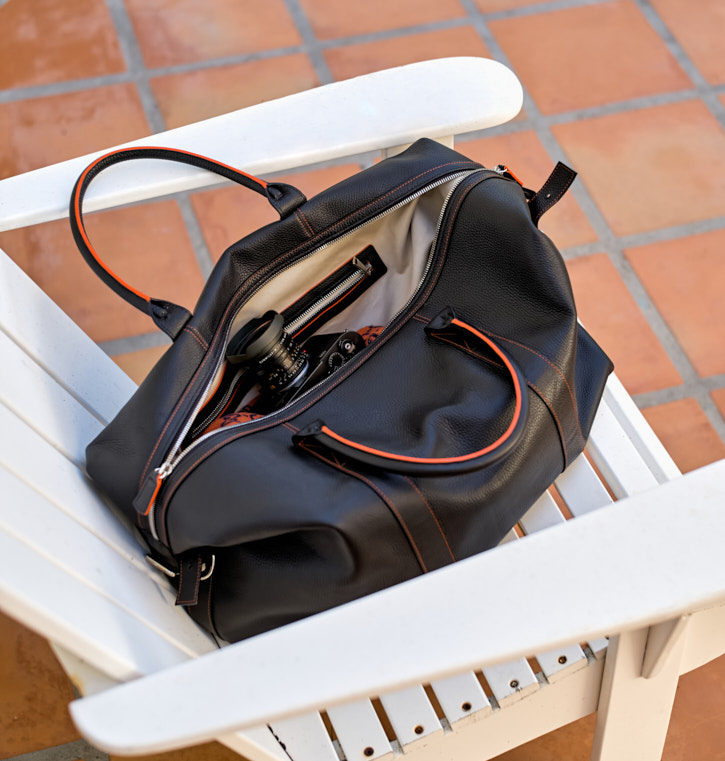 A travel bag, for photographers. Soft Italian leather on the outside, with orange edging, soft alcantara on the inside.
"The Von 55" Duffle Bag - A Weekend Travel Bag
The Von 55 is the bag that you don't need, but is handy to have. Sometimes you need to pack a bag to go somewhere, and that's what the The Von 55 is made for.
A simple and flexible bag with attachable (and adjustable) shoulder strap made of the same soft Italian calfskin as the bag. The Von 55 is made in a quality to die for that will bring a smile to your face for many years to come.
As well-made and beautiful inside as outside, and with a zip pocket for the small bits and pieces.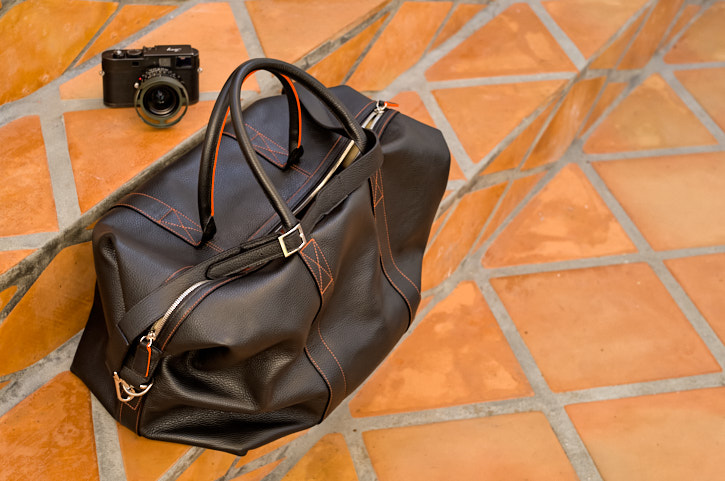 The Von 55 in black is a flexible bag. Light-weight to take with you as extra bag, packs quite a lot in the 28 x 28 x 58 cm space it expands to. Very casual looking, understated perfection - and it gets better the more you use it!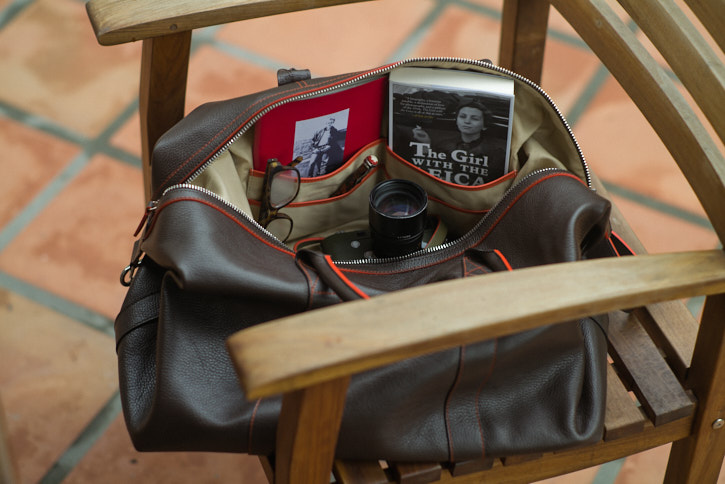 The Havana Brown edition of The Von 55. The bag has four large pockets inside hat fits chargers, books, notebooks, iPad and similar items. These pockets are the same as in other The Von bags, which is flat pockets what doesn't take up space when not in use, but expands to hold whatever you need to keep in place.
I like simple things
| | |
| --- | --- |
| | |
| | Our Italian artisans in Verona, Venica and Milano are part of family workshops which have been doing leather work for generations. |
The simpler it is, the harder it is to make. To obtain the exact design, style and usability I wanted, we had to continue to work on the details. "It's ready when it is right," was the slogan through countless prototypes, drawings and tests of "The Von" bag which was first introduced in 2017, and subsequently tested through my travel to more than 50 countries since.

In most product designs these days, there are a lot of useless things added which complicate, or there are ways of doing things the wrong way for the right reasons. Things are seldom put to test in the real world by the people the product was intended for.

The sole reason I make camera bags, desk blotters, camera straps and other products was always that I wanted something done in a certain way, and it didn't exist. So I had it made for me. As a general rule, I want simplicity, and it has to have out-of-this-world quality at the same time. And if something is awesome and works, it has to last for a lifetime. That's the simple philosophy.