The Story Behind That Picture:
"Talent – dream of dreaming dreams"
By: Thorsten Overgaard [In Danish]
It's the talented artists who dream our future. That's why they are important to all of us.
In editing this years thousands of shots from the Copenhagen Fashion Week, I found some pictures particular inspiring. On more than one level, because what they seemed to have in common was that they were about talent. And here are a few of them.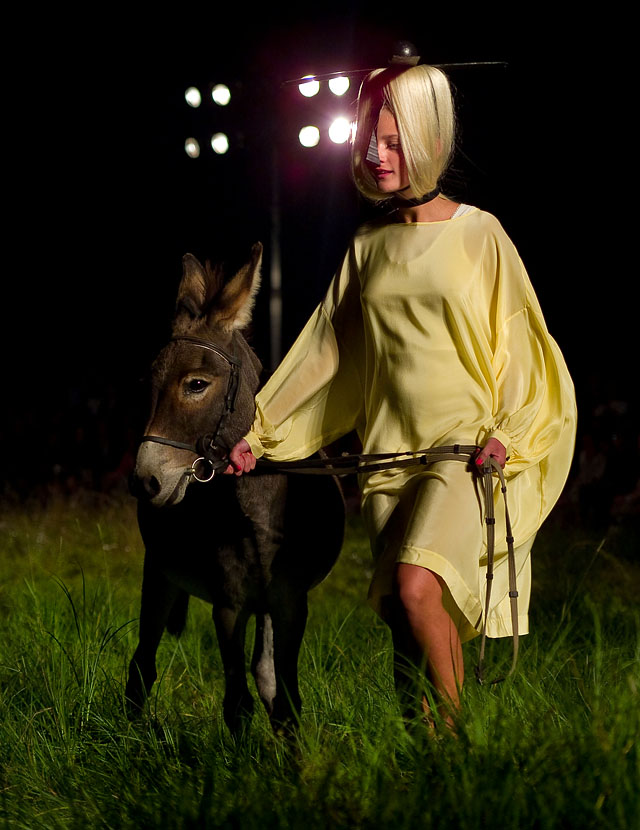 Henrik Vibskov (37)
– Genious designer and the enfant terrible of the Danish fashion scene, a multi-talent engaged in avantgarde art events and happenings, drummer for Trentemøller.
This was a fashion show late in the evening way out in a dark park, and my mood was a bit divided. Because I've been avoiding this designer for the last two shows because he has a reputation for doing messy shows. And when you shoot 30-40 shows in four days, one thing you don't need is disorderly shows!
But I went anyways and managed to stay sour about it for quite a while. It was dark, it was wet, my legs hurt sitting in the grass, and it was show number 10 that day or something.
But wow, did I enjoy it with the music, the donkeys and the atmosphere from the largest crowd at any fashion show. And even more when I saw the edited result around 03.00 that night! My position had been a bit different from the other photographers why I got tall grass on my shots and the light towers in the background (they got short grass and a complete black background).
Technically the totally dark scene was lit with tungsten light, more or less arranged as four big light towers in a football field. Shot with Leica R9/DMR and Leica 35-70/2.8 at 200 ISO.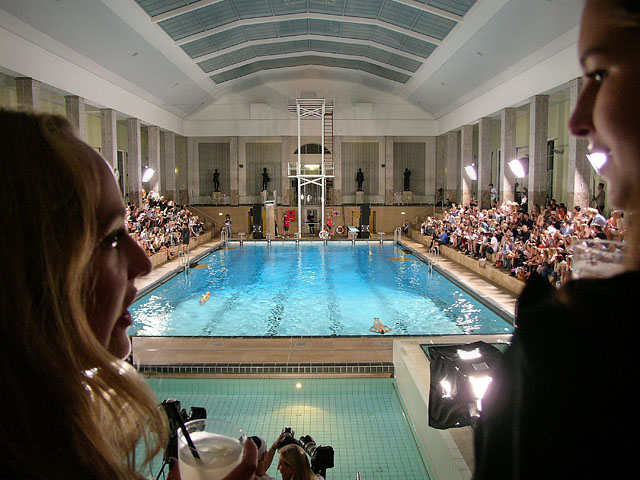 Stine Goya (30)
– The new kid on the block that has managed to build a big brand in 2-3 years time. Before that she was a fashion model for Chanel and editor of a fashion magazine. After a design education in London she started her own brand in spring 2007.
The show was set in a swimming bath which made it innovative without being expensive or too smart. Before the show the audience could enjoy synchronized swimmers in Stine Goya designed swimming suits, and at the end of the show the new Danish singer-songwriter talent Medina sang her hit song from the 10 meter springboard.
Technically Stine Goya was the only fashion show using daylight lamps, which is the only way to present 100% natural colors. It also cost 10 times normal tungsten light to use.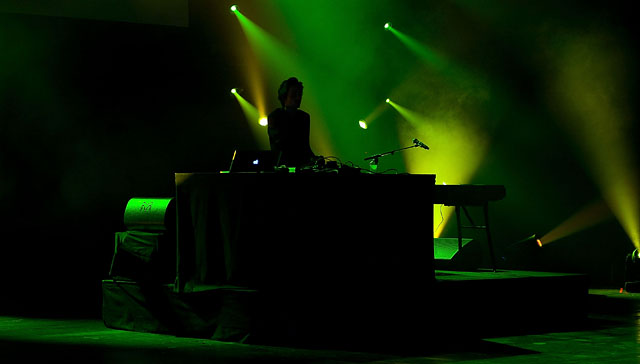 Mike Sheridan (17) and Mads Langer (23)
– Danish electronica-talent Mike Sheridan has been playing music since a little kid and presented his first official album in 2008 that was awarded at Danish Music Awards.
– Mads Langer is a Danish singer-songwriter who presented his first official album in 2006.
They performed together at the finale of the Copenhagen Fashion Week at The Royal Theatre where I snapped the picture on top.
Each of them are major talents who've managed to get started in a very young age. Mike Sheridan is touring Denmark and the world even before he has a drivers license (you have to be 18 to get one in Denmark).
Here's a clip from the lyrics of Mads Langers current radio hit "Fact-Fiction":
Remember the night you were with me - fell asleep by my side
Strangers together - your hand in mind
How come we never came closer when all the stars were aligned?
I thought we had a moment

I dream of dreaming dreams of her - in twilight she's a constant blur
The picture is clear and I'm still fact she's fiction
I seem to miss the missing part, she's still my favorite work of art
The picture is clear and I'm still fact she's fiction

I fell in love with her longing - let's just say that she never found out
Who it was she never found in me