Leica M Type 240 Digital Rangefinder Camera - Page 30

Index of Thorsten von Overgaard's user review pages covering Leica M9, Leica M9-P, M-E, Leica M10,
Leica M 240, Leica M-D 262, Leica M Monochrom, M 246 as well as Leica Q and Leica SL:

By: Thorsten Overgaard. June 1, 2013, Updated August 1, 2016
The Leica M Type 240 Experience - Three Months and 9,000 pictures later
It was a Friday afternoon on March 1, 2013 and the sun was shining in Denmark. "In a way I have no rush to get the Leica M Type 240," I said to my friends and family in the kitchen where we were sitting.
"I just want to take pictures. The Leica M9 and Leica M Monochrom work so well. When I get the Leica M 240 I will have to learn how to get it to work," I said.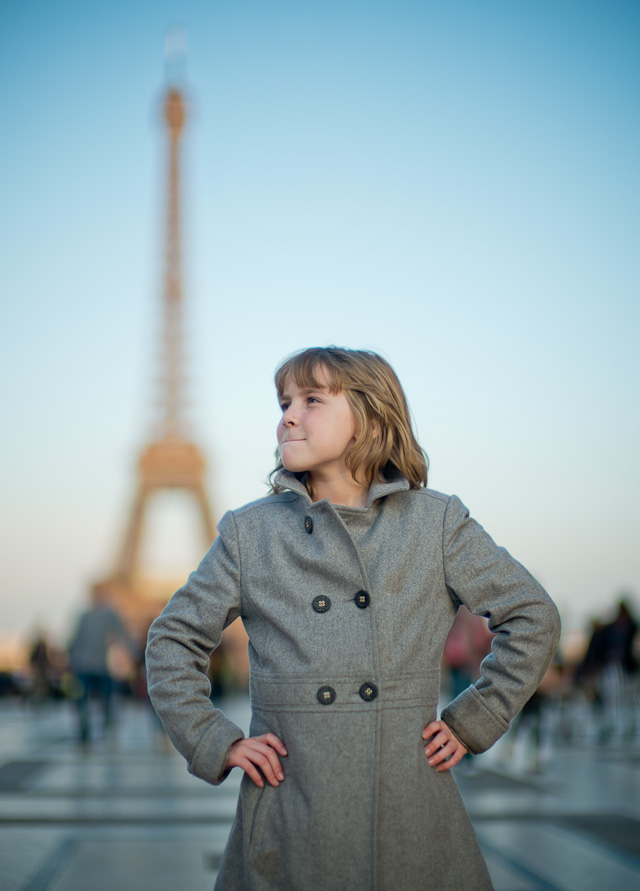 Robin Isabella von Overgaard in Paris, May 2013. Leica M 240 with Leica 50mm Noctilux-M ASPH f/0.95.
But then as a reverse nemesis, 10 minutes later the phone rang. In the other end was Leica Shop Vienna. In broken English he cheerfully announced that they hadn't gotten the camera yet but had gotten the invoice for it. That usually meant they would get the camera in a day or two.
I happened to have my Leica M reserved since Photokina in September 2012 and paid for in full at Leica Shop Vienna since December 22, 2012. A sort of Christmas gift to myself, as things turned out. I hadn't thought that paying in advance would ensure me the first delivery. But in retrospect, of course it would (you may want to take a note for future purchases).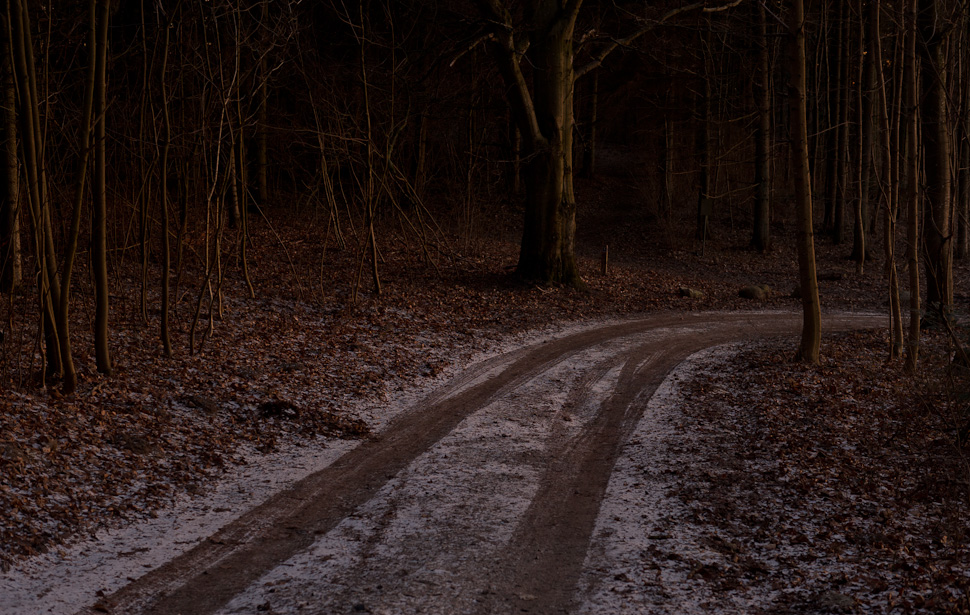 Leica M Type 240 with Leica 50mm Noctilux-M ASPH f/0.95 @ f/5.6. 800 ISO, 4 seconds. Link to zip-file with original DNG. © 2013 Thorsten Overgaard.
In the present moment, probably less than 500 Leica M Type 240s are actually out and about being used. Back in January 2013 when I had visited Leica Camera AG and product manager Stefan Daniel happened to be about, I asked him out of personal interest, when I should expect the Leica M to start rolling out? He said end of March or in April.
Now Leica Store Vienna was on the phone. This was a month or two too early. I hadn't planned this, I wanted to get it later. But now that I could get it, I wanted it. Rather frantic I asked if he had both silver and black. As if my prayers had been heard his next sentence would save me for further trouble deciding: "We have a black one and a black one."

"I'll take it black then," I replied. "It doesn't matter which one, I'm not so sensitive. Just pick the one with the best serial number."
I'm sure the others in the room who overheard the conversation and observed the change from the calm laid-back von Overgaard not needing a new camera had fun seeing the now 10 minutes later von Overgaard shining like a child before Santa Claus comes down the chimney.
I think I am not wrong if I say that most of us enjoy waiting for new Leica lenses and cameras. Some times waiting is simpler and more fun than actually getting it. Also, waiting doesn't cost anything.
But when the waiting is over, that is also a great moment...
Foundation for creation
Some days later I had the camera in my hands. I hardly could believe the serial number I had gotten, 4444550. I asked a woman that believes in numbers, and she said 4444 meant foundation of creation. I know my Asian friends would say something else so i didn't ask them (not having a 4th floor, a 14th floor, a 24th floor in their buildings I wouldn't like their answer anyway).
Now, three months wiser, I can say that the camera has been more foundation for creation than any other possible meanings of that serial number.
"I think it is not so much about what the camera can do,
but what you can do with the camera."
- Thorsten Overgaard on the Leica M Type 240 (also known as Leica M10)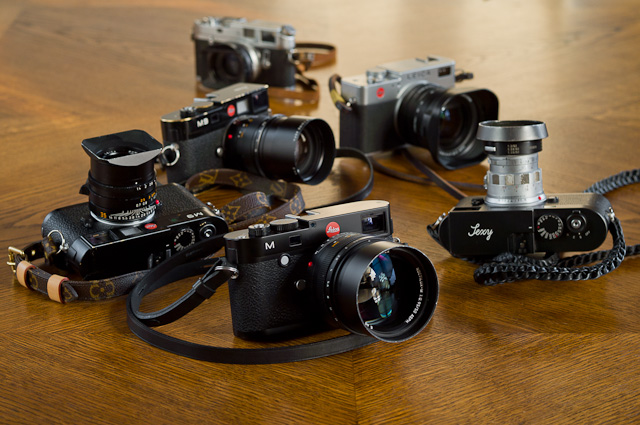 Leica M Type 240 meets the family. Leica M Type 240 in the front (with Leica 50mm Noctilux-M ASPH f/0.95), Leica M9 with Leica 35mm Summilux-M ASPH f/1.4, Leica M Monochrom with Leica 50mm Summicron-M f/2.0, Leica M9 with Leica 90mm APO-Summicron-M ASPH f/2.0, Leica Digilux 2 and in the far back, Leica M4 with Leica 21mm Super-Angulon-M f/3.4.
Enjoy the latest articles on the Leica M 240:
This is a continious user-report by Thorsten Overgaard. See more articles here and make sure to join the mailing list to stay in the know.
In the tradition of simplicity and perfection
If the camera controls what you see, then how do you make the camera see what you see?
I have said it before, and will state it again. The first Leica was the right one. Hence no reason to make it different.
And how so?
The first Leica had a new extremely compact size compared to the big wooden cameras used at that time, it featured the 35mm film format (made by taking the roll film used for motion pictures with 24 x 18mm frames and making the frames twice the size, 24 x 36mm), three simple controls to control the light (ISO, aperture and shutter), and it had compact great lenses.
History has told us that these were all winning qualities. Despite experiments and great marketing campaigns over the last 100 years to introduce new and smarter film formats, "full frame" is still the king and refers to exactly the 24x36mm frame that Leica Camera used in the first Leica.
| | |
| --- | --- |
| | Oscar Barnack self portrait ca. 1914 |
| | |
When Dr. Andreas Kaufmann bought Leica Camera AG some years ago, the company took a turn back to the core qualities of Leica, but a step forward in technology. Short time before Andreas Kaufmann bought Leica Camera AG the management had declared in interviews how film was superior to digital.
Kaufmann was obviously of another opinion. The core quality of the Leica was not that it used film, but the above mentioned. Recording light can be done both with film and digital.
Add to that another important feature that characterizes a Leica camera, and one which has become more obvious as time has gone by. That is the simplicity. It's still a very simple tool for painting with light. The perfect tool for the artist to create his vision without being interrupted by the tool.
With the return to the Leica core qualities, for a long while, people will still stop you on the street and say "wow, you still shoot with film" or ask "is that your grandfather's camera?" ... which in so many ways is the best compliment a Leica M Type 240 user can get, in my opinion.
The significance of the core Leica qualities means simplicity in operating - focusing on the main controls a camera should have to control light, and not so many other buttons, as exemplified on every Leica M camera since the beginning: Shutter, aperture and ISO is the only light controls and are located on the outside of the camera. As a side note, this return to core qualities is further exemplified in the latest Leica D-Lux 6 that, despite it is a consumer camera developed with Panasonic, now features a lightstrong f/1.4 lens with an aperture ring on the lens it self (instead of in the menu settings).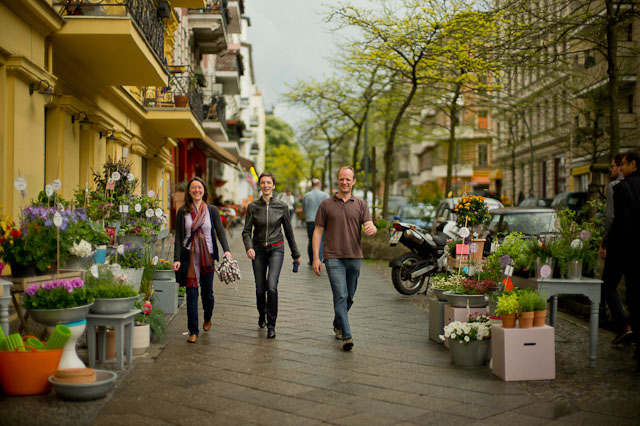 Berlin, May 2013. Leica M Type 240 with Leica 50mm Noctilux-M ASPH f/0.95
Buy the new eBook
"The Freedom of Photographic Expression"
by Thorsten Overgaard

"The Freedom of
Photographic Expression"
eBook for computer, Kindle and iPad
October 2016 (268 pages)

In this easy to read and apply eBook,
Thorsten Overgaard takes beginners and experienced photographers through the basics of controlling the light and the camera.
This book covers the technical side of photography from beginners level to semi-pro, features a number of photographs by Thorsten Overgaard and chapters on his philosophy on photography.

Only $148

Buy Now

Instant Delivery

"I've bought the new book - made a start reading it - it is really interesting.
I know it's basic at the beginning but it isn't written in a patronizing way. I have been taking photographs for many years and have been lucky enough to be paid to take them for the last seven years; but it's always good to be taken back to the start"
P. S. (UK)

""Really enjoy your writing and teaching"
D. K. (USA)

"I love your insights on photography."
D.B. (USA)

★ ★ ★ ★ ★ ★
Making each element perfect, and as few elements as possible
Turning back to the core Leica qualities also means making it as close to perfect as possible. Exemplified in the Leica 50mm APO-Summicron-M ASPH f/2.0 lens that Leica knew they could do, but as late as 2006 stated would never come into production because not enough people would be prepared to pay the price.
They changed their mind - or the market did - and the lens went into production in 2013. I shall get back to that lens later in the Leica 50mm APO-Summicron-M ASPH f/2.0 article, along with an interview with Peter Karbe. But one of the things Peter Karbe told me was that the core Leica Camera philosophy since Oscar Barnack, has been to make each element perfect.

Berlin, May 2013. Leica M Type 240 with Leica 50mm Noctilux-M ASPH f/0.95.
It is a very interesting philosophy when we talk lenses, cameras, and for that matter, any product. The philosophy, when applied to a lens, means that the goal is to make each piece of glass in the lens so perfect that the other elements do not have to correct the previous element. This also implies that the less elements, the better, whereas the 'trend' is that you add new elements to correct the first ones, then others to correct those ones. As for example - in my opinion - in having lens correction software for Hasselblad lenses and using software tools for sharpening. Why not just make the lens perfect itself?
Or even worse is the philosophy of shooting raw and fixing everything in the computer. Why not just take a perfect image in the camera and let go of the extra work?
In the Leica 50mm APO-Summicron-M ASPH f/2.0 the main quality, in my opinion, is that there seem to be no lens. You simply get the scenery in front of you, without alterations, without anything missing. As a great microphone would do: Capture exactly what is there without adding or changing anything.
If we go back to the Leica M Type 240 camera, then that philosophy in theory should have been applied to this camera.
And the relevant question then is, did they?
In few words, yes, I think so. The newly added features such as video and electronic viewfinder and the R-to-M lens adapter make it seem as the Leica M has become more complicated. Which is true if you try to adopt it all at once. So you should not. You should look at each addition as a way to add more uses to an essentially simple camera.

For more info on Overgaard Workshops, click here
New Lightroom Survival Kit 6
for only $498

250 pages on how to set up a photography workflow, from calibrating the screen to editing in Lightroom. How to organize files, back up, use DAM (Digital Asset Management) and Photoshop. Read more here

Video tutorials, image files, presets, checklists, definitions, tutorials of Lightroom, Media Pro 1 and Photoshop that boils down years of experience to a workflow you can implement in less than one day.

Update for only $198

Update your Lightroom Survival Kit to the new
Lightroom Survival Kit 6 for only the difference
between the old and new Survival Kit, only $198.
You get a complete new installation.

Making you the one taking the photos, not the camera
When was the last time you read a camera review that was more about you than the camera? Then again, this is not a review but a user report about one of the cameras I use.
But perhaps to illustrate and underline the importance of a simple and well made camera I thought it was important not to indulge in the technical side of it before we had gotten it straight that you are the one making the photos, not the camera.

Are you Experienced? Leica M Type 240 with Leica 50mm Noctilux-M ASPH f/0.95, 200 ISO. What I find interesting about this photo – and you should too – is that it doesn't show any technical qualities of the Leica M Type 240. But it's a great image.
It's interesting that none of my workshops are ever about the cameras. If someone comes with a Leica D-Lux or a Canon or Nikon that they don't know how to operate, I can't offer them help (truth is that nobody can). It's not about the camera (though we do have a jolly good time talking about the lenses and all). My workshops are always about light and how you find it. It's about you.
To return to the Hendrix image above, the one I chose was the technical worst, but in my opinion the best image. The lesson being that the camera is a tool for expression, not for technical pixel peeping.
Buy my "New Inspiration Extension Course"





Need more info?
Read this article.


Get inspired and rebooted!

This extension course if made for you! It can be done at home and travel at your own pace. I have taught workshops for years and the Overgaard New Inspiration Extension Course is my experience compressed to a package of training, articles, drills, assignments and video tutorials that will inspire you and take your photography to the next level! For a limited time my course includes something you cannot get anywhere or anytime else:
A portfolio-review by Thorsten Overgaard.

"The Overgaard
New Inspiration
Extension Course"
For computer and iPad. 181 p eBook.
Only $798

Order now - Instant delivery.
A different turn of events
The release of the Leica M 240 has been different than expected in many ways. The camera has also turned out to be different than expected. So after three months of silence, allow me to also start off this article or review with talking about you rather than the camera. I think it is not so much what the camera can do, but what you can do with the camera.
The way to go about with any camera, in my opinion, is to make one photo at a time.
What do I mean by that? One at the time?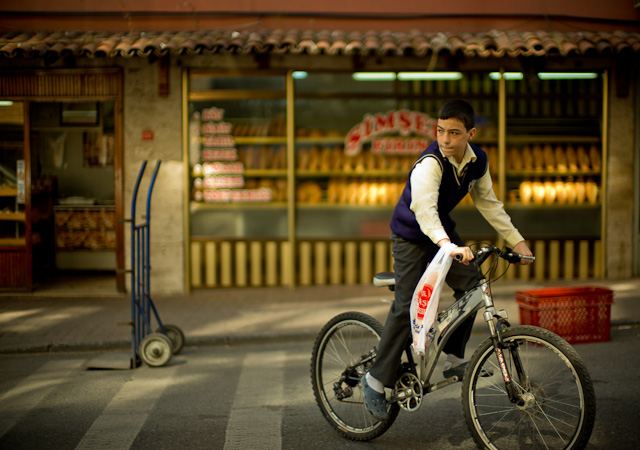 A moment in Istanbul. Leica M 240 with Leica 50mm Noctilux-M ASPH f/0.95. DNG file edited in Lightroom 3.6.
© 2013-2016 Thorsten Overgaard. Read The Story Behind That Picture about this photo.
A photographer is one who make photos. People recognize you as a photographer by your final photos that they can see rather than if you have a piece of paper that you have an education as a photographer. If your photographs are good, you are a good photographer. If they are bad, you are a bad photographer. People in general don't distinguish what camera you have, or what camera you used to make the photograph. They see if they like it or not.
How to have success with photography
First and foremost you must make photos for yourself, photos you consider good photographs. It is hard to get recognized by others if you can't recognize yourself first.
I don't expect people to recognize that I use a good camera. I expect them to not really care. So the reason I use the cameras I use, is because it makes sense to me. It works for me, and in the case of Leica it aligns with how I think and see, and it makes me happy.
Therefore the whole discussion of if a camera is good or bad, and reading reviews about a camera to see if it has more resolution than another camera, is not really that relevant. What is relevant is, how do you feel with this camera. Does it make you happy, and does it make you want to take photographs?
One photo at a time
Any camera may be alien to us, either because we haven't spent much time with it, or because it is new. So the way to get the camera to work is to make photos, one at a time.
And just as photography is not a skill you suddenly obtain from one day to the other, or by receiving a document from a school or other authority, the same way you shouldn't expect to master a new camera from one day to another.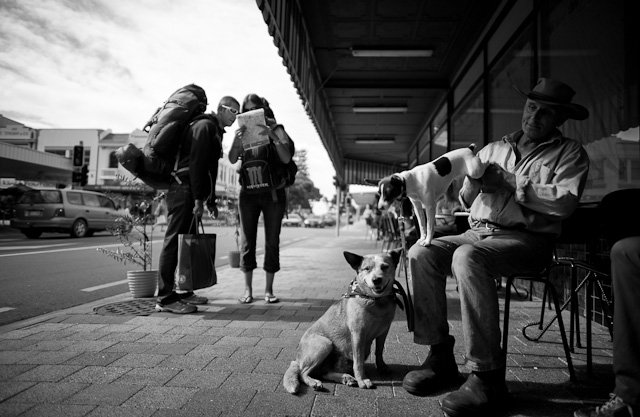 Napier, New Zealand. Leica M 240 with Leica 21mm Summilux-M ASPH f/1.4.
I mention this because the hype about the Leica M Type 240 has been a little too much. Would the CMOS sensor perform just as well as the Leica M9's CCD? (which those with a memory longer than three years will remember was criticized for not being CMOS when the Leica M9 was released in 2009).
We don't know, or at least I don't. So I take one photo at a time. Not to find out which is the best, but to see what works for me.
If you look at all great photographers, what they did was photographing a lot, and by that they made one great photo from time to time. They didn't acquire their whole portfolio suddenly. The portfolio of great images is the bi-product of a photographer who keeps trying and keeps loving to take photographs.
Loving your tools, loving to wear your camera, understanding that camera and those lenses, and keep on using them is more important than how highly some reviewer thinks the resolution or sharpness of one camera compares to another.
Hence, photography is more about you, the motivation of you, and the image you can make with the camera. One photo at a time.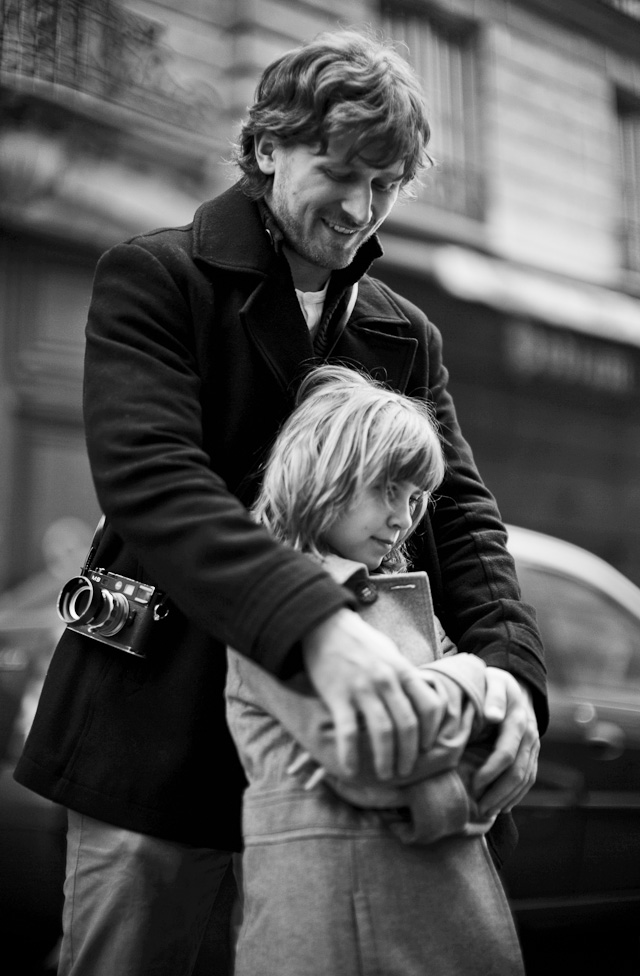 Felix Reichert and my daughter Robin Isabella in Paris, April 2013. Leica M Type 240 with Leica 50mm Noctilux-M ASPH f/0.95. © 2013-2016 Thorsten Overgaard.
By the way, it is an interesting thing to do, to look at the books of Helmut Newton, Greg Gorman, Henri Cartier-Bresson, Elliot Erwitt, Richard Avedon and others and notice how many (or actually few) photos their portfolios consist of. It is also interesting to notice that the best of the great photographers photos did not necessarily come about in the end of their career when they had the experience and knowledge. Some of their greatest photos may have come about in the beginning of their career when they knew less than they did later. Sometimes you can tell that they had the fortune to experience places and people that enabled them to get those photos.
But if you notice for example Henri Cartier-Bresson, his generally most famous photographs are not from the important events in his career when he met Gandhi a few hours before Gandhi died, or from his many - and important, he thought himself - reportage from war and crisis. No, his most famous photos are from seemingly walking about in Paris and other places without much happening. Most of his famous photos are from empty spaces rather than happening spaces (which is ironic because HCB thought his reportage from the world's hotspots were more important than the landscapes Ansel Adams did at the same time period; but what remains popular in our time is Ansel Adams landscapes and Henri Cartier-Bresson's quiet days in Paris).
This tells me that one cannot know if it is more important to travel to a dangerous country with the aim to report about subjects of great importance to mankind, or if the photographs taken on an early Sunday morning in a quiet neighbourhood, will be the most important photographs in your portfolio.
What it tells me is that one should choose ones equipment with love, and always carry a camera. Shoot to share, to preserve, to create emotions. Shoot what you feel makes sense, to you. One photo at a time. Later you will know which ones have value, which ones that are the best of the best.
This of course also has a lot to do with editing. The more I photograph, the more I realize that editing - meaning selecting what to take photos of, as well as which of the taken photos to use - is perhaps 1/3 of the skill set of being a good photographer. Editing is a subject I hope to return with more about, at another time.
Join the NEW Thorsten von Overgaard
Photography Extension Course

"My wife game me this course and I absolutely love it.
Now I think more in light and shadows. Used a lot of the techniques on a recent trip and
my photos have improved a lot. Well done, Thorsten!"
S.N. (Mexico)

"I am happy with my purchase of the extension course. Well written, easy to understand"
K.D. (USA)

"I very much enjoy the incredible knowledge"
V.V. (United Kingdom)

"Addictive, beautifully and simplistically written. Just amazing. Cleared my concepts"
V.P. (USA)

"The extension course is the best course I read about photography (and I'm still at the beginning)"
M.S. (Luxembourg)

"I'm already in page 81 of the Extension Course, and your communication and words provoked a change in me at an aesthetic level that I felt but I couldn't explain"
C.L. (USA)


The NEW
Overgaard Photography Extension Course

The waiting list is over!

After a couple of years with a long waiting list, I have finally redesigned the course so I can handle the students interested in this course. Not only that. The number of pages has gone up from 120 to 330..!

I teach you the basics of photography in an easy-to-understand and step-by-step way that anyone from age 12 to 90 years can understand and easily apply. This extension course is for everyone from 12-90 years.

The intention with this extension course is to get you going in your photography adventure with lightning speed and inspire you to reach to new heights.

Enjoy!

Specially tailored for Leica and digital photographers.

You work at your own pace after you recieve the full package of material via mail. It works as PDF on computer, iPad, Kindle, or - if you like - make your own print.

Join the Home School for
Leica and Digital Photographers

Only $798.00

Buy now. Instant delivery by mail.

ITEM #1708-2016

Note: If you have bought The Overgaard Extension Course (2010) previously you may enroll on this new course for free. Simply e-mail me.
The Leica M 240 is the new Leica M9
The question I have gotten the most, is "Should I get the Leica M 240 or the Leica M Monochrom, or stay with the Leica M9?". I think most who ask this already know if they can live without the Leica M 240 or they simply just have to have it. If you have used a Leica M9 for some time and you were happy with it, the M240 must be just as good or better. And it is.
With the new M strategy from Leica Camera AG where the M will be gradually improved without jumping from M10 to M11 and M12, and the Leica M Monochrom will follow the same strategy, there are basically just two lines of cameras. A Monochrom and a Color line, and either you have both as I have, or you want to simplify life by having just one of them.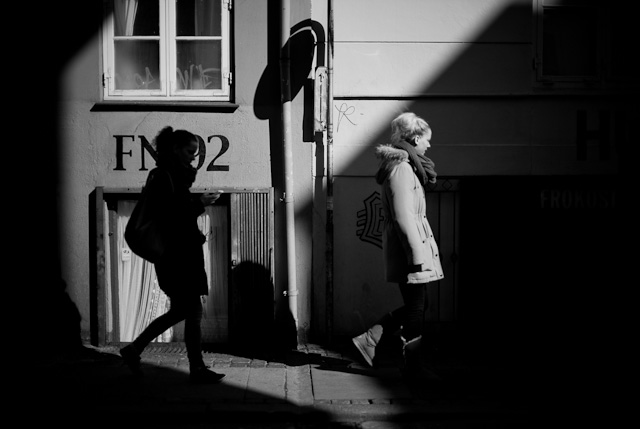 Shadowland. Copenhagen March 2013. Leica M Type 240 with Leica 50mm Noctilux-M ASPH f/0.95. Black and white converted from the DNG file via Lightroom. © 2013-2016 Thorsten Overgaard. Read The Story Behind That Picture for more on this photograph.
Black & White Photography
The Leica M Monochrom is the new standard in black & white digital photography. One might argue that people won't always be able to tell if a black & white photo came from a Leica M9, Leica M Monochrom or a Leica M 240. But that is really not the point of the Leica M Monochrom.
What a black & white camera has to offer is mainly the mental process of not having to bother with colors. It can be very rewarding.
One of the side-effects of shooting exclusively black & white though is that you suddenly see and value colors; so in that sense using a monochrom camera might make you want to shoot colors again (but with the clear difference that you now actually see colors more distinctly).
For the one new to Leica who would like not to get the most expensive camera around (which is currently the Leica M Monochrom), both the Leica M8 and the Leica M9 offer an alternative.
The M8 is available for very good prices and are excellent black & white cameras. With the Leica M Type 240 coming to the market the Leica M9 is selling from $3,000 and up, less than half the price of a new Leica M Type 240.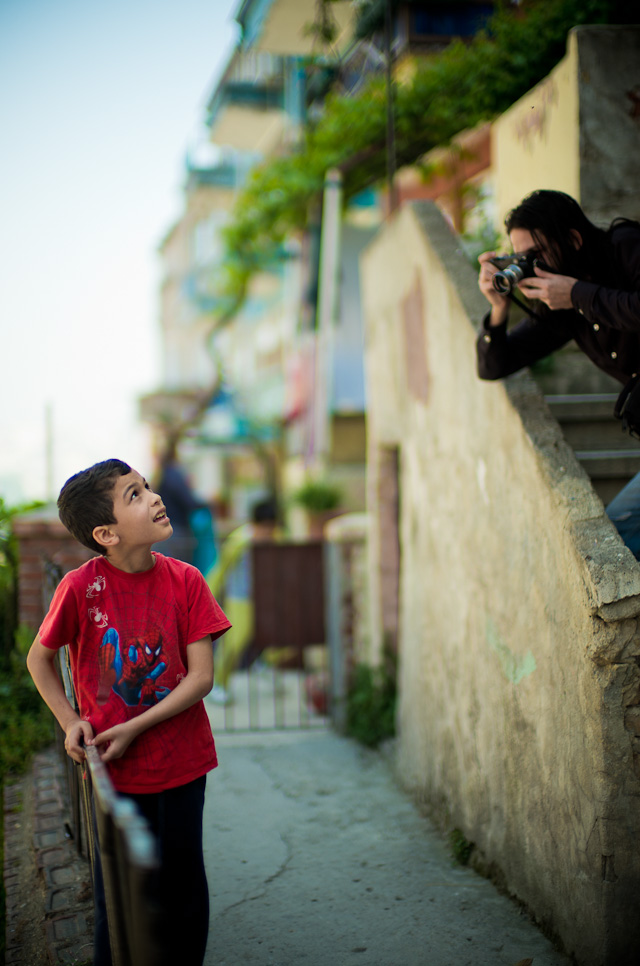 The Leica pusher in Istanbul, Burak Daldaban, photographing with Leica M Monochrom during the Overgaard Workshop in Istanbul, April 2013. Leica M 240 with Leica 50mm Noctilux-M ASPH f/0.95. © 2013-2016 Thorsten Overgaard.
Leica Color Photography
The Leica M Type 240 is the new standard in Leica color photography. As simple as that. One may argue that the CCD sensor of the Leica M9 and Leica M9-P and Leica M-E looks different (more film like for example) than the Leica M 240. But for me that is simply workflow; meaning that it is a matter of getting your image files to look the way you want them to look.
But in terms of shutter sound, speed of operation, ISO and overall feel of the camera, the Leica M 240 is the new Leica M9. There is no turning back to Leica M9 when you get the Leica M 240. You may keep the Leica M9 for sentimental reasons and tell yourself it is nice to have as a backup. And you might even (as I have done) take out the Leica M9 to enjoy a cozy vintage moment in the cafe, reading the newspaper in the sunshine, accompanied by the smell of freshly made coffee and the Leica M9 lying on the table. But when you get back to real business, it'll be the Leica M 240 you take with you.
But understand that the Leica M Type 240 is not the only choice. The Leica M9, Leica M9-P and Leica M-E will continue to give great results for all those who can resist them self from the Leica M 240.
For more on color photography with the Leica M 240 read my article "Color Photography and the Colors of the Leica" (which is page 41 of this article).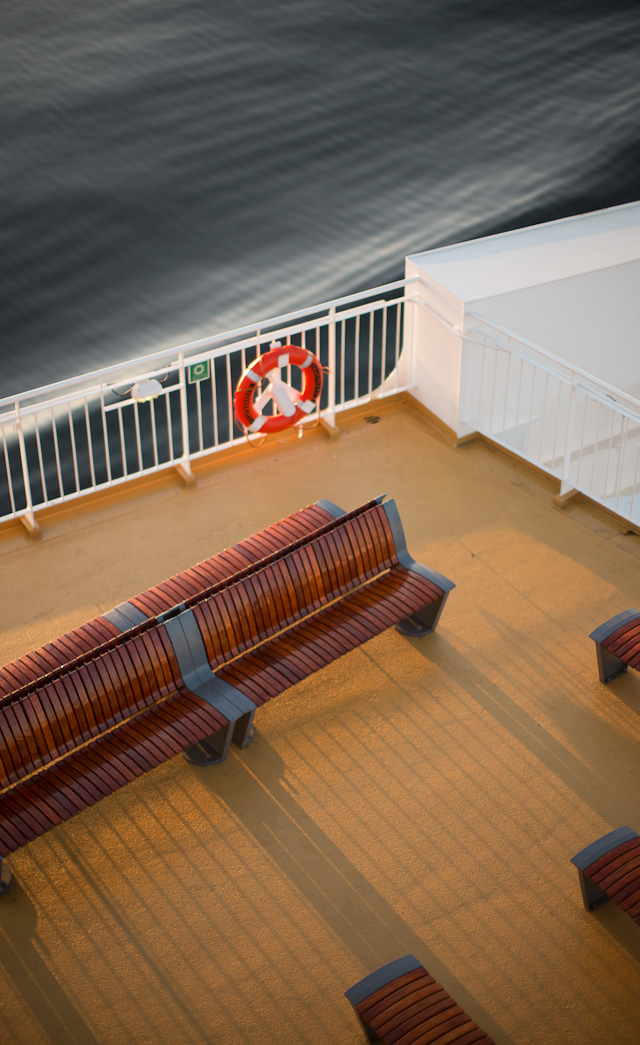 Oslo April 2013. Leica M 240 with Leica 50mm Noctilux-M ASPH f/0.95. © 2013 Thorsten Overgaard.
The which is what Leica M overview
For comparison and to get the thoughts straight, here is an overview as of 2013.
However, it is clear that Leica Camera AG now offer a range of cameras that will suit different needs. For example the Leica M Monochrom may or may not be suitable for professional photographers who's clients require color photographs.
But it is a hell of a tool to play with, and if you have realized you prefer black & white photography, you will have fun with the unknown possibilities of the Leica M Monochrom. As with Jimi Hendrix, he didn't invent the guitar, but he did invent some funky ways to use it. Such is it with the Leica M Monochrom. So there you go, here is a range of Leica cameras for different needs:
Model
M8
M8.2
M9
M9-P
M-E
Type 220

M
Type 240
M-P
Type 240
MM


MM
Type
246
Nickname
"M10"
"M10"
"Henri"
"Elliott"
Start
2006
2008
09/2009
06/2011
09/2012
03/2013
11/2014
08/2012
05/2015
End
2009
2009
2012
2012
-
-
-
2015
-
MP
10
10
18
18
18
24
24
18*
24*
Sensor
CCD
CCD
CCD
CCD
CCD
CMOS
CMOS
CCD B&W
CMOS
B/W
Format
18x27
18x27
24x36
24x36
24x36
24x36
24x36
24x36
24x36
AA filter
No
No
No
No
No
No
No
No
No
Video
Yes
Yes
Yes
Adapters
R
Nikkor
R
Nikkor
R
Nikkor
Shutterless
No
No
No
No
No
No
No
No
No
Mirrorless
Yes
Yes
Yes
Yes
Yes
Yes
Yes
Yes
Yes
Live View
No
No
No
No
No
Yes
Yes
No
Yes
EVF
No
No
No
No
No
Extra
Extra
No
Extra
Framelines
LED
LED
LED
DNG
DNG
DNG
DNG
DNG
DNG
DNG
DNG
DNG
DNG
JPG
JPG
JPG
JPG
JPG
JPG
JPG
JPG
JPG
JPG
Base ISO
160
160
160
160
160
200
200
320
400
Max ISO
2800
2800
3200
3200
3200
6400
6400
10000
25,000
Processor
Maestro
Maestro
Maestro
Buffer
No
No
No
No
No
No
2GB
No
2GB
Frame selector
Yes
Yes
Yes
Yes
No
No
Yes
Yes
Yes
USB port
Yes
Yes
Yes
Yes
No
Extra
Extra
Yes
Extra
GPS
Extra
Extra
Extra
Battery pack
No
No
No
No
No
No
No
No
No
Weather sealed
No
No
No
No
No
Yes
Yes
No
Yes
Weight
580g
600g
585g
680g
680g
585g
680g
Digital color filters for B&W
Built-in
Built-in
No
Price $US new
4,800
5,995
7,000
8,000
5,450
7,250
7,250
7,950
7,450
Price Pounds
2,990
4,950
5,395
3,900
5,100
5,100
6,120
Price Euro
5,000
6,000
4,800
6,200
6,200
6,800
7,200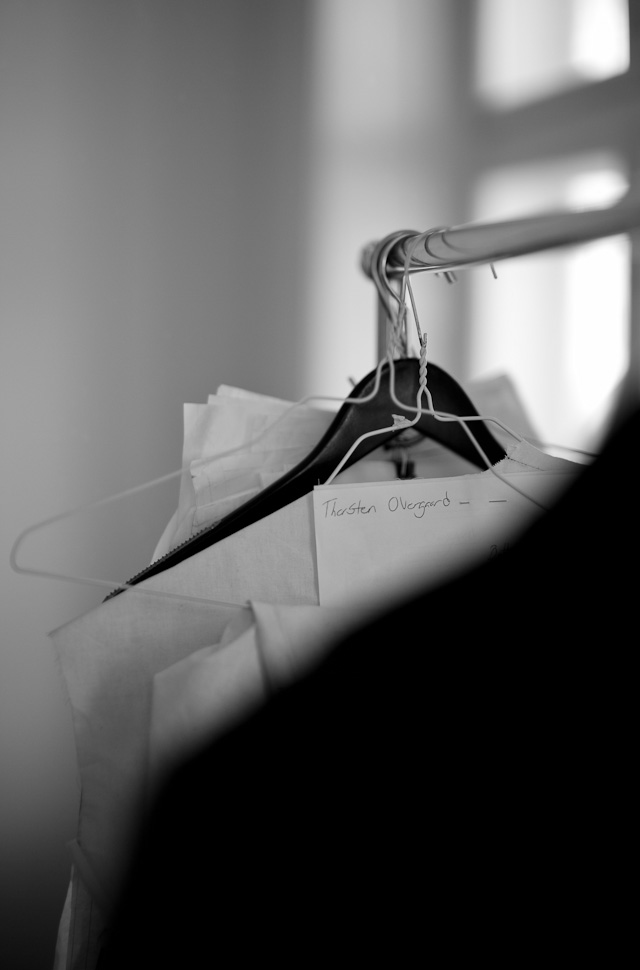 Jean//Phillip Design, Denmark, March 2013. Leica M Type 240 with Leica 50mm Noctilux-M ASPH f/0.95.
Buy the new eBook
"A Little Book on Photography"
by Thorsten von Overgaard

Order now - Instant delivery.

★ ★ ★ ★ ★ ★

It's a humorous understatement to call this
new eBook by Thorsten Overgaard for
"A Little Book on Photography".
It's a grand book, a history lesson, life experience, a biography and poetry book and brilliant photo book!
All in one beautiful package of 180 pages
to fire you up and get you to love
photography ... unconditionally!

"A Little Book on Photography"
eBook for computer, Kindle and iPad.
New release March 2017.
Intro price only $47 - 180 pages.

Buy Now

Instant Delivery
How to deal with the Leica M Type 240
I shall spare you for the unpacking video. But do imagine me opening the box, already having most of the extras available at hand: Stereo microphone, macro adapter, electronic viewfinder, R-to-M adapter and spare battery.
It was impossible not to get overwhelmed and confused with all the new possibilities.
Therefore my advice is to start out with the Leica M 240 as if it was a new Leica M9. Don't add anything new but simply use the analog rangefinder mechanism as always and learn the new menus and the different sounds and feel of the camera.
The preview button top left of the display on the back is now LV (Live View, which open up the shutter curtain and shows a live image on the preview screen). That takes some days to get used to not using when you want to see a preview of an image.
I am fairly certain you won't follow this advice but want to try out Live View, video and everything else as soon as possible. And you will try to avoid studying the menus, because it is in so many ways the new Leica M9 and you will try to tell yourself you really don't need to read the manual to use it.
So let me just warn you that all these new things in a camera that used to be relatively simple will make you feel a little stupid and tired. The good thing though, is that you will get the feel of it after some weeks, then it all will become muscle memory.
If you want to speed up the learning progress, read the manual and put the manual on an iPad or iPhone, take the camera out to some quiet location where you can do the same shots again and again, study the behaviour and refer to the manual when needed. In the bottom of this page is the basic standard settings of the camera I recommend. Start with those so you can concentrate on one new thing at the time.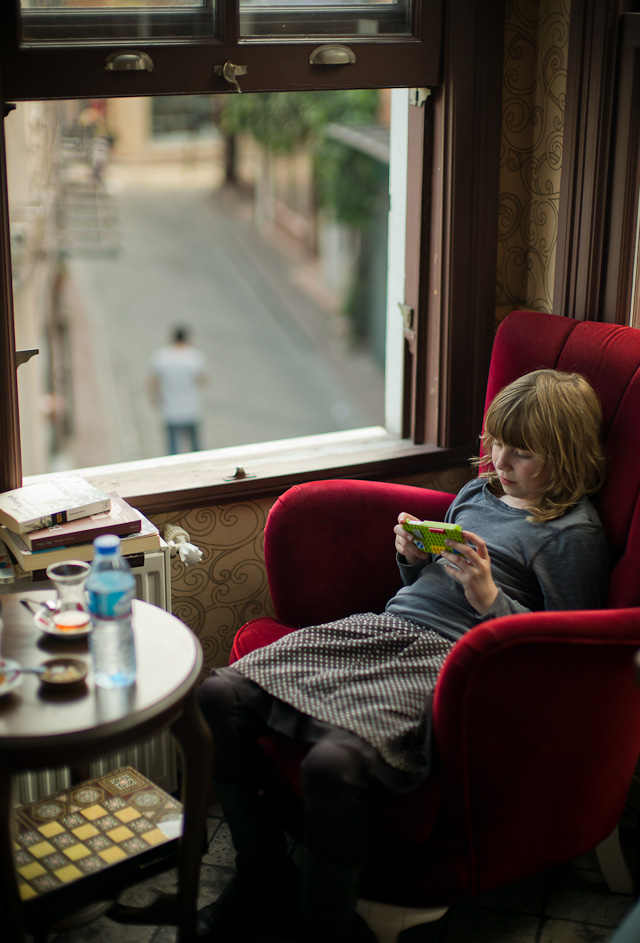 Working hard on Facebook. Leica M Type 240 with Leica 50mm Noctilux-M ASPH f/0.95. © 2013-2016 Thorsten Overgaard.
Like a Leica M9, but stronger and faster
The Leica M Type 240 should not be much of a surprise. New Leica M cameras come out every three years since the Leica M8 in 2006 and the Leica M9 in 2009. The unusual thing about the Leica digital rangefinders is that they stay relevant for more than three years. Look at the Leica M8 from 2006. Still a lot of happy users. The Leica M9 and Leica M9-P was and still is a very rewarding camera to use ... and will remain to be so for many years to come.
What has been anticipated with some anxiety has been the new CMOS sensor and the "new electronic features" such as digital viewfinder, video and the possibility of attaching Leica R lenses (and Nikon F lenses).
I will admit that I got a bit more overwhelmed than I had expected when I got the camera. The Leica M Monochrom came not that many months ago, but that was essentially a Leica M9 with very few changes.
I saw the Leica M Type 240 at Photokina, the prototype, and to me it seemed pretty much like the Leica M9 with some ugly microphone holes on the top plate and a different sound of the shutter. A Leica M9, but stronger and faster.

Neville Porter, Auckland. Leica M 240 with Leica 50mm Noctilux-M ASPH f/0.95.
I remember when the Leica M9 came out, how troublesome the image quality was in the beginning. But we got it under control in a matter of weeks trying different profiles, several software from Apple Aperture over Capture One to the recommended Adobe Lightroom (that is also supplied with most Leica camera models).
When I say "we", I mean the Leica community as it exists online on the Leica User Forum and Rangefinderforum. It is a collective experience and research and discovery finding the possible best practices for a new workflow.
Getting stuff to work
I like to get things done. I am not happy with trying new things or changing ways. I like to get it to work and keep it working. Some people love trying new cameras, new screens, new software, new tricks. I don't. Even thought I am a first mover in many areas of life, I do things to get them to work. Not to toy with them.
This terrible period of not knowing which leg to stand on comes with everything new. Managing the look of images is a very personal thing. It's not like getting a new iPhone. It is more personal and disturbing. As a painters materials or a musicians instruments. You want it to be exactly the way it was yesterday, because that is the result of years of work and experience.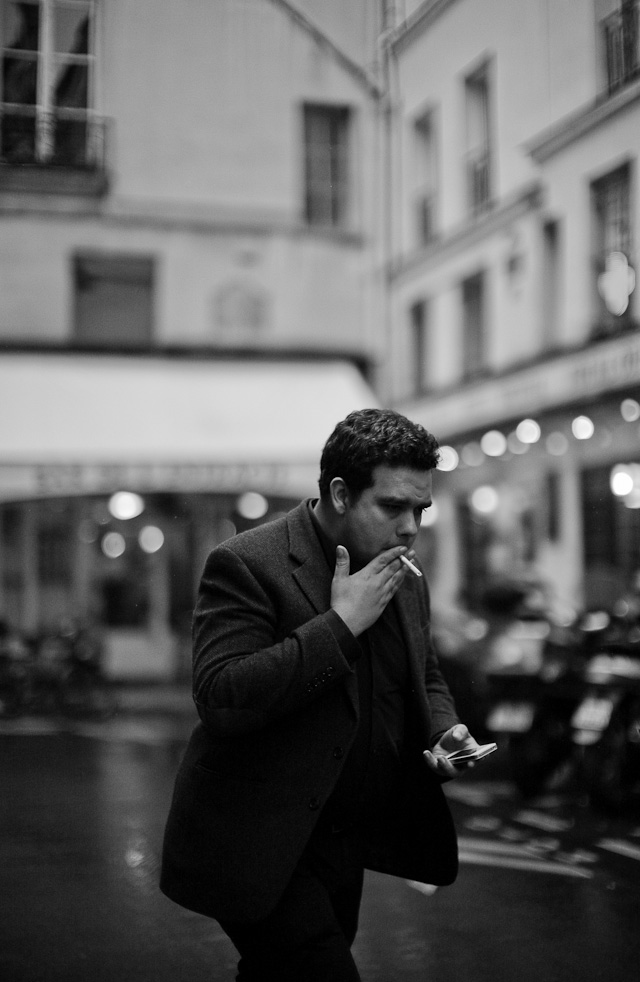 Paris, April 2013. Leica M Type 240 with Leica 50mm Noctilux-M ASPH f/0.95.
This is how it was when I got my first film scanner, and every time I got a new film scanner after that one. The first digital cameras and every new digital camera after that one. Always a desperate attempt to work towards the old with new tools and new rules. And then, after a while, realizing that the overall quality has gone above the previous level. But until then, it's a bit like Bambi floundering on the ice in the Disney movie.
New ways force you to question your methods and review it all again.
I look for things I recognize, places to put my feet. That's how I do it. One image at the time.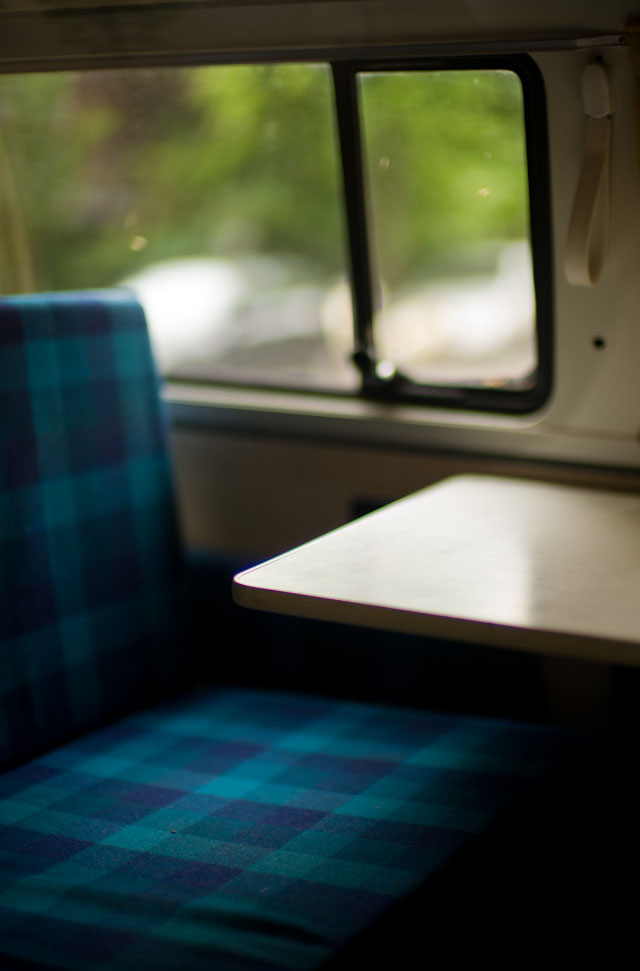 Leica M Type 240 with Leica 50mm Noctilux-M ASPH f/0.95. © 2013 Thorsten Overgaard.
Learning a new camera
As with the Leica M Monochrom I went out to a local cafe to show the camera the city and learn more about it in a relaxing way. This somehow lead to doing a very quick video with the Leica M Type 240 and the Leica Noctilux-M ASPH f/0.95 wide open.
It was straight forward and very easy (as described on page 35) but also led to a kind of overload of new things in too short time. After having released the video the response from videographers took some time to address, and I think I finally got that answered and finalized by doing a video with Austrian videographer Johnnie Behiri who flew to Denmark to do a project (as it can be seen on page 36).
After this intermission I felt I had overcome the video and could focus on what I actually wanted to use the camera for. Which is the same as the Leica M9; for portraits and atmosphere around the world.
This also explains why the page 35 and page 36 came before page 30 in this article!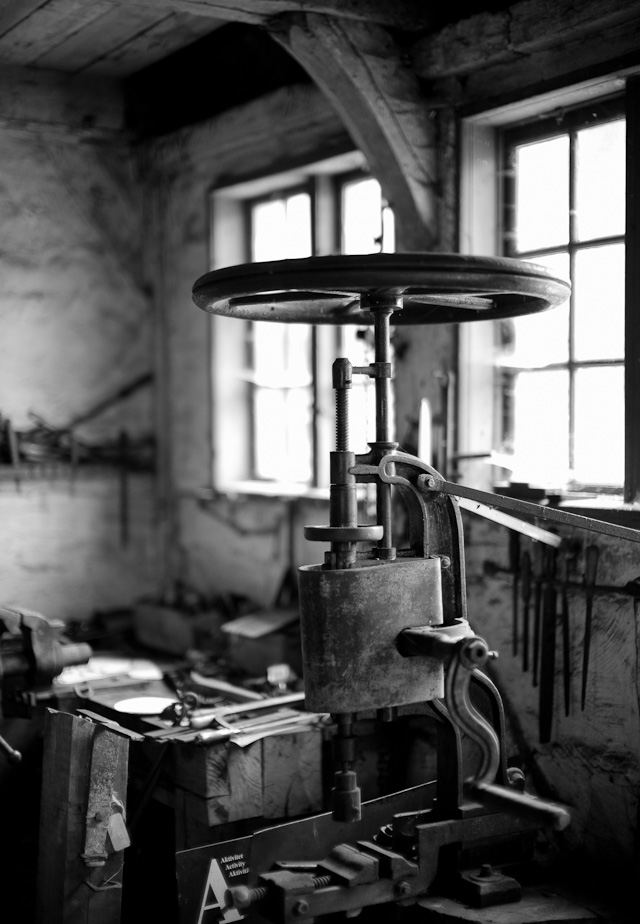 From Den Gamle By when I went about to test the camera settings a place where not much move. Leica M Type 240 with Leica 50mm Noctilux-M ASPH f/0.95.
I think the way to learn a new camera is to study the camera and the manual a bit and then go out and do something that is not moving that fast.
I took the camera to The Old Town in Aarhus where I could work with interiors and exteriors without too many people.

From Den Gamle By when I went about to test the camera settings a place where not much move. Leica M Type 240 with Leica 50mm Noctilux-M ASPH f/0.95.
You have to take it out. You have to make some interesting pictures and not just test photos of your desktop or backyard. It's a better learning experience doing something where you have time to stop, study the menu and try different settings. Which you don't have if you are doing a commissioned portrait, shooting a wedding or a concert.

Interior from 1800, when cobolt blue was in. Very close to Yves Klein I would say. From Den Gamle By when I went about to test the camera settings a place where not much move. Leica M Type 240 with Leica 50mm Noctilux-M ASPH f/0.95.
Wearing a camera
I wear a camera most of the time, including in the car and in airplanes. That means that I have the camera strap across the chest so that the camera rests but is always there. I can sling it back so it isn't seen and isn't in the way. Or I have it in the front so it is more visible and ready. Some like to carry the camera in a hand-strap but I prefer to have both hands free and the camera 'next to me.'
My camera is always on. In the suggested Menu settings you can see I have the camera to power off after two minutes and the preview is 1 second. This will make the camera battery last for a day, easily.

Istanbul, May 2013. Leica M 240 with Leica 50mm Noctilux-M ASPH f/0.95. © 2013-2016 Thorsten Overgaard.
When I enter a room or see something at a distance that might be an image, I will slightly touch the shutter release. This wakes up the camera so it is ready when I need it.
With the SanDisk 64GB 95MB/sec card the wake up time for camera and EVF2 is a little more than 1 second. With other cards (including the 32GB version of the 95MB/sec card, the wakeup time can be 3 seconds or slower).
With the Leica M 240 you will spend some time on the Live View and the EVF2 electronic viewfinder: Is LV on, and is it showing the image on the preview screen or the EVF2? It shows the image where it did last time the camera was active. And if on the screen, you have to press the button on the EVF2 to get it there instead. Or press the button on the EVF2 again to get LV off. You see the confusion, right? But when I got that sorted out, the camera and the EVF2 is ready after a second or so after I touched the shutter release.
If I use the EVF2 I have to make sure the diopter (eye correction) on it is set correctly. For me that is a little to the + side of the middle. But the rubber ring that adjust the diopter moves when the camera hangs over the shoulder, and if the diopter is wrong it tires the eye and make focusing difficult. So I sort of check that when I grab the camera and lift it to my eye.
The Leica M 240 does not have any battery information in the preview display. You have to press INFO on the right side of the display to get the info about battery, memory card left and settings in general. If you press INFO when you preview an image you get the info about the image, not the camera. So the camera has to be on and no preview on the screen to get the info about the camera.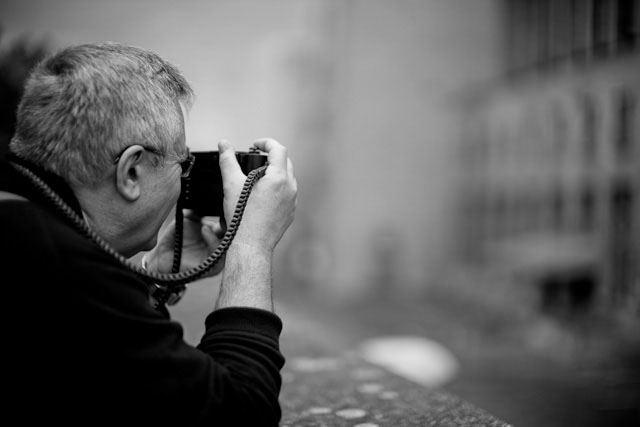 Jose Salcedo photographing in Berlin, May 2013. Leica M Type 240 with Leica 50mm Noctilux-M ASPH f/0.95
The battery is so powerful it is not really a problem. The first notice about battery drain will be an alert on the screen when it is at 20% and then you still have some ways to go. But the next alert will be that the camera is low on battery ... please switch it off.
If you switch off the camera and then switch it on again a little later you can usually squeeze some more photos out of it. But else you need to charge or change battery.
With the EVF2 set to automatically 10X the image (focus aid), the 10X focusing is activated when you touch the focusing ring on the lens. After a few weeks I have finally gotten into the rhythm of this: : I lift the camera to the eye and quickly have an idea of what the frame is and start focusing. This gives a 10X enlargement of the center of the image, and as with the Leica M9 and Leica M Monochrom, I will move the center of the frame to what I want in focus. Then I slightly touch the shutter release to get back to the 100% frame, finish the framing and shoot.
Using the EVF2 is very precise as to focus, but the analog viewfinder is much faster and more intuitive for shooting things moving.
The well tempered shutter
The Leica M 240 shoots a little more than three images per second where the Leica M9, Leica M-E and Leica M Monochrom shoot two frames per second. And on top of that the whole shutter mechanism and body has been redesigned so the Leica M body now is one piece of metal (except a plate slit in into the front holding the M bayonet mount). It is a very sturdy camera body with very tight high-precision assembling, including weather sealing.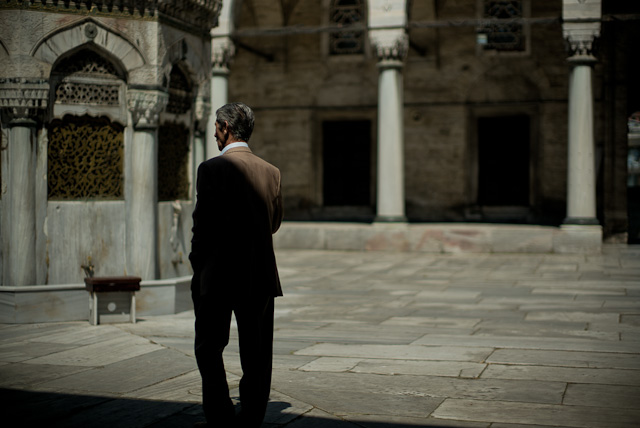 Istanbul, April 2013. Leica M Type 240 with Leica 50mm Noctilux-M ASPH f/0.95. © 2013 Thorsten Overgaard.

All in all the faster shoot rate and new design of the mechanism result in a very determined sound that almost sounds like a small guillotine. But after some weeks with a good hand full of actuations the shutter sound will be softer and more relaxed, yet still very determined and short. Where the initial sound is a bit embarrassing, like a Death Star laser, the sound of the well-used shutter is well tempered and ... addictive.
A new design of the same camera body
You will oddly enough feel how well built it is from the first moment. It is not that the Leica M9 was not built to last more or less for generations. It is. The Leica M Type 240 is just built even better. More precision in everything, and a redesigned body that is made out of one piece so there is no assembling in the bottom of the camera. It's quite a piece of work.
As mine starts to show the brassing I appreciate the build quality more and more. For some reason I felt that the Leica M 240 was more of an 'electronic camera' in the beginning, but the more I use it, the more it feels like a classic Leica M4.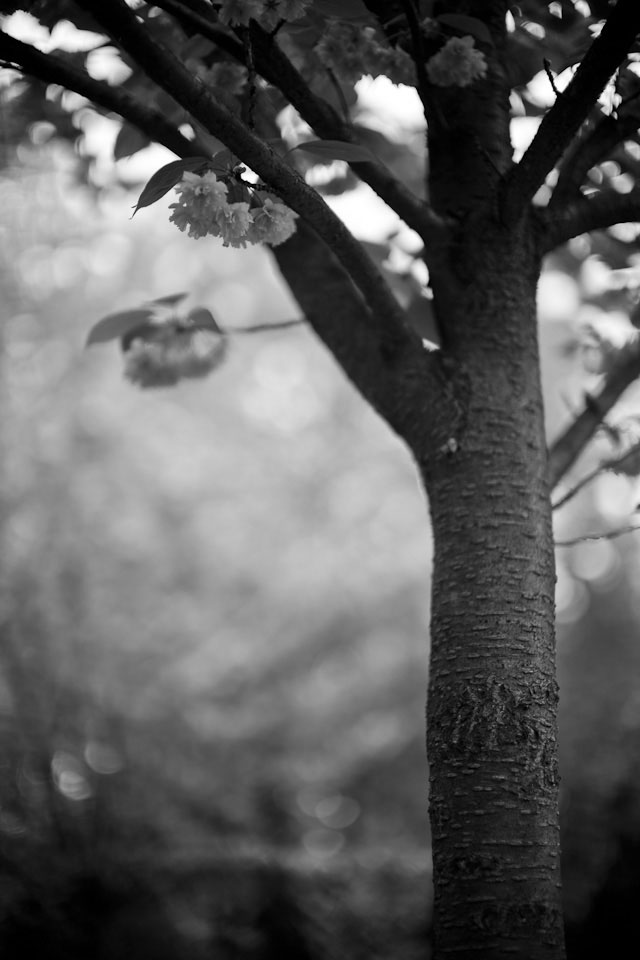 Leica M 240 with Leica 50mm Noctilux-M ASPH. © 2013 Thorsten Overgaard.
Which memory cards to get
For the Leica M 240 I would recommend the SanDisk 64GB with writing speed of 95MB/sec. The 16GB and 32GB SanDisk with writing speed 30MB/sec and 45MB/sec will work fine, but for larger data sizes and for shooting video, a faster card is to be preferred. It will make offloading images from the card to the computer faster.
The Sandisk 64GB Extreme Pro 95MB/sec offer faster startup time than the 32GB version of the same card. Go figure, but the fact is that with the 32GB card the startup takes 2-3 seconds, with the 64 GB the startup time is reduced to half.
The speed of the SD-card (30MB, 45MB or 95MB/sec) will not affect the frames per second of the Leica M 240.
For the Leica M9, Leica M9-P, Leica M-E and Leica M Monochrom the SanDisk 16GB and 32GB with writing speed of 30MB/sec and 45MB/sec is fine. There is no reason to use faster card in these. On the contrary a more advanced/newer/faster card may just complicate matters.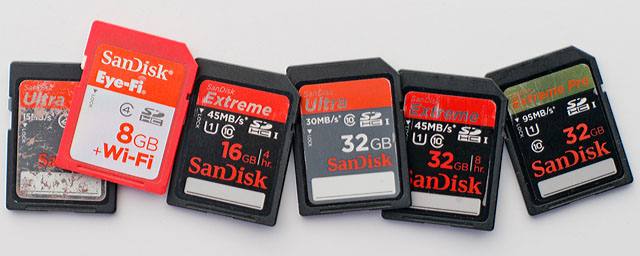 From left the non-SDHC 2 GB 15MB/sec card for the Leica Digilux 2 and DMR (digital back for R9). The wireless Eye-Fi card (orange) that will work in the Leica M 240. And then the four cards to the right will all work fine in the Leica M 240 ... But the 95/MB sec card to the right (gold green) is the one I would recommend, but as 64GB (which has twice as fast startup-time for the Leica M 240 as the 32GB).
Got for the speed, not the name
It is worth to take a note that SanDisk continuously rename their cards so that what is now "Pro Extreme" will be "Extreme" in the future, and even further into the future just a grey un-sexy looking card called "Ultra". The speed given on the card is what matters as the Pro Extreme name (that sounds so reassuring) written in gold on the card is simply the name for the currently fastest cards.
SanDisk Eye-Fi wireless card
The Leica M 240 has a piece of plastic in the bottom plate so that wireless cards can transmit easily. In the Leica M9, Leica M9-P, Leica M-E and the Leica M Monochrom the bottom plate in solid metal prevented the signal.
The installation on the card and iPad/computer/iPhone is confusing because of the instructions given from Eye-Fi, and so is their software. But it can be set up in half an hour and may or may not then work properly. Though some times there will be a great delay before the images arrive, at other times they arrive immediately. No explanation as to why and the software is just ... really annoying.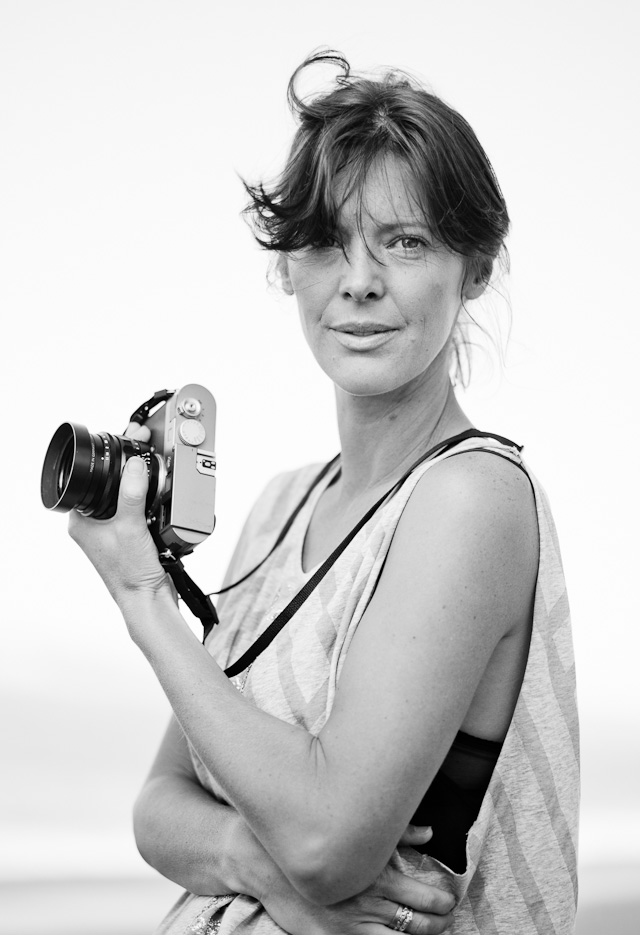 New Zealand photographer Pamela Tinning in Napier, April 2013. Leica M Type 240 with Leica 90mm APO-Summicron-M ASPH f/2.0

I personally fail to see the purpose of sending JPG files to the iPad, iPhone or computer, but it is a possibility with the weakness explained. I would recommend getting the 16GB card or larger as you will run out of space on the 8GB soon and then will have to download the images via the SD-card reader on the computer before you can continue sending wireless (doesn't that sound as if it is extra work to do something smart?). Well, it was something I had to try, and now I've done it. It took me 15 transmitted images to get there. I'm over it.
Formatting SD-cards when they have lost speed
For different reasons the SD-card can go slow, for example when used in other cameras or formatted in other cameras or on other computers. The way to get the SD-card back to top speed is to download the free SDFormatter for Mac or SDFormatter for Windows and format the card.
I had borrowed out my Leica M 240 to a film crew and after some days when I got the camera back, the 64GB 95MB/sec had gone slow in startup time (from 1 second to now 3 seconds). After formatting it in SDFormatter for Mac the card speed was back to 1 second.
Generally I do not format my cards but drag the image files to the Trash on the Desktop after I have downloaded them. Then I Empty Trash and put the card back in the camera. Only if I experience problems with a card I will format it with in the camera, with SDFormatter or try other handlings. And some times the card is simply corrupt beyond further trust, and if it is within warranty, I return it.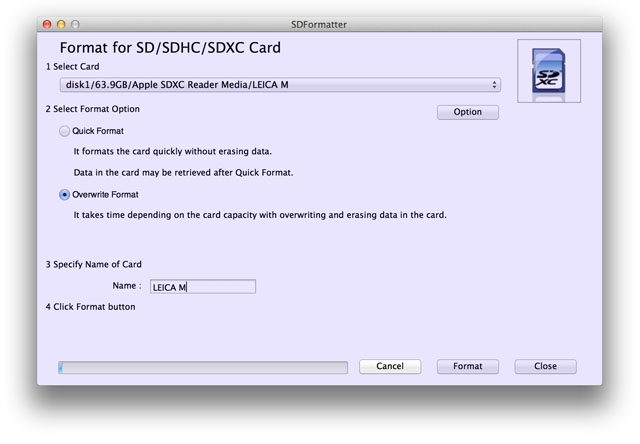 Continuous shooting at 3.5 frames per second
The M240 will shoot a little more than three frames per second for the first two seconds, then slow down. More precisely it will shoot the first six frames in 1.7 seconds, then the camera slows down to write and shoot at the same time.
When shooting 6 images in continuous mode, this will happen in 1.7 second. Then the buffer will be busy writing these images for the next 10 seconds after which the camera is ready for another 6 frames in 1.7 second.
If you continue shooting, the frame rate will go up and down from the 7th image in the continuous burst.
After the first 6 frames the next six frames will take 5.9 seconds to complete; but the frame rate will go up and down from 0.25 to 1.4 seconds per frame. This is not practical as the rhythm will be unpredictable. Of course, if it is action and you want to make as many frames as possible, it may make sense to squeeze as many shots in as possible (despite the uneven rhythm after the first 6 frames).
But for portrait for example, and most other photography, you will want to predict your timing.
When you use the camera a lot you sort of get the rhythm in so you never really stumble against the buffer limit. The Leica M240 has a definite advantage over the Leica M9 and M9-P in for example portrait shooting where most people will stumble into the buffer wall using M9.
2 frames per second with 1600 ISO
When the ISO is higher, the speed goes down on the Leica M240. The frames per second is reduced drastically to (less than) two frames per second for the first four images at 1600 ISO.
Using EVF2 digital viewfinder and Live View
The fps will be the same with Live View and using the EVF2 digital viewfinder. At least in Classic mode of the light metering. The Live View itself does not slow down the frames per second. The use of Advanced Metering and Spot metering that depend on the camera reading and analyzing the Live View image to figure out the proper exposure may delay the process.
Battery charge or memory card will not affect the frames per second
The fps remain the same with a 30% charged as a 100% charged battery. Nor does it affect the frame rate if you use a 45MB/se or 95MB/sec card.
Speed at 200 ISO compressed DNG + JPG Fine
Leica M 240
Leica M9
fps (frames per second)
3.5 fps
1.7 fps
First 6 frames in single burst
1.7 seconds
3.6 seconds
First 12 frames in single burst
7.6 seconds
29.9 seconds
Buffer speed
One frame takes about 4 seconds to write, but 5 continuous images will take 10 seconds on the Leica M 240 to be stored. In other words, you may develop a rhythm of shooting 5-6 frames in 1.4 - 1.7 seconds, then pause for 8 - 10 seconds before you resume photographing. This may sound limiting, but if you imagine shooting portraits or models, you would shoot 1-2-3 shots, then pause, then shoot another 1-2-3 and would never stumble into having to wait for the buffer, unless you get too eager.
In shooting portraits the face expression will change slightly over one second, but if you shoot 1-2 pictures per expression you will have sufficient. If you shoot more, you will have more to edit of the same. Hence it is better to develop a rhythm of shooting 1-2 frames of one face, then ask the model to change the face or position a bit, then shoot 1-2 frames of that and so on.
Recovering lost JPG, DNG and video files from SD-cards
If you have a corrupt SD-card the camera can't read, or simply deleted files on the SD-card you shouldn't have deleted, download Data Rescue test version from Prosoft Engineering, Inc to see how much you can restore. Their trial version allow you to preview up to 10 images or files from what it finds via the trial version, and then restore up to 10MB of data for free. If you need more than that, you'll have to pay for their software which is around $99. It takes about half an hour to scan a 32GB card (deep scan) and half an hour to one hour to restore it all. Much less if it is only a few files. It will rename all files with default numbers from 00001 and some times rename DNG to tiff. But it works (and the RIFF files will behave as DNG in Lightroom).
This is also the type of software you can use to recover images you deleted whilst a big security guard breathed down your neck. You can always get files back as long as they were not overwritten.
You may want to remind your teenage kids about that software, because you can get any data from a SD-card that has been on that SD-card; as long as it hasn't been overwritten. Basically, if you take an empty 32GB SD-card and run it through the software, you will get 32GB of data. So private pictures one thought were gone, will surface again. Good to know for the teenage son who wanted to impress his new girlfriend with his photographic skills and thought the evidence was all gone when the card was erased.

Berlin, May 2013. Leica M 240 with Leica 50mm Noctilux-M ASPH f/0.95
Leica M Type 240 Firmware Version 2.0.0.11
Released on October 8, 2013 replaces the original firmware released on March 1, 2013:
- Improved performance of the white balance: The accuracy of the white balance presets and the auto white balance function is higher with version. This results in better skin tones and better general colour rendering.
- Improved Video quality: The visibility of compression artifacts is reduced due to lower video compression.
- Lens calibration: For coded Leica lenses, the image homogeneity (colour shift) has been improved.
General fixes:
- Improved stability using Live View, both with and without EVF-2
- Issue with display settings in combination with "Sharpness high"
- Issue with exposures after switching the camera on
- The "Auto Power Off" function showed unexpected behaviour
- The recording dates for video files have been incorrect occasionally
- Issue with Copyright and Artist Information in EXIF Data
- Improvement of general system stability
- Several minor bug fixes
Download Firmware Version 2.0.0.11 from Leica Camera AG.
Getting used to the Leica M Type 240 when coming from 6 - 12 frames per second
If one are used to cameras with very high frame rates, one may have developed a shooting style of shooting a series of 6-12-18 frames per pose or simply always end up with 6 frames every time one press the shutter. That is overkill but will work if one works fast in editing and concentrate on looking for the few good photos (and omit comparing what is duplicates). But it is killing the model. High frame rates are for action photo, not landscape and model shoots.
When coming from high frame rates to the more moderate Leica M Type 240 you will stumble into the buffer wall simply because you are used to (too many frames per second). You will have to get used to look at the subject and stop listening to the frames per second. It takes one click to get a photo, not 10 clicks.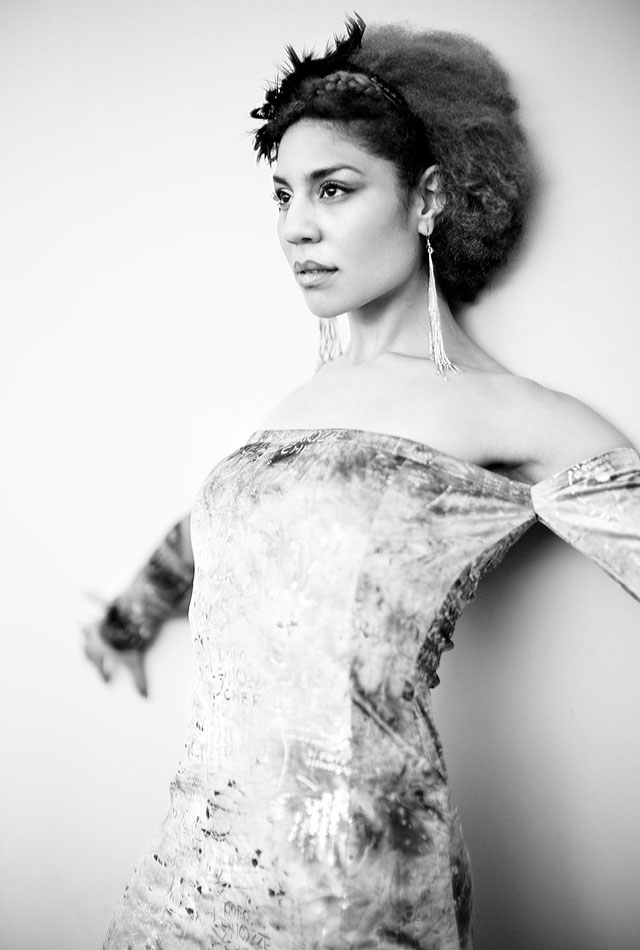 Joy Villa in Istanbul. Leica M 240 with Leica 50mm Noctilux-M ASPH f/0.95.
Compressed DNG or Uncompressed DNG?
DNG stands for Digital Negative.
As with the Leica M9 I recommend shooting Compressed DNG as this is lossless*. This basically means that when you shoot an image, the image contain a lot of 'empty' information, and compressing the DNG image simply is not storing the empty fields of information. This is how the size of the file is reduced to half.
The discussion of lossless is ongoing. Will future technology be able to make information out of 'empty' fields? I don't believe there is any information in the empty fields, so I decided to shoot lossless. And if there were information in the 'empty' fields, my policy is to finalize photos today to final editions, not to re-open old photograph to re-edit them later.
If you are unsure, shoot Uncompressed. It will take twice the space and make the camera writing to the card slightly slower as well as working in Lightroom slightly slower. But it is not the end of the world.
Lossless*
Lossless compression basically is when you can compress something and 'unpack' it later or somehow get it back to it's original form. Like compressing a zip file that will turn back to it's original form when unzipped. As the Leica M9 Compressed file can never be brought back to it's original form, it is not really lossless. What you removed, you lost. You may never need it, but you can't get it back in any case.
The Leica M 240 is different, thought currently I do not understand the concept exactly of how it is now lossless.
What is DNG..?
DNG stands for Digital Negative and is an open lossless raw image format developed by Adobe.
RAW simply means raw, basically a file containing what the sensor recorded of raw data, unedited by camera software. Raw formats can be proprietary, meaning that each manufacturer has their own raw type, requiring their software to read that raw data. The DNG is an open standard, meaning that it does not require a certain software that only one manufacturer make.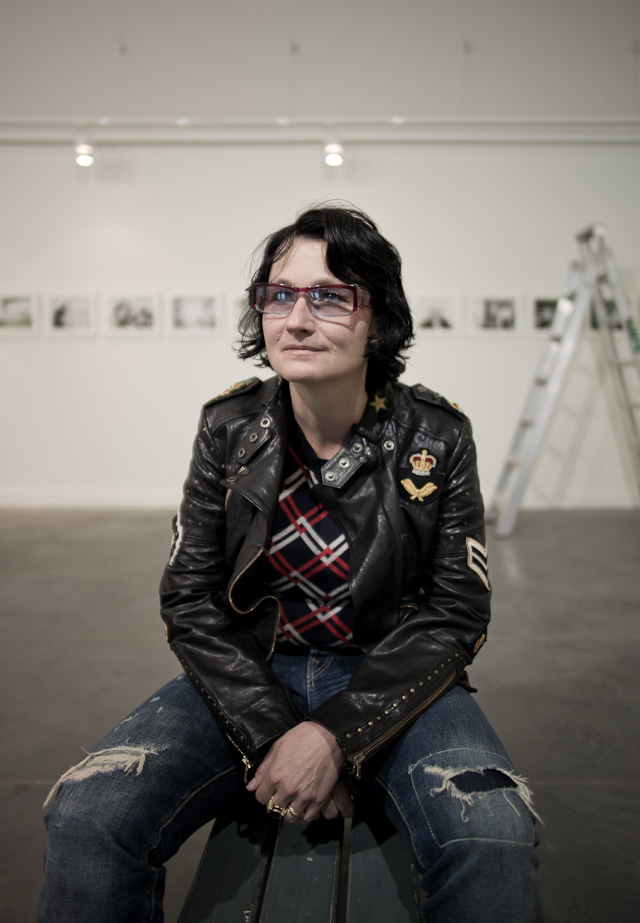 Birgit Krippner at her exhibition in Napier, New Zealand, April 2013. Leica M Type 240 with Leica 21mm Summilux-M ASPH f/1.4.
The DNG is a way of packaging the 1) raw image data with 2) EXIF data from the camera, 3) XML data about the editing of the image and 4) IPTC data about keywords, copyright, captions for the photo, etc.
The Leica M Type 240 (and Leica S, Leica D-Lux 6, Leica M9, Leica M9-P, Leica M-E and Leica M Monochrom) uses DNG.
The US Library of Congress states that DNG is a recommended alternative to other raw image formats:
"Less desirable file formats: RAW; Suggested alternatives: DNG".
The Digital Photography Best Practices and Workflow (dpBestflow) project, funded by the United States Library of Congress and run by the American Society of Media Photographers (ASMP), singles out DNG, and states "DNG files have proven to be significantly more useful than the proprietary raw files in our workflow"
As covered in my Lightroom Survival Kit one should not depend on a raw/DNG format to be a usable standard in all future. This means that one should use Lightroom (or Aperture or similar raw workflow tool) to read the raw/DNG files, edit them and then export them to a format that can be read in the future, and/or that can easily be converted to a new standard of file format. In short, I suggest one finish editing of ones images every day, export hires JPG files as final 'prints' (and still keep the raw/DNG files for reference and eventual later use).
But consider the hires JPG your original. In the same manner that you would always keep all your film negatives but would rely on printed images to be originals (as the world will one day run out of enlargers, photo paper, chemicals and people who now how to use them).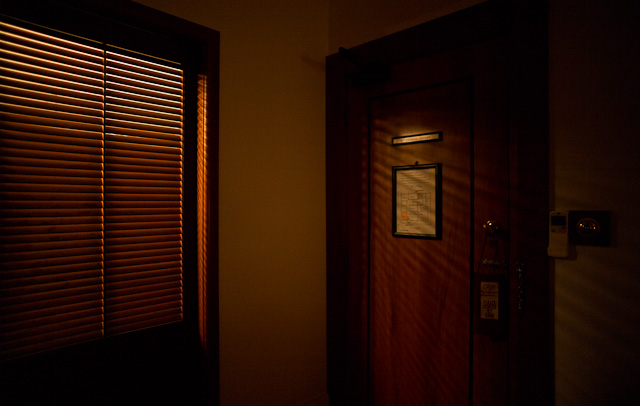 Hotel room, New Zealand April 2013. Leica M 240 with Leica 50mm Noctilux-M ASPH f/0.95. 3200 ISO.
Black & White and Color at the same time (DNG + JPG Fine)
As with the Leica M9 I set the Leica M Type 240 to shoot color DNG and black & white JPG Fine at the same time. This way the preview I see on the cameras preview screen (or in the preview shown in the EVF2) is in black and white. I prefer this as I only want to see the tones, the exposure.
When importing the images to Lightroom I see the color and black and white images side by side, allowing me to choose if I like the image the most in black & white or color, or perhaps want to use both versions.
The way to get both is to go to SET > File Format > DNG + JPG Fine.
Then to change the preview of the JPG to black & white:
MENU > Scroll down to Film Mode on the 2nd page > Black-and-white
Now you see the black & white preview, and both the color DNG and black & white JPG is saved to the SD-card.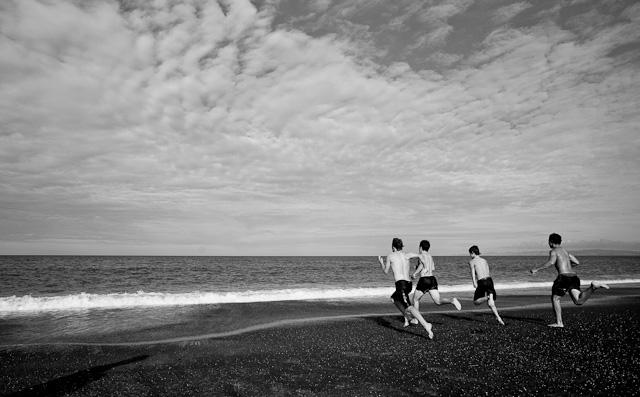 Napier, New Zealand, April 2013. Leica M 240 with Leica 21mm Summilux-M ASPH f/1.4.
Digital color filters for black & white
An interesting feature in the Leica M Type 240 is that the menu offer additional black & white settings in that one can select digital color filters. I shall return to this later. But basically the sensor is made to believe there is a colored filter, red, green, yellow, orange, blue or other in front of the lens and this will result in the same effect in black & white photos as if you used real color filters in front of the lens.
A red filter in front of the lens - or in this case digitally manipulated - will make red colors appear brighter in the black & white image, and the blue will appear darker. So as to add effects to blue skies, more contrast to green trees and so on with color filters.
Read more on Page 39, "Digital Color Filters in the Leica M 240"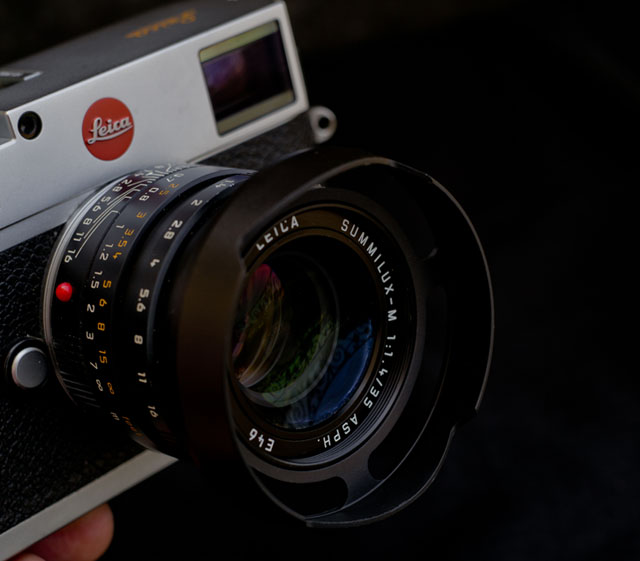 My Leica M with Leica 35mm Summilux-M ASPH f/1.4 FLE and the ventilated lens shade that goes on the outside screw of the lens, leaving the filter screw for filters. You can buy the lens shade in Black Paint ($129) or in Silver ($149) on this page.
To get started: Basic Menu setup for the Leica M Type 240
As mentioned, the sound and feel of the new Leica M 240 will take a little time to get used to when coming from the Leica M9. It will continue to confuse you the first days or weeks that the preview button on the back has now moved one step down and the top left button to the display is LV (Live View) that will activate the shutter with a click and show a preview of Live View on the display. But you will get used to it.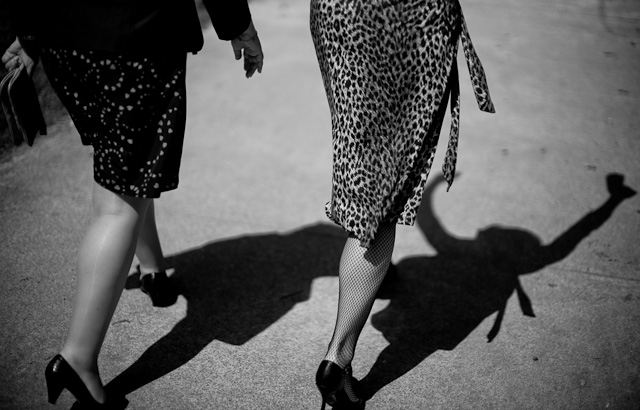 Women's Liberation. Leica M Type 240 with Leica 50mm Noctilux-M ASPH f/0.95. © 2013 Thorsten Overgaard.
Next thing is to get used to is the new and expanded menu. The single item that takes the longest to get used to is that the selection of black & white is on 2nd Menu screen and is called Film Mode (instead of two clicks away it is now two clicks and 9 scrolls down and another click).
To get started with the menu (Firmware Version 2.0.12)
I shall get into the Version 2.0.1.5 menu later, for now this is the basic setup I recommend. If you set your camera like this it will work. The battery time will be long, the preview will be black and white ... this will get you started and you can start examining the menu items your self.
(For basic video settings, see page 36 of this review/article).
There is a SET and a MENU button on the back of the camera.

The SET screen is quite simple one screen:
SET screen 1 of 1

200
White Balance
Automatic
File Format
DNG + JPG fine
JPEG Resolution
Off
Video Resolution
1080p@25fps
Exposure Compensation
Off
Exposure Metering
Center-weighted
User Profile
---
* If you live in the US or Japan, the Video Resolution should be 1080p@24fps.

The MENU screen consist of five screens.
Notice that as you scroll down the menu, the page indicator on the left changes (yellow here but white on the camera), and the subject/title on the top of the page changes:
Menu screen 1/5 "Camera"

Automatic
Self Timer
2 s
Light Metering Mode
Classic
Exposure Bracketing
Off
Flash Sync. Mode
Start of Exp.
Auto Slow Sync.
1 / focal length
Menu screen 2/5 "Image"

Standard
Saturation
Standard
Contrast
Standard
Film Mode
Black-and-white
Color Space
sRGB
DNG Compression
On
Menu screen 3/5 "Setup"

Medium
EVF Brightness
Medium low
Frameline Color
Red
Focus Peaking
On
Focus Aid
Automatic
Histogram
Standard
Clipping Definition
2 / 253
Auto Review
1 s
Menu screen 4/5 "Setup"

Off
Image Numbering
LEICA / L100
Horizon
Sensor Cleaning
Off
GPS
On
Audio
Standard / Off
Menu screen 5/5 "Setup"

2 minutes
Date / Time
2 s
Acoustic Signal
Off
Language
English
USB Mode
PTP
Reset
Format SD Card
Firmware
1.1.0.2
I shall get back to more on the menu and what each menu item does.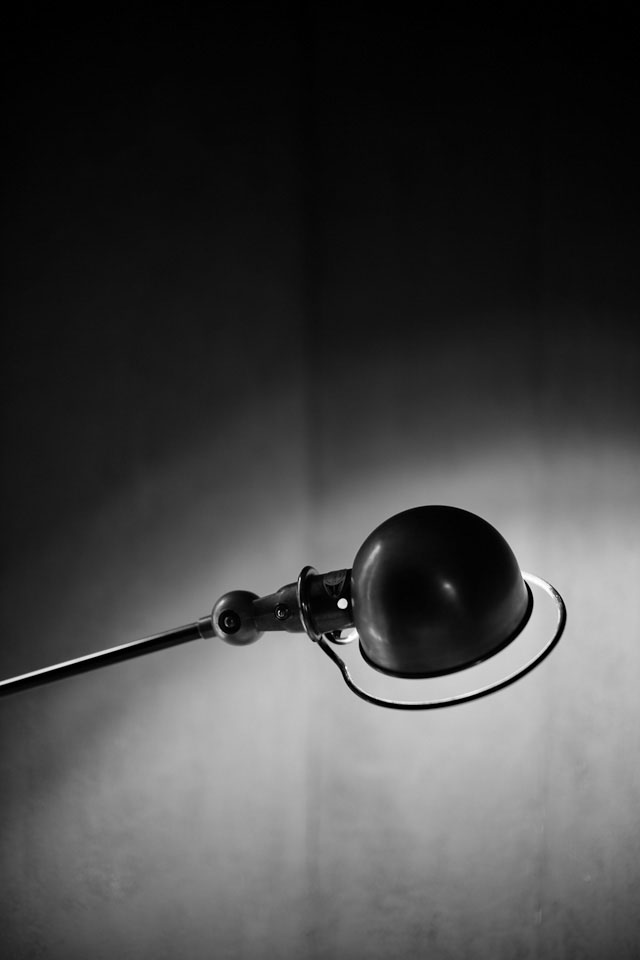 Leica M 240 with Leica 50mm Noctilux-M ASPH f/0.95. © 2013 Thorsten Overgaard.
My personal wannabe filmmaker project, a tribute to Jimi Hendrix, "Bold as Love". To see more about Video on the Leica M 240, visit Page 35 of this article.

"Bold as Love" featuring Joy Villa. Filmed with Leica M Type 240 and Leica 50mm Noctilux-M ASPH f/0,95 at f/4.0, 1/50 second, 200 ISO, manual white balance, external light meter, shot in my daylight studio.
(Unfortunately) shot using sharpness and contrast set to Standard, but (fortunately) with Film Mode set to Off, and edited in Adobe Premier CS6. It could be a little better, but also a lot worse!
Leica M Type 240 Firmware update 2.0.1.5 (click to download)
July 1, 2014: I shall get into the updated menu settings with the new firmware later. The fixing of the "occasional" lock-ups may be the most important improvement in my opinion.
Improved description of the lens type in Exif-Data

Live view is now possible with every lens (including older screw lenses via an adapter) using "manual lens detection"

A "Video off" option is now available in the Set menu (see submenu item "Video recording"). The M-Button on the Top-cover is deactivated when this option is chosen.

The Horizon (level) is now visible in Live View, overlaying the live image. This additional info-screen is enabled using the menu item "Horizon"

New menu item "Exposure Simulation"

Exposure simulation -> Permanent: Live View accurately shows image brightness according to the shutter speed and aperture set in manual exposure (as long as the chosen exposure time is shorter than 1/30s)

Exposure simulation -> Release button half-pressed: Image brightness in live view is adjusted for best visibility, regardless of the actual exposure.
Half pressing the shutter button shows the actual exposure.

Extended Auto ISO options
- All Auto ISO options are now visible using the ISO button
- Extra options for "Maximum Exposure Time" - 1x, 2 x, or 4x focal length - can be selected to help avoid camera shake when using auto ISO and long lenses.
- "Auto ISO in M mode" is now offered as an option. This varies ISO sensitivity for correct exposure when shutter speed and aperture are set manually.
- AlternativelythecamerachoosesthepreviousmanuallychosenISOspeed

Crop marks
In Live View, new crop marks for 3:4 / 6:7 / 1:1 / and 16:9 aspect ratios can be displayed. By pressing the up/down keys, the crop marks are superimposed on the live view screen (without additional information)

Korean is now available as a menu language

During video recording, 1/25s is now used instead of 1/24s. This reduces flicker effects with 50Hz mains voltage

Exposure bracketing settings are now saved when the camera is switched off

Direct exposure correction

An "EV correction" option in the menu enables direct adjustment. So EV compensation can be altered by turning the thumb wheel, without having to press additional buttons.

New Light Metering Mode "Classic / LV disabled"
In this mode, only Classic light-metering is possible; the LV button is disabled to avoid the activation of live view by accident.

New menu item "Focus Peaking"
For improved visibility, the color of focus peaking can now be set to red, green or blue.

Better display of GPS location data
Position is now shown for JPG files in Adobe Lightroom®
Where the GPS signal is weak, the last position is now deleted after 5min instead of 24h as in previous firmware versions.

Bugfix in Live View at high temperatures
"Occasional" malfunction of Live View at high temperatures has been fixed

Bugfix in light metering (Live view)

Bugfix regarding sensor cleaning function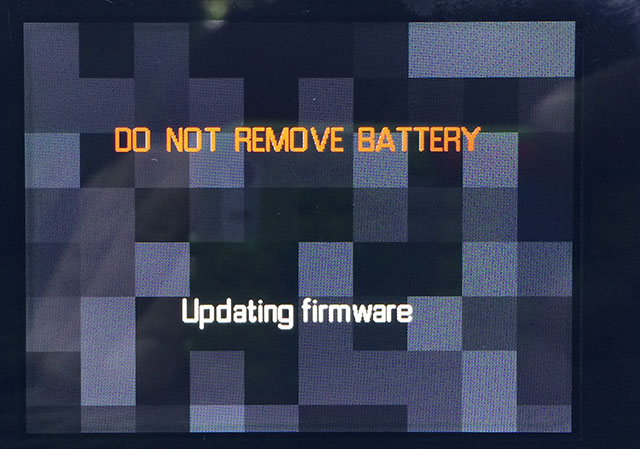 Installing the Firmware
Format an SD memory card in your Leica M.

Turn off the camera and insert the card into an SD card reader – either integrated or connected to your computer. (A reader is required for Firmware updates).

Download the Firmware file from the Leica M site using the "DOWNLOAD" link.

Save the file M_240-2.0.1.5.FW at the top level of the card's folder structure.

Remove the card properly from your card reader, insert the card into the camera and close the bottom cover.

Press the "INFO" button and hold it, simultaneously turn on the camera using the main switch.

The update process takes 2 - 4 minutes.

When the update is done, a corresponding message appears on the screen. The Message disappears after some seconds.
A Guided Tour of the July 1, 2014 Firmware by the Beta tester
Jono Slack has written a very helpful article about the update here, "Leica M Firmware Update v. 2.0.1.5" as he has been working on the beta-testing of the new firmware for months with Leica Camera AG.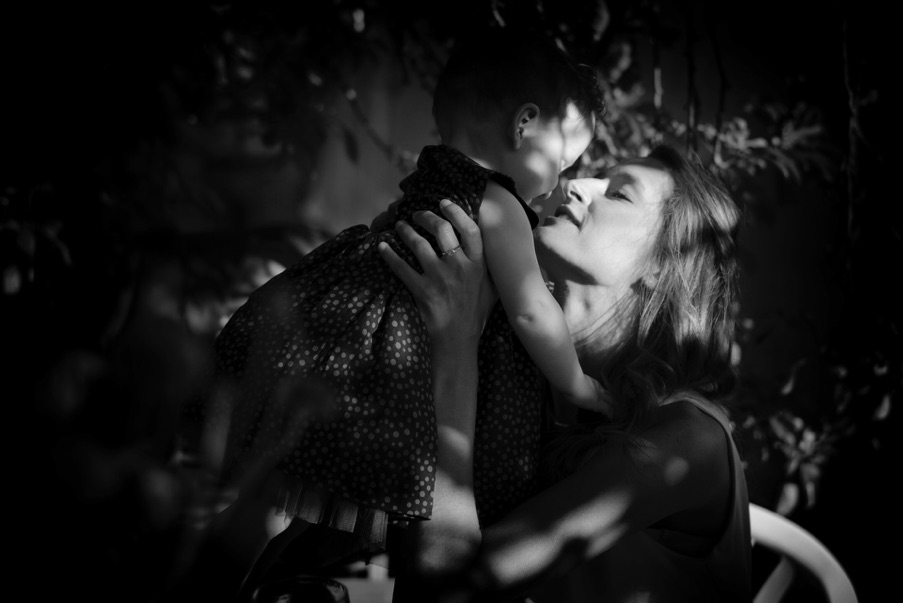 The above photo is s© Jono Slack 2014, Leica M 240 with Leica 50mm Summilx-M ASPH f/1.4
Enjoy the latest articles on the Leica M 240:
This is a continious user-report by Thorsten Overgaard. See more articles here and make sure to join the mailing list to stay in the know.