Leica M Type 240 Digital Rangefinder Camera - Page 37

Index of Thorsten von Overgaard's user review pages covering Leica M9, Leica M9-P, M-E, Leica M10,
Leica M 240, Leica M-D 262, Leica M Monochrom, M 246 as well as Leica Q and Leica SL:

By: Thorsten Overgaard Add to Flipboard Magazine.
Video & Moviemaking with the Leica M (Part 3)
This page is about professional sound solutions for the Leica M 240 and how to travel with a very compact video kit.
Since I got the Leica M 240 and decided I would most definitely not use it for video ... a few things have happened. "You have a standpoint untill you take a new", as Danish Prime Minister (1962-68) Jens Otto Kragh stated. Changing your mind is one of the most powerful human abilities.
In short, when apparently wise people in the beginning said the Leica M 240 is a bad solution for video (due to rolling shutter, image quality and expensive wide open lenses), other wise people later said it was a sexy solution to make modern atmosphere videos: And that the rolling shutter, by the way, was something even Canon HDSLR cameras had plenty of. Nobody ever cared.
Those statements may have supported my choice of doing more video, but mainly the possibility to travel with a professional video kit that was both compact and offered a lens choice no one else has. It's not a professional video kit in the sense that it can do all possible videos, but it is a compact kit that I can do the things I choose to do. Whenever I want to tell a story, interview a person or make a short feature for web, I can do it rather easily.
Leica M 240 sample video

Leica M 240 sample video: "#PLAY", GirlCrush feat Joy Villa. written and performed by Princess Joy Villa and GirlCrush, released May 4, 2015.
Video recorded with one Leica M 240 camera operated by Thorsten Overgaard in Denmark (Joy Villa), April 2015, and by Kerry Porter in Los Angeles (GirlCrush) Edited by Kerry Porter of Frontman Video Productions
Leica M 240 sample video

Leica M 240 sample video: "Vagabonds" written and performed by Princess Joy Villa, appearing on the May 2014 CD "I Am The Static" produced by Barrie Gledden.
Video recorded with one Leica M 240 camera operated byTaufik Pane and Thorsten Overgaard in Bali, Indonesia, March 2014. Edited in Final Cut Pro X with a few extra sparkles added.
| | | |
| --- | --- | --- |
| | | |
| | | |
| | Leica M 240 sample video | |
| | | |
| | | |
| | Leica M 240 sample video: This music video was awarded Fan Favorite on Indi.com in the category Original Song Performance, January 2014. "Get Your Freedom" written and performed by Princess Joy Villa, produced by HUOS Music. Video recorded with two Leica M 240 cameras operated by Neville Porter and Thorsten Overgaard in Auckland, New Zeland April 2013. Edited in Final Cut Pro X with a few extra sparkles added. The sound, by the way, was tweaked additionally by Leica M user and music producer Barrie Gledden in his London studio. | |
| | | |
| | | |
| | | |
| | | |

How to get good sound
One of the first barriers to good video is sound (the other two are light and editing).
The built in microphone in the Leica M 240 is good to have, but it picks up the users breathing, the handling of the camera and high pitch sounds from far away: Plates and glasses being handled in the far background seem to be falling right on top of the camera.
The Leica Microphone Adapter Set or Olympus SEMA-1 Microphone Adapter Set (which are essentially the same) is better, but still is placed nearer the camera operator than the usual action.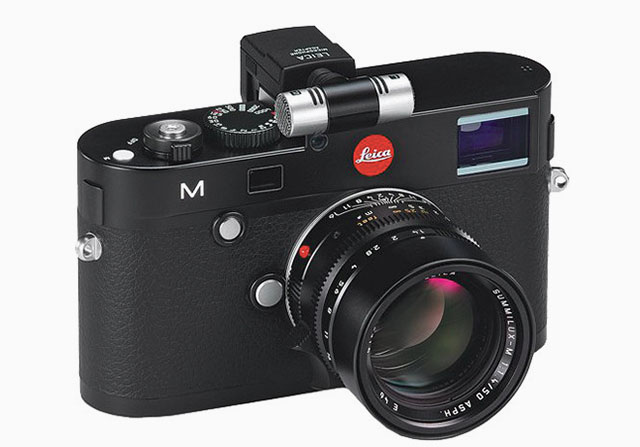 The Leica Microphone Adapter Set mounted on the Leica M 240. Also the Olympus SEMA-1 can be used (which is 1/5 of the price)
One can add a cable to the stereo microphone so as to place it on or near by the subject, for example for an interview. It may work, but take into account that the cable should be a couple of meters minimum (7 feet) to enable you making video at a minimum of one meters distance with for example a 50mm lens.
Buy the new eBook
"The Freedom of Photographic Expression"
by Thorsten Overgaard

"The Freedom of
Photographic Expression"
eBook for computer, Kindle and iPad
October 2016 (268 pages)

In this easy to read and apply eBook,
Thorsten Overgaard takes beginners and experienced photographers through the basics of controlling the light and the camera.
This book covers the technical side of photography from beginners level to semi-pro, features a number of photographs by Thorsten Overgaard and chapters on his philosophy on photography.

Only $148

Buy Now

Instant Delivery

"I've bought the new book - made a start reading it - it is really interesting.
I know it's basic at the beginning but it isn't written in a patronizing way. I have been taking photographs for many years and have been lucky enough to be paid to take them for the last seven years; but it's always good to be taken back to the start"
P. S. (UK)

""Really enjoy your writing and teaching"
D. K. (USA)

"I love your insights on photography."
D.B. (USA)

★ ★ ★ ★ ★ ★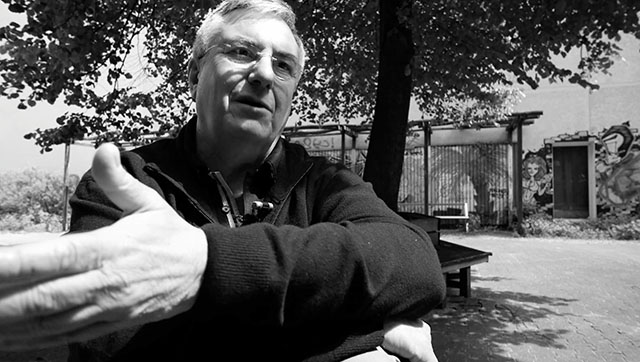 One of my first attempts to use the 3 feet long cable that the Olympus SEMA-1 Microphone Adapter Set comes with. I had the privileged to interview Jose about his personal experiences with Ansel Adams using my 21mm lens. The 50mm with a minimum focusing distance of 1 meter was simply not compatible with the cable! It's not that it is totally awful, it just doesn't offer the freedom of composition you would want, and it isn't as pretty as I had imagined it with a Noctilux and the background gone.

The Mini Jack female plug that reveals itself when one takes off the actual stereo microphone of the Leica Microphone Adapter Set is useful to connect other things. When I realized what a pain cabled microphones are for interviews, I bought a wireless Sennheiser clip-on microphone so the subject is not connected to the camera.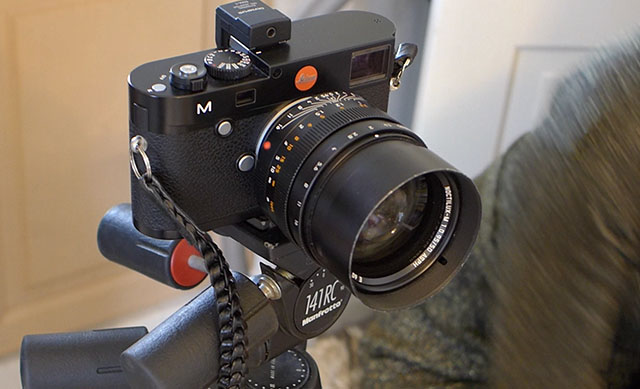 The female Mini Jack plugin on the Olympus SEMA-1 on top of the camera.
The one I bought is one I had years ago when I had a video camera, the Sennheiser EW 112-P G3 Wireless Microphone System with Lavalier Microphone. I also bought extra windscreens (as those get lost easily), the Lavalier Accessory Backup Kit.

We did the above video interview with the founder and owner of Leica Shop Vienna, Peter Coeln with this Sennheiser microphone attached to him. And then when Joy or I enters the frame, we just talked loud enough in the direction of the microphone on Peter Coeln for it to record our voices too.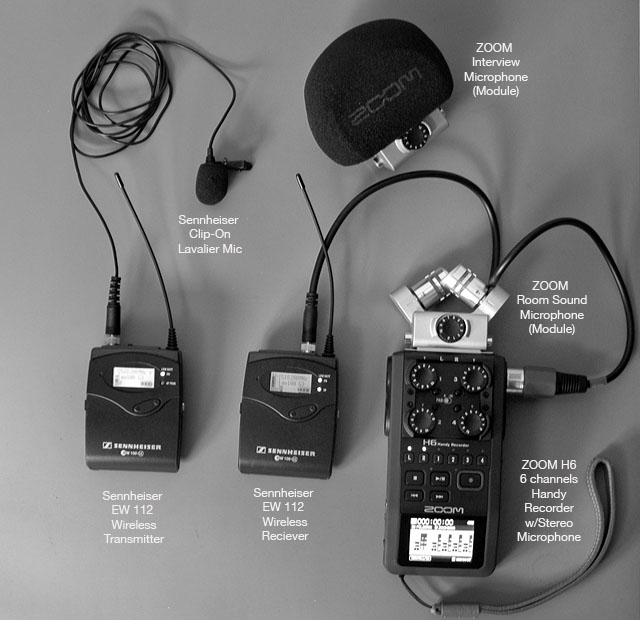 The external sound recorder Zoom H6 and the Sennheiser EW 112-P G3 Wireless Microphone System with Lavalier Microphone consisting of Transmitter (on the person) and Reciever (on the camrea).
Leica M 240 sample video
Leica M 240 sample video: The award-winning video Electric Coffee Company by Edmond Terakopian

Title:
"Electric Coffee Company" Corporate Video, London, November 2013
Director:
Edmond Terakopian
Camera 1:
Leica M 240 camera, operated byEdmond Terakopian
Lenses:

Leica 28mm Summicron-M ASPH f/2.0 w/Lee RF75 filter holder + Lee ND filters
Leica 50mm Noctilux-M ASPH f/0.95 w/B+W 62mm ND Vario Filter with stepup
Leica OUFRO 10mm adapter for macro
Leica 35mm Summilux-M ASPH FLE f/1.4 w/B+W 46mm 3-stop ND Filter

Tripods:
Manfrotto 561BHDV-1 Video Monopod and Gitzo video tripod
Lights:
Available light
Sound 1:
Roland R-26 Digital Audio Recorder
Sound 2:
Rode Lavalier Microphone (interview)
Sound 3:
Ambient sound with Leica M 240 internal camera microphone
Editing:
Final Cut Pro X by Edmond Terakopian
Color grading:
Partially color graded in "Color" by Neil Patience.
Final grading with Final Cut Pro X and Film Convert
| | | |
| --- | --- | --- |
| | | |
| | | |
| | Leica M 240 sample video | |
| | | |
| | | |
| | Leica M 240 sample video: Eva Maria by Daniel Maissan | |
| | | |
| | | |
| | | |
| | | |
More microphones
I realized we sometimes needed a regular reporters microphone, so we bought the Rode Reporter Omnidirectional Handheld Interview Microphone for "world news" events where we would put the microphone on a table (for press events for example), or to interview people with a handheld microphone.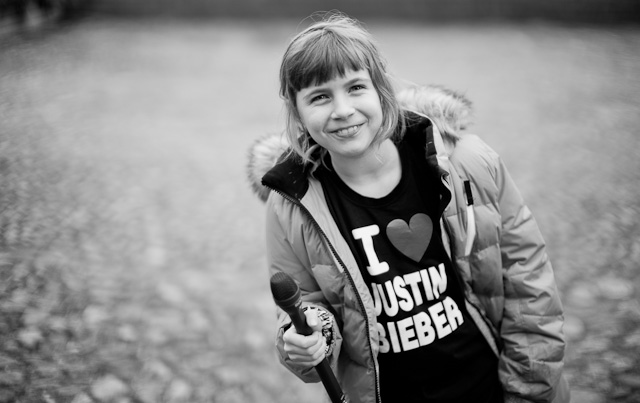 Robin Isabella with the Rode Reporter microphone with XLR cable attached, waiting for her friend Justin.
To be able to use a reporters microphone, I looked at other possibilities to have several microphones. Some times you have two or more persons, some times you need to record from a table, a speaker or an instrument.
The prospect of having a bunch of cables attached to the Leica M 240 mini jack on top of the camera with a splitter to 2-3 microphones didn't seem tempting, nor practical. So when I learned that an external recorder would record in better quality than any internal recording in any camera, I got the Zoom H6 external recorder that records on a SD-card. It is lightweight and easy to travel with and offers up to 5 microphones connected. The idea was that it could basically lay on a chair outside the frame, or even be in the interviewers handbag in the cases where we would move around from location to location or would use a cable from the reporter microphone down to the recorder in the handbag.
Separating sound from camera is a great thing when it is so easy to lay sound tracks and video tracks on top of each other in Final Cut Pro X.

The Zoom H6 comes in a handy little case that now has a space in the corner of my suitcase most places I travel. It has a little extra space for extra batteries, as well as the XLR wireless Sennheiser W100 Sender from my other kit. The wireless microphones I pack in pairs in the small bags you some times get in airplanes.

Leica M 240 as reportage video camera
It's interestting to see what the Leica M 240 is capable of doing, not because it is a video camera that may or may not be great on overall specifications, compared to Canon 5D, but because you equip Leica M photographers with video.
One such example is award-winning photographer and film-maker for the Guardian, Sean Smith who did stills and video of "Funny Girls" for The Guardian: "In the last few years, at last, Leica have made up for lost time. With the new M Type 240, it has produced a camera that could be as revolutionary for documentary video as its first camera was for still photography.
"What makes the new Leica so special is that the rangefinder gives the intimacy of a small camera, but you also get its legendary lenses. I think a new kind of journalistic video will be able to take a very large step forward thanks to the M type 240, and the new video function on this camera could be as important as those early Leicas".
Leica M 240 sample video
Funny Girls: behind the scenes at Blackpool's longest-running drag revue. Made by Sean Smith for The Guardian

Title:
"Funny Girls"" documentary, 2013
Featuring:
Funny Girls
Director:
Sean Smith
Camera 1:
Leica M 240 camera, operated by Sean Smith
Lenses:
Tripods:
Handheld
Lights:
Available light
Sound 1:
Sound 2:
Editing:
Sean Smith
Zoom H6 Portable Recorder Field Kit that comes with a hardcase is ideal for external sound recording. It comes with two stereo microphones (XY Microphone for environment and atmosphere, and Omnidirectional microphone for speech/interview). A Zoom SGH-6 Shotgun Microphone can be added for directional sound recording. Apart from the built-in stereo microphone (that's the modules above), it has space for four channels of XLR-connected microphones. It records on a SD-card, nicely sorted in folders for each channel, with date and time stamps.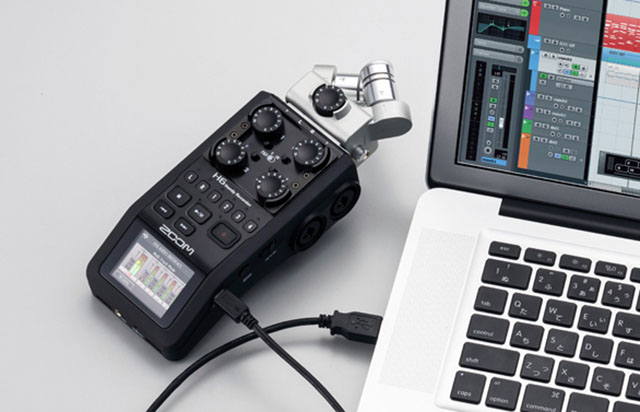 The Zoom H6 is really portable.

Flexibility in a compact kit
To adjust the microphones individually for each channel on the recorder I use my Shure 535 in-ear headphones that I anyways travel with. Also extremely compact, yet very good sound quality.
But I anyways wanted to have at least two Sennheiser wireless clip-on microphones in the cases where I would interview a person off camera, or where two persons would be talking in the frame.
And to add wireless capabilities to the reporter microphone as well, I got the Sennheiser Sennheiser EW 100 ENG G3 Combo with both a clip-on microhone as well as a wireless XLR that can be used on the reporters microphone or any stage microphone that uses XLR (and they basically all does).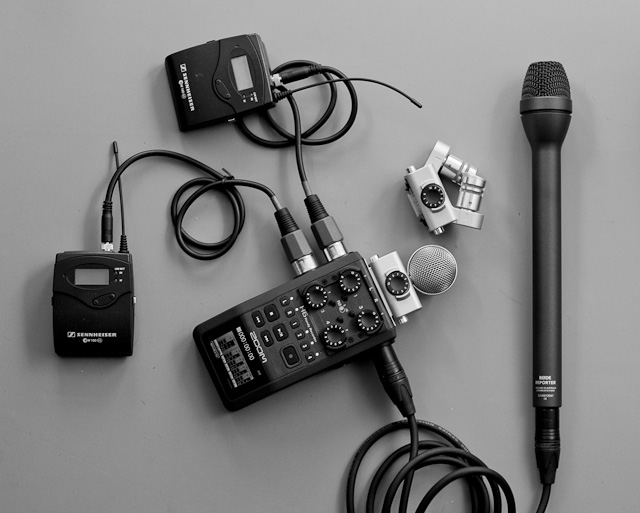 Four microphones: The flexible kit with two wireless recievers into the Zoom H6 that also features a stereo microphone on top of it, and then two more XLR connections, in the photo above the Rode Reporter microphone is used in that one.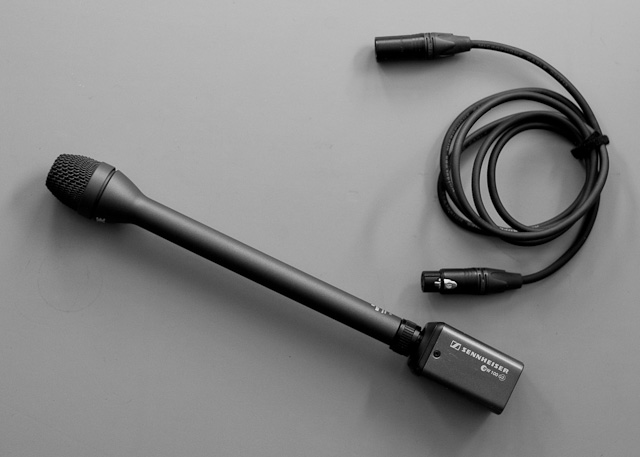 Wireless Reporter: The Rode Reporter (or any other XLR microphone) can be made wireless thanks to the the wireless XLR sender that comes with the Sennheiser EW 100 Combo

Batteries is one of the things microphones need. 6-8 batteries fit in the hardcase for the Zoom H6, and you don't want to travel with too many as they are heavy and are widely available. But you need enough to feed the microphones when you are in the midst of a recording.
| | | |
| --- | --- | --- |
| | | |
| | | |
| | Leica M 240 sample video | |
| | | |
| | | |
| | Leica M 240 sample video: "The Story of Maibritt Kokholm" | |
| | | |
| | | |
| | | |
| | | |
| | | |
| --- | --- | --- |
| | | |
| | | |
| | Leica M 240 sample video | |
| | | |
| | | |
| | Coming soon: Our video from Leica Store Ginza in Tokyo with store manager Shiyo Takahashisan, filmed with the Leica M 240 and using external Sennheiser wireless microphone. | |
| | | |
| | | |
| | | |
| | | |
Compact travel
The headline for all I do is compact travel. The videographers I know travel with a large tripod bag and between one and three backpacks with cables, microphones, batteries and what have you.
I travel with one or two Leica M bodies and up to four lenses, and I would like to keep it as simple and lightweight as that.
The video in the Leica M 240 is an added feature, so the the question is how one can utilize that to produce mindblowing videos without having to invest in a donkey.
| | | |
| --- | --- | --- |
| | | |
| | | |
| | Leica M 240 sample video | |
| | | |
| | | |
| | Coming soon: Our video from Camera Electronics in Perth, Australia with Saul Frank | |
| | | |
| | | |
| | | |
| | | |
How to get a stable image
The second barrier to video is that it is not a still, but a recording of everything! Every movement, every shake, every thing crossing in the front or background, is recorded and can't be edited or photoshopped. One has to plan the sequence in advance to maintain control.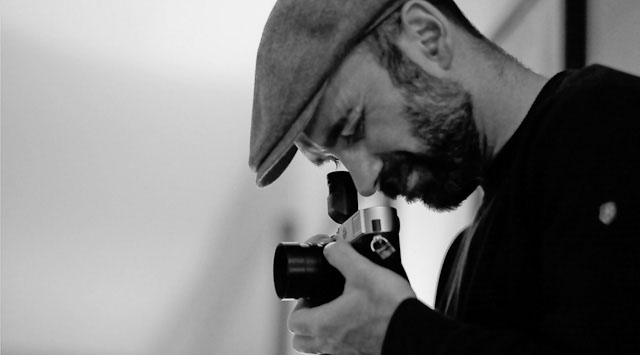 Jason Jellick filming with the Leica M 240 and Leica 50mm Summilux-M ASPH f/1.4 in New York. Once you get the hang of it, the camera sits very stable and soft in the hands, and you can follow focus by using the EVF.
One way of stabilizing is to not use the screen on the back of the camera, but to use the Leica Visoflex EVF2 Electronic Viewfinder. It is much easier to focus and maintain focus using the EVF as the image you see in front of your eye is relatively much bigger than looking at the screen on the back (In the EVF the image almost fills your whole view, as in a cinema).
Using the Leica Visoflex EVF2 Electronic Viewfinder stabilizes the camera a great deal, and I have developed a style of "sailing back and forth slightly" to get the motion of handheld camera, but without the sudden shakes and small shaky movements that holding a camera out in your arms in front of you causes.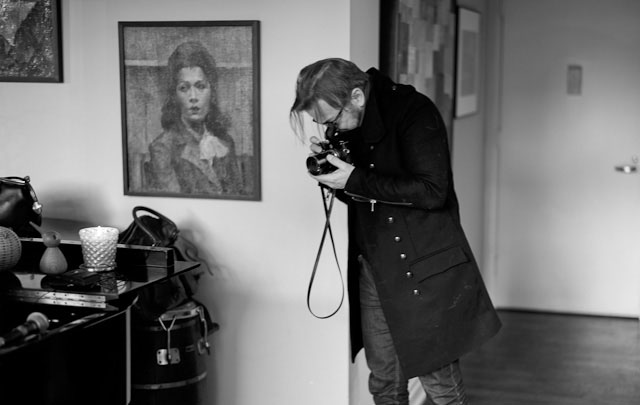 Filming handheld whilst 'sailing' with the camera. Photo by Jason Jellick, New York February 2014.
If you try to hold the camera very still in stretched arms so you can see the screen on the back, your muscles will eventually cramp and create shakes. Holding the camera close to the body while 'sailing' or 'swirling' in a natural movement from side to side makes it possible to told the camera in a relaxed way that also frees one hand for changing the focus.
| | | |
| --- | --- | --- |
| | | |
| | | |
| | Leica M 240 sample video | |
| | | |
| | | |
| | Leica M 240 sample video: This workshop video compiled of some of the footage we did in Paris and London in 2013 is made with the Leica M 240 handheld, and with just one Sennheiser wireless microphone in use (the microphone and sender on the person, the reciever on the camera connected via the Olympus SEMA-1 in the hotshoe). The video is recorded in black and white. My cameras usual setting is DNG+JPG Fine, and then the Film Mode is set to black & white. The sharpness, contrast and all is set to Standard. This way video is recorded in black and white, and it works. Edited in Final Cut Pro X. | |
| | | |
| | | |
| | | |
| | | |
| | | |
| --- | --- | --- |
| | | |
| | | |
| | Leica M 240 sample videos | |
| | | |
| | Leica M 240 sample videos: A couple of videos from the recording studio Clear Tracks Studio we did in July 2013, also using the OUFRO macro adapter for the Leica M 240 (only available vintage from eBay or a dealer). Again, shot in black and white in the camera and for this purpose edited in Quicktime by simply putting a few clips together. | |
| | | |
| | | |
| | | |
| | | |
| | | |
Tripods
Tripods comes in many complicated constructions whereof very few are simple and sturdy. Simplicity is a concept that hasn't really had a big breakthrougth in videography.
A tripod should be simple and very steady. To illustrate the ideal for what we are looking for, let me examplify it with Danish furniture design: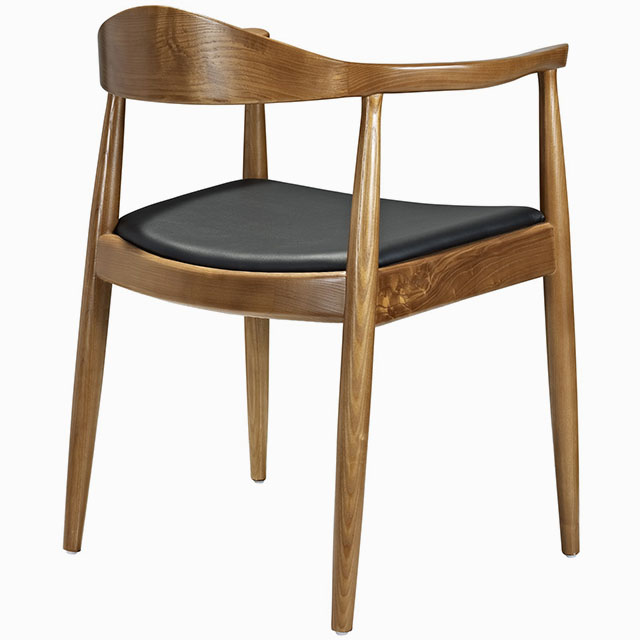 The Wegner "Presidental Chair" that was used by John F. Kennedy in the famous presidential debate between JFK and Nixon. This is how simple, pleasing and stable, something holding a body should be. It is almost mandatory equipment in any Danish home (along with all the Danish design classics such as LEGO bricks, Paul Henningsen lamps, Bodum french press for coffee and and Bang & Olufsen televisions).
Now, we realize that the manufacturers of tripods either have surpassed this level of usability, or haven't arrived at it yet. With the exception of perhaps the Leica Tabletop Tripod that is lightweight, stellar industrial design, stable as a rock, and compact.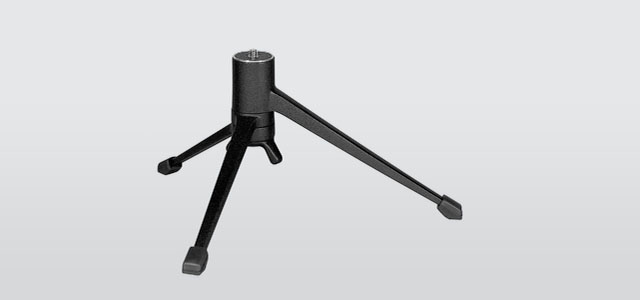 The Leica Tabletop Tripod is simply this. One can attach the ballhead on top of it to be able to adjust it.
Now, this table tripod doesn't get us up in a high level, and it doesn't work unless it is standing on something completely horizontal. We need to be able to adjust the level of the frame and have the camera higher up. But it might be a good beginning.
But how to adjust the camera vertical/horizontal other than by putting something under the legs of the table tripod? I have the Leica Ballhead, the older one that is smaller than the current one, but made of massive brass. It is great for quick and stable position-lock of the camera in any vertial/horizontal position, but it is also such a massive piece of metal that it always attracts the attention of security in airports. It has the weight of a lens.
A stable tripod for a still camera is quite a heavy piece of work. They are huge, heavy and expensive. And if they are less heavy, they are even more expensive! A video tripod should ideally have a soft pan head for soft and seamless vertical and horizontal pan, and this is a completely different class of tripods than the ones for still cameras.
I occasionally joke that "the tripod game is a game you can't win". The better tripod, the larger and heavier it is.
Now, what I found to solve my quest for portability and simplicity, I found for 10 Euro ($15) in a dark corner of Leica Shop Vienna. A vintage Hama screw-on monopod that is made of titanium or aluminium: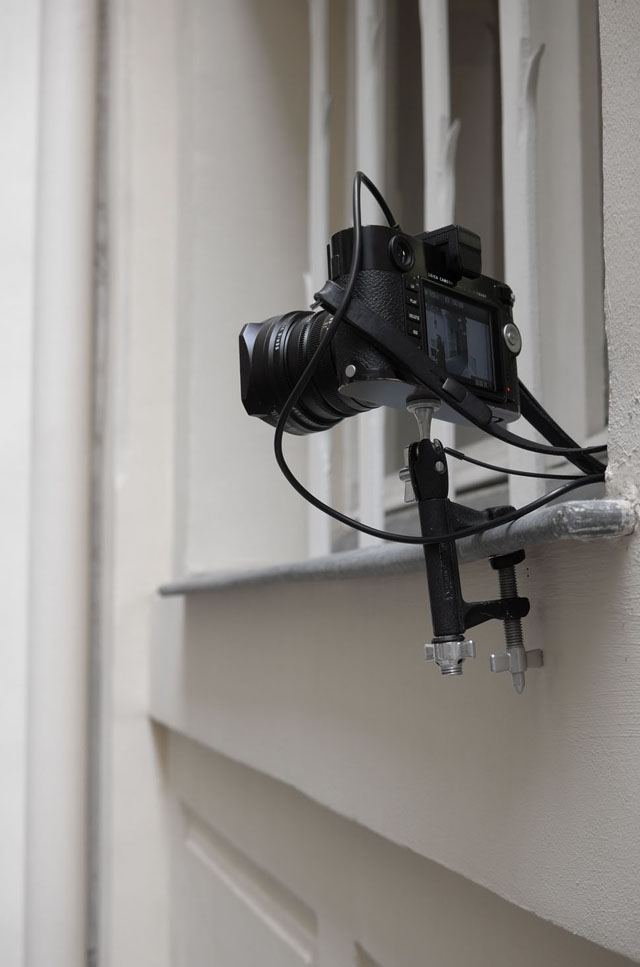 My vintage 10 Euro rig on location in Paris. Photo by Per Hildebrant, September 2013. Here the camera is equipped with the Sennheiser wireless reciever connected to the Leica Microphone Adapter, and the camera strap is wrapped to the window frame for security.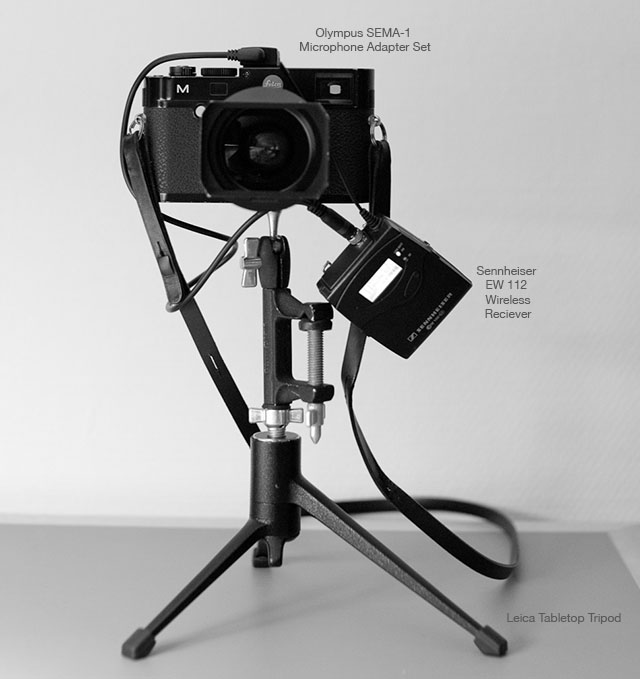 The Leica M 240 on top of the combined tripods, with the Sennheiser EW 112-P G3 Wireless Microphone System with Lavalier Microphone Reciever (on the camrea).
The two tripods combined also make me able to adjust the horizontal and vertical position as there is a small ballhead. Though that I find that I mostly just screw the monopod onto sometning. When I want to tavel extremly light, I simply leave the table tripod at home and go with the screw-on alone. It works.
For the Peter Coeln video on top of the page, I would simply screw the monopod onto a chair, shelf, table or other and leave it there for the duration of the clip. It's compact, stable and easy to travel with and set up.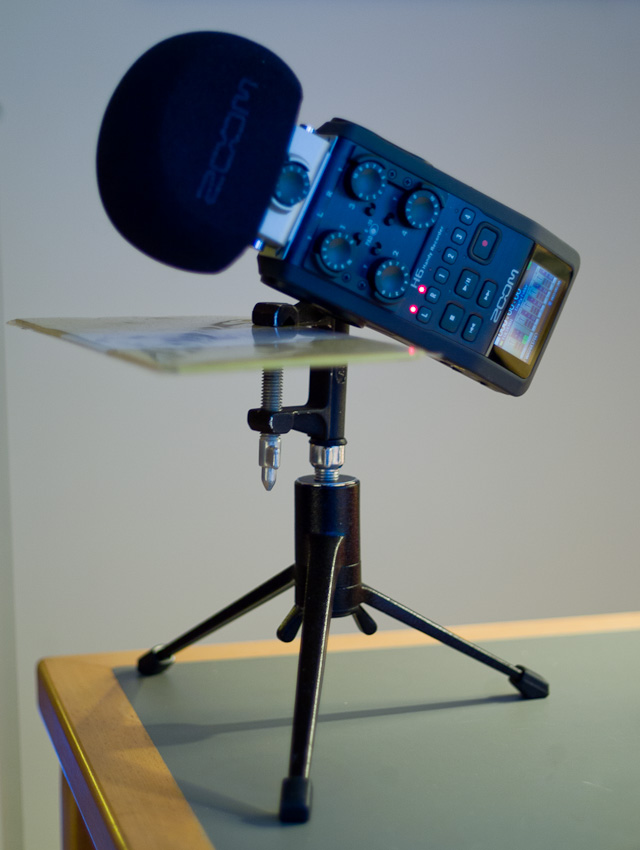 My two tripod pieces also can hold the Zoom H6 microphone and recorder when it has to be used as a microphone for podcasts, or places in front of a speaker. (The booklet placed horizontal below the microphone is to reduce sound from a keyboard when doing podcasts).

| | | |
| --- | --- | --- |
| | | |
| | | |
| | Leica M 240 sample video | |
| | | |
| | | |
| | Leica M 240 sample video: Israeli singer-songwriter Cali Rivlin. Here is a video done simply by placing the Leica M 240 on the piano, using the internal microphone. Opened in Quicktime and uploaded to Vimeo straight from Quicktime without any editing. A setup as simple as an iPhone. I could think of many things it could be used for, but also how much better it would be if I had used an external microphone or two (one for the piano and one for the speaker with the sound), and a tripod. | |
| | | |
| | | |
| | | |
| | | |
| | | |
| --- | --- | --- |
| | | |
| | | |
| | Leica M 240 sample video | |
| | | |
| | | |
| | Leica M 240 sample video: Axel Winter performing "Let Her Go" by Passenger in Sydney, April 2013. Recorded handheld on the street with the Leica M 240 and Leica 50mm Noctilux-M ASPH f/0.95 at f/0.95, using the internal camera microphone only. | |
| | | |
| | | |
| | | |
| | | |
Panning shoes
The loyal readers of my page may recall I talked about the need for 'pan shoes' for extra sexy panorama shots with video. Now, see what I found in the Louboutin store in Jakarta, my personal panning shoes from the God of Stilettos, Christian Louboutin. I have at least one art director who requested a photo of them to hang on their office wall in Los Angeles after she saw me wearing them for a meeting with her editor. Maybe they are not ideal for panning, but they sure are over the top gorgeous, ha ha!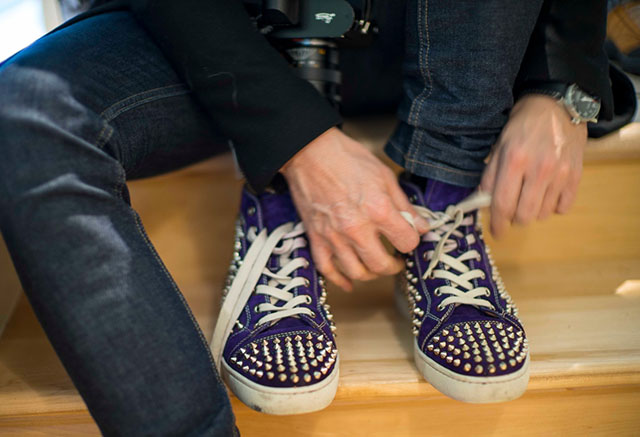 My Christian Louboutin "panning shoes" for extra smooth panning. Photo by Peter Wais, San Francisco February 2014.
| | | |
| --- | --- | --- |
| | | |
| | | |
| | Leica M 240 sample video | |
| | | |
| | | |
| | Leica M 240 sample video: A video interview we did in New Zealand in April 2013 with photographer Birgit Krippner when she opened her exhibiton "Private View" here. Two Leica M 240 cameras by use of internal microphone only (hence the water is so evident in the video). | |
| | | |
| | | |
| | | |
| | | |
| | | |
| --- | --- | --- |
| | | |
| | | |
| | Leica M 240 sample video | |
| | | |
| | | |
| | Leica M 240 sample video: Another winning M240 music video, awarded both Second Place and The Judges Choice on Indi.com in the category Original Song Performance, February 2014. "Run and Hide" written and performed by Princess Joy Villa, featuring Zach Banks on guitar. Video recorded with two Leica M 240 cameras operated by Neville Porter and Thorsten Overgaard in both Auckland, New Zealand and Cleartrack Studios, Florida. Edited in Final Cut Pro X. The sound, by the way, was tweaked additionally by Leica M user and music producer Barrie Gledden in his London studio. | |
| | | |
| | | |
| | | |
| | | |
Adding movement to videos
One of the reasons one can do without a large tripod with panning head is that you can crop, zoom in and add movement in Final Cut Pro X with Ken Burns effect.
You can add a tighter cop to a frame if you see you need it, you can zoom in, and you can pan within a video frame or a still frame.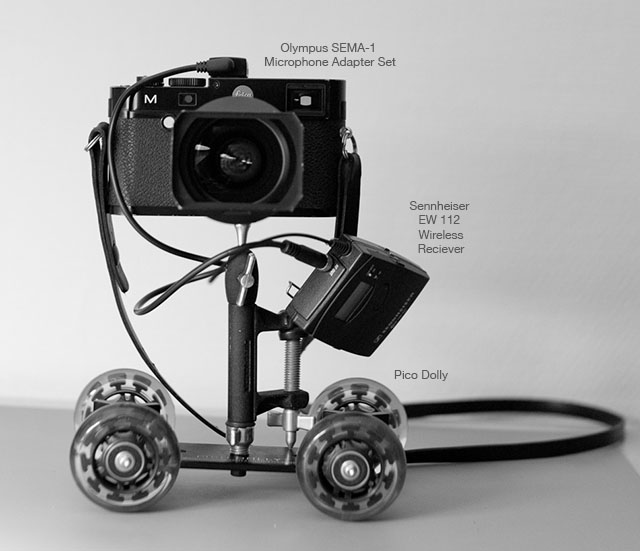 This setup with the Leica M 240 on a Pico Dolly can be used to make some movement to a still photo. The wheels can also be set to the Pico Dolly drives in a large or small circle around an object. It some times comes with the 7" Articulating Arm, but else get it with it. It is not quite strong enough for the Leica M 240 in other than upright position, but it's nice to have the arm if you use a Leica D-Lux 6 or other smaller camera as well.
| | | |
| --- | --- | --- |
| | | |
| | | |
| | Leica M 240 sample video | |
| | | |
| | | |
| | Coming up soon, the accoustic vocal + Steinway piano version of Joy Villa's song, "Cold Wind". | |
| | | |
| | | |
| | | |
| | | |
Leica Cine Lenses on the Leica M 240
The prototype adapter for using Leica Cine Lenses on the Leica M 240 exist, and in spring 2014 it should be available. So for the ambitious moviemaker, rent or buy Leica Cine Lenses for your Leica M 240 video projects.
Also, some directors use the Leica M240 as Directors Scope. But mainly they are for ambitious setups such as RED cameras.
The Leica C lenses for moviemaking have been in the horizon since Photokina 2010, but delivery is occuring now. The set is sold in a case with six lenses, and only as a set. The expensive Summilux set is $200,000, the less expensive is the Leica Summicron T2.0 Lens Set for $101,000.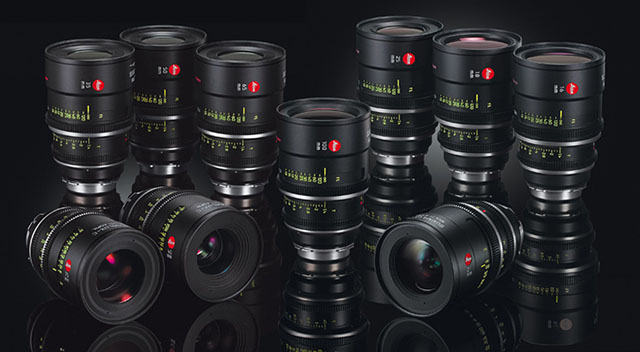 The Leica Cine Lenses are produced and marketed by CW-Sonderoptik GmbH in Wetzlar but on display in for example Leica Store Los Angeles.
Leica M 240 camera settings for video
The shutter time is always set to 1/45 which will result in that the camera film in 1/50 second. This is the standard time for video. This also means that video is very light sensitive. You don't need a lot of light to do video, and outdoor you usually need ND-filters to keep the lens wide open and/or to be able to shoot video at all.
Leica M 240 Menu settings for video
This is the basic setup I recommend.
There is a SET and a MENU button on the back of the camera.

The SET screen is quite simple one screen:
SET screen 1 of 1

200
White Balance
Automatic
File Format
DNG + JPG fine
JPEG Resolution
Off
Video Resolution
1080p@25fps
Exposure Compensation
Off
Exposure Metering
Center-weighted
User Profile
---
* If you live in the US or Japan, the Video Resolution should be 1080p@24fps.

The MENU screen consist of five screens.
Notice that as you scroll down the menu, the page indicator on the left changes (yellow here but white on the camera), and the subject/title on the top of the page changes:
Menu screen 1/5 "Camera"

Automatic
Self Timer
2 s
Light Metering Mode
Classic
Exposure Bracketing
Off
Flash Sync. Mode
Start of Exp.
Auto Slow Sync.
1 / focal length
Menu screen 2/5 "Image"
for BLACK AND WHITE VIDEO:

Standard
Saturation
Standard
Contrast
Standard
Film Mode
Black-and-white
Color Space
sRGB
DNG Compression
On

Menu 2/5 for COLOR VIDEO: (Remember to set the white balance manually on the screen)

Off
Saturation
Off
Contrast
Off
Film Mode
Off
Color Space
sRGB
DNG Compression
On
Menu screen 3/5 "Setup"

Medium
EVF Brightness
Medium low
Frameline Color
Red
Focus Peaking
On
Focus Aid
Automatic
Histogram
Standard
Clipping Definition
2 / 253
Auto Review
1 s
Menu screen 4/5 "Setup"

Off
Image Numbering
LEICA / L100
Horizon
Sensor Cleaning
Off
GPS
On
Audio
Standard / Off
Menu screen 5/5 "Setup"

2 minutes
Date / Time
2 s
Acoustic Signal
Off
Language
English
USB Mode
PTP
Reset
Format SD Card
Firmware
2.00.1.2
A lesson learned
Now, one important lesson learned doing a few videos from press conferences and other events is that I thought I could set up a microphone and a camera, start recording and then go about to do my still photos. Sometimes you can, but often you will realize that somebody stood in front of the video camera some of the time, or that the battery ran out midway, or the focus changed during recording (the person moved).
The lesson learned: A video camera always needs attention from someone. And sound basically also does. It's not that it couldn't work. It is just that, if you want to be as much in control of the video quality as you are used to being in control of your still photos, you need more eyes and hands.
A real life example of how a video camera can't manage itself:
Well planned and set for the press conference with the Danish Queen and her husband, the Prince. Looking good!
The instant Joy Villa asks the Queen a question, of all people, the press officer of the event stands in front of the camera. Who could have imagined?