The Travel bags designed by Thorsten von Overgaard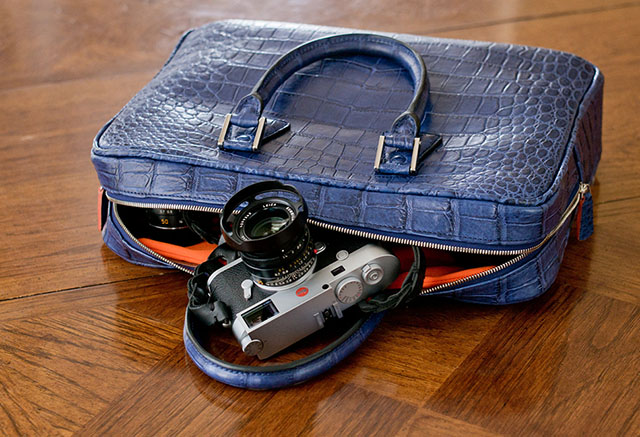 The Von
You want the ideal product that fulfills all of your needs, made to make you happy every time you touch it, and made to last forever.
When Goyard in Paris wouldn't fix the Goyard Aplin backpack, and I had other experiences with other luxury brands, I decided to make my own bags. Luxury used to mean that you got the best artisans can make, using best possible materials, based on many years of experience, resulting in a product that could last for generations. An example of luxury is the Louis Vuitton trunks and hardsided suitcases that were originally developed for traveling around the globe on steamer ships, trains and by horseback. Those were built to last (and still are).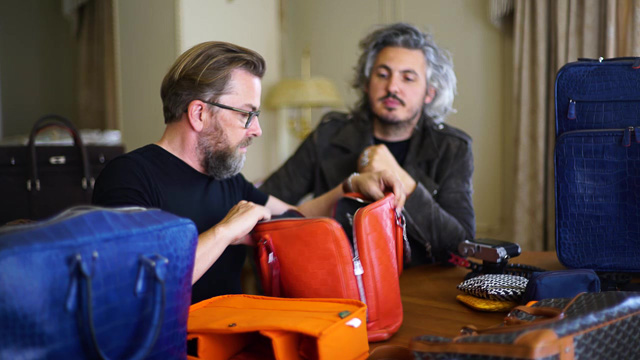 Thorsten von Overgaard and Matteo Perin working on design of camera bags and travel bags

More and more, luxury has come to be expensive fashion rather than generations of knowledge applied to a product. Luxury and fashion are not the same. The only thing "fashion luxury" and "traditional luxury" have in common is that they are expensive to buy.

With Italian designer Matteo Perin, I decided to make some bags for myself, using the best artisans in the world, and using the best materials available. I wanted - as I always do - something that meets my own requirements for functionality, good looks and durability. Matteo Perin has made bespoke clothing and accessories for celebrities and millionaires for years in this way.

But from a user viewpoint, that is exactly what you want. You want the ideal product that fulfills all your needs, made to make you happy every time you use it, and made to last forever.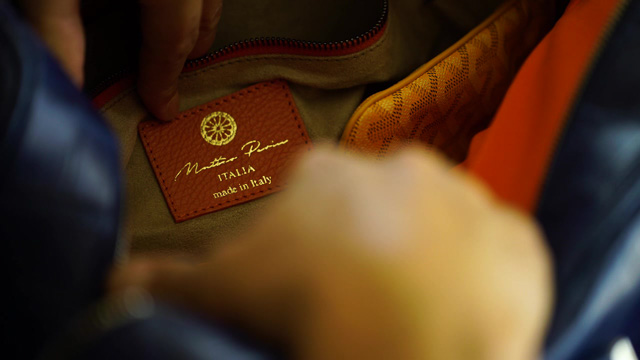 Matteo Perin bags, designed by Matteo Perin and Thorsten von Overgaard. Handmade in Italy.
The Von that I use is specified to my exact needs. It is large enough to fit a 32" folded reflector, a Billingham Hadley Pro insert (four lenses and 2-4 Leica M bodies), two chargers, two hard drives, two pouches with batteries, sensor cleaning equipment, lens adapters, as well as plenty of pockets for things like vitamins, your passport, business cards, etc. The material is alligator, which makes it quite exclusive and expensive. If you are not familiar with alligator prices, this is what brings a $2,000 bag into the $50,000 range, such as this Louis Vuitton Porte-Documents Voyage $50,000 bag. Now you know if you "need" alligator or not.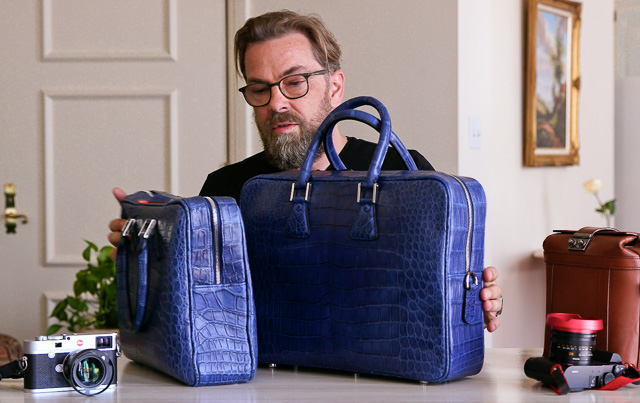 The Von in two sizes. The smaller one is great as a document bag and will fit a Billingham insert (four lenses and 2-4 camera bodies, plus a laptop), and was made without shoulder strap. The final version for me is larger, so as to fit a 32" folded reflector in it, as well as the battery chargers and hard drives that I stuff in each end of the bag.
Price is upon request. Expect $6,000 for calf skin and $30 - $40,000 for croc. The way it works is that you order the exact version of The Von that I have, or specify your own with Matteo Perin as to the size, the materials, the straps, the inside design and all by sending an e-mail to Adam or Matteo. Then Matteo Perin will advise and calculate the price. Delivery is usually three months.
My bag is exactly 20% more expensive than the smaller one in the picture above, and the size difference is 20%. That's because it's crocodile. In calfskin the artisan labor is a larger percentage than the materials. The Von is limited simply by the cost of it, and each bag is specified to your exact needs.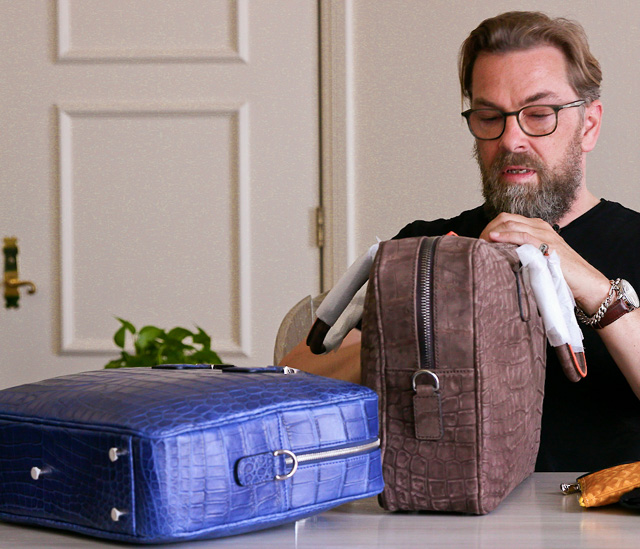 In the video you can see the grey version of The Von we made for a client. Everything is the same in terms of the pockets inside, and the shoulder strap, but the grey version has cashmere inside. My own The Von has microfiber inside.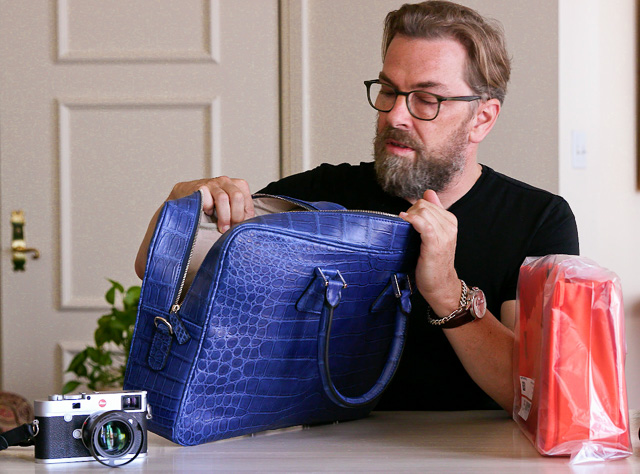 This will give an idea about the size of the bag compared to the Billingham insert (in plastic next to Thorsten). There's space in the ends of the bag for hard drives and battery chargers (3.5 cm in each end), and there is space above the Billingham insert (10 cm) for a jacket, headphones and so on.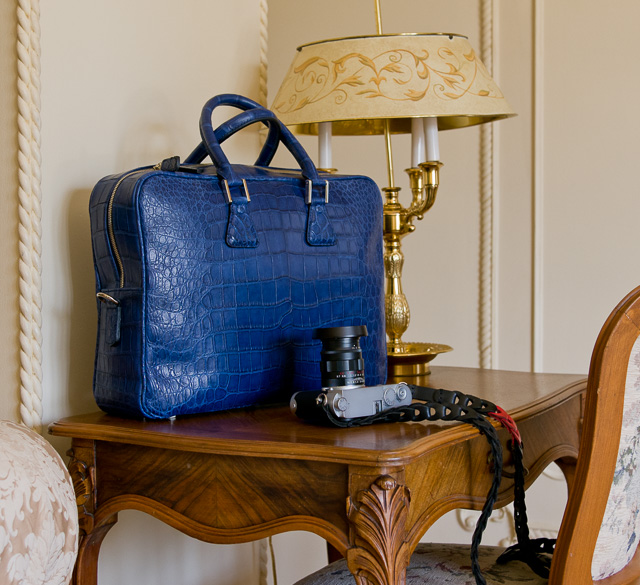 The Von camera bag by Thorsten von Overgaard and Matteo Perin. This is my own bag designed to hold four lenses, 2-4 camera bodies, folded 32" reflector, batteries and other accessories (30Hx40Wx11D cm / 11.5Hx15.5Wx4.3"). You can either get the same size and design, or design your own. The concept is bespoke luxury.

Detail of The Von.
The 24hr Bag
Another bag Matteo Perin and I have made for me is the 24hr Bag. It's meant to be a travel bag for a short 24-hour travel, but in my life it takes the place of my document bag. I've used an orange leather-version of theLouis Vuitton Porte-Document Voyage for years (from the Fall/Winter 2011 collection), but it's always been packed to the max with papers, computers, pens, headphones, water and all the small things you need in your carry-on.
I decided I wanted a bag that had space enough for all the usual, plus gloves, scarf, food, toothbrush ... I simply just wanted space enough no matter what. So for me, the 24hr Bag is the expanded carry-on document bag.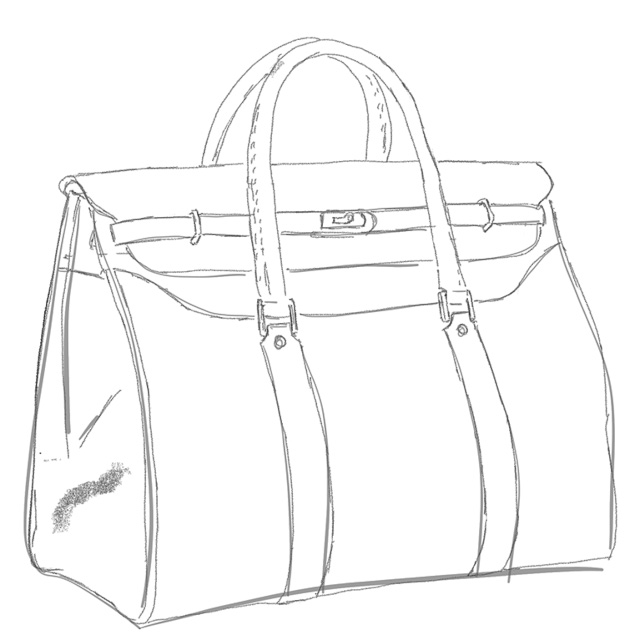 The Von 24hr Bag
My suitcases and bags are all "compartmented", which means they are organized like a camera bag with compartments for each thing. It makes it easy to pack because they're always the same things, and they are always in the same place. When I stay in a place, my LV suitcase works as my drawer. I never unpack. Everything is in its compartment in the suitcase. It's my home, and it's organized like a home where you always have knives and forks in one certain place, clean socks in another place, and toothpaste on that shelf.
Likewise, my document bag and my camera bag is my "drawer" with cameras, cables, card-readers, manuscripts, chargers, pens and all. This also means, that for me, my travel bags and suitcases get to be around me for admiration and enjoyment. It's my furniture I travel with, which makes them an aesthetic and important feature. Beyond functionality and durability, they serve that purpose of lifestyle in the places I stay.
My own 24hr Bag will be with cashmere inside, and with a special insert that has pockets for passport, chewing gum, cards and all the small things.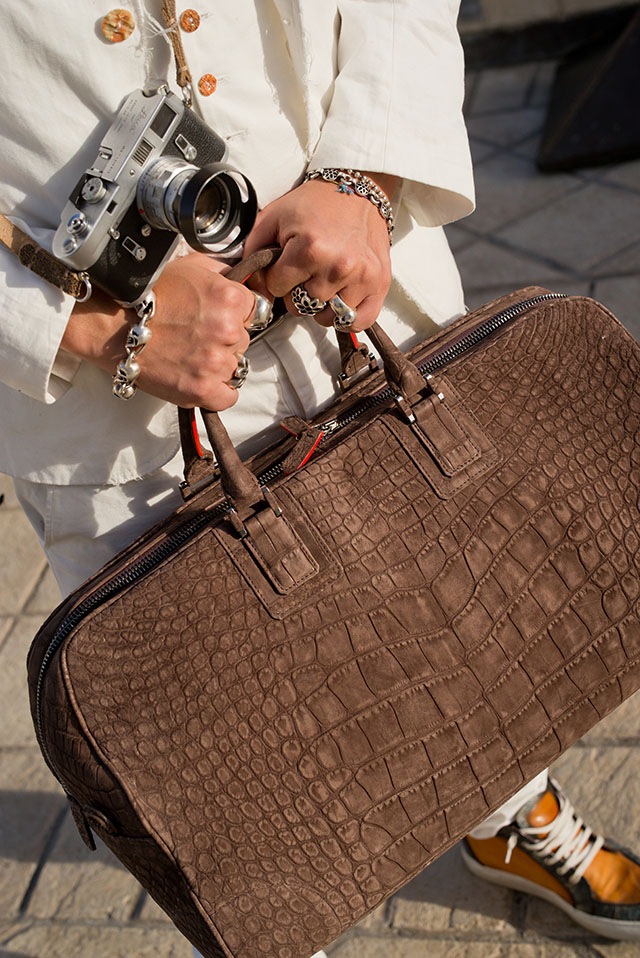 Another type of the 24hr Bag by Matteo Perin and Thorsten von Overgaard: A croc duffle bag.
The VonBack backpack
We're working on the VonBack and have made several prototypes. I still believe a backpack would be an ideal camera bag for travel. I like to carry my bags by the handle, it's old-fashioned. But I rely on trolleys, which many airports have. But there is not a single American airport that offer trolleys anymore, which mean you have to find other ways to carry things. Here are some of the VonBack prototypes.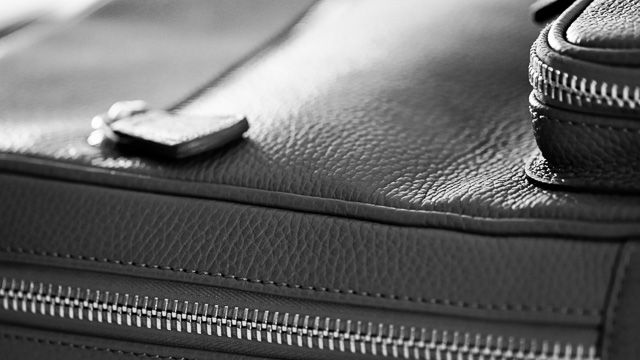 The Von Backup Backpack
Special Luxury Travel Gear
Matteo Perin also makes trunks, blankets and all the luxury items you can think of, for private airplanes, villas, cars and yachts.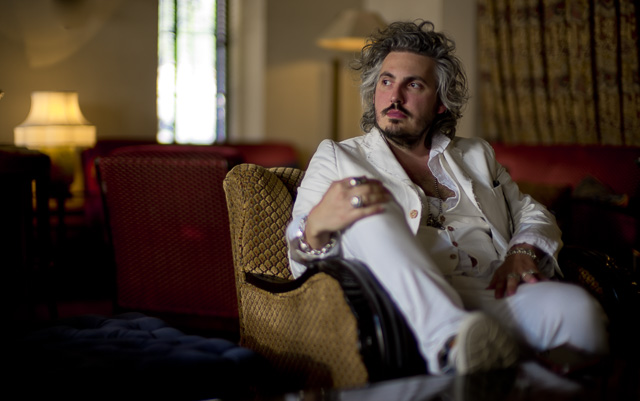 Matteo Perin has been doing bespoke luxury for millionaires and celebrities for years.
Hard-sided Matteo Perin suitcases in deer skin and calf skin, leather handle and brass locks/corners.
49 x 23 x 75 cm / 19.3 x 9 x 29.5" (sketch for client).
Light-weight soft-sided Matteo Perin suitcases with inside pocket (sketch fo client).
Bag sizes explained
When you get into luxory bags, they are often described with PM, MM or GM as names for sizes. I can never remember them myself, as I don't speak French, but here they are:

PM - Meitite Modele = S - Small model.


MM - Moyen Modele = M - Medium model.


GM - Grand Modele = L - Large model.

Luxury Brand Suitcases
I like Louis Vuitton because they're one of the few traditional luxury brands that still makes products that are made to last. I've used quite a few of their products, and their suitcases are hands-down the most durable suitcases in existence. You buy a second-hand on eBay that hasn't been used a lot, but is for sale for a favorable price. Then you make it your travel companion everywhere you go. I never wrap it in plastic, nor use any cover, and I never lock it (because TSA would break up the locks then). Over the years, a small piece of the leather may get ripped off, but the suitcase stays the same despite all the beating, and Louis Vuitton can repair them, anytime that you are able to send them to Paris for a few months.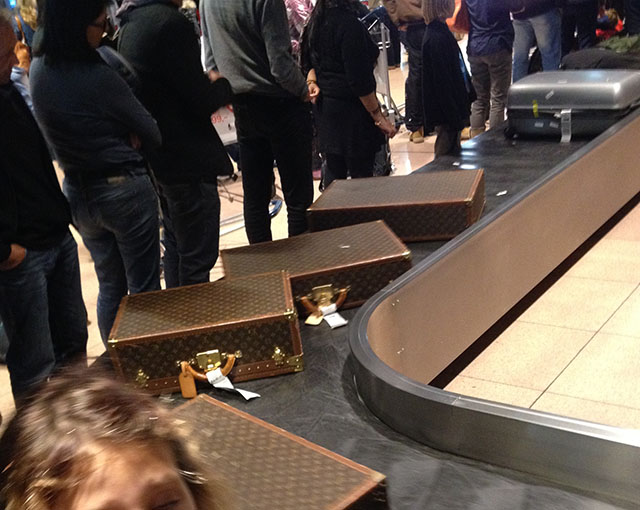 I'm usually pretty sure it's my suitcase, but this time, in Hamburg, somebody else had more LV suitcases than I.
| | |
| --- | --- |
| | |
| | Karl Lagerfeld uses Goyard, and apart from the diva statement it is, you have to fly private plane with this kit. Marilyn Monroe also used Goyard, but Karl just makes her 7-piece Goyard kit look like a carry-on. |
| | Coco Chanel's Goyard set also must take second or third place after Karl Lagerfeld.. |
I love the Goyard pattern, but their suitcases are made extremely heavy. I keep drooling over a yellow Goyard suitcase, but it's just very heavy. If you have a private jet, the weight of the suitcases is less of a concern. But when faced with the usual 20kg, 23kg and 30kg (40, 46 and 60 pounds) limits for suitcases on most airlines, the suitcase itself shouldn't take up too much of the weight.

A Louis Vuitton hardsided Bisten 70 ($7,100) weighs about 12 pounds without anything in it. The Louis Vuitton Alzer series ($9,000) is a tad heavier, usually 16-25 pounds in itself. A Goyard uses heavier materials than Louis Vuitton, often 15-30 pounds.

Steamer trunks are a different story. They are usually 40-60 pounds before you start putting anything in them. Nice for decoration in the home, but not for airline travel.

It's not that the suitcases for check-in that mortals travel with are much lighter. A Samsonite trolley is often 10-12 pounds because the wheels and handle alone weigh 5-6 pounds! A Tumi V3 is 11 pounds. Halliburton aluminum cases (that were really cool in the 1960's) are 14-18 pounds for a check-in suitcase.

When you put the wheels on the outside, the 22-inch Hartmann 7R is probably the most light-weight suitcase around with just 4 pounds. In other words, don't judge a suitcase's weight by the looks. Put it on a weight scale.

Goyard was established in 1853 and Louis Vuitton was established in 1854. Hence the slightly more class in Goyard which has also lived a very exclusive life with just a few stores whereas Louis Vuitton is "on every corner". The new brand to watch is Moynat. They opened in 1849, so they're even older than Goyard and Louis Vuitton. Moynat closed down in 1970 for a while but was brought back to life by LVMH's (Moët Hennessy Louis Vuitton) CEO Bernard Arnault in 2011 and now they have opened shops in Paris, New York, Hong Kong and more. I visited their workshop in Paris with the Leica TL2 some time ago and made a series of photos from that.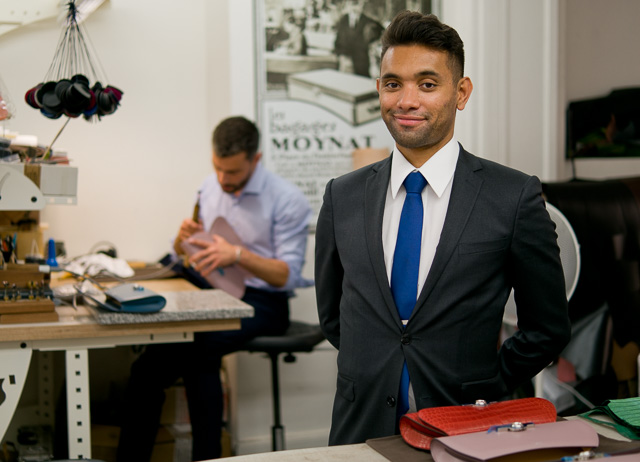 The Moynat workshop in the heart of Paris that I visited in 2017 when they were doing a series of women's purses in calfskin and croc. Leica TL2 with Leica 35mm Summilux-TL ASPH f/1.4. © 2017 Thorsten von Overgaard.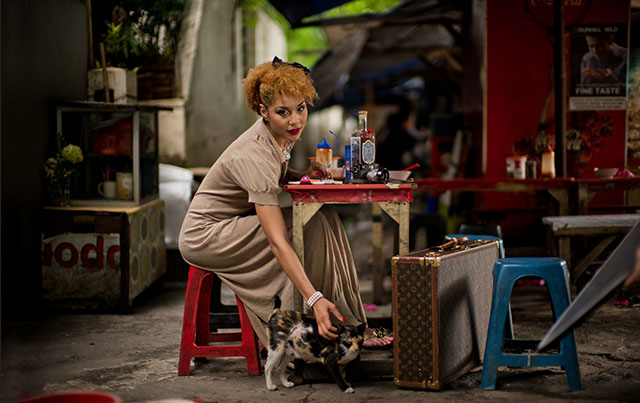 Joy Villa modelling in Jakarta, Indonesia for the workshop, with a LV suitcase as decoration