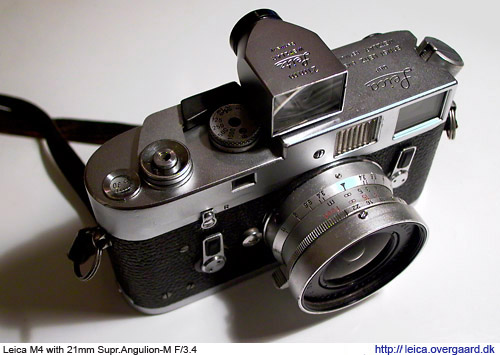 Leica M4. Here with 21 mm Super Angulon f/3.4 and 21 mm rangefinder on top.
The Andersen camera
This camera was bought from new in 1975 by press photographer Ebbe Andersen at the daily newspaper Politiken. It was bought as a complete set with 21 mm Super Angulon, 50 mm Summicron and 90 mm Tele-Elmarit lenses. Only the original 90 mm was stolen with another Leica and then replaced around 1980 with the 90 mm Tele-Elmarit in black that goes with it now.
The camera has been on active duty 24-7 in many countries but has mostly served in Denmark, photographing well-known Danish people such as Mogens Glistrup, Klaus Riskjær, the poet Dan Turell, Dirch Passer, Victor Borge, Princess Benedicte, the singer Dario Campotto, foreign minister Uffe Elleman-Jensen and prime ministers Poul Schlüter and Poul Hartling.
After 1982 the photographer held executive positions at Politiken and hardly used it, untill he decided to sell it in 2004.
The camea is not a collectors item as collectors usually collect unused cameras and lenses in mint condition - preferably with the original box and documents. This camera has been used a lot.
I went to the Dan Turell café to eat dinner few hours after I picked up the camera. It was my first visit to that place, not yet knowing that the camea had actually taken pictures of the poet the place was named after. Funny coincidence.
Leica M4-P manual [PDF]
Serial no 1210613, produced 1969