Questions & Answers to common questions
How do I best organize my film for scanning?
If you have envelopes with prints and film in the package, write a job number (for example 2001) on the outside of the envelope, then write the same number on the plastic pocket (with a permanent marker) and take the plastic envelope with just the film out for scanning.
Then you take the next envelope and write the next job number (for example 2002) on that set. And so on.
Now you can send only the film packages to us, and when we scan them, each job number goes into a folder with the job number.
When you get the film back, you can see which folder with scans fits with which envelope of prints and film, and you can tell that this envelope has been scanned.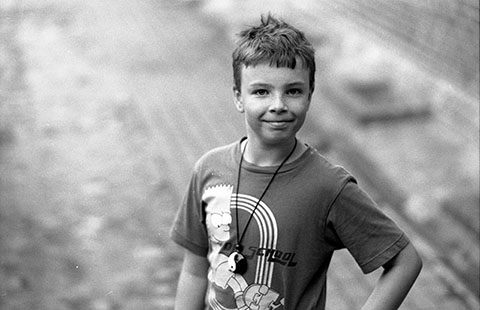 My son Oliver is 23 today. Here's a cool one from the archive.
How long does it take?
An average of two weeks and you have your scanned files available online. You can also get a USB stick, or you may send a hard drive to put them on.
It is dangerous?
This scanning service is provided in a very clean environment in the city of Aarhus in Denmark.
You must send your archive by courier (DHL, UPS, GLS, or otherwise) or postal service to Photographer Services Billi Scan, Borggade 3, DK-8000 Aarhus City, Denmark, Tel: +45 6056 3347. And you have to get them sent back the same way.
The shipment is your responsibility.
The good thing is, we haven't heard of anybody who lost anything so far. You may email or call to arrange to deliver the archive yourself to Aarhus, Denmark if you like.
(You may do as National Geographic has done for years when they had photographers on long assignments in the North Pole or other places: Once a month they would send two parcels back to NG, each with 50% of what they did in that month. This way, if one got lost, the other one made it).
Can I get selected frames scanned only?
The fastest and most economical way is to scan everything. It's also easier for you to just send it all and not have to review it first.
You can get only selected pictures scanned, but it involves more work and the price goes up. You may email and ask for specific projects, but consider that many of the pictures you took are actually very nice to have scans of because it's not just a matter of technical quality, but of history, places and people you took pictures of. In other words, there are many golden moments in those forgotten film strips! So, get everything scanned.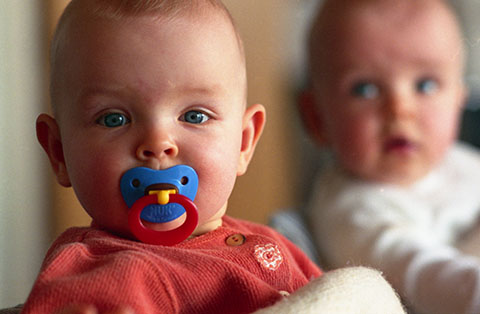 A pictrure from 1997 of my twins.
Can I get my scans as TIFF?
Yes, if you require TIFF, you can get 48 bit scans as TIFF.
We deliver JPG 8-bit as those can be seen and handled by all computers, whereas TIFF, 16-bit and other special formats require Photoshop and so on to work with.

Can I get 4x5" negatives/positives scanned?
Yes, we do that as well. Mail for a quote on you project.
Can I get Medium Format film scanned?
Yes, we do that as well. Mail for a quote on you project.
Can I get prints scanned?
Yes, we can scan prints as well. Mail for a quote on you project.
Can I get VHS tapes and 8mm film scanned?
Yes, we do that as well. Mail for a quote on you project (expect $35 per VHS tape).
How do I get my scans?
We send a Google file to you that you download.
How do I get the original film stripes back?
You get a mail from us when the film has been scanned, with a link to the download of the scans.
You can then arrange pickup with DHL, UPS or other courier on your expense, or we can quote you a price to send the film back with GLS courier service.
My film is in film rolls?
They will be cut up in strips of 6 frames per strip.
My film is in strips in plastic pockets?
We take them out of the pockets, scan them and put them back in the pockets.
What should I do with my scans?
Put them on a hard drive on your computer, or onto an external drive. And make a backup for example on a DVD or hard drive that you put in a bank box, or somewhere else where it is safe from fire, burglars, accidents and otherwise.
How do I organize my scans?
You should keyword your scans once you get them back. See my article here on how to organize old film archives.
This allows you to easily find pictures with persons, places and events by searching your computer for keywords. It also enables you to find all pictures with "Peter Nelson" in a few seconds and email to him!
He never had any of those photos from back when, maybe he never saw them, and now suddenly he gets an email with high quality scans from when he was young and handsome!
Why would I add keywords to scans?
Because keywords are a fast and simple way to find pictures. Without keywords, you have to look at all the pictures to find what you are looking for. By adding keywords, you also get the names spelled correctly, can store names of places, restaurants, hotels, streets and more in the file, thus the file has the information to be used in the future. Read my article on keywords here.
In the old days, you would write on the back of a picture who's in it, when it was taken, and where. In the digital age, you put those data into the file.
How do I share larger files with others?
If you want to email pictures to friends and family, and they are too big for email, use the free service wetransfer.com to send files. Or buy a memory stick and send to them with the pictures.
The good thing about your film is that the numbers are rather limited compared with today's digital numbers. While you may easy assemble 10,000 digital files even with just an iPhone, the film photographs are often a few hundreds or thousands. Yes, we shot much less frames back when it was film!
Can I put the scans on my iPhone or iPad?
Yes, there is a smart way to organize a photo archive and synchronize it with your devices so you can show to friends, share on Instagram, Facebook and more. Read my article on this here.